Walk through England's Roman history on the Hadrian's Wall Walking tour
One of the best walks in the UK is the Hadrian's Wall Path. This self-guided walking tour allows you to explore beautiful Northern England, while enjoying the history and beauty of the English Countryside.
Discover a concoction of ancient history, lush flora, and friendly fauna on this seven-day excursion along Hadrian's Wall Path. Hadrian's Wall acted as a divide between England and Scotland 2,000 years ago. The iconic Wall, stretching over 135 kilometres (84 miles), winds through rolling countryside, other ancient wonders, and quaint villages.
While not an intense walk, this self-guided walking tour demands long distances and is not for beginners. The pilgrimage along this UNESCO World Heritage site will have you reminiscing on stories of the past while living out one of the most magical chapters of your life.
Highlights of the Hadrian's Wall Walking Tour
Discover the unique history winding through England's countryside as you walk 135 kilometres along Hadrian's Wall Path.
Explore ancient history peppering the pathway and villages: Drumburgh Castle, Carlisle Castle, Thirlwall Castle, and Segedunum Roman Fort.
Learn to admire the rolling hills and undulating landscapes spanning England's vast, green countryside.
Spend your evenings relaxing in cozy hotels situated in quaint, charming villages—and don't be afraid to enjoy a pint or two at a local pub.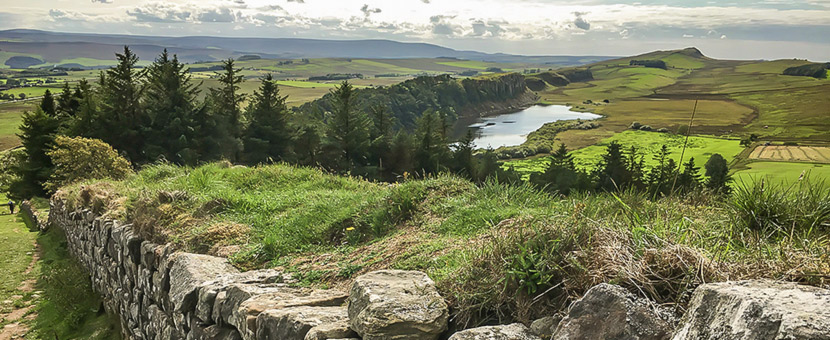 Hadrian's Wall Path Walk Itinerary
Day 1

Carlisle to Bowness-on-Solway

Drop your bags off at your hotel in Carlisle before hopping on a local bus to Bowness-on-Solway. From here, you'll make your way back to Carlisle by foot, enjoying beautiful views en route. You'll see Drumburgh Castle, beautiful countryside, forested paths, the charming village of Beaumont, and Bitts Park. Finish the day with a relaxing evening in Carlisle.
Overnight Location: Hotel in Carlisle
Distance: 22.5 km
Meals: None
Day 2

Walk to Banks

For those that love history, you can opt to explore the 900-year-old Carlisle Castle. Otherwise embark on a 21-kilometre (13 miles) walk to Banks. Expect to encounter a plethora of farms and animals as you walk and to catch a glimpse of Hadrian's Wall. Spend the night recharging in Banks.
Overnight Location: Hotel in Banks
Distance: 21 km
Meals: Breakfast
Day 3

Walk to Once Brewed

Get ready for another 21 km walk today, one that explodes with glimpses of Roman history. Start the journey in Banks and discover the most unspoiled turret on the west end of the Wall. In addition to some beautiful walking in the English Countryside, you'll see another historic monument: Thirlwall Castle. Enjoy a relaxing evening in Once Brewed.
Overnight Location: Hotel in Once Brewed
Distance: 21 km
Meals: Breakfast
Day 4

Walk to Chollerford

Start your day with an energizing breakfast before embarking on one of the most rewarding days of this seven-day pilgrimage. Notice how Hadrian's Wall follows the undulations of the rolling hills while admiring the scenic views as you meander across the ridge. Pay attention to the remains of fortresses, turrets, and other ruins en route. Check into your hotel in Chollerford, slip off your walking shoes, and enjoy a relaxing evening.
Overnight Location: Hotel in Chollerford
Distance: 20 km
Meals: Breakfast
Day 5

Walk to Heddon-on-the-Wall

Today's walk is the longest day so far, so be sure to enjoy a big breakfast before tying up your laces. Today's route goes through forested trails, meadows, and carved out roadside paths before reaching Heddon-on-the-Wall for the night.
Overnight Location: Hotel in Heddon-on-the-Wall
Distance: 25 km
Meals: Breakfast
Day 6

Walk to Wallsend

Embark on your final 25 km on the Hadrian's Wall Path to Wallsend, which is set along the banks of River Tyne. On this final leg, you'll spend a majority of the walk admiring the explosion of vibrant green blanketing the land until you arrive in Newcastle-Upon-Tyne. Walking along River Tyne, enjoy one of the most spectacular ruins on this pilgrimage: Segedunum Roman Fort. It costs £6.00—paid locally—to enter, but it's impossible not to stand in awe amid the excavated fort. Spend your last night in Wallsend.
Overnight Location: Hotel in Wallsend
Distance: 22.5 km
Meals: Breakfast
Day 7

Wallsend

Enjoy a rewarding breakfast before saying goodbye. Newcastle-upon-Tyne's central train station is a 15 minute drive, while the airport is 20-25 minute away.
Overnight Location: None
Distance: None
Meals: Breakfast

Book Now
Hadrian's Wall Path Walk Price and Dates
This self-guided walking tour in England is always run as a custom tour for your group only and the price is fixed per person staying in a double room. Single rooms are also possible on request for an extra charge. Please note, that booking this tour on short notice might increase the tour price, as the accommodation options here are limited and on high demand.
The best time to travel to England for this walking tour is from mid-April to the end of October.
Private Self-guided Hadrian's Wall Path Walk
Have your own private tour with just your group! Prices below are per person:
Price per person staying in a double room - $825 USD
Book Now
Accommodation on Hadrian's Wall Path Walk
This tour includes the accommodation in cozy guest houses and hotels. Each room offers modern amenities that will help to elevate your level of comfort after a long day of hiking. Expect to stay in a room with another member of the tour or upgrade to single occupancy for an additional fee.
Note that specific accommodation may vary based on availability but will be substituted with accommodations of a similar standard.
Single Rooms and Solo Travelers
Single rooms for this tour are on request, and the price depends on the season, availability and the number of days left until your travel. Please inquire to find out more.
Hotels on Standard Tour
What's included in the Hadrian's Wall Path Walk?
Meals
6 breakfasts are included throughout the tour.
Accommodations
Accommodations for 6 nights along the tour are included.
Transportation during the Tour
Transport for your luggage is included throughout the tour. You must make a way to the start of the trail yourself.
Also Included
Detailed route guide
Taxes
Not included
Guide services
Insurance
Personal expenses
Transport
Anything not stated as 'included'
Entry to Carlisle Castle
Entry to Segedunum Roman Fort
Optional Extras
Extra night before or after the tour
Frequently Asked Questions about Hadrian's Wall Walking Tour
EasyWays is a boutique adventure tour operator, specializing in self-guided walking tours in Scotland and Northern England. They are founded on the close attention to detail that comes from knowing Scotland inside and out. With extensive knowledge of the country and the people, they can advise accurately on each walking tour to choose the right adventure for their clients.
EasyWays can also offer classic Scottish experiences to complement their walking tours, including distillery visits, Highland Games tickets, and visits to cultural and historical places of significance.
EasyWays has also expanded into Spain and Italy to offer more walking tours than ever before.
Learn More
Is this tour for me?
We rate this tour as a 3 / 5. You should be able to walk up to 25 km daily.
Local Guide
Ask a Question
Got any questions regarding the tour? Interested in promotions for groups or want to customize this tour to fit your needs? We are here to help you!
Ask a question
SALE! Well, not yet.
Let me know when this trip goes on sale.
Notify me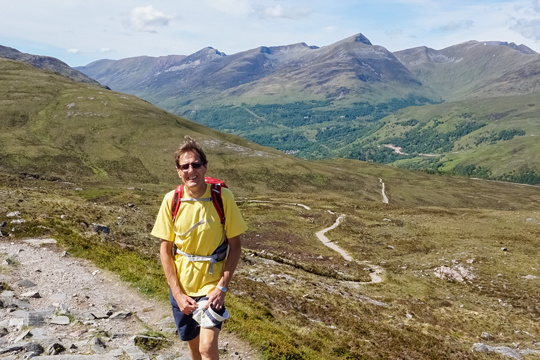 Q & A
Q:

What are guests most surprised about when visiting Scotland?

A:

Overseas clients are already aware of the fantastic scenery, but I feel they are bowled over by the friendliness and ease of conversation with the locals.

Q:

What is one experience anyone visiting Scotland should have?

A:

So many to choose from, but a walk through the vastness of Glencoe and out over the Devil's Staircase.

Q:

What is the most challenging trip you've taken?

A:

Taking a group through Tuscany on the Via Francigena to end at Siena at the time of the Palio, the famous horse ride through the city.