Get your adrenaline pumping on this mountain bike tour of the Dalmatian Islands
Hop on a bike for this guided tour of the incredible Dalmatian Islands in Croatia. Your adrenaline will be pumping as you mountain bike across entire islands, stopping to learn some history, admire the fairy-tale landscapes, jump in secluded coves to swim, and taste local flavours. You'll also get to enjoy a great day in a kayak in the Pakleni Islands, which look like they belong in a Mediterranean beach calendar.
Starting in Split, you'll settle in and meet your group and go for a sweaty pedal to the top of Marjan hill for a view of the Old Town. In the next few days, you'll get acquainted with Brac and Hvar, two Dalmatian islands that are home to some great peaks to climb on your wheels and UNESCO Heritage Sites, respectively.
Give your legs a break as you paddle instead of pedal on Day 4, exploring the Pakleni Islands in a kayak. At the end of the week, you gain serious distance riding across the island of Korcula, then down the Peljesac Peninsula. You'll finish the tour in Dubrovnik, a popular coastal destination where high stone walls encircle the Old Town.
This tour is suitable for the adventurous traveler who seeks to experience Dalmatian history and nature in one of the best ways: on two wheels!
Highlights of the Dalmatian Islands Mountain Bike Tour
Be rewarded with epic ocean views every day as you travel on two wheels over the Dalmatian archipelago.
Ride alongside the longest stone wall in Europe in the town of Ston.
Journey across jaw-dropping coastlines, green pastures, and medieval paths by bike.
Relax and recuperate in luxury hotels each evening.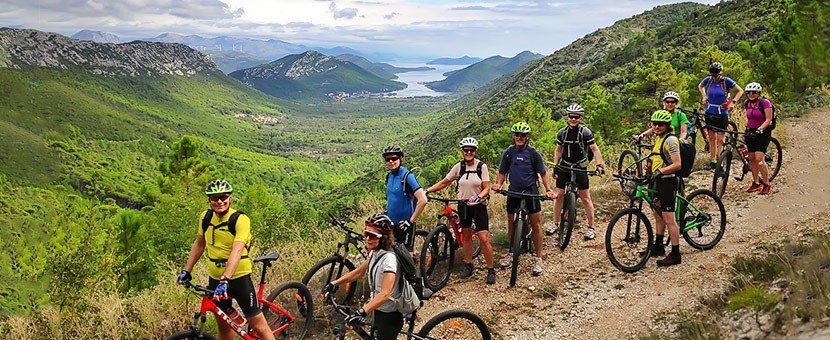 Mountain Bike in the Dalmatian Islands Tour Itinerary
Day 1

Bike Tour of Split

Welcome to Split! You'll get right to it once you arrive at your hotel. Meet your guide for an introduction to the week, including bike fitting and safety rules. Start pedaling with your group as you head up Marjan Hill, where you'll find some of the best points for views of Split and the adjacent sea. Ride towards town through the fragrant pine woods of Marjan Forest, noting some medieval churches as you pass. You have some time in the afternoon to stroll the Old Town, where medieval and modern mix. Taste what may be your first experience of Croatian cuisine at the Welcome Dinner with your group tonight. Spend the night in the historic centre.
Overnight Location: Hotel in Split
Distance: 10–30 km, 200–400 m of ascent
Meals: Dinner
Day 2

Cycling on Brac Island

After fueling up on breakfast in Split, head to the ferry terminal and board for Brac. Your guide will meet you at the port and get you set up for the bike tour of this fruitful island. Abundant in olive groves, fields, and vineyards, there's no shortage of pastoral panoramas on this ride. Get your legs going for the climb up to Vidova Gora and be rewarded with an epic view of the picturesque Golden Cape Beach below. Stop along the way for a picnic lunch. The guide will have a few route options based on the fitness of your group. After the day on Brac, you'll return to Split for the night.
Overnight Location: Hotel in Split
Distance: 25 km, 650 m of ascent
Meals: Breakfast, Lunch
Day 3

Explore Hvar Island

Hvar is renowned as a vacationer's paradise, but there's more adventure than meets the eye. Departing from Split in the morning to settle in Hvar town. Start today's ride in Stari Grad, Croatia's oldest city founded by ancient Greeks 2300 years ago. It has undoubtedly earned its place on the UNESCO World Heritage List. Your guide will offer a few route options depending on the fitness level and preference of your group. Spend time in the evening exploring Hvar town, admiring the Venetian architecture and rich heritage as you meander through its magical streets. Hvar town connects narrow alleys with plenty of boutiques, restaurants, and attractions to keep you busy.
Overnight Location: Hotel in Hvar town
Distance: 30 km, 940 m of ascent
Meals: Breakfast, Lunch
Day 4

Kayak around Pakleni Islands

Move to the next Dalmatian spot on the tour as you board for Vela Luka on Korcula Island. Once you've settled into the hotel there, it's time to get out on the calm, clear waters surrounding the Pakleni Islands, a string of beautifully lush islands with paradise beaches. Your guides will brief you on kayak safety and provide you with all the necessary equipment for a safe and enjoyable journey. Then hop in and follow your guide across the channel and split the day up between paddling, swimming, snorkeling, and enjoying a drink at the beach bar. Return leisurely to Vela Luka for a traditional dinner in a local tavern in the evening.
Overnight Location: Hotel in Vela Luka
Distance: 3–4 hours in kayak
Meals: Breakfast, Lunch, Dinner
Day 5

Bike Across Korcula Island

Get ready to cross the island of Korcula by bike! After breakfast, set off from Vela Luka on trails surrounded by olive groves and other typical Mediterranean vegetation. Today's ride includes several stops to get the best experience of Korcula's treasures. Once you reach Korcula town, you'll immediately sense the medieval vibes as the old city is inside a fortress. Taste the local cuisine in the evening as you enjoy dinner with a view after a short walking tour of Korcula town. Get some well-earned rest at the hotel.
Overnight Location: Hotel in Korcula town
Distance: 30-40 km, 750-850 m of ascent
Meals: Breakfast, Lunch, Dinner
Day 6

Pedal the Peljesac Peninsula

A short ferry ride away, today's biking adventure leads you down the Peljesac Peninsula. Starting from Orebic, ride through gorgeous lush landscapes passing by small villages until you reach Ston, home to the longest stone wall in Europe. Enjoy a light lunch in Ston—known for having some of the best seafood in Croatia—then get picked up for a transfer to Dubrovnik. Meander through the labyrinth inside the city walls where around every corner, a new photo opportunity awaits. Settle into your hotel in this famous medieval town and explore at your leisure for the evening before having a Farewell Dinner with your group.
Overnight Location: Hotel in Dubrovnik
Distance: 45 km, 800 m of ascent
Meals: Breakfast, Dinner
Day 7

Departure day

Sadly, today is the departure day. Make your way to the airport for your flight from Dubrovnik.
Overnight Location: None
Distance: None
Meals: Breakfast

Book Now
Mountain Bike in the Dalmatian Islands Tour Price and Dates
This guided mountain biking and kayaking tour to the Dalmatian Islands in Croatia is always run as a fixed-departure tour for a mixed group and the price depends on the size of the group and the dates chosen.
The best time to travel to the Dalmatian Islands for this mountain bike and kayak tour is from April to mid-October.
Join a Group on Mountain Bike in the Dalmatian Islands Tour
Make new friends and join a group on the Mountain Bike in the Dalmatian Islands Tour. Prices below are per person. Please note, that if the group is bigger than 8 people, the discount of $475 USD is applied to everyone in the group.
Accommodation on the Mountain Bike in the Dalmatian Islands Tour
This tour is based in Hotels.
Hotels on this trip are 3- and 4-star and offer modern and luxury conveniences that can make this trip more pleasant. Rooms are double occupancy, and single travelers will pay a supplement.
In some cases, accommodation listed below may need to be substituted for other, comparable accommodations.
Single Rooms and Solo Travelers
You can pay a supplement to have a private room in a hotel when traveling a group. The price depends on the size of your group and your traveling dates, and varies between $425 USD and $525 USD. Please enquire to find out more.
Hotels on Standard Tour
What's included in the Mountain Bike in the Dalmatian Islands Tour?
Meals
6 breakfasts, 4 lunches, and 4 dinners are included in the tour.
Accommodations
Accommodations for 6 nights are included in the tour.
Transportation during the Tour
Transport for you, your luggage and the bike are provided throughout the tour, including the ferry tickets. Airport transfers on this tour are not provided.
Also Included
Support van and local guides
Tour leader services during the biking days
ground transportation as noted in the itinerary
tastings/meals/picnics as noted in the itinerary
energy bars and snacks during rides
ferry tickets
hardtail mountain bike rental + helmet
Not included
meals not noted in the itinerary
optional services
personal expenses
flights
airport transfers
travel insurance
anything not listed in "Included"
Optional Extras
Additional nights in Split before the tour
Additional nights in Dubrovnik after the tour
Upgrade to an e-Bike – $25 USD per day
Frequently Asked Questions about Dalmatian Islands Mountain Bike Tour
AndAdventure is a boutique Croatian tour operator specializing in adventure tourism, such as hiking, cycling, sailing, kayaking and more. AndAdventure was founded by experienced Croatian guides who want to share their passion for playing outside. Combing tourism with adventure, they aim to deliver high-quality, safe, and exciting journeys throughout Croatia.
Learn More
Is this tour for me?
We rate this tour as a 4 / 5. You should be physically fit and able to mountain bike up to 45 km per day, and be a confident swimmer.
Ask a Question
Got any questions regarding the tour? Interested in promotions for groups or want to customize this tour to fit your needs? We are here to help you!
Ask a question
SALE! Well, not yet.
Let me know when this trip goes on sale.
Notify me