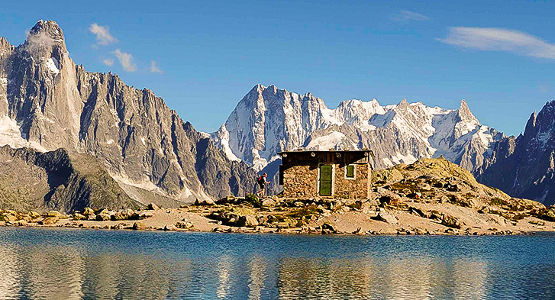 Combine the best of amazing cuisine, epic scenery, and fascinating history on any of these memorable Europe tours. From the emerald blue waters and serene islands of the Mediterranean to the rugged snow-capped Alps, there's an adventure tour perfectly suited for you in Europe. You can book these tours with an experienced guide or opt for a self-guided tour, depending on your preferences. Whether you choose to be accompanied by a local expert or be on your own, these tour operators will still arrange logistics for you, providing you with a stress-free holiday.
Mountaineering, cycle tours, inn-to-inn walking, and bouldering are just some of the many activities that you can find throughout these Europe tours. Mountain ranges like the Alps and Pyrenees are top destinations for high-altitude sports like climbing and ski touring in France, Italy, Switzerland, Austria, and Spain. History lovers can explore ancient ruins and medieval villages while walking or cycling through historic sites in Ireland, Scotland, England, and France. Beachgoers will find similar adventures in the sun and sand along the Mediterranean coastlines of Italy, Spain, and Greece. As you can see, no matter what you're looking for, you'll find it in these amazing tours of Europe!
Read More
Hiking Tours in Europe
Hiking tours in Europe are a tradition that dates back throughout the millennia. Numerous routes that guides can take you on today follow the same routes that your ancestors may have followed long ago, such as the Roman-era Hadrian's Wall Path in northern England and portions of the West Highland Way in Scotland.
Both day hikes and long-distance trekking routes cover the Alps in Switzerland, Italy, and Austria. You can hike along glacial lakes, over barren ridges with endless vistas, and through expansive meadows year-round in many areas of the Alps. When the trails are covered in snow, routes are still accessible by ski touring, led by local experts. One of the highlights of the long-distance trekking routes through the Alps are the huts you'll stay in each night, and don't let the word "hut" mislead you. Many of them serve up hearty food, cold beer, and offer warm showers.
Inn-to-inn walking is prevalent throughout the rest of Europe and is one of the best ways to see the countryside and meet the many welcoming locals you'll come across throughout the region. Trekking routes in Ireland showcase the Emerald Isle's wild coasts, rolling green hills, Stone Age ruins, and cozy pubs. In England and Scotland, a network of long-distance national walking trails take you through spectacular natural areas, to historic castles and abbeys, and up mountaintops with superb views. If you're seeking more of a beach vibe, you'll find plenty of walking routes along the Mediterranean coast in Spain, Italy, and Greece.
Biking Tours in Europe
If you still want to be intimately immersed in the country but move at a faster pace than hiking, book a biking tour in Europe instead. Biking tours in Europe are an ideal way to do a themed adventure holiday in Europe. For example, if you want to see the French countryside while sampling the country's best champagne, book a cycling tour through the Champagne region and stay at local inns every night. Tour guides will arrange luggage transfers for you, so all you need to do is ride and enjoy the scenery.
The Danube Valley is another excellent themed cycling tour, this one in Austria. The Danube River, which actually flows through ten countries, is especially remarkable in the Wachau region. This area is full of castles, thick green forests, wineries, and medieval abbeys around every bend of the river. Spain is also home to several themed tours, such as cycling through Basque country in the Pyrenees, or ancient Moorish cities in Andalusia.
Like their network of walking trails, the United Kingdom also boasts some incredible cycling trails. Cycle along the rugged Scottish coast, reaching the northernmost point in Scotland, along the North Coast 500 route. Or just slightly further to the south, you can also cycle from coast to coast along the Caledonian Canal route, which passes by Loch Ness and the historic Urquhart Castle ruins. In England, cycling through the Lakes District offers nearly endless combinations of extraordinary scenic routes.
Climbing Tours in Europe
You don't need to have any experience on the rock at all to book climbing tours in Europe. With some of both the best climbing in the world and the best guides in the world, climbers of all abilities will find a memorable adventure to suit them in Europe.
One surprisingly amazing country for climbing in Europe is the Czech Republic. There are over 6,000 routes in the unique Ardspach area alone, home of mighty sandstone towers in this forested area for endless and uncrowded climbing. Bohemian Switzerland is also a fantastic climbing destination in the Czech Republic, a great option if you want to spend a few days taking climbing courses or, for the more experienced climbers, conquer the more challenging routes.
And of course, there are the more traditional climbing tours in Europe, in countries long-held as superb climbing destinations like Austria, Spain, and Italy. The Alps are one such climbing region, where in Austria, you can learn how to climb frozen waterfalls or climb along the numerous ferratas that give you unmatched views of these mighty mountains. Climbing the Italian Alps can take you to the tops of mountains such as the Matterhorn, which can also be accessed by Switzerland. But Italy also has great climbing on the coast that you shouldn't miss out on either, like at Finale Ligure and the renowned Amalfi Coast. You can also climb high above the sea in France at Corsica and in Spain at Mallorca. Climbing tours in Europe are endless.
Europe Tours by Country
Read More
Destinations
Activities