Get a well-rounded glimpse of Holland on this 8-day family-friendly cycling tour
The 8-day self-guided Holland Family Biking Tour invites you to explore four unique provinces of the Netherlands by bike while having plenty of time for sightseeing. Whether you're looking for a family cycling holiday suitable for the kids or just prefer pleasant, easy rides of short distances, this tour will delight every age.
The tour begins in Amersfoort in Utrecht province, where you'll discover a whimsical world of historic buildings and a maze of canals. Cruising through royal Baarn and beautiful Naarden, you'll make your way to the village of Muiderberg, marking your crossing into the province of North Holland. Trading in a peaceful village ambience for the buzz of the big city, you'll then ride to Amsterdam, where you'll enjoy a spectacular afternoon exploring the dynamic capital. Enkhuizen, Lelystad, and Hulshorst are to follow, introducing you to the provinces of Flevoland and Gelderland.
Each leg of the tour is filled with unique scenery and exciting experiences—from ancient castles to a Dolphinarium, there's something for everyone on this tour. Quality accommodations make unwinding after days of cycling and sightseeing a true pleasure, with overnight stays in well-located 3-star and 4-star hotels. Detailed route maps and trip notes make for an easy ride, allowing you to concentrate on taking in the marvellous scenes that unfold around you each day.
Enjoy a cycling tour that doesn't require full days on the bike. Book the Holland Family Biking Tour and discover the allure of the Netherlands for yourself.
Highlights of the Holland Family Biking Tour
Enjoy easy, short cycling routes through the Dutch provinces of Utrecht, North Holland, Flevoland, and Gelderland.
Spend an afternoon caught up in the maze of Amsterdam's famous canals as you soak up the buzzing atmosphere of the capital.
Visit and stay in beautiful historic Dutch villages like Volendam, where culture and tradition abound.
Catch a ferry from Enkhuizen to the island of Urk, then pedal the pretty island of Schokland.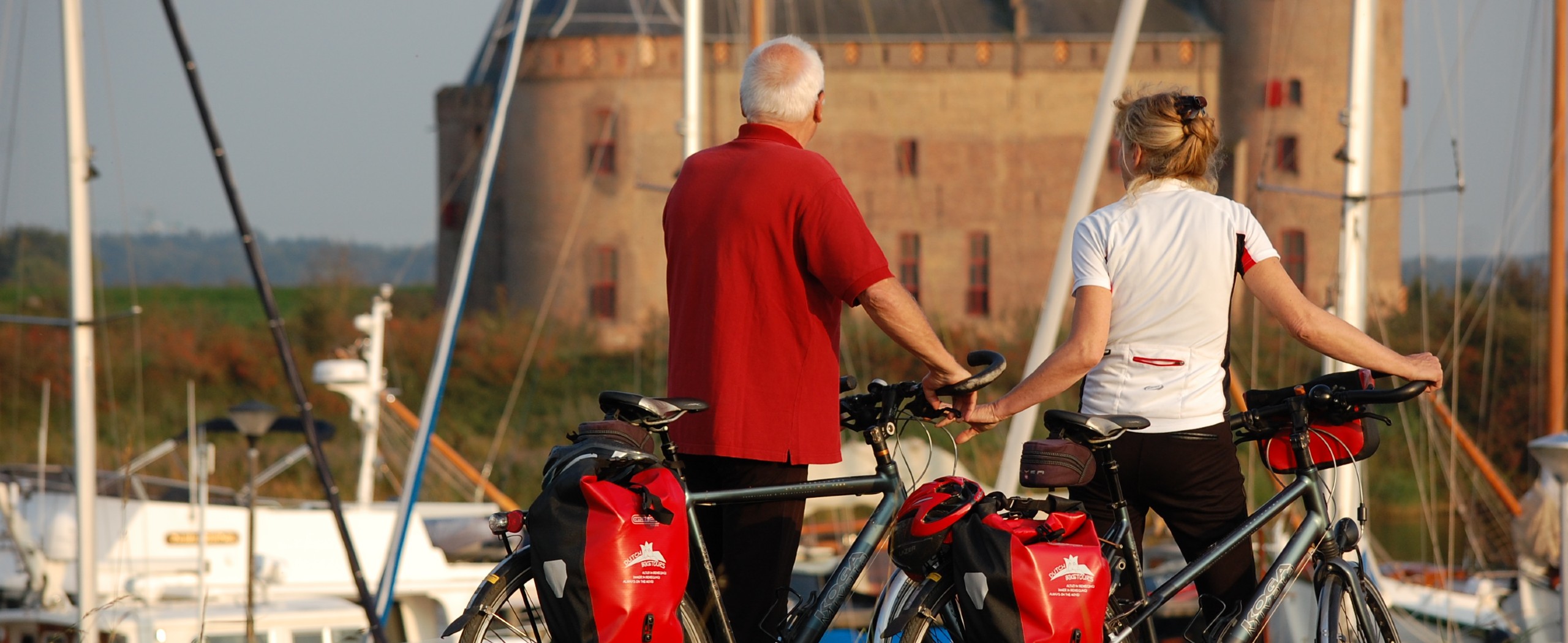 Holland Family Biking Tour Itinerary
Day 1

Arrive

Your tour begins in Amersfoort, in the beautiful Dutch province of Utrecht. Amersfoort is the perfect introduction to the Netherlands, with its charming historic buildings and lively city center. Settle into your accommodations before setting out to explore the city's network of canals, excellent cafes and restaurants, and lovely terraces.
Overnight Location: Hotel in Amersfoort
Distance: None
Meals: None
Day 2

Cycle to Muiderberg via Baarn and Naarden

Your first day of riding is here! Hop on your bike this morning after breakfast and enjoy a pleasant ride to Muiderberg. On the way, you'll cruise through Baarn and stunning Naarden, where you can enjoy a pit-stop for refreshments and a little stroll.

Arrive in the idyllic village of Muiderberg, which marks your entrance to the North Holland province. Enjoy a relaxing evening, perhaps catching the sunset as you walk the village's sandy shores.
Overnight Location: Hotel in Muiderberg
Distance: 42km
Meals: Breakfast
Day 3

Muiden Castle and an Afternoon in Amsterdam

Pleasantly charmed by Dutch village life, you'll set out this morning to take in a fascinating remnant of Dutch history. Ride to Muiden, where you'll discover the medieval Muiden Castle, a beautiful stone fortress built in 1280 at the mouth of the Vecht River.

Back on your bike, you'll press on to the capital, Amsterdam, cruising along the former estuary to a place known as Waterland, where birds abound in peat meadows and ancient canals flow.

In Amsterdam, a world of adventure awaits! The bike-friendly, vibrant capital is a hub for art, culture, and international cuisine. Enjoy as much time as you like here, with no shortage of things to do, then continue the route to your next overnight stop in the lovely fishing village of Volendam.
Overnight Location: Hotel in Volendam
Distance: 45km
Meals: Breakfast
Day 4

Cycle to Historical Enkhuizen

After a peaceful evening spent in Volendam, set out this morning towards Hoorn, a pretty village situated on a bay. Hop off your bike to check out the old town center, which boasts a host of incredible 17th-century historical buildings.

Then, with the ancient Zuiderzee sea dike as your guide, you'll continue the route to Enkhuizen, whizzing past several beautiful churches and windmills.

Enkhuizen, known to have one of the Netherlands' most beautiful old town centers, is guaranteed to delight. Encased in an impressive 17th-century city wall, the town is a true hotspot for history lovers, home to several 15th-century churches and a plethora of other historical masterpieces.
Overnight Location: Hotel in Enkhuizen
Distance: 45km
Meals: Breakfast
Day 5

Island Hopping to Lelystad

Today, you'll swap out land for water as you board a ferry to Urk, a former Zuiderzee island.

Following a scenic cruise, you'll jump in the saddle to cruise Schokland, another former Zuiderzee island known as the pearl of Flevoland. The tiny island spans only 4.5 kilometres long and 400 metres wide making for a quick ride.

Then, continue to Lelystad, where you'll find tonight's accommodations.
Overnight Location: Hotel in Lelystad
Distance: 30km
Meals: Breakfast
Day 6

Cycle the Width of Flevoland

Depart Lelystad this morning, and prepare for more breathtaking scenery during the ride. Today, you'll cycle the width of Flevoland, cruising past farms and pretty woodlands to Harderwijk, where you'll find yourself back on the mainland. Here, you'll discover a Dolphinarium, Europe's largest zoo for majestic marine mammals.

Continue the route to Hulshorst, where a refreshing dip in the hotel pool awaits you, following an exciting day on your bike!
Overnight Location: Hotel in Hulshorst
Distance: 35km
Meals: Breakfast
Day 7

Cycle the Banks of the Veluwerandmeren Lakes to Amersfoort

Your final ride marks your return to Amersfoort, and the route that paves the way is nothing short of magnificent. Enjoy a scenic ride via the banks of the sparkling Veluwerandmeren lakes, through dense woods and polders.

Arrive in Amersfoort, where you can enjoy a fantastic final night of the tour in this charming, historic town.
Overnight Location: Hotel in Amersfoort
Distance: 48km
Meals: Breakfast
Day 8

Depart

Your cycling tour comes to an end this morning after breakfast. Pack up and check out to depart.
Overnight Location: None
Distance: None
Meals: Breakfast

Book Now
Holland Family Biking Tour Itinerary Tour Prices and Dates
This self-guided cycling tour is run as a custom tour, and the price per person depends on how many people are in your group.

Prices below are per person:
Price per person staying in a single room: $975 USD
Price per person sharing a double room: $750 USD
Book Now
Accommodation on the Holland Family Biking Tour
This tour is based on hotels. Hotels on this trip are 3- and 4-star and offer modern conveniences that can make this trip more pleasant. Guests may have access to amenities such as swimming pools, steam rooms, or private decks to lounge on. As this tour is designed to be family-friendly, family rooms are available at each accommodation along the route.
In some cases, the accommodation listed below may need to be substituted for other comparable accommodations.
Single Rooms and Solo Travellers
Rooms are double occupancy. You can pay a supplement of $225 USD to have a private room in a hotel where possible. Solo travellers may be required to pay a supplement.
Hotels on Standard Tour
What's Included in the Holland Family Biking Tour?
Meals
7 breakfasts are included. 7 dinners can be added for a supplement of 230 EUR per person.
Accommodations
Accommodations for 7 nights are included. Accommodations before and after the tour in Amersfoort are not included but can be added as a supplement.
Transportation during the Tour
Luggage transportation during the tour is included. Your bike rental and airport transfers are not included but can be booked in advance as a supplement.
Also Included
Maps and route descriptions
Tourist information on all places of interest
Tourist taxes
Phone hotline (also available on weekends)
Not included
Bike rental
Guide services
Flights to and from Amsterdam
Ferry tickets
Meals, drinks, or snacks not previously mentioned
GPS
Entrance fees and excursions
Gratuities for tour guides or other staff if desired
Optional Extras
Bike rental:

Child bike: $75 USD per person
Hybrid bike: $95 USD per person
E-Bike: $195 USD per person

Upgrade to half board: $250 USD per person
Additional services and biking equipment rental:

Bike theft insurance: $25 USD per bike
Child seat: $50 USD per unit
Helmet rental: $25 USD
Bike road assistance: $25 USD per person

Additional nights before or after the tour
Airport transfers
Single occupancy upgrades
Optional activities or excursions
Frequently Asked Questions about Holland Family Biking Tour
Is this tour for me?
We rate this tour as a 1 / 5. The tour is designed to be enjoyed by the whole family, kids included, so routes are easy and short. You should be comfortable cycling distances of up to 48 kilometres in a day, with plenty of opportunities for breaks and refreshments. The terrain is almost entirely flat, making for a pleasant and easy ride.
Ask a Question
Got any questions regarding the tour? Interested in promotions for groups or want to customize this tour to fit your needs? We are here to help you!
Ask a question