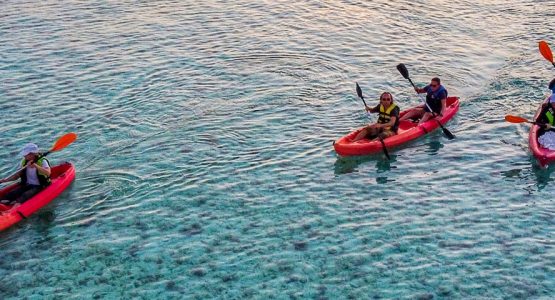 Water enthusiasts have kayak tours to choose from in every corner of the world. Enjoy these adventures from high-altitude lakes in the Andes to the islands of the Aegean Sea, and all the rivers in between. Whether you're new to the sport or have decades of water under your keel, you're going to find rewarding challenges no matter where you embark on a kayak tour.
When you sign up for a kayak tour, you're going to be in good hands, relying on guides with years of local expertise rather than strangers in Internet forums. They'll plan everything for you and even accompany you for guided tours. Your only responsibility is to enjoy your holiday!
Read More
Spend a fascinating day exploring the Mekong Delta, Vietnam's 'rice bowl'
Visit Ninh Binh with its extraordinary limestone monoliths
Hike through rainforests, cycle, swim and try canyoning on this active trip
12 days
Guided
Hotels, Homestays
Save 10%
See More ▸
Explore hilltop tribal villages where time seems to stand still
Wander the atmospheric imperial cities of Hue and Hoi An
Get under the skin of Hanoi, Vietnam's buzzing modern metropolis
Save 10%
See More ▸
Types of Kayak Tours
Several different types of kayak tours are available all over the world's waters. You can find short day trips around lakes and islands and longer multi-day trips along entire coastlines. Sign up for a guided tour in a group or request a custom itinerary for a self-guided tour. Whatever kind of kayak adventure you want, you'll find them all over the world.
Guided Kayak Tours
Guided kayak tours have numerous advantages. Your guides, who will accompany you for the entire journey, are masters of reading tides, currents, rapids, and weather. These things are especially important when you're on open water in a little human-powered boat! This fact alone helps put many kayakers at ease during their trip.
Your guides will also serve as a wonderful repository of amazing facts about natural history, political history, and more! Kayak guides also seem to have a gift of spotting wildlife that us mere mortals would never be able to find on our own. They're not bad cooks either, and they'll prepare some great meals for you!
Guided kayak tours are often arranged as group tours. You may be with some strangers, but you'll have new friends by the end of the trip! Guided group tours usually are cheaper than other tours because the cost of logistics, permits, and guide fees are split between more people. However, if you'd prefer a private guided tour, this can also be arranged by many kayak guide outfitters.
Self-Guided Kayak Tours
Self-guided kayak tours still have the benefits of logistical support, gear outfitting, local knowledge, and itinerary planning, but you won't have a guide with you during your journey. This can be preferable to many experienced kayakers who have spent a lot of time on the water and want some time to themselves.
If you do sign up for a self-guided kayak tour, be sure that the environment matches your skill level. Beginners are probably fine doing a self-guided kayak tour of Loch Ness, but those waters can turn deadly when the winds start whipping up waves. It's imperative to recognize this and head to shore when appropriate. The same beginners shouldn't even attempt a kayak tour in open waters where those kinds of waves and currents are the rule rather than the exception. Still, even if you don't have a lot of experience, you can find self-guided kayak tours that suit your skills!
Benefits of Kayak Tours
One of the best benefits of kayak tours is the access you'll get. Land on sandy beaches and rocky shorelines that aren't accessible by foot, bike, car, or larger boats that draw too much water. There's definitely something magical about this! After a day of paddling, watching the birds and sea life, pull your kayak up on a desolate, remote beach and set up camp. Feel like you're the only one in the world at that moment, enjoying unspoiled nature. Fall asleep to the waves lapping on the shore, wake up to sunrise over the water, and start another day!
Kayak tours are an incredible way for travelers to connect with nature. In addition to the benefits of having pristine beaches all to yourself, many paddlers love how the water gives them an appreciation of the ocean, the weather, and wildlife. You're just using your arms to slice through the water, at the mercy of Mother Nature, which is both empowering and humbling at the same time.
Signing up for a kayak tour – as opposed to trying to organize a kayak trip by yourself – also has its benefits. Whether you're joining a guided group tour or partaking of a self-guided tour, all of the hard work is done for you (except the paddling). You won't have to worry about creating an itinerary, sourcing gear, or researching tides, rapids, and currents on your own. This takes a lot of stress out of trip planning, and no one likes to stress while they're planning a trip! Leave it to the experts who have been paddling those waters for years.
Kayak Tour Requirements
There aren't a lot of kayak tour requirements as far as equipment and special skills are concerned. It is, of course, very unreasonable to have to travel internationally with a kayak. Your tour operator will supply all of the specialty equipment for you, including a quality boat, paddles, spray skirts, dry bags, and life vests. You may want to bring some comfortable quick-dry clothing and something to stay warm at night, and a hat, sunscreen, and sunglasses, but that's it as far as gear. And don't forget the waterproof camera!
Some kayak tours, especially those that will take you through rapids or big seas, do require a minimum skill set of being able to roll your kayak and egress if pinned. But trips on lazy rivers, tranquil lakes, and calm coastlines don't require a whole lot of skill. Your tour guides will show you how to paddle efficiently so you're not wasting energy and using unnecessary muscle groups. It's a delightful, peaceful way to tour the world's waterways!
Read More