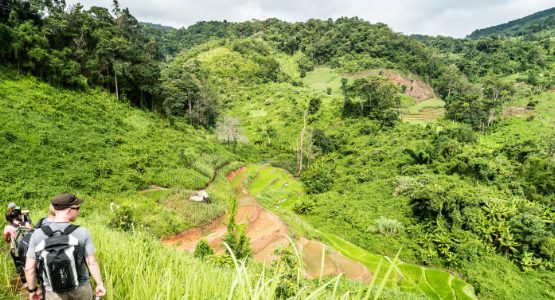 Participating in one of these Thailand tours will highlight why this country is called the "land of smiles." The guides are incredibly friendly, and they'll introduce you to even more friendly locals, giving you an immersive experience in an exceptional culture. Whether you travel by bike, foot, or boat, you're going to be mesmerized at every turn.
Thailand is home to a great mix of ancient Buddhist temples, limestone towers, waterfalls, and pristine beaches. Add to this wonderful food and exotic wildlife, and you're in for a real treat. Sign up for a hiking tour in one of Thailand's wonderful national parks and wildlife sanctuaries, on tours that range anywhere from a couple of hours to a couple of weeks. See how mountain tribes live today, which isn't much different than how they lived centuries ago. Cyclists will also find some world-class cycling tours in Thailand. Cycling the mountains in northern Thailand can be a challenging but rewarding adventure, and the same can be said for the coastal routes in the south. Plan your Thailand adventure today!
Read More
Visit several temples in urban and jungle environments
Hike to a remote mountain community and spend the night
Cycle in Chiang Mai, partaking in daily tasks with locals
See More ▸
Guided Thailand Tours
Booking a guided Thailand tour will help you see more of the country than you ever could by going on holiday by yourself. A guided tour of Thailand is an ideal way to travel for people who may be new to international travel or who desire a completely immersive experience. These professional guides will take care of everything for you from your arrival at the airport all the way through your departure. Guides will be your liaison as you're introduced to friendly locals, they'll lead you to all the hidden spots to eat, and they'll show you the secret attractions that you'd have a hard time discovering by yourself.
Self-guided Thailand Tours
If you'd rather have a more intimate, private holiday, you can arrange a self-guided Thailand tour instead. By booking a self-guided tour, you get all of the benefits of having an experienced local plan your trip for you, without that professional accompanying you the entire trip. They'll be available to help if you need it, but for the most part, you're free to explore with the rough itinerary that they provide. This is an especially great way to travel for those who have plenty of international travel experience under their belt, who are comfortable getting around without a local by their side. They can plan in as much or as little detail as you request.
Thailand Hiking Tours
Follow ancient trade routes on the Chiang Mai to Mae Hong Son Thailand hiking tour. This route will take you through dense jungle and mist-covered mountains over roughly one week of adventure. You'll pass remote mountain villages and meet friendly Thai locals along the way, seeing how locals have lived for generations for an amazing cultural experience.
Thailand is also home to spectacular wildlife, and several hiking tours in Thailand make this the focus of your trip. One of the most remote hiking tours that you can sign up for is in Umphang in the mountains of northern Thailand. These multi-day hiking adventures pass through several wildlife sanctuaries where you can watch for exotic animals like bears, leopards, elephants, and tapirs. In addition to some of Asia's best wildlife experiences, this region of Thailand also hosts some of the country's most impressive waterfalls and mountain scenery. Doi Inthanon National Park is another beautiful hiking destination with everything from day hikes to weeklong hikes in pristine, untouched tropical mountain environments.
You can also tour the best that Thailand has to offer with hiking tours that combine a little bit of everything. Hike through the country's amazing national parks, visit the mountain tribes in northern Thailand, and explore the coasts and remote tropical islands. There are more than enough hiking opportunities in Thailand!
Thailand Cycling Tours
Thailand cycling tours are an especially popular way to see this impressive country and its old temples, tropical jungles, mountain villages, and colorful markets. Thailand's "Golden Triangle" is an especially beautiful cycling tour, one for all fitness levels. This week-long cycling tour in far northern Thailand will connect you to Laotian, Burmese, Thai, and Chinese cultures all in one location. You'll tour old temples, cycle past rice fields and limestone cliffs, and eat with the locals. This area is a cultural treasure. You have another option from Chiang Rai that explores the mountains further south instead, visiting elephant sanctuaries, national parks, and rushing waterfalls. The hills will challenge you, but the rewards are worth it!
Bangkok to Phuket is a moderately difficult cycling tour more suited to travelers who are looking for a cycling experience that combines large cities, beaches, and remote locations. This route will take you about a week and a half on blacktop through Thailand's southern peninsula. You'll pass beautiful coastline, ride through the spectacular Sam Roi Yot National Park, and end at the beach resorts in Phuket. You'll see it all on this ride, with waterfalls, caves, beaches, and rice fields to round out the scenery. Accommodation includes luxury hotels, tree houses, and small guest houses.
Scenery in Thailand
A tropical climate leads to some remarkably green scenery in Thailand. Thailand is in the middle of Southeast Asia, bordered by countries like Cambodia and Laos, with a significant amount of coastline. The southern half of Thailand is characterized by rolling plains, which have been transformed into farms over the centuries. The northern half of Thailand is more mountainous but still dominated by farms, with cool rivers running through the valleys. Thailand also has some of the best beaches in Asia, with soft white sand, emerald waters, and massive rock formations jutting out of the sea. Several of Thailand's offshore islands are a good place to go to escape the crowds and enjoy these beaches all by yourself.
Read More
Destinations
Activities