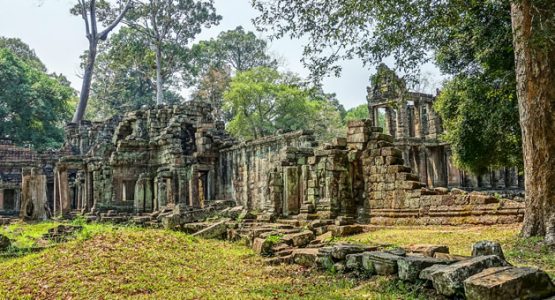 You'll feel like an explorer of old when you book any of these Cambodia tours. Bushwhack through the jungle in search of ancient stone temples, watch monkeys play in the trees, and get acquainted with herds of elephants. These Cambodia tours have it all, with experienced guides to help you plan your guided or self-guided holiday!
Cambodia's nature reserves and national parks have some amazing, untouched wilderness full of wildlife, waterfalls, and rivers. Hiking trails meander through these areas where you can spend either hours or days exploring. If you're a cycling fanatic, Cambodia is full of paved and dirt roads friendly to cyclists. You can ride both remote backcountry roads, amazing coastal routes beside the beach, and through beautiful cities. All of these Cambodia tours will also teach you about the country's ancient, beautiful, and turbulent history. A well-rounded adventure is waiting for you, so book one of these tours today.
Read More
Guided Cambodia Tours
If you're looking for an immersive, stress-free travel experience, check out these guided Cambodia tours. Guided tours can be booked either as a private tour or group tour; private tours are generally more expensive, but you don't have to share your holiday with a large group of strangers! These experienced guides will arrange all transportation and lodging for you and make sure that you get only the best Cambodian food.
The best part about being with a guide is that they'll help you connect with the country in ways that you can't without a guide. These guides are a wealth of information, informing you of local history and attractions not in the guidebooks. They'll also introduce you to the friendly locals you'll come across during your holiday, giving you an even deeper appreciation for Cambodia. Your safety is their number one priority, followed closely by giving you an adventure you'll never forget.
Self-guided Cambodia Tours
Experienced travelers, together with those desiring privacy, may want to book a self-guided Cambodia tour instead of a guided tour. When you book a self-guided tour, experienced guides will plan your trip for you based on the adventure you want to have in Cambodia. They'll make sure that you stay in only the best lodging facilities, eat the best meals, and participate in the activities that will make your trip complete. Even though you'll have an itinerary provided for you, it won't be as rigid as if you were on a guided tour. This gives you the kinds of options that certain travelers crave.
Cambodia Hiking Tours
Cambodia hiking tours are the perfect way to see remote, undiscovered treasures throughout the country. Trails of varying lengths and difficulties will take you through bamboo forests, into hidden stone temples, and along cool rivers. You'll probably want to go with a guide since many of these trails can be difficult to follow. The area around the Cardamom Mountains is one such region where trails may not even be existent, requiring the use of machetes. But you can spend a week exploring this area on foot with an experienced guide who will lead you through this rainforest, looking for exotic wildlife and guiding you to guesthouses where you'll spend the night.
Cambodia's old cities and temples are also highlights of many hiking tours. These tours take you through Siem Reap and the Angkor temple complex as part of longer hiking tours, where you can pick through the jungle and discover ancient city walls. These trails often continue along the Mekong River, where you'll visit with isolated tribes farming the land and see the Mekong's unique river dolphins. As you make your way through Phnom Penh and trails through several of Cambodia's national parks, you'll soon find yourself on tropical beaches with isolated fishing villages. Depending on your available time, you can focus on sections of these trails or combine them all for one unforgettable experience!
Cambodia Cycling Tours
Discovering Cambodia on a cycling tour has become increasingly popular for adventure travelers. These cycling tours can also be combined to travel through other countries in Southeast Asia like Thailand and Vietnam. Your cycling tour in Cambodia will be fully supported on a mix of remote backroads and bustling city streets, split up each day in comfortable hotels and guest houses.
For the amateur archaeologist in you, a themed cycling tour through Cambodia's temples is an adventurous way to spend a week cycling through the country. In addition to Angkor, where most tourism is centered, you'll get off the beaten cycling path and see other temples and pyramids in the jungle, including Preah Vihear and Beng Mealea.
Other backroads cycling tours are available in Cambodia, ranging from less than a week to over two weeks. These tours offer an exciting way to experience the floating villages and markets on Tonle Sap, admire the architecture of Phnom Penh, and learn the tragic history in the beautiful Khmer region. There's plenty to discover on the roads in Cambodia's lowlands and highland jungles.
Scenery in Cambodia
The lush scenery in Cambodia is a result of its tropical climate and position along the Mekong River. Cambodia's topography is often considered to be that of a bowl, with a large lake in the center of the basin. This lake is the epicenter of Cambodia's large farming economy, filled with rice fields, banana plantations, and palm groves. This region floods so much in the summer that the Tonle Sap River actually reverses course, feeding more water into the basin until it reaches a level where the water can flow back out of the bowl. The surrounding mountains generally have tame geography, filled with forests and wildlife sanctuaries. Cambodia also has a border on the Gulf of Thailand, where you'll find natural beaches and remote islands for further exploration.
Read More
Destinations
Activities