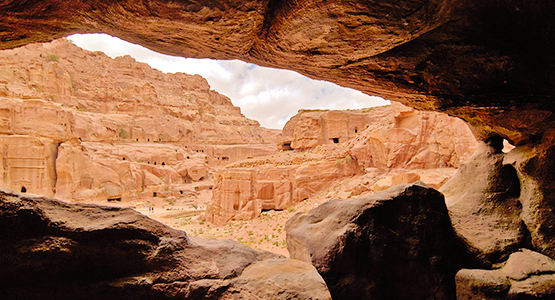 With the incredible variety of landscapes to be found in the Middle East, along with the amazing hospitality, it really deserves to be higher on the adventure traveler's list. This region of the world is home to some of the most fascinating ancient cultures, including the Egyptians, Babylonians, and the Persians.
Cycle through Turkey, hike to the lost city of Petra and see the Great Pyramids on camelback. Together with your tour guide, you'll experience amazing local cuisine, wonderful people, and unbelievable historic sites.
Read More
Whether you want to find the lost city of Petra, go hiking in the desert, or cycling through the hills, you'll find excellent adventure options in the Middle East.
Guided Tours in the Middle East
Despite what many people may think, guided tours in the Middle East are generally safe. In fact, tourism is a major economy for many of these countries, and both the government and local population do as much as they can to create an enjoyable experience for tourists. The local tour guides you'll hire in the Middle East are exceptional at their jobs and will make your holiday that much more memorable.
Some of the best guided tours in the Middle East will take you to places like the Nile River, Luxor, and the Giza Plateau for an immersive experience in the heart of the ancient Egyptian empire. Other guided tours can take you on pilgrimages to the many holy sites in the Middle East. Explore the lost city of Petra, old forts in Saudi Arabia, and the towering sand dunes in the United Arab Emirates. No matter what your tastes are, these local guides can arrange a guided private or group tour to suit you.
Trekking Tours in the Middle East
There are several trekking tours in the Middle East worthy of your bucket list consideration. Perhaps one of the best is the trek from Dana to Petra, in Jordan. This week-long trek is suitable for most people and ends in one of the most picturesque ancient places in the Middle East. This trek starts in Dana, an old hillside town next to an ecologically rich nature preserve. The route passes through valleys, oases, incredible vistas, and ends in enchanted Petra.
For a coastal trekking experience, book a coastal tour of Turkey on the Lycian Way. This trekking route, just over a week-long, is characterized by breathtaking views of the emerald blue waters surrounding this ancient coastline. You'll pass Roman ruins, golden beaches, and old ports. Your guides will arrange lodging and food for you, all you need to do is walk and take in the scenery.
If you were to take a trekking tour of Egypt's Sinai Trail, it'd take you nearly a month and a half. Thankfully you can split the route into smaller sections, and your local Bedouin guides will be able to recommend the best route for you. After all, they were the ones who designed and built this trail, showcasing the best of the Sinai.
Cycling Tours in the Middle East
Cycling tours in the Middle East have become increasingly popular, especially since they are supported with fantastic guides. If you have two weeks to spare, look into the Dead Sea Circuit. This route starts and ends in Jerusalem, where you can explore the old city's numerous holy sites. Cycle along the Dead Sea and through various deserts until reaching the Red Sea. The route returns through Jordan, where you'll pass through Petra and the old monastery at Mount Nebo before a gentle return to Jerusalem.
Turkey's Cappadocia Trails are like no other trail in the Middle East. This ancient volcanic region is full of solidified ash, which over the millennia has been shaped into unique chimneys and mushroom-shaped pillars. This group or private tour, which includes meals and accommodations, takes approximately one week to complete. Other destinations on this tour include mountain villages, Roman ruins, old churches carved into the rocks, and underground cities.
Ride a fat bike through the sand dunes! These shorter tours, typically one day in length, cross through Dubai's nature preserves. Even though you've got some pretty fat tires, riding through this soft sand is still a challenge. There's plenty of wildlife to observe, and your guides will have a keen eye for it.
Nature Tours in the Middle East
There's an abundance of nature tours in the Middle East, even if you mostly think of it as an arid, barren landscape. This is far from the truth! A local guide in Oman can take you on a private tour across this small country's desert and mountain environments, past an oasis, and eventually to a sea turtle sanctuary. During the right time of year, you'll walk along the beach at night and watch for giant sea turtles building nests and laying their eggs on the beach.
Jordan has several nature reserves where you'll find plenty of wildlife to keep you busy. Book a guided tour through the Dana Nature Reserve, a large area featuring all of Jordan's four different geographic zones. Your guides will help you spot hyenas, wolves, and the elusive Caracal Cat. There are 25 different endangered species found in this reserve. Jordan's other nature tours include the Azraq Wetlands and the Mujib and Ajlun Nature Reserves.
You can also book a private or group tour in one of Lebanon's many areas that are rich in wildlife and other nature. Experienced guides will lead you through the labyrinth of caves below Lebanon's marvelous forests, which can be found all over the country. One of Lebanon's national parks, Cedars of the Gods, has earned its listing on UNESCO's list of World Heritage Sites. There are many other nature reserves in Lebanon, and knowledgeable local guides will introduce you to the best of them.
Middle East Tours by Country
Read More
Destinations
Activities