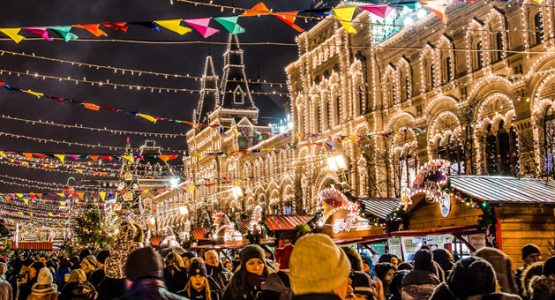 When you book one of these Russia tours you'll be set up for a holiday you'll remember forever! Whether you're a cycling enthusiast, a skilled alpine mountaineer, or a casual hiker, you'll find an adventure suited to your tastes in this vast country.
Russia's enormous size means it's home to several remarkably different cultures and landscapes. You can see it all on foot or two wheels, but it'll take you several lifetimes to do so! That's why we've compiled a list of amazing Russia tours for you to start with. These tours will have you cycling through beautiful cities like Moscow and Saint Petersburg, through rural countryside, and along wild rivers. Climb to the top of Europe's tallest mountain, walk around the largest lake in the world, or hike through an otherworldly volcanic landscape. Any one of these tours is sure to leave a great impression on you for the rest of your life!
Read More
Guided Russia Tours
Booking a guided Russia tour will open up a world of adventure that you'd have a tough time matching on your own. This is especially true for timid travelers and those who find it stressful planning an international adventure holiday.
When you sign up for any of these guided Russia tours, all you need to worry about is what to pack. The local professional guides will take care of everything else for you, arranging airport transportation, lodging, all other transportation within the country, and food. You can choose either a group tour or a private tour, and you'll always be with a friendly local guide who will make your safety and enjoyment their priority. These guides will be your translators, your friends, and an incredible source of knowledge that you can't find in any guidebook.
Self-Guided Russia Tours
If you're a traveler who likes to be on their own, you'd probably rather book a self-guided Russia tour. And that's great, there are plenty of self-guided tours to choose from!
When you arrange a self-guided tour of Russia, you'll be working closely with experienced guides operating in the areas you'd like to visit. They can arrange a pre-planned trip or a custom trip, depending on your desires. Like the guided tours, they'll still take care of transportation and lodging arrangements for you, give you recommendations on the best places to eat, and coordinate your activities for you. Once you have your itinerary, you're free to explore at your pace and without a guide. If you ever need any assistance, however, all you need to do is place a phone call, and the guides will be available to help you.
Russia Hiking Tours
With so much land area and scenic mountains, there's endless opportunity for Russia hiking tours. Russia's tallest mountain, Mt. Elbrus, is one well-traveled and sought-after destination. There are two trekking routes up to the top of this 18,510-foot snow-covered mountain, one more remote than the other. Both routes take nearly two weeks, with built-in time for altitude acclimatization and training. This is an adventurous tour that doesn't require too much mountaineering experience!
If wildlife is more of your thing, you can't go wrong with a hiking tour in Kamchatka. This remote region in eastern Russia is a UNESCO World Heritage Site, home to countless eagles, bears, and wolves. There are also over 300 volcanoes here, 29 of which are active, giving you some of the best volcano trekking in the world.
The Altai Mountains are another awesome hiking destination, with tours in both the bright summer and cold winter. Several different routes in this region, all of different lengths and difficulties, will give you views of waterfalls, glaciers, and deep gorges with wild rivers. Part of this region is also a UNESCO World Heritage Site for its diversity of flora.
Russia Cycling Tours
Russia cycling tours are an ideal way for cyclists to see amazing mountains and wilderness, beautiful cities, and stunning coastline. The Golden Ring of Russia is one of the best road cycling routes in Russia, starting and ending in Moscow. This two-week route takes you through numerous old towns, rural countryside, and past magnificent monasteries and churches. Several museums and educational opportunities round out the trip, where you'll learn all sorts of fascinating history about Russia.
If you want to do a one-way trip rather than a loop, try cycling from Moscow to Saint Petersburg. This route is a bit shorter and takes approximately one week. It'll take you through old forests, along grand rivers, past scenic lakes, and into one of the oldest cities in Russia.
Mountain bikers will have plenty of great cycling tours to choose from in the Ural Mountains. These scenic mountains are crisscrossed with routes of all lengths and difficulty levels. You'll go up and down gentle hills, climb up to vast plateaus, and bomb down steep mountains. While mountain biking in the Urals, you'll see caves, rivers, colorful flowers, and great wildlife. There are, of course, so many other great areas for mountain biking!
Scenery in Russia
You'll have access to some remarkable scenery in Russia during your adventure holiday! Russia is the largest country in the world, and as such, you can expect to find some breathtaking views! The largest region is Siberia, home to tundra, old-growth forests, and tall glacier-covered mountains. This is also where you'll find Lake Baikal, the largest lake in the world by volume. Eastern Russia is more remote than the west but is very volcanically active and home to amazing wildlife. Throughout the rest of the country, you'll find vast plateaus, mountain ranges, and wide rivers coursing through the landscape. As large as Russia is, there are certainly some favorite areas for trekking and cycling where you can see the highlights of what nature provides here.
Read More
Destinations
Activities