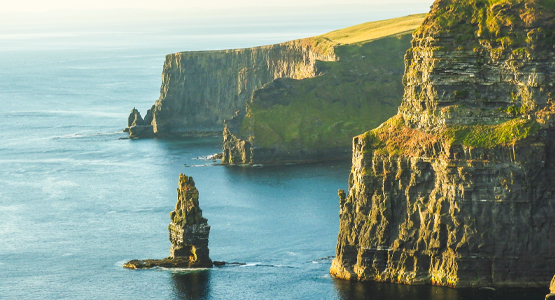 Be mindful when booking an Ireland tour that your experience might tempt you to stay in Ireland forever. Ireland is known for its hospitality and warm people. Add some world-renowned scenery to that, and you have the perfect mix for an indefinite holiday. Guided and self-guided tours are available throughout the country, arranged and led by amiable locals. No doubt the best way to see the country is on foot or bicycle, and you'll want to check out these tours of Ireland to get you started.
Read More
Guided Ireland Tours
Guided Ireland tours are very popular with many adventure travelers who want to take advantage of Ireland's renowned hospitality. Guides will pick you up at the airport and take care of everything for you until it's time to head home. They'll serve as ambassadors of Ireland and new friends to you, introducing you to colorful personalities, sharing local myths and legends, and explaining little-known historical facts about the island.
Self-Guided Ireland Tours
Self-guided Ireland tours are just as much of an option for those who are looking to experience Ireland's legendary hospitality. While you'll be on your own for most of your tour, you're never really alone. You're free to see the sights you want and follow a rough itinerary, but local tour operators are only a phone call away if you need assistance. Further, they're going to make sure you're set up in only the most exceptional accommodation, see the top attractions, and eat the best food, based on their extensive local knowledge.
Ireland Walking Tours
Its relatively small size, gentle terrain, and excellent hospitality make Ireland walking tours a great option for a holiday. The oldest marked walking trail in Ireland is the Wicklow Way, nearly 80 miles in length and a lovely way to spend a week walking through the Irish countryside. You'll stay at cozy family-run inns on this trail and pass waterfalls, beautiful lakes, and old villages, ending just an hour from Dublin. The longest walking trail in Ireland is the Wild Atlantic Way, which passes through several counties and can take weeks to walk the entire route. This trail is ideal for both nature lovers and amateur historians as it passes through places like Connemara National Park, Ballycastle, and Céide Fields, the oldest stone-age ruins in Europe.
Ireland Bike Tours
Booking an Ireland bike tour is a great way to visit even more worthwhile sites in Ireland while still maintaining that intimate, open-air experience. Bike tours in Ireland are fully supported, meaning you'll be provided with all equipment and will have support vans and luggage transfers throughout your journey. All you have to do is ride and enjoy the scenery! Galway and the Ring of Kerry are often favorite routes for bike tours, exposing you to charming hospitality, history, beautiful views of the countryside, and wild coastline. Guides will find quiet roads for you, giving you the feeling you have the place to yourself.
Ireland Mountain Tours
See another side of Ireland and learn some mountaineering skills along the way by booking Ireland mountain tours. While most tourists know Ireland as a land of rolling hills and pastures, there are also some small remarkable mountain ranges to explore. The Wicklow mountains immediately come to mind, part of a national park that boasts wildlife, waterfalls, and medieval villages. Easy day-hiking and longer weeklong routes are available. Guides are ready to take you on more challenging tours in the Mournes and Carlingford mountains, home to spectacular vistas and ancient ruins. Hikers have plenty of trail options here, and cyclists won't want to miss the Mourne Mountains Cycle Loop.
Ring of Kerry Tours
The Dingle Peninsula is one of the most famous sightseeing areas in Ireland, but it's part of a much larger region you'll see on Ring of Kerry tours. The Ring of Kerry is one of Ireland's more natural areas, having escaped much modern development, maintaining the character it's had for hundreds of years. The best way to tour the Ring of Kerry is by bicycle or walking, allowing you to see additional treasures and amazing sights you'd never see by car. The Kerry Way closely follows the driving route that starts and finishes in Killarney, and highlights include Killarney Lakes, stone age forts, dramatic cliffs, and beautiful beaches.
Giants Causeway Tours
Even if you never knew the name, you've likely seen the most popular attraction you'll experience on Giants Causeway tours. The Giants Causeway, located in Northern Ireland, is steeped in beauty and mythology. You can tour the Giants Causeway as part of a more extended walking tour on the Antrim Coast. You can book either a guided or self-guided tour, from just a day hike to a weeklong adventure. Despite the many waterfalls, quaint villages, and friendly people you'll meet, the highlight of your Giants Causeway tour will likely be the iconic hexagonal columns jutting out of the ocean, declared a World Heritage Site in 1986.
Cliffs of Moher Tours
Cycling Cliffs of Moher tours are often regarded as one of the top cycling routes in the world. There are several quiet roads in County Clare on which you can make loops of varying lengths, stopping at inns and pubs for a break every night. What makes these routes so popular is the ocean panoramas, with some sections of the routes passing incredibly close to the cliffs that give this area its fame.
Ireland's Scenery
Ireland's scenery is world-renowned, giving this beautiful island the nickname 'the Emerald Isle'. This fantastic scenery, straight out of a fairytale, enchants so many people that some end up staying for good! The coastline is surrounded by a mix of grand cliffs, peaceful sandy beaches, and old villages. Inland, ancient stone walls divide rolling green hills, where colorful sheep have room to roam. Castles and prehistoric ruins add an extra layer of intrigue, while scattered rocky mountains break up the skyline.
Read More
Destinations
Activities