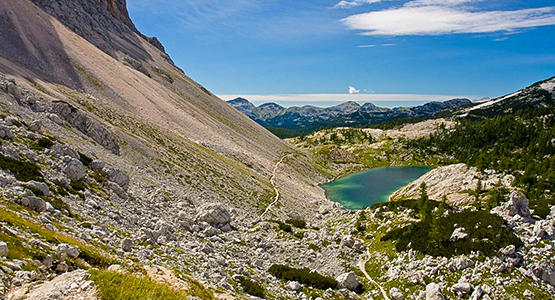 Slovenia isn't usually where people consider for a European holiday, but Slovenia tours have a much more authentic, intimate feeling that will leave you thankful you booked a tour here. This small country, bordering Italy, Austria, Hungary, and Croatia, is a wonderful destination for exploring by foot or bike. Slovenia is full of friendly people, great food and wine, beautiful mountains, and lush forests. No matter what you end up doing or how much time you have, Slovenia will leave you wanting to come back for more.
Read More
Guided Tours in Slovenia
There are many guided tours in Slovenia that will accommodate every type of traveler. If you're short on time, hire a guide to take you on a day tour of Ljubljana's museums, restaurants, and wonderful architecture. Or if you want to venture into the wild, Slovenia is full of it, and guides will take you on amazing day hikes in the picturesque Julian Alps. If you've got more time, hire a guide to take you high up into the Julian Alps for an unforgettable holiday of hut-to-hut trekking along waterfalls and glaciers or ride a cycling tour across Slovenia's scenic countryside.
Slovenia Hiking Tours
Slovenia hiking tours are a magical experience, one that will keep you active, challenge you, and reward you with unique landscapes and new friendships. Despite its small size, Slovenia is full of hiking trails that will give you a feeling of intense freedom in every direction. This is especially true in the Julian Alps, where you can find plenty of moderate and challenging hiking tours.
But you don't have to go to the Alps to enjoy hiking in Slovenia. The Soca Valley, a watershed of the Soca River that starts in the Alps, is a green gem full of trails and remarkable scenery. The glacial water of the Soca River is unbelievably clear, carving its way through meadows and rocky gorges. Hiking tours in this region will take you through old forests and along historic sites from the Iron Age through both World Wars. Hiking tours range from short, easy routes that can be accomplished in a single morning to more challenging routes that require days to complete.
On the opposite side of the country, in Maribor, take in old Slovenia while admiring gorgeous waterfalls and ancient forests. Tours in eastern Slovenia are often less crowded since most tourists tend to hike the Julian Alps, leaving you with a quieter experience here. Slovenia is one of the greenest countries in Europe, and you'll be able to appreciate this firsthand on a hiking tour here.
Slovenia Biking Tours
You can book either guided or self-guided Slovenia biking tours, depending on your tastes and skill level. Biking through Slovenia will let you explore this rich country at the perfect pace while fully admiring its beauty. Guided tours are fully supported with vans and local guides, so all you need to do is ride. These tours stop in comfortable inns and guesthouses where you'll enjoy a hearty breakfast and great local wine. The rides take you past vineyards, medieval castles, and relics of World War I. These rides can take anywhere from a few days to a few weeks, depending on your available time and skill level.
Self-guided tours also come in a variety of flavors, letting you ride on themed tours in wine country, in the Julian Alps, and around the country's fascinating castles. These tours set up a basic itinerary and arrangements for you, giving you much more freedom to roam on your own.
Julian Alps Tours
Booking Julian Alps tours will let you experience an accessible yet untouched region of the Alps, one not dominated by tourists. You'll find great hiking trails for all abilities, beautiful alpine lakes, castles, and friendly people. Tours can be arranged as short day hikes or multi-day treks stopping at mountain chalets.
One of the most popular hiking destinations in the Julian Alps is Lake Bled, with lush forests, picturesque castles, and excellent views. There are plenty of shorter day hiking opportunities in this area, and guides will lead you to the best trails and teach you about the fascinating local history dating back to Roman times. Many longer guided tours in the Julian Alps start or pass through here. On these tours, you'll hike up into Slovenian high country on well-maintained trails for all levels of physical fitness. Stay in different huts each night and enjoy authentic meals as you rest before the next day's hike.
For a self-guided tour, book a weeklong hut-to-hut hiking tour through Triglav National Park. This trekking route starts and ends at scenic Lake Bohinj, surrounded by charming restaurants and inns. Your hike will take you higher up into the Julian Alps, where you'll find even more beautiful glacial lakes, glaciers, streams, and waterfalls. Each night you'll stay at remote rustic huts full of warmth and great food.
Slovenia Scenery
Most of the Slovenia scenery you'll see is in the landlocked areas of the country, though there is a small piece where the Adriatic Sea is accessible. This small country is largely mountainous, situated in a region of the Alps where jagged, tall peaks in the north and west gradually give way to smaller hills and valleys as you venture south and east. Slovenia is one of the most forested countries in Europe, which gives it a special beauty you won't be able to find in many other places. The landscape alternates between glacier-covered peaks, rolling green farmland, large glacial lakes in picturesque valleys, and dense forest. The only island in Slovenia is in Lake Bled, atop which sits the country's iconic 17th-century church. Medieval castles, large chalets, and remnants of both World Wars dot the landscape.
Read More
Destinations
Activities