Enjoy this 8-day self-guided trek from Calvi to Corte experiencing the beauty of Corsica
The GR20 is the iconic trekking trail through some of the most incredible landscapes on the Mediterranean island of Corsica. On this self-guided trekking tour, you'll spend a week exploring the north section of the GR20 trail from Calvi to Corte.
Starting along the coast, in the pretty town of Calvi you trek across the spectacular mountains to Corte. Along the way explore lush green valleys, mountain lakes and more as the GR20 takes you through breathtaking scenery at every turn. You'll enjoy clear mountain streams, full of lovely waterfalls and refreshing natural pools. Watch for peacefully grazing wildlife, such as wild mouflon sheep and wild horses, in their idyllic natural environments.
Best-suited for experienced hikers, the GR20 North trek is a feast for the senses that you won't soon forget. Book your self-guided GR20 adventure today!
Highlights of the GR20 North Trek
Explore some of the best trails in Corsica on this self-guided tour of the Northern section of the GR20.
Visit the amazing Spasimata footbridge, which is suspended above a beautiful waterfall.
Experience the majesty of Corsica's amazing peaks, such as Monte Cintu, Paglia Orba, and Capu Tafunatu.
Explore lush green valleys that are home to wild mouflon sheep.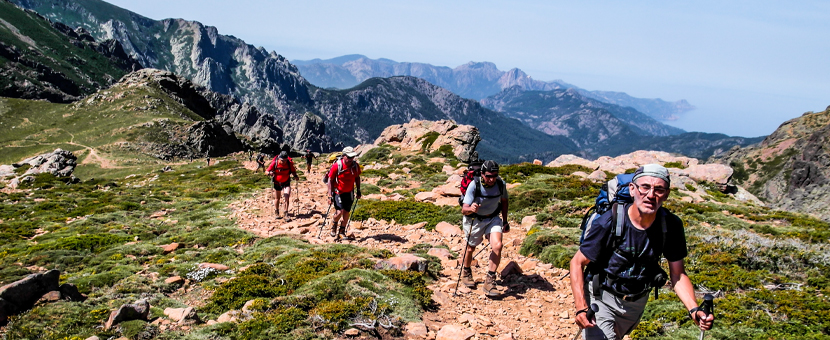 GR20 North Trek Itinerary
Day 1

Arrival in Calvi

Welcome to Calvi! Arrive today and explore this wonderful town, but get a good night's rest in your hotel, tomorrow you start the GR20.
Overnight Location: Hôtel Les Arbousiers, Calvi
Distance: None
Meals: None
Day 2

Taxi to Calenzana and trek Bonifatu

First thing this morning, take a taxi (included) from Calvi to the village of Calenzana. This is the official starting point for the GR20 trail. Hike through the forest today, passing amazing scenic overlooks where you can see the historic villages of the Balagne region. After about 4 hours of walking, you'll come to Bonifatu, your stop for the night.
Overnight Location: Auberge Foret, Bonifatu
Distance: 4 hours, 11 km, 700 m of ascent, 450 m of descent
Meals: Breakfast, Lunch, Dinner
Day 3

Trek to Haut Asco

Get an early start after breakfast today and be prepared for a long day. Leaving Bonifatu, you'll cross several rivers, then come to the famous Spasimata footbridge. This bridge is 30 m (98 feet) long and is a great location to take photos of the beautiful waterfall below it. Continue to the Muvrella Valley, named for a type of wild sheep also known as mouflon, where you'll find a small lake. You'll pass many incredible viewpoints where you can pause to appreciate the beauty of your surroundings. Finish today's trek at the foot of Corsica's highest summit, Monte Cinto (2,706 m / 8,878').
Overnight Location: Le Chalet, Haut Asco
Distance: 8 hours, 9.5 km, 1,300 m of ascent, 600 m of descent
Meals: Breakfast, Lunch, Dinner
Day 4

Trek by Monte Cintu to Vallone

The traditional GR20 route has been rerouted to avoid the Cirque de la Solitude, an area which has been closed by park authorities since a huge landslide occurred there in 2015. Today's trek is long and strenuous but crosses the amazing terrain around Monte Cintu and the Pointe des Éboulis (2,602 m / 8,537'). After you reach the Bocca Minuta (2,218 m / 7,277'), which marks the end of the Cirque de la Solitude, you'll descend into the Straciaconne Valley. Watch for the wild mouflon sheep that call this valley home. Stop for the night at the shepherd's hut in Vallone, where you'll spend a beautiful night camped out under the stars. Note that your bags will not be transferred to the Bergerie tonight, so you'll take a small bag with you during the day. Your bags will be waiting for you in Verghio.
Overnight Location: Bergerie, Vallone
Distance: 8.5 hours, 9 km, 1,200 m of ascent, 800 m of descent
Meals: Breakfast, Lunch, Dinner
Day 5

Trek to Verghio

Explore the heart of the island of Corsica today as you hike through the Niolu Valley. Today's views include some of Corsica's most incredible and beautiful summits, the Paglia Orba (2,525 m / 8,284') and the distinctive Capu Tafunatu (2,335 m / 7,661'). On a clear day, you can see an incredible view all the way to the Gulf of Porto. Then descend again into the Golo Valley and the Verghio forest. In Radule, visit the shepherd's hut, and pause to refresh yourself in the natural pools along the trail. Spend the night at the Castel di Verghio.
Overnight Location: Castel di Verghio, Verghio
Distance: 6.5 hours, 13.5 km, 971 m of ascent, 1,017 m of descent
Meals: Breakfast, Lunch, Dinner
Day 6

Trek to Sega

Begin today by crossing the Col de Saint-Pierre (Bocca San Pedru in Corsican) and the Bocca a Reta. From this magical place, you'll find a breathtaking view of the rugged coastline as it plunges into the sparkling blue Mediterranean. You can also see the Lake of Ninu, which was formed by a glacial crater and is surrounded by lush green vegetation. Watch for wild horses grazing peacefully beside the lake, which is surrounded by bright green pozzines. When you're ready to leave this special area behind, follow the trail beside a small stream, which gradually widens into the mighty Tavignanu River. Make your way to the refuge in Sega to rest for the night. Note that your bags will not be transferred to the refuge tonight, so you'll take a small bag with you during the day. Your bags will be waiting for you in Corte.
Overnight Location: Refuge in Sega
Distance: 7.5 hours, 22 km, 600 m of ascent, 640 m of descent
Meals: Breakfast, Lunch
Day 7

Trek to Corte

Begin your final day of hiking with a refreshing dip in the natural pools near the Sega refuge, then follow the trail along the banks of the Tavignanu River. Your walk is shaded by Lariccio pine trees and offers many of opportunities to swim in the river. End your GR20 North tour in the town of Corte, where you'll spend a relaxing night in a hotel.
Overnight Location: Hotel du Nord, Corte
Distance: 4 hours, 12 km, 720 m of ascent, 1,400 m of descent
Meals: None
Day 8

Departure Day

Sadly, your GR20 North trekking tour has come to an end. Check out of your hotel after breakfast. Airport transfers can be arranged for an additional fee. Have a pleasant journey!
Overnight Location: N/A
Distance: N/A
Meals: Breakfast

Book Now
GR20 North Trek Dates and Prices
Pricing for this self-guided walking tour in Corsica depends on your group size. The best time to travel to Corsica for this trek is between early June and mid-September.
Prices of Private Self-guided GR20 North Trek
Have your own private tour with just your group! Prices below are per person:
Self-guided groups of 2-3: $1,025 USD per person
Self-guided groups of 4-6: $875 USD per person
Self-guided groups of 7+: $775 USD per person
Book Now
Accommodation on the GR20 North Trek
This tour is based in hotels and mountain gites (dormitory-style). Dormitory nights (nights 2, 3 and 5) can be upgraded to a double occupancy room for an additional fee.
Hotels on this trip are 2- and 3-star hotels. Rooms are double occupancy, and single travelers will pay a supplement.
In some cases, accommodation listed below may need to be substituted for other, comparable accommodations.
Single Rooms and Solo Travelers
You can pay a supplement to have a private room in a hotel. Contact us and we can try and match single travelers up, where possible.
Hotels on Standard Tour
Hotel Les Arbousiers, Calvi ★★
Les Arbousiers is clean, comfortable, and close to Calvi's attractions. Be sure to enjoy the picnic area and the sun terrace during your stay!
Auberge Foret, Bonifatu (Dormitory)
Enjoy the shade of the forest and lovely mountain views from the Auberge Foret. You'll rest well in a peaceful place with friendly, attentive staff.
Le Chalet, Haut Asco (Dormitory)
A hot shower and a good meal go a long way along the trail. Join other GR20 hikers on the patio for a cold drink before turning in for the night.
Bergerie, Vallone (Camping)
Camp under the stars at this Bergerie. Tents and sleeping mats are supplied. There is a nearby river for swimming on hot days!
Hôtel Castel di Verghio, Verghio ★★★
Discover why this hotel is so popular with hikers! It's in a great location and you can enjoy wonderful mountain views from your balcony.
Simple but adequate accommodations in a beautiful place. Enjoy a peaceful night and get to know the friendly and knowledgeable caretaker.
This hotel is recently renovated and offers excellent service in a convenient location. Expect a peaceful and relaxing stay.
What's included in the GR20 North Trek?
Meals
6 breakfasts, 5 lunches, and 4 dinners are included in this tour.
Accommodations
Accommodations for 7 nights along the tour as described. Hotels in Corte and Calvi are of a 2- or 3-star standard. Spend 4 nights in dormitory-style accommodations and 1 night camping. Several dormitory nights can be upgraded to double-occupancy hotel rooms for an additional fee.
Transportation during the Tour
Taxi transfer from Calvi to Calenzana on day 2 is included.
Also Included
Local assistance as needed
Luggage transfers (except day 4 and 6)
Not included
Transportation to or from the island of Corsica
Airport transfers and any other transfers not listed as included
Meals not listed as included (breakfast and lunch on day 7, dinners on days 5-6)
Beverages
Admission to tourist attractions
Optional activities
Personal expenses
Luggage transfers on day 4 and 6
Travel insurance
Optional Extras
Upgrade to hotels (instead of dorms) in Bonifatu, Ascu and Verghio: $150 USD
Airport transfers (prices below are per one-way trip):

Calvi Airport to Calvi: $50 USD (+ $25 USD on Sundays/holidays)
Corte to Calvi Airport: $275 USD (+ $125 USD on Sundays/holidays)
Corte to Bastia Airport: $150 USD (+ $75 USD on Sundays/holidays)
Frequently Asked Questions about GR20 North Trek
Europe Active Corsican adventure tour company. This family business started in 2005 and is based in a small village south of Bastia, though operating all over Corsica. Europe Active is focused on sharing the best of Corsica's outdoors with an international community of adventure travellers.
Learn More
Is this tour for me?
We rate this tour as a 4 / 5. You should be able to walk for up to 8 hours per day on rocky and uneven terrain. The trails are well-marked but can be challenging. Previous hiking experience required.
Ask a Question
Got any questions regarding the tour? Interested in promotions for groups or want to customize this tour to fit your needs? We are here to help you!
Ask a question
SALE! Well, not yet.
Let me know when this trip goes on sale.
Notify me