Hike canyons and uncover a fortress, exploring the wonders of Israel's Judean Desert on foot
Feel yourself swept back in time as you hike the ancient footpaths of Israel's Judean Desert on this 5-day self-guided hiking tour. From the world-famous Masada to Israel's well-kept secrets like the Tze'elim Canyon, this hike will immerse you in the many natural wonders of the Judean Desert.
The Judean Desert Trek is an opportunity to truly see Israel on foot. With only two vehicle transfers of less than 5 minutes each, this is a true hiker's adventure! With a small day-pack in tow, your daily routes will lead from accommodation to accommodation while your luggage is securely transferred separately.
Beginning in Arad, this self-guided adventure will lead you through the expansive Tze'elim and Mishmar Canyons, steep you in history as you observe the ancient fortification of Masada, and ignite your senses as you take in the natural beauty of Ein Gedi Nature Reserve—known as one of Israel's most beautiful landscapes.
Experience Israel like never before, getting up close and personal with its natural wonders and its best-kept secrets.
Highlights of the Judean Desert Trek
Unlock the best views of the surrounding Judean Desert from atop the mighty Tze'elim Canyon.
Discover Israel's famous 'Masada', an ancient fortification overlooking the Dead Sea.
Experience the excitement of crossing pools, climbing ladders, and hiking a narrow gorge in the grand Mishmar Canyon.
Swim beneath a hidden waterfall and hear the rushing waters of the Arugot stream as you explore the Ein Gedi Nature Reserve.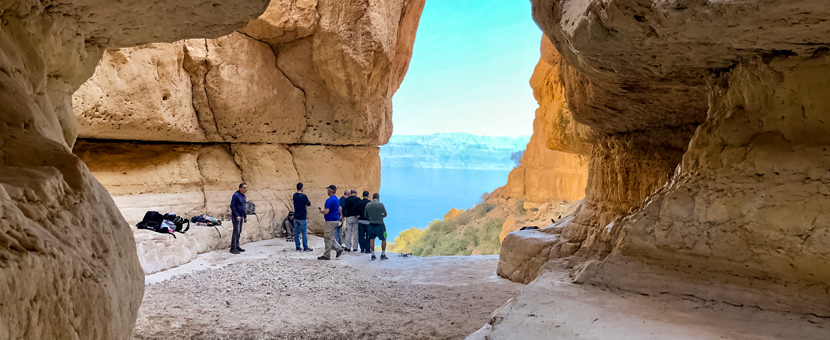 Judean Desert Trek Itinerary
Day 1

Arrive in Arad

Arriving in Arad, you'll get settled in your accommodation before having a brief meeting to discuss all aspects of the 4 adventure-packed days of hiking that lie ahead. If you want to get a head start on the exploration, perhaps check out the Bronze Age walled city and temple ruins of Tel Arad. Enjoy your first dinner in Israel this evening and settle in for a restful night's sleep in preparation for your first day of hiking tomorrow.
Overnight Location: Hotel in Arad
Distance: None
Meals: None
Day 2

Ancient desert footpaths of Tze'elim Canyon

Following breakfast this morning, a short taxi shuttle will take you to the trailhead. Begin your journey with a few easy warm-up kilometers that will lead you to the cliff tops of Tze'elim Canyon. As one of the largest canyons in the Judean Desert, you'll want to spend some time at the top taking it all in before descending via an ancient desert footpath into the gorge. Hiking between the great walls of the towering canyon, you'll reach Ein Namer (Leopard Spring), where in the past this rare water source was used by the local desert leopards that once inhabited the area. Next, you'll be dazzled by the surreal scene of Shiny Valley. Making your way through this deep narrow gorge, you'll be hiking amongst spectacular shiny white rocks. Exiting the canyon while following a curve on the ancient footpath, you'll suddenly be greeted by stunning views of the Dead Sea—a welcomed reward nearing the end of today's hike. The trail ends at the base of Masada where you'll find tonight's accommodation, the Masada Hostel. Enjoy a well-deserved local dinner and rest up for another adventure-packed day tomorrow.
Overnight Location: Hostel in Masada
Distance: 7-9 hours, 16.5 km, ascent 300 m
Meals: Breakfast
Day 3

Hike the fortress of Masada

Your route today will allow you to experience one of Israel's most famous attractions in a unique and thrilling way. Built by Herod the Great during the 1st Century BCE, the Masada is a sight to behold. You'll circle the ancient fortification via the surrounding mountains, discovering unparalleled views of the fortress. The Elazar Path is the only mountain around Masada that is higher than the palace itself and is known to offer the best views. This is a great option for those wishing to optimize this experience—however, there are many route options to access views of the Masada. A visit within the walls of the Masada itself is an option during this hike and an experience you won't want to miss!
Overnight Location: Hostel in Masada
Distance: 3-6 hours, 8-10 km, ascent 350 m
Meals: Breakfast
Day 4

Ladders and pools of Mishmar Canyon

Today's journey begins with a short taxi transfer a few kilometers north to Wadi Mishmar. Today you will find the perfect setting for a challenging day of hiking with ample rewards. The spectacles begin early on in today's hike as you ascend a narrow gorge and discover a dry horseshoe waterfall and the stunning desert spring Ein Mishmar. Continuing on the trail you'll encounter an exciting section that involves crossing pools (getting a little wet!), and climbing metal ladders built into the canyon, you'll want to pack extra dry shoes and a small towel for this day. You'll tackle a steep ascent to the north side of the canyon and follow the desert plateau which will eventually lead you down to Kibbutz Ein Gedi where you'll then reach your accommodation on foot. Hikers that would rather bypass the pools and ladders, can instead take the trail that follows above the gorge. For those interested in a shorter hiking route for the day, an option is available to return from Ein Mishmar along the trails that go above the canyon, back to the starting point. A short ten-minute taxi will take you from here, back to your accommodation. This option shortens today's hike to 12 km.
Tonight you'll have the opportunity to enjoy a meal in the quaint Kibbutz of Ein Gedi. Home to just over 600 locals Ein Gedi is a truly unique experience and is home to a world-famous botanical garden.
Overnight Location: Lodge in Elin Gedi
Distance: 9-11 hours, 20 km, ascent 800 m
Alternative option: 12 km, ascent 350 m
Meals: Breakfast
Day 5

Hike the grand circuit in Ein Gedi Reserve

The scenic reserve of Ein Gedi is the perfect high note to end your journey on! This circuit route begins with a tough ascent on the ancient and masterfully built Ein Gedi pass. With the sound of the rushing waters of the Arugot stream filling the air, this path will lead you to breathtaking views of the Dead Sea from high above and have you marveling at the wonders of this natural reserve. The basic circuit is 8 km long, however, there are two recommended extensions (The Window and The Essenes Pools) which will each take 2 km and are well worth your while! Make sure to pack your swimsuit for today's adventure, as you'll have the opportunity to swim at the picturesque pool beneath the waterfall—the perfect end to your day of thrilling hiking! Today's hike ends mid-day and allows you time to explore some other cool local attractions. Spend the afternoon floating on the Dead Sea, and perhaps pamper your skin with a layer of dead sea mud!
Overnight Location: None
Distance: 3-6 hours, 8-12 km, ascent 500 m
Meals: Breakfast

Book Now
Judean Desert Trek Price and Dates
This self-guided trekking tour in Israel is always run as a custom tour for your group only and the price always depends on the size of your group as well as your departure day.
The best time to travel to the Judean Desert for this trek is from December to March when the weather is most favourable.
Private Self-guided Judean Desert Trek
Have your own private tour with just your group! Prices below are per person:
Departures on Sunday, Monday and Tuesday:
Solo Traveller: $1,300 USD per person
Self-Guided Groups of 2: $725 USD per person
Self-Guided Groups of 3: $650 USD per person
Self-Guided Groups of 4-5: $600 USD per person
Self-Guided Groups of 6+: $575 USD per person
Departures on Wednesday, Thursday, Friday, and Saturday:
Solo Traveller: $1,450 USD per person
Self-Guided Groups of 2: $800 USD per person
Self-Guided Groups of 3: $725 USD per person
Self-Guided Groups of 4-5: $700 USD per person
Self-Guided Groups of 6+: $675 USD per person
Book Now
Accommodation on the Judean Desert Trek
The tour is based in 3- star hotels and hostels with private rooms and modern amenities that make this trip more comfortable.
In some cases, the accommodation listed below may need to be substituted for other, comparable accommodations.
Single Rooms and Solo Travelers
You can pay a supplement ($325 USD-$375 USD, depending on your departure day) to have a private room in a hotel. Contact us and we can try and match single travelers up where possible.
Accommodation During the Trek
Tastefully decorated rooms with AC, free Wi-Fi, and cable television provide the perfect spot to unwind after a challenging day of hiking.
Masada Hostel in Masada ★★★
Masada Hostel lies at the foot of the Masada plateau on the eastern edge of the Judean Desert. Boasting spectacular mountain views, this comfortable hostel provides free wifi, AC, and an amazing outdoor pool.
Ein Gedi Hotel in Ein Gedi ★★★★
This picturesque hotel is conveniently located 5 minutes from the Dead Sea, and offers beautiful views of the surrounding sea, streams, and desert. An excellent on-site restaurant and beautiful outdoor pool are sure to make your stay here special.
Included in the Judean Desert Tour
Meals
4 breakfasts are included.
Accommodations
Accommodations for 4 nights is included.
Transportation during the Tour
A short transfer is provided for hikers on day 2 and day 4, and luggage is transferred daily from accommodation to accommodation.
Also Included
A one-on-one briefing meeting
GPS mobile app
E-book with hiking maps and detailed information
24/7 phone support is included
Not included
Flights and bus transfers to get to Arad or from Ein Gedi
Airport transfers
Any meals not mentioned as 'included'
Optional Extras
Optional activities on day 4:
Extra nights in Arad or Ein Gedi before or after the tour
Frequently Asked Questions about Judean Desert Trek
Israel by Foot is a boutique company focusing on making it easy for hiking enthusiasts on all levels to enjoy Israel's varied terrain independently while having the secure feeling that we "got your back" at all times. Israel by Foot provides dedicated, personal service to ensure an unforgettable experience.
Learn More
Is this tour for me?
We rate this tour a 4 out of 5. You should be comfortable hiking for up to 9 hours and have some experience hiking difficult terrain.
Ask a Question
Got any questions regarding the tour? Interested in promotions for groups or want to customize this tour to fit your needs? We are here to help you!
Ask a question
SALE! Well, not yet.
Let me know when this trip goes on sale.
Notify me