Follow Jesus's footsteps on this unforgettable tour from Nazareth to Capernaum
Jump into one of the most historic places worldwide by walking the Jesus Trail. From Nazareth to Capernaum, you will follow what are said to be Jesus's footsteps across the desert landscape to end up at the Sea of Galilee. Along the way, you will experience a myriad of cultural hotspots, including Cana, the site of the story of Jesus's first miracle, a Jewish Kibbutz, and Nebi Shu'eib. You'll walk among ancient ruins, explore desert scenery, get a city tour of the bustling Nazareth, and climb mountains for epic 360-degree views.
Enjoy your nights in a variety of accommodations, from luxury hotels to family-run guesthouses. The tour begins in Nazareth, but if you prefer, you can spend the first night in either Jerusalem or Tel Aviv, then travel to Nazareth on Day 2, letting you customize your experience. For anyone remotely interested in biblical history, this Hiking the Jesus Trail Tour will fascinate you. Learn about the stories of Jesus walking from Nazareth and do it yourself—what a vivid experience!
Highlights of the Hiking the Jesus Trail Tour
Stand in the exact spot where Jesus is said to have turned water into wine, known as his first miracle, in Cana.
Hike Mount Arbel and catch glimpses of the sparkling Sea of Galilee in the distance.
Relish in the community vibes of kibbutzim in Kibbutz Lavi, where you'll gather for kosher meals made from locally-grown produce.
Immerse in cultural diversity—the Holy Land blends much history and religion, and you're amid it all.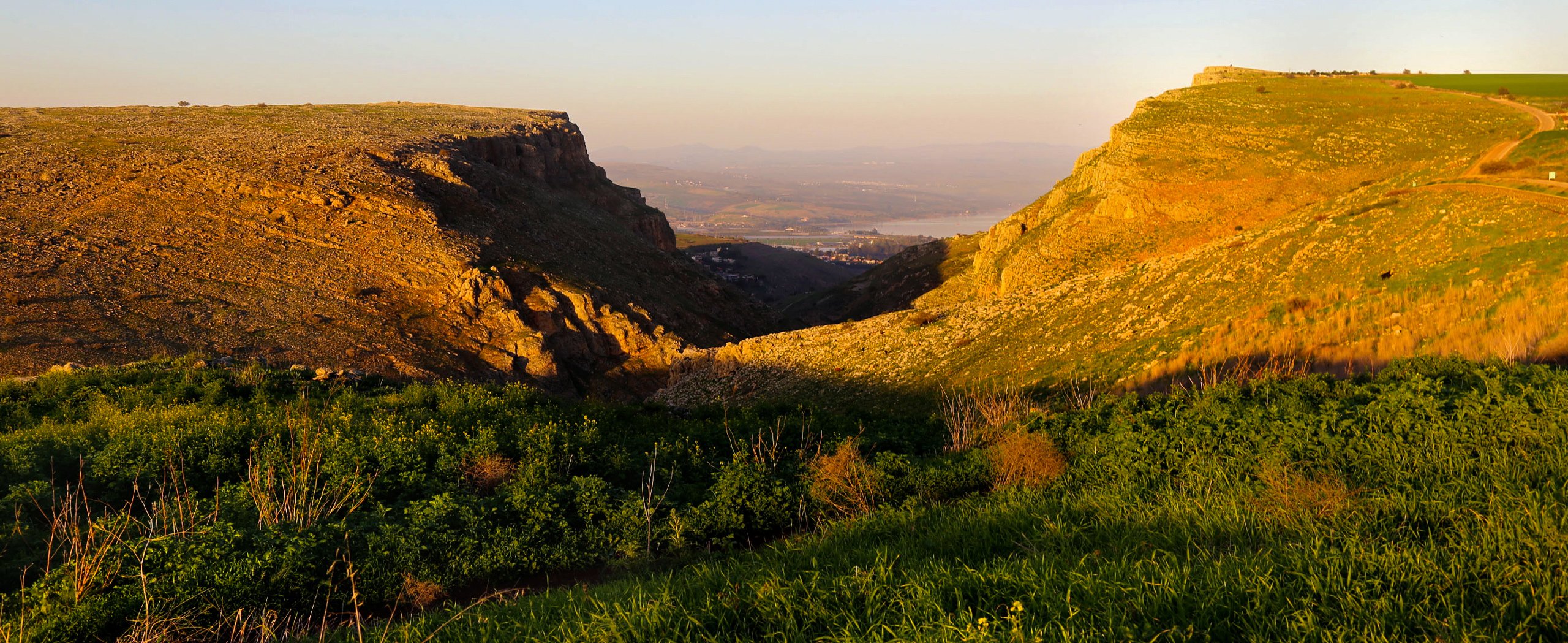 Hiking the Jesus Trail Tour Itinerary
Day 1

Arrive in Nazareth

Travel to Nazareth to check in to your hotel. Enjoy the lovely courtyards, fountains, and gardens around you as you prepare for your journey along the Jesus Trail over the next week.
Overnight Location: Hotel in Nazareth
Distance: None
Meals: None
Day 2

City Walk of Nazareth

Indulge in a traditional Arabic breakfast of vegetables, pita, and strong coffee, then meet a guide for a brief orientation on the walk. You'll receive an information pack with a guidebook, maps, contact information, and your itinerary.

In the afternoon, you can join a free walking tour of Nazareth to learn this holy area's history. Return to your hotel for a good night's sleep.
Overnight Location: Hotel in Nazareth
Distance: None
Meals: Breakfast
Day 3

Walk to Cana

Enjoy a hearty breakfast, then leave the Old City to embark on the first day of pilgrimage. You'll first walk through Zippori National Park, an archaeological site filled with ancient ruins, including an amphitheatre. After a short exploration of the Zippori complex, continue through small villages and desert landscapes to reach Cana.

You'll spend the night at a family-run guesthouse in Cana, the city known to be the holy site of Jesus's first miracle: turning water into wine.
Overnight Location: Guesthouse in Cana
Distance: 3–4 hours, 15.1km
Meals: Breakfast, dinner
Day 4

Walk Ancient Roman Roads to Kibbutz Lavi

Your hosts will cook up a delicious meal to set you up properly for your hike today. Walking through the Beit Keshet Forest and along ancient Roman roads, today's route will feel tangibly mystical.

The roads between Acre and Tiberias are thought to have been walked on by Jesus on his journey from Nazareth to the Sea of Galilee—and you're walking in his footsteps! Reach Kibbutz Lavi in the afternoon, where you'll experience the unique offerings of the kibbutzim faith, including a kosher meal.
Overnight Location: Hotel in Kibbutz Lavi
Distance: 3–4 hours, 14.7km
Meals: Breakfast, dinner
Day 5

Climb the Horns of Hattin

Share a kosher breakfast with your crew, then head out through the agricultural lands around Kibbutz Lavi. To start the route, you'll climb the Horns of Hattin, a peak that marks the site of an ancient battle in 1187. You'll get 360-degree views of undulating arid lands from the top.

Continue along the trail to Nebi Shu'eib, the holiest place for the Druze community, then round out the day with a stroll through olive groves and unspoilt scenery to reach Moshav Arbel for dinner.
Overnight Location: Hotel in Moshav Arbel
Distance: 3.5–4.5 hours, 17.1km
Meals: Breakfast, dinner
Day 6

Reach the Sea of Galilee

After a pleasant breakfast, you're off for the final stretch of your journey. Begin walking to Mount Arbel National Park to catch a glimpse of the sparkling Sea of Galilee. Descend the cliffs around the mountain and continue until you're on the shore of the Sea of Galilee. To complete the Jesus Trail, walk to Capernaum, where Jesus chose to make his ministerial base. The tour ends here, and a shuttle will take you to Tiberias.

Leave Capernaum feeling accomplished—you just followed in the footsteps of Jesus.
Overnight Location: None
Distance: 4–5 hours, 18.5km
Meals: Breakfast

Book Now
Hiking the Jesus Trail Tour Price and Dates
This walking tour in Israel is run as a fixed departure tour and the price depends on the type of room you prefer.
Tours depart most Sundays and Thursdays all year long, with a break from June 28th to September 22nd due to high heats. Some holidays (Christmas, Yom Kippur, Passover, etc.) do not offer departures. Please let us know your preferred tour dates.
Private Guided Hiking the Jesus Trail Tour
Prices below are per person sharing a double room. Groups of odd numbers can either add single room supplements for an extra charge, or share a triple room with a small price reduction (please enquire for the pricing).
Guided groups of 2: $2,270 USD per person
Guided groups of 4: $1,625 USD per person
Guided groups of 6: $1,395 USD per person
Guided groups of 7+: on request
Private Self-guided Hiking the Jesus Trail Tour
Have your own private self-guided tour with just your group! Prices below are per person:
Price per person staying in a single room: $1,099 USD per person
Price per person sharing a double room: $899 USD per person
Price per person sharing a triple room: $799 USD per person
Book Now
Accommodation on the Hiking the Jesus Trail Tour
This tour is based in well-appointed hotels and guesthouses. Rooms are double occupancy and single travellers will pay a supplement.
In some cases, the accommodation listed below may need to be substituted for other comparable accommodations.
Single Rooms and Solo Travellers
You can pay a supplement to have a private room in a hotel while travelling with your group. This supplement will depend on your group size (starting from $208 USD per person for those travelling with bigger groups, up to $1,520 USD for solo travellers).
Hotels on Standard Tour
What's included in the Hiking the Jesus Trail Tour?
Meals
5 breakfasts and 3 dinners are included.
Accommodations
Accommodations for 5 nights are included in the tour. Accommodations before or after the tour are not included but can be added as a supplement.
Transportation during the Tour
Transportation for your luggage is included. The transfer at the end of the tour takes you to Tiberias. Arrival and departure transfers are not included but can be requested at booking.
Also Included
Orientation in Nazareth
Guided Nazareth city walk
Jesus Trail guide book
Local English-speaking contact person
Self-guiding materials
Not included
Flights
Lunches, drinks, and meals not mentioned
Entrance fees of any kind
Travel insurance
Visas if required
Guided services
Arrival and departure transfers
Anything not mentioned as included
Optional Extras
Extra nights in any accommodation
Local guide for the hike
Transport to Tel Aviv/Jerusalem at end of the tour
Extra Jesus Trail guide book
Night 1 in Tel Aviv or Jerusalem
Frequently Asked Questions about Hiking the Jesus Trail Tour
Abraham Tours offers off-the-beaten-track tours in Egypt, Israel, the West Bank, and Jordan. With deep knowledge of the top destinations and lesser-known gems alike, Abraham crafts itineraries for the guided or self-guided traveller that aim to both show the best of the destination and offer an authentic adventure. With a commitment to serving travellers of all backgrounds, their tours offer historical, cultural, and natural enrichment to anyone interested in learning more about their corner of the globe.
Whether you're dreaming of bustling Cairo or the far-flung deserts or something in between, Abraham Tours is ready to help you craft the tour of a lifetime.
Learn More
Is this tour for me?
We rate this tour as a 3/5. You should be physically fit and comfortable walking 3–5 hours daily with little shade at your own pace. The elevation gain is moderate, and you will have comfortable accommodation to recuperate.
Ask a Question
Got any questions regarding the tour? Interested in promotions for groups or want to customize this tour to fit your needs? We are here to help you!
Ask a question