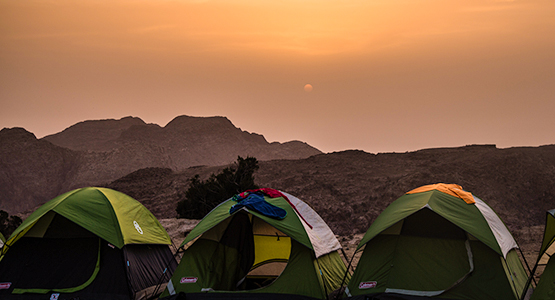 Experience the beauty and charm of the Middle East with these amazing handpicked Jordan tours. Peaceful and stable, Jordan is the perfect place to immerse yourself in the nature and culture of this unique region. Climb a sand dune, effortlessly float on the Dead Sea, or sip a cup of Bedouin tea as you watch the incredible desert sunset. Fill your senses with new sights, sounds, smells, and tastes as you enjoy a whole new level of adventure travel in Jordan.
Guided Tours, Jordan
There are numerous ways for you to see this marvelous country, but booking a guided tour in Jordan will be the best way to do it. Many of Jordan's expert guides are Bedouins or descendants of the Bedouins, and you'll find no one with more experience traveling in this region than them. You can rest assured that both your pleasure and your safety are their top priority. Because tourism is one of the biggest sources of revenue in Jordan, they've set high standards for the treatment of visitors. Booking a guide in Jordan is also the best way to learn the complex, fascinating history of this country. They'll provide you with exceptional knowledge that no guidebook will be able to offer.
Jordan Trekking Tours
Jordan's trekking tours crisscross the entire country. These routes will take you through landscapes that look like the surface of Mars, through narrow canyons, and past massive sand dunes. One of the most memorable tours is trekking for a week from Dana to Petra. You'll start in an old mountain village and descend into the desert, crossing amazing landscapes and sleeping under the stars. The route ends in Petra, perhaps the most iconic attraction in all of Jordan.
The Wadi Rum is another favorite trekking destination in Jordan. See how the Bedouins live as you travel with them across this fascinating landscape, full of old archeological sites, tall cliffs, and orange sand dunes. Climbing is an option here for those with the experience, and your guides will show you climbing routes that have been there for generations. Some travelers may also opt for trekking along the Dead Sea, which offers another unique experience. When you want to cool off after a long day of hiking, you can simply walk into the water and lie down on your back, floating on the surface of this salty body of water without expending any energy.
Petra Tours
Booking a Petra tour is a must-do for everyone visiting Jordan. This archeological wonder dates back as far as the 4th century B.C. and excavations are still ongoing today. In fact, researchers estimate that only fifteen percent of this ancient city has been excavated. The site is full of tombs, massive carvings in the sides of cliffs, and temples spread throughout, with much more left to discover. You can explore this wonder on foot, on a camel, or in a traditional cart pulled by donkeys.
To see all of Petra, you should plan to spend at least a couple of days here. When you book a guide for a tour of Petra, you're sure to see not only the famous locations, like the Treasury and the Monastery but also some of the lesser-known attractions in this massive park. There's a large network of hiking trails for you to explore and plenty of stops for refreshments. Your guides will be more than happy to arrange excellent lodging and meals for you in the nearby village.
Dana Tours
Dana tours will take you into an immense nature reserve where you can experience the four distinct geographical zones of Jordan. The Dana Biosphere Reserve is over 320 square kilometers in size and is home to at least 25 different endangered species. In total, there are over 1,000 species of plants and animals in this protected area. Your guides will take you into deep canyons, through lush valleys, and across the arid desert. Throughout all of this, they'll help you spot some of the reserve's prized wildlife, including the elusive sand cat, the Syrian wolf, and ibex.
The Dana Biosphere Reserve is a wildlife enthusiast's dream, and the large network of trails will help you see it all. Guides can lead you on short, easy trails, or more difficult trails that will take an entire day to complete. At night you can stay in one of the many eco-lodges at the reserve or in guest houses in the nearby village of Dana, a picturesque old town atop the mountain.
Jordan Scenery
Jordan's scenery is unlike anything else. If you've ever seen any movies that take place on Mars, you were probably seeing Wadi Rum, as the resemblance is so uncanny that those movies are often filmed there. Towering monoliths mysteriously rise out of the sand, completely out of place in the vast desert, shadowing lush oases and springs. Mountains on the western side of the country provide views of the Dead Sea and Jerusalem and are often capped with noteworthy archaeological sites. Smaller regions of Jordan feature wetlands full of birds and other wildlife, and deep canyons are cooled by streams and vegetation. The northern part of Jordan is characterized by a lush, fertile landscape, fed by the Jordan River.
Read More
Explore Dana Reserve's unique ecosystem and wildlife
Visit the city of Petra, one of the 7 Wonders of the World
Experience Bedouin culture in the deserts of Jordan
9 days / 8 nights
Guided
Mixed camping / Hotels
Cycle along the best stages of the famous Jordan Bike Trail
Hike to the summit of Jordan's tallest peak, Jabal Umm ad Dami
Spend the night in the desert in a Bedouin camp
8 days / 7nights
Guided
Hotels
History and culture blend with natural wonders to produce a one-of-a-kind adventure you won't soon forget. Book a tour today to be sure you get the most out of your Jordan desert adventures. You won't want to miss a thing!
Best Tours in Jordan
Read More