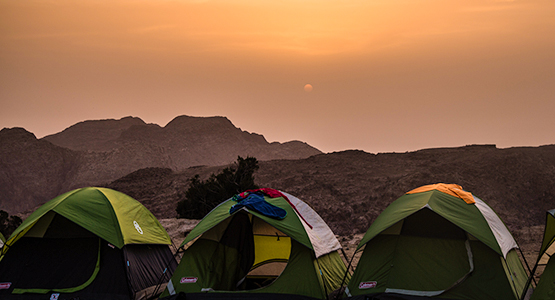 Experience the beauty and charm of the Middle East with these amazing handpicked Jordan tours. Peaceful and stable, Jordan is the perfect place to immerse yourself in the nature and culture of this unique region. Climb a sand dune, effortlessly float on the Dead Sea, or sip a cup of Bedouin tea as you watch the incredible desert sunset. Fill your senses with new sights, sounds, smells, and tastes as you enjoy a whole new level of adventure travel in Jordan.
History and culture blend with natural wonders to produce a one-of-a-kind adventure you won't soon forget. Book a tour today to be sure you get the most out of your Jordan desert adventures. You won't want to miss a thing!
Guided Tours in Jordan
Choosing a guided tour in Jordan is highly recommended. Many westerners find the language and significant cultural differences in this region to be difficult to navigate and appreciate the comfort and security of an experienced guide. Your guide is an amazing resource, not only leading you to the best locations and translating as needed, but also in learning more about the rich culture and fascinating history of this ancient country full of tradition and wonder. Tourism is an important part of Jordan's economy, so tour guides live up to very high standards. Your experience on a guided tour in Jordan is sure to meet or exceed all your expectations!
Types of Adventure Tours in Jordan
There are many adventures to be found in the Kingdom of Jordan! Trekking tours are very popular. Cyclists are drawn to the Jordan Bike Trail. A Jeep tour or a camel ride in the desert is an unforgettable experience. Camping in the desert allows you to experience awe-filled sunsets and sunrises, and sleep under the breathtaking star-filled night sky. Don't miss the unique experience of floating in the Dead Sea, where it is impossible to sink. Swimming and snorkeling in the Red Sea is both refreshing and spectacular. History, archaeology, and culture blend seamlessly with a natural playground unlike any other in the world.
Read More
Explore Dana Reserve's unique ecosystem and wildlife
Visit the city of Petra, one of the 7 Wonders of the World
Experience Bedouin culture in the deserts of Jordan
See More ▸
Cycle along the best stages of the famous Jordan Bike Trail
Hike to the summit of Jordan's tallest peak, Jabal Umm ad Dami
Spend the night in the desert in a Bedouin camp
See More ▸
Immerse in Bedouin culture, enjoying the hospitality and food
Explore Petra, one of the Seven Wonders of the World
Ride in a 4x4 in Wadi Rum, "the Valley of the Moon"
See More ▸
Best Locations for Trekking Tours in Jordan
Each region of Jordan is unique and offers its own set of wonders for tourists and adventure travelers to discover. From famous bodies of water like the Dead Sea and the Red Sea, to the incredible archeological and historical sites scattered throughout its incredible desert landscapes, to bustling cities where you awake to the call of the muezzin at daybreak, this intoxicating country will quickly earn a place in your heart.
Wadi Rum Tours
Wadi Rum is a favorite trekking and tourism destination in Jordan. Get a taste of Bedouin life as you travel with them across this fascinating landscape, full of old archeological sites, tall cliffs, and orange sand dunes. Climbing is an option here for those with the experience, and your guides will show you climbing routes that have been there for generations. Jeep tours and camel rides are also popular in this scenic area of Jordan made famous by the classic film Lawrence of Arabia.
Petra Tours
If you have seen the iconic film Indiana Jones and the Last Crusade, you have gotten a glimpse of the famous structure known as the Treasury in Petra. Just as in the movie, you walk through a narrow and colorful canyon until suddenly the view opens before you to reveal the breathtaking ancient wonder carved into the cliff face. This incredible introduction to the rose-rock city of Petra is just the beginning. No visit to Jordan is complete without a tour of Petra.
This active archeological site dates back as far as the 4th Century B.C. and researchers estimate that only 15% of this ancient city has yet been excavated. The site is full of tombs, massive carvings in the sides of cliffs, and temples spread throughout, with much more left to discover.
Dana Tours
Dana tours will take you into the immense Dana Biosphere Reserve where you can experience all four of Jordan's distinct geographical zones. The reserve is over 320 square kilometers in size and is home to over 1,000 species of plants and animals, at least 25 of which are endangered. Your guides will take you into deep canyons, through lush valleys, and across the arid desert. Watch for chances to spot elusive wildlife, such as the sand cat, the Syrian wolf, and the ibex. The Dana Biosphere Reserve is a wildlife enthusiast's dream. A large network of trails with varying levels of difficulty help you see it all.
Jordan Scenery
Jordan's scenery is unlike anything else. If you've ever seen any movies that take place on Mars, chances are they were filmed in Jordan. Towering monoliths mysteriously rise out of the sand, seemingly out of place in the vast desert, shadowing lush oases and springs. Mountains on the western side of the country provide views of the Dead Sea and Jerusalem and are often capped with noteworthy archaeological sites. Smaller regions of Jordan feature wetlands full of birds and other wildlife, and deep canyons are cooled by streams and vegetation. The northern part of Jordan is characterized by a lush, fertile landscape, fed by the Jordan River.
Planning a Tour in Jordan: What you should know
Jordan Transportation
Jordan's main international airport is the Queen Alia International Airport in the capital city of Amman. A wide variety of commercial airlines service this airport from most major cities in the Middle East and Europe. North American travelers will need to connect through one of these cities to reach Amman.
Public transportation in Jordan consists mostly of buses which do not follow a specific timetable in the way most western travelers are accustomed to. Taxis are inexpensive and often preferred by tourists. When you book a guided tour, transportation will typically be arranged for you.
In public places such as airports, do not expect to wait in organized queues to check in, check luggage, etc. Be prepared to push your way to the front of the counter or risk missing your flight. Western travelers are also often surprised that security lines and checkpoints are divided by gender so mixed-gender groups or couples will need to separate for this.
Seasons and Weather in Jordan
Jordan has four distinct seasons, and the best time to visit Jordan is in the spring months, from March to May, and in the autumn, from September to November. Winters can be wet and cold, while summers are typically hot and dry. Jordan does not experience the oppressive heat of some Middle Eastern countries, with temperatures that rarely exceed 35 degrees Celsius (95 degrees Fahrenheit). There are varying climate zones between mountain regions and valleys. Be prepared for cool nights, especially in the desert. Jordan averages over 310 days of sunshine annually, so if you avoid the winter months, rain is unlikely to affect your tour.
Practical Considerations for Travel in Jordan
Tourist visas are required for citizens of most countries, including the United States, the United Kingdom, Canada, Australia, and the European Union. The 30-day tourist visas are valid for a single entry and can be purchased upon arrival at the Queen Alia International Airport.
Be sure to check restrictions on specific medications and anything that can be considered a weapon or other forbidden items before packing anything that may be flagged by Jordanian customs officials. The Israeli currency is also prohibited.
The Jordanian currency is called the Jordanian Dinar (JOD) and it is important to have cash as many small shops and restaurants will only accept this form of payment. Prices are often not marked in stores, so ask about the cost and be prepared to haggle to reach an acceptable price. It is not uncommon for shopkeepers to adjust their prices based on where you are from and how much they perceive that you can afford. Your tour guide can help you know what prices are reasonable for certain items and may be willing to help you negotiate if there is something particular that you'd like to buy.
Best Tours in Jordan
Read More
Destinations