Cycle the most beautiful roads in the Canadian Rockies
Are you ready for a cycling challenge that leads you through world-class scenery in the Canadian Rockies? This 8-day tour promises outstanding mountain terrain with phenomenal views each day. It won't be easy, but it will be worth it.
On this guided journey, you'll ride from Jasper, the namesake mountain town of Jasper National Park, down the Icefields Parkway and into Banff National Park. From there, you continue into Kananaskis Country and complete the tour after riding over the highest paved road in Canada, Highwood Pass. Each day has you cruising past the highlights of Western Canada, and your guide will stop at choice spots for snacks and meals to keep you energized and fuelled for this epic ride.
Each night, you'll get acquainted with a different mountain town, where the lodges and hotels have been hand-selected to offer your ultimate relaxation after long days of riding. Some have whirlpools, and some have unprecedented views of the landscapes that draw so many visitors to this part of the world (think turquoise rivers and lakes with snow-capped peaks at sunset!).
Without a doubt, the Jasper to Highwood Pass Cycling Tour will be the perfect way to experience the peak of summer in Alberta. You'll feel an overwhelming sense of pride and accomplishment when you're done, and you'll have a USB drive full of photos (taken by the tour guides) to prove that you did it. If you're on the fence about booking this tour, take the leap! You won't regret it.
Highlights of the Jasper to Highwood Pass Cycling Tour
Cycle the length of the Icefields Parkway, stopping at Athabasca Falls and the Columbia Icefields to refuel your adventure.
Savour some crafty brews at the pubs and restaurants of the top-notch accommodations included in the tour.
Revel in non-stop panoramic mountain views each day, setting your sights on the next peak and passing it before you know it.
Kick off the tour with a soak in Miette Hot Springs and visit Maligne Lake in world-renowned Jasper National Park.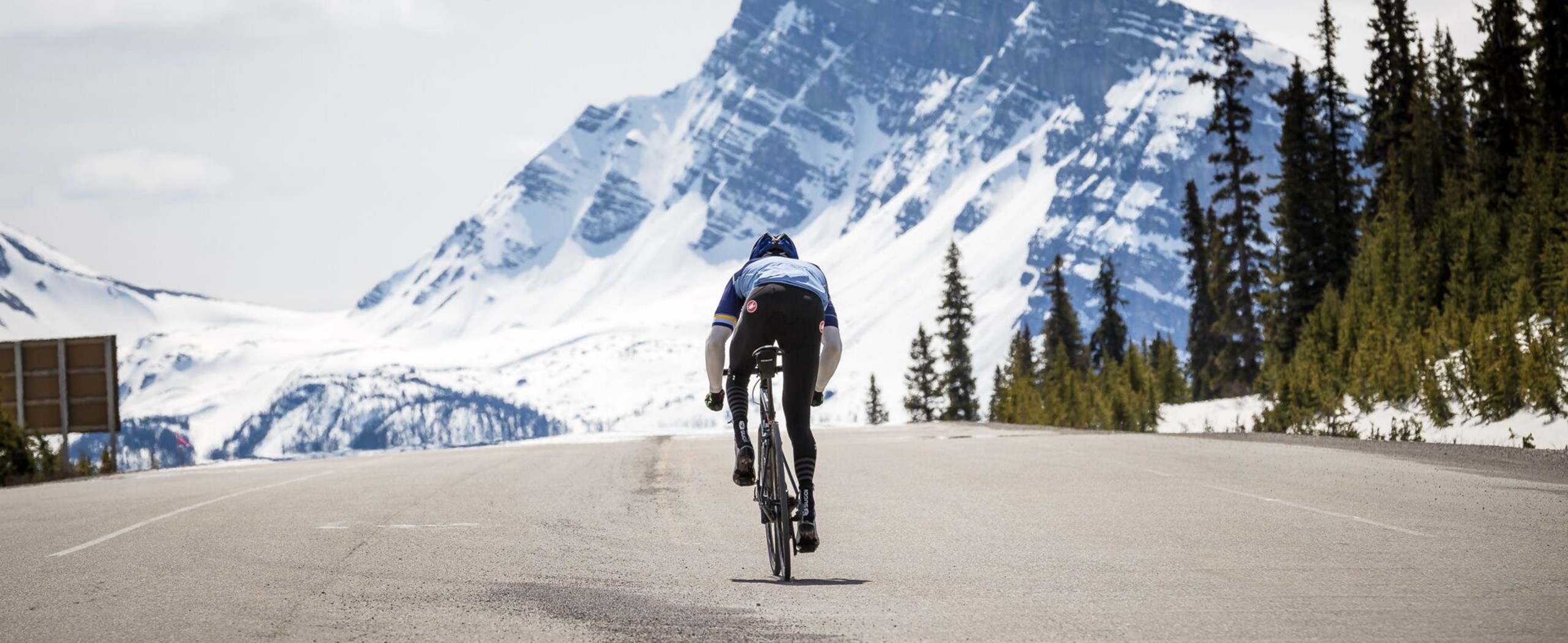 Jasper to Highwood Pass Cycling Tour Itinerary
Day 1

The Adventure Begins

Before the cycling adventure starts, you'll arrive in Edmonton and have a free day to explore this central Albertan metropolis. Take your bike for a spin along the River Valley to prepare your legs for the adventure ahead, head to Elk Island National Park, or walk around to explore the many museums, restaurants, and other cultural sights before heading to the hotel for a good night's sleep.
Overnight Location: Hotel in Edmonton
Distance: None
Meals: None
Day 2

Ride from Miette Hot Springs to Jasper

Bright and early this morning, you'll be picked up and whisked away to Jasper, one of the most iconic mountain towns in the Canadian Rockies. Looking at the scenery, you'll get a feel for how spectacular the following days will be when you cruise through this wild mountain landscape. Stop in Hinton for lunch, then stop at Miette hot springs to unload the bikes.

After a pleasant soak, cycle into Jasper to the accommodations on the Athabasca River. If the group decides to add the optional 50-kilometre ride, you'll have a shuttle to Maligne Lake, then cycle back to the chalet for dinner and rest.
Overnight Location: Hotel in Jasper
Distance: 66km + optional 50km
Meals: Dinner
Day 3

Cycle the Icefields Parkway to Sunwapta Falls

Enjoy breakfast with your Athabasca River view, then spend the morning exploring Jasper. Walk around the charming town with Pyramid Mountain as your ever-present backdrop. Around noon, regroup at the hotel for a brief orientation on today's ride. Then, you set off on the Icefields Parkway, possibly the most jaw-dropping stretch of highway in Alberta, replete with glaciers, lakes, and peaks right next to the road.

The group will stop for a break and snack at the magnificent Athabasca Falls, then press on to the hotel for the night with plenty of time to unwind and enjoy a 3-course meal. Tonight, you can sit on your cabin's deck and watch the stars come out—undeniably peaceful.
Overnight Location: Hotel in Sunwapta Falls
Distance: 49km or 70km
Meals: Breakfast, lunch, dinner
Day 4

Ride to Saskatchewan River Crossing

After filling up on a hearty breakfast, you'll depart for a longer distance than the last few days—but your efforts will be worth it. Today's route includes several elevation changes, so you'll be offered plenty of breaks and snacks to keep you going. You'll stop for a well-earned lunch at the base of the Columbia Icefields, then ascend the scenic Sunwapta Pass. As if it were planned, you'll have a rewarding downhill stretch of 15 kilometres through imposing cliffs and rushing waterfalls. The last leg of the route has you riding over undulating land flanked by snow-capped peaks, glaciers, and lake views.

After your longest day riding (so far), you'll be stoked when the resort for the night comes into view, and even more so when you have a cold pint sitting in front of you on the patio with panoramic mountain views.
Overnight Location: Hotel in Saskatchewan River Crossing
Distance: 98km
Meals: Breakfast, lunch, dinner
Day 5

Cycle Bow Pass to Lake Louise

Indulge in breakfast to replenish your energy stores, then begin the day with an ascent out of the valley. You're still on the Icefields Parkway, and it still promises magnificent scenery as you wind and cruise next to glaciers and wildlife habitats. When you complete Bow Pass, admittedly challenging, you'll be rewarded with views of Peyto Lake, a surreal alpine gem with a milky emerald colouration. Stop at Bow Lake for lunch, then cruise the remaining descent to Lake Louise.

Once in Lake Louise, your group can organize a shuttle transfer to visit the iconic Lake Louise and Moraine Lake—these are the pictures you absolutely must take! Relax in the hotel's hot tub before heading to bed to get rest for two big days ahead.
Overnight Location: Hotel in Lake Louise
Distance: 85km
Meals: Breakfast, lunch, dinner
Day 6

Ride to Kananaskis via Banff

This is it, the longest push of the tour! Lucky for you, though, the entire ride cuts through Banff National Park and enters into Kananaskis Country, a lesser-known but equally stunning mountain area at the edge of the Rockies. The terrain is not as demanding as on the Icefields Parkway, but you will push a farther distance. Riding along the Bow Valley Parkway and the Legacy Trail, you'll pass several other cyclists, as this is a famous stretch surrounded by mountains and leading you to Banff, where you'll stop for a gourmet lunch.

After visiting Banff for a hot sec, continue on bikes past Canmore, then merge onto Highway 40 for the final 27-kilometre push to Kananaskis Village. When you arrive, you'll have a bit of time to spare—take advantage of this peaceful village tucked into the mountains. Book a massage or soak in the hot tub before dinner, and hit the hay early for your final day of riding tomorrow.
Overnight Location: Hotel in Kananaskis
Distance: 140km
Meals: Breakfast, lunch, dinner
Day 7

Cycle the Highest Paved Road in Canada

After a filling breakfast, you'll hop in the saddle for your final ride of the tour, and it promises to be epic! It takes you over the highest paved road in Canada, reaching 2200 metres. Highway 40 offers endless mesmerizing views at every twist and turn of the road. The group will reconvene as directed by the guides for snacks and lunch, and after covering about 500 kilometres total, you'll cruise into the cowboy town of Longview to close out the ride.

High-five everyone in your group as you head to a local pub for celebratory eats and drinks. Once you're full, you'll get to rest your legs and take a transfer to a hotel in Calgary for your final night.
Overnight Location: Hotel in Calgary
Distance: 130km
Meals: Breakfast, lunch, dinner
Day 8

Departure

Your tour has come to an end! A transfer from the hotel will take you to the airport when you need to check in for your flight. Leave with a full heart and full camera with memories of your epic journey from Jasper to Highwood Pass.
Overnight Location: None
Distance: None
Meals: None

Book Now
Jasper to Highwood Pass Cycling Tour Prices and Dates
This self-guided cycling tour is run as a fixed departure tour, and the price per person depends on how many people are in your group.
The best time to visit the Canadian Rockies is during the summer when the snow has melted and the weather stays warm. This tour is available in July, a great month to be in the Rockies.
Private Guided Jasper to Highwood Pass Cycling Tour
Have your own private tour with just your group! Prices below are per person:
Book Now
Accommodation on the Jasper to Highwood Pass Trail Cycling Tour
This tour is based on hotels. Hotels on this trip are 2-star to 4-star and offer modern conveniences that can make this trip more pleasant. Guests may have access to amenities such as swimming pools, hot tubs, or private decks to enjoy the mountain scenery.
In some cases, the accommodation listed below may need to be substituted for other comparable accommodations.
Single Rooms and Solo Travellers
Rooms are double occupancy. You can pay a supplement of $650 USD to have a private room in a hotel where possible.
Hotels on Standard Tour
What's Included in the Jasper to Highwood Pass Cycling Tour?
Meals
5 breakfasts, 5 lunches, 6 dinners, and snacks on riding days are included.
Accommodations
Accommodations for 7 nights are included. Accommodations before and after the tour in Edmonton and Calgary are not included but can be added as a supplement.
Transportation during the Tour
Your bike rental is not included but can be added during your booking process if you do not wish to bring your own bike. Transportation for you, your luggage, and your bike is included between Edmonton and Jasper (Day 2) and Longview and Calgary (Day 7). Airport transfers operated by the hotel in Edmonton and Calgary are included.
Also Included
Guide services
Van support during riding days
National park fees
USB with high-quality photos taken during the tour
Not included
Flights
Meals, drinks, or snacks not previously mentioned
Travel insurance
Bike rental
Visas if required
Gratuities for tour guides or other staff if desired
Alcoholic drinks
GST (5% of the price)
Optional Extras
Bike rental (road bike or e-bike)
Meals on Days 1, 2 and 8
Additional nights before or after the tour
Optional activities or excursions
Single occupancy upgrades
Frequently Asked Questions about Jasper to Highwood Pass Cycling Tour
Ride the Icefields Parkway as it winds through valley's and over high passes surrounded by glaciers, mountains, lakes, wildlife and waterfalls. This bike journey is all Mountain Madness Tours does, and they do a great job. Experience bike rides in Jasper and Banff at the right pace, from the seat of your bike, giving you a great balance of riding, sightseeing and relaxing.
Learn More
Is this tour for me?
We rate this tour as a 4/5. You should be comfortable cycling distances of up to 140 kilometres in a day on moderately challenging terrain, including high mountain passes over long distances. Guests who have a decent level of fitness will get the most out of this tour. Note that van support is provided, and you will have the option to hop in the van on riding days if the physical challenge is too great.
Ask a Question
Got any questions regarding the tour? Interested in promotions for groups or want to customize this tour to fit your needs? We are here to help you!
Ask a question