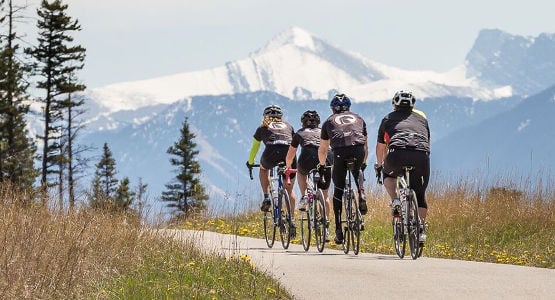 Booking an adventure holiday in Canada is probably on your bucket list. Join a guided tour that explores the Rocky Mountains, or find a self-guided bike tour on Vancouver Island. Explore famous mountain towns like Jasper, Banff, Canmore or Whistler on these incredible group tours. Canada is famous for nature, and the best way to explore nature is on your own two feet, or two-pedals, or two skis. You get the idea!
Read More
Ride on the breathtaking and iconic Icefields Parkway
Savor incredible views in the stunning Canadian Rockies
Watch for wildlife along this fully-supported bike tour
4 days / 3 nights
Hotel
Guided
Booking an adventure holiday in Canada means you will see something special. Guided and Self-guided tours take you out into nature, exploring stunning mountain peaks, finding time for a dip in a chilly alpine lake and hopefully seeing a lot of wildlife along the way. Find a guided tour through the Canadian Rockies or a self-guided tour on Vancouver Island.
Read More