Explore the wild Rockies with expert local guides
Feast your eyes on the extraordinary natural beauty of Western Canada and the Canadian Rockies on this 9-Day Rockies Hiking and Camping Tour. You will explore the glorious Banff, Jasper, Yoho, and Kootenay National Parks, led by expert local guides and a small group of like-minded, adventurous people.
You will visit countless waterfalls, glaciers, and mountain ridges where you can gaze down at the emerald waters of alpine lakes and breathe in the comforting smell of pine and mountain air. You will explore the most spectacular hiking trails of the Rocky Mountains, visiting a mixture of world-famous natural attractions and closely guarded local gems.
Your local guides will take excellent care of you, making sure you get plenty of hot showers, delicious food and high-quality camping equipment as well as giving you plenty of free time to go on adventures of your own.
Highlights of the 9-Day Rockies Hiking and Camping Tour
Make camp in gorgeous mountain locations, whilst enjoying the comfort of hot showers and delicious home-made meals.
Dive into the hidden corners of the Rockies as you swim in peaceful alpine lakes, complete with pristine beaches.
Discover the captivating history of the settling pioneers as you explore the Banff and Yoho National Parks.
Soak up the wild beauty of the Canadian Rockies as you visit mighty canyons, majestic waterfalls, and spectacular ancient glaciers.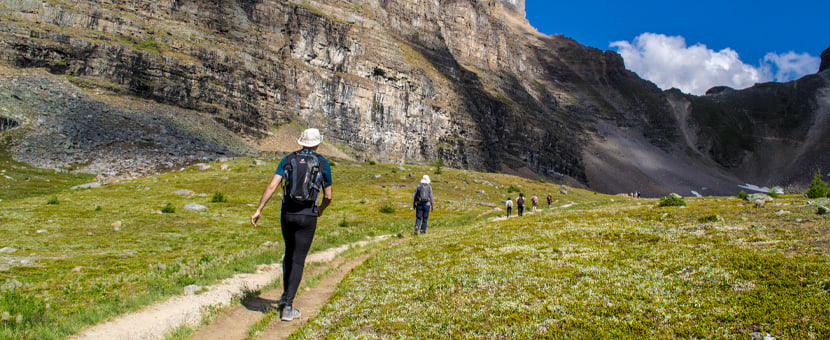 9-Day Rockies Hiking and Camping Tour Itinerary
Day 1

Welcome to Calgary!

You will be picked up from your Calgary hotel in the late afternoon and be driven 2 hours West by your friendly local guides. You will have plenty of time to get to know the rest of your small group on the drive, as you leave the grasslands behind you and arrive in the spectacular Rocky Mountains of Banff National Park. Breathe in the pristine mountain air as you set up camp for the first time on your Canadian wilderness adventure. Enjoying a delicious homecooked meal around the campfire, you will already start building bonds with your new adventure buddies beneath the open sky.
Overnight Location: Camp in Banff National Park
Distance: None
Meals: Dinner
Day 2

Hiking in Banff National Park

Waking up in your cozy sleeping back, you will be greeted by the smell of freshly made coffee and the sound of your breakfast cooking over the campfire. You will spend the day hiking in Banff National Park, seeing firsthand why the Canadian Rockies are internationally renowned for their natural beauty. In the afternoon you will go on a tour of the world-famous mountain town of Banff. Explore the sights of the pretty town at a leisurely pace as you learn fascinating stories of the settling pioneers that battled the elements to carve out an existence in the Canadian Wilderness. Later, you will return to the campsite for a hearty meal around the crackling campfire.
Overnight Location: Camp in Banff National Park
Distance: 4-16 km
Meals: Breakfast, Lunch, Dinner
Day 3

Lake Louise & Moraine Lake

You are in for a real treat today, leaving the tourist trail behind you and journeying into the heart of the Canadian Rockies. After enjoying a delicious gourmet breakfast and hot cup of coffee at the campsite, you will head out to Victoria Glacier, a stunning hanging glacier high above Lake Louise. You will visit the incredible Moraine Lake and Lake Louise. These unmissable locations are a sight to behold, with an unearthly blue glow that radiates from the glacial waters. You will explore the trails surrounding the alpine lakes, getting a million-dollar view of the unspoiled scenery, and breathing in the comforting smell of pine that drifts through the mountain air. Afterwards, you will head onto the Icefields Parkway for one of the most scenic drives in the entire world. You will make camp on the shores of a secluded lake, with its own pristine beach for you to relax on with your new friends.
Overnight Location: Camp near Icefields Parkway
Distance: 4-16 km
Meals: Breakfast, Lunch, Dinner
Day 4

Icefields Parkway

Waking up at your gorgeous camping location, you can enjoy a morning dip in the lake if you are feeling brave. Otherwise, take a leisurely start to the day with freshly baked cinnamon buns around the campfire, listening to the peaceful sound of the crackling flames and the gentle lapping of water. You will spend the day exploring the isolated hiking trails, passing waterfalls and lakes as you navigate the craggy mountain ridges. After a full day discovering the hidden corners of the Rockies, you will return to your camp for a well-deserved meal and relax, roasting marshmallows on the campfire underneath the spectacular starry night sky.
Overnight Location: Camp near Icefields Parkway
Distance: 4-16 km
Meals: Breakfast, Lunch, Dinner
Day 5

Jasper National Park

It is time to say goodbye to your secret lakeside camping spot, as you pack up your equipment and prepare for the next stage of the adventure. You will enjoy one of the most beautiful hikes in Canada today, cresting a mountain ridge for panoramic views of the Saskatchewan Glacier. The highlight of the day will be the moment that you walk right inside a giant waterfall, entering the cave from a secret trail that takes you in from the other side. Watch the water fly right by you, close enough that you could reach out and touch it. A wonderful picnic of local, high-quality delicacies will keep your spirits high before you head to the Miette Hot Springs to soak your aching legs in style. You will camp on the shores of the Athabasca river tonight, where families of elk often come to check out the visitors.
Overnight Location: Camp in Jasper National Park
Distance: 4-16 km
Meals: Breakfast, Lunch, Dinner
Day 6

Exploring Jasper

After all the wonderful hiking of the last few days, you have earned some free time to take the day at your own pace. It is totally up to you how you spend the morning, with horseback riding, mountain biking or checking out the shops and coffee spots all a possibility. You will meet up with your group for lunch before spending the afternoon exploring spring-fed lakes or a local canyon with your guide. After dinner you will take the gondola to a mountain ridge above the town of Jasper, so you can watch the evening light transform the landscapes with its gentle beauty.
Overnight Location: Camp in Jasper National Park
Distance: 4-16 km
Meals: Breakfast, Lunch, Dinner
Day 7

Columbia Icefields

It is time to hit the Icefields Parkway again, the extraordinary highway that winds past ancient glaciers, enormous waterfalls, and spectacular rock formations. This world-famous driving route is sure to take your breath away as you stop along the way to get up close with one of the tallest waterfalls in Canada, the Athabasca Glacier, and the Columbia Icefields Area. Admiring one of the largest glacier systems in North America, you will have the chance to take some once in a lifetime photographs to treasure after the trip has ended. You will pass from Alberta into British Columbia, making camp on the shores of Kicking Horse River in Yoho National Park.
Overnight Location: Camp near Kicking Horse River
Distance: 4-16 km
Meals: Breakfast, Lunch, Dinner
Day 8

Yoho National Park

Today you will have the chance to take a trip down the rushing waters of Kicking Horse River, a spectacular guided adventure that allows you to explore all the natural beauty of Yoho National Park from the unique perspective of your river raft. If you would rather take the tour on foot, your guides will happily show you the awesome local canyons on a hiking tour, which are breathtakingly beautiful no matter how you choose to visit them. This evening you can take a night walk to a waterfall by your camp, experiencing the National Park from a different perspective as the sounds and sights of the mountains shift into their nocturnal mode. Alternatively, just kick back and relax at your campsite, enjoying fantastic food and even better company on your last evening of the tour.
Overnight Location: Camp near Kicking Horse River
Distance: 4-16 km
Meals: Breakfast, Lunch, Dinner
Day 9

Emerald or Yoho Lake

Today is your final day on the amazing 9-day Rockies adventure, but that does not mean the fun is over. You will take one last breakfast feast with your lovely group before hiking around either Emerald or Yoho Lake. Enjoy a wild swim in the pristine waters of the alpine lakes before stopping for a coffee in Field, a delightful town that is surrounded by looming mountain peaks. You will then have a little free time in Banff to pick up a souvenir for your loved ones or have a farewell drink with newfound friends at an authentic local brewery. Your guide will make sure that you set off safely for your onward journey, dropping you off at a hotel in Banff or the bus stop for a shuttle back to Calgary Airport.
Overnight Location: Camp near Banff
Distance: None
Meals: Breakfast, Lunch

Book Now
9-Day Rockies Hiking and Camping Tour Price and Dates
Pricing for this guided hiking tour in the Canadian Rocky Mountains depends on whether you choose to join an existing group on a specific date or if you prefer a custom tour for your group only.
The best time to travel to the Rocky Mountains for this hiking tour is from July to September.
Prices of Private Guided 9-Day Rockies Hiking and Camping Tour
Book Now
Have your own private tour with just your group! Please contact us with your preferred date and the number of people in your group and we will create the itinerary just for you.
Join a Group Tour on 9-Day Rockies Hiking and Camping Adventure
Make new friends and join a group on a 9-Day Rockies Hiking and Camping Tour. Prices below are per person:
Accommodation on 9-Day Rockies Hiking and Camping Tour
This tour is based in good quality tents with comfortable camping pads. Your camping spots are carefully chosen to offer the most beautiful spots of the Rocky Mountains. A hot shower is available nearly every day and a range of different diets can be catered for.
Prices are based on 2 people sharing a 3-4-person tent, but it is possible to upgrade to a private tent if you prefer. You can either bring your own sleeping bag or rent one for an extra fee.
Single Rooms and Solo Travelers
You can pay a supplement of $295 USD to have a private tent. Contact us and we can try and match single travelers up, where possible.
Hotels on Standard Tour
Immerse yourself in the stunning mountain landscapes as you camp out beneath the stars. High-quality equipment and expert guides offer a wonderful camping experience.
What's included in the 9-Day Rockies Hiking and Camping Tour?
Meals
8 breakfasts, 8 lunches, 8 dinners are included.
Accommodations
Camping accommodations for 6 nights along the tour are included.
Transportation during the Tour
Transportation for you and your luggage is included.
Also Included
Park passes and entry fees
Hot Spring entry fees
Expert local guides
Gondola Pass
Use of our quality camping gear (Tent and sleeping pad)
Hiking activities
Not included
Alcoholic drinks
Optional personal transportation around town during free time
Getting to and from Calgary
Insurance
Personal expenses
Anything not stated as 'included'
GST (5%)
Optional Extras
Sleeping bag rental - $50 USD
Additional night in Calgary before or after the tour - $175 USD
Frequently Asked Questions about 9-Day Rockies Hiking and Camping Tour
Fresh Adventures is an outdoor tour company that navigates explorations through the rugged, stunning terrain spanning western Canada. With an emphasis on customer care, Fresh Adventures promises to depart on an expedition, with a highly skilled guide, no matter how many people have signed up, while also ensuring tour participants have top-notch equipment.
Learn More
Is this tour for me?
We rate this tour as a 3 / 5. These tours are accompanied by two guides that can split the group into two groups to allow activities for different levels of fitness.
Ask a Question
Got any questions regarding the tour? Interested in promotions for groups or want to customize this tour to fit your needs? We are here to help you!
Ask a question
SALE! Well, not yet.
Let me know when this trip goes on sale.
Notify me