Discover the best of the Canadian Rockies in 6 adventure-packed days
The 6-day Rockies hiking and camping tour encompasses the best of the Canadian Rocky Mountains, condensing all the thrills of the Canadian outdoors into less than a week on the trails. Explore the best of Banff National Park and Jasper National Park on this incredible tour. Marvel at the lakes and glaciers of the Icefields Parkway while you drive from Banff to Jasper.
You will hike on secret trails into the heart of waterfall caves and camp at secluded lakeside beaches, escaping the touristy areas and diving right into the peace and quiet of the mountains. Wild swimming in pristine lakes and roasting marshmallows over a crackling campfire are just waiting to be enjoyed.
Leave your worries behind you as your expert local guides arrange all the camping gear, reservations, delicious meals, and spectacular hikes. Local, high quality ingredients will be transformed into camping food like you have never known before and high-quality camping equipment ensures a safe and comfortable journey through the Canadian wilderness.
Highlights of the 6-Day Rockies Hiking and Camping Adventure
Get off the beaten track as you camp in secluded mountain locations and sleep beneath the stars.
Discover the beauty of the Canadian Wilderness as you hike past ancient glaciers, magnificent waterfalls, and alpine lakes.
Indulge in delicious homecooked meals with high-quality, local ingredients which give a totally new meaning to camp food.
Reconnect with wildlife as you learn about the medicinal and edible plants from your expert local guides.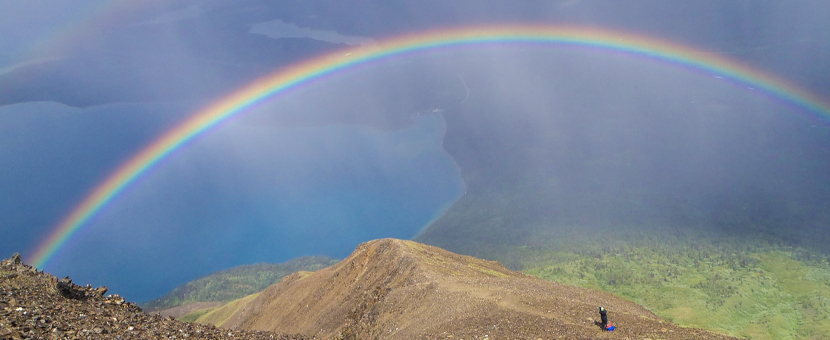 6-Day Rockies Hiking and Camping Adventure Tour Itinerary
Day 1

Meet in Calgary

Your expert local guides will pick you up from your Calgary hotel and introduce you to the rest of your small and friendly group. You will be driven 2 hours West in the support van, leaving the grasslands of Calgary behind and entering the dramatic scenery of the Rocky Mountains. You will set up camp in Banff National Park today, getting a fun but detailed orientation from your guides as you familiarise yourself with all the camping equipment that you will be using throughout your adventure. Later, you will enjoy a wonderful gourmet meal cooked by your guide, completely surpassing your expectations of how good camping food can be. Afterwards, you can take a guided moonlight walk to a nearby waterfall or just relax at the campsite as you prepare for your first cozy night in the great outdoors.
Overnight Location: Camp in Banff National Park
Distance: None
Meals: Dinner
Day 2

Hiking in Banff

Start the day the right way, by enjoying a hot coffee in the pristine air and soft morning light of the mountains. You will spend the day hiking in Banff National Park, diving right into the dizzying mountain landscape that makes this corner of the world so special. After exploring the spectacular scenery of the trail, you will enjoy a tour of Banff town centre, a charming mountain town that goes right back to the time of the pioneers. You will check out the world-famous Banff Springs Hotel, Banff Avenue, and the gorgeous Bow Falls. Afterwards you will enjoy another delicious meal around the crackling campfire, exchanging stories with your fellow adventurers.
Overnight Location: Camp in Banff National Park
Distance: 4-16 km
Meals: Breakfast, Lunch, Dinner
Day 3

Glaciers and Alpine Beaches

Waking up to the sizzling sounds and smells of breakfast in the pan, you will not ever want to leave the Canadian outdoors. Today you will drive out to the captivating glacial waters of Moraine Lake and Lake Louise. After admiring the gentle glow of the emerald waters, you will head out on the trail, hiking up to a spectacular viewing spot to admire the expansive Victoria Glacier spread out before you. Pause for a moment to breathe in the comforting smell of ancient pine trees before taking the world-famous Icefields Parkway to a secluded spot well hidden from the average tourist. You will camp by the edge of an isolated alpine lake, complete with its own secret beach. Let the wild beauty of the Rockies soak into your heart as you talk and laugh beneath the stars over another exquisite meal.
Overnight Location: Camp in Banff National Park
Distance: 4-16 km
Meals: Breakfast, Lunch, Dinner
Day 4

Secret Trails and Cinnamon Buns

Stuff your face with fresh coffee and warm cinnamon buns, cooked over the orange flames of the campfire. With another day of hiking ahead of you, there is nothing better than a rich and hearty breakfast to keep your energy levels up. Your secluded camping spot is right in the heart of the Rocky Mountain trails, with enough spectacular hiking to keep you busy for a lifetime. You will spend the day exploring mountain ridges, majestic waterfalls, and gorgeous alpine lakes, far away from the noise and crowding of the touristy trails. After a long day on your feet, you can dive into the lake back at camp and dry out on the beach as you roast gooey marshmallows over the crackling fire.
Overnight Location: Camp near Icefields Parkway
Distance: 4-16 km
Meals: Breakfast, Lunch, Dinner
Day 5

Hidden Gems of Jasper

Get ready to pack down camp as you depart your secret corner of heaven and head on to the next adventure. Today you will explore one of the most beautiful hiking trails that the Rockies has to offer, with unbelievable views of the Saskatchewan Glacier. You will stop to eat a delicious picnic lunch, with high-quality local ingredients. After indulging in your gourmet picnic, your guides will take you on a hidden ridge to enter the underbelly of a spectacular waterfall cave. Standing behind the thundering waters of the waterfall, you will enjoy a totally unique vantage point of the powerful mountain forces. Relax your tired muscles in the soothing waters of the Miette Hot Springs before settling down in your lovely camping spot on the shore of the Athabasca River.
Overnight Location: Camp in Jasper National Park
Distance: 4-16 km
Meals: Breakfast, Lunch, Dinner
Day 6

Time to say Goodbye

Waking up for one final breakfast feast at your gorgeous camping spot in Jasper National Park, you will enjoy the natural beauty of the Athabasca River, a regular crossing point for wild elk and their younglings. After saying your fond farewells, you can either be dropped off by your guides in Jasper or be taken to a bus stop for a journey back to Banff, Calgary, Calgary Airport or Edmonton Airport.
Overnight Location: None
Distance: None
Meals: Breakfast

Book Now
6-Day Rockies Hiking and Camping Adventure Tour Price and Dates
Pricing for this guided hiking tour in the Canadian Rocky Mountains depends on whether you choose to join an existing group on a specific date or if you prefer a custom tour for your group only.
The best time to travel to the Rocky Mountains for this hiking tour is during summer months.
Prices of Private Guided 6-Day Rockies Hiking and Camping Adventure Tour
Book Now
Have your own private tour with just your group! Please contact us with your preferred date and the number of people in your group and we will create the itinerary just for you.
Dates and Prices to Join a Group Tour on 6-Day Rockies Hiking and Camping Adventure
Make new friends and join a group hiking and camping The Canadian Rockies. Prices below are per person:
Accommodation on 6-Day Rockies Hiking and Camping Adventure Tour
This tour is based in good quality tents with comfortable camping pads. Your camping spots are carefully chosen to offer the most beautiful spots of the Rocky Mountains. A hot shower is available nearly every day and a range of different diets can be catered for.
Prices are based on 2 people sharing a 3-4-person tent, but it is possible to upgrade to a private tent if you prefer. You can either bring your own sleeping bag or rent one for an extra fee.
Single Rooms and Solo Travelers
You can pay a supplement of $250 USD to upgrade to a private tent. Contact us and we can try and match single travelers up, where possible.
Hotels on Standard Tour
Immerse yourself in the stunning mountain landscapes as you camp out beneath the stars. High-quality equipment and expert guides offer a wonderful camping experience.
What's included in the 6-Day Rockies Hiking and Camping Adventure Tour?
Meals
5 breakfasts, 4 lunches, 5 dinners, snacks along the route each day.
Accommodations
Camping accommodation for 5 nights along the tour.
Transportation during the Tour
Transportation for you and your luggage is included. Note that you will need to find your own transportation from Jasper onto Calgary or Edmonton. We can help book bus tickets.
Also Included
Park passes and entry fees
Hot Spring entry fees on day 6
Expert local guides
Gondola Pass
Use of quality camping gear (tent and sleeping pad)
Hiking activities
Not included
Alcoholic drinks
Optional personal transportation around town during free time
Getting to Calgary at the start of the trip
Onward travel from Jasper at the end of the trip
Insurance
Personal expenses
Anything not stated as 'included'
GST (5%)
Optional Extras
Sleeping bag rental - $50 USD
Additional night in Calgary before or after the tour - $175 USD
Edmonton Airport shuttle - $125 USD per person
Banff, Calgary, or Calgary Airport shuttle - $175 USD per person
Frequently Asked Questions about 6-Day Rockies Hiking and Camping Adventure
Fresh Adventures is an outdoor tour company that navigates explorations through the rugged, stunning terrain spanning western Canada. With an emphasis on customer care, Fresh Adventures promises to depart on an expedition, with a highly skilled guide, no matter how many people have signed up, while also ensuring tour participants have top-notch equipment.
Learn More
Is this tour for me?
We rate this tour as a 3 / 5. Fixed-departure tours are accompanied by two guides that can split the group into two to organize activities for different levels of fitness.
Ask a Question
Got any questions regarding the tour? Interested in promotions for groups or want to customize this tour to fit your needs? We are here to help you!
Ask a question
SALE! Well, not yet.
Let me know when this trip goes on sale.
Notify me