Alberta's Canadian Rockies Hiking Tours
Canadian Rockies Tours are an incredible way to experience the natural beauty of Western Canada, providing the chance to take in the pristine mountain landscape of Alberta without the need to plan the entire trip yourself. Whether you are an avid hiker or a downhill skiing enthusiast, booking a Canadian Rockies Tour is the best way to enjoy the great outdoors!
Explore the Canadian Rockies in Alberta
Alberta's Canadian Rockies are an outdoor lover's paradise, with countless trails to explore and adventures to be had no matter your age or skill level. Over 9 million people explore the Canadian Rockies in Alberta every year, making it one of the most popular travel destinations and tourist attractions in Canada. But how does one go about planning a Canadian Rockies tour?
Stretching from northern British Columbia all the way down to the border with the United States, the Canadian Rockies are a vast mountain range that can seem imposing to travellers who are unfamiliar with the region; however, with a bit of research on things like the best time of year to visit, where to stay, and what to do, even the least-travelled person will be able to easily book an incredible Canadian Rockies tour.
It doesn't matter if you are a winter sports enthusiast, backpacker, or simply love to sit outdoors and enjoy the scenic mountain views, there is no denying that the rugged terrain of Alberta's Canadian Rockies are the place to be, no matter the time of year. Continue reading to discover more information on how to plan your unforgettable Canadian Rockies Tour.
When is the Best Time for a Canadian Rockies Tour?
When it comes to choosing the best time of year for a Canadian Rockies Tour, each season has its own redeeming qualities. Anyone looking to avoid the throngs of hikers, skiers, and international tourists should consider visiting the Rockies during the shoulder seasons of May-June and September-October, as the cooler weather attracts fewer visitors. On the other hand, if you want to experience the absolute best weather and don't mind sharing the trail, then June to September will be the perfect time to visit. For those who want to experience the majesty of the Canadian Rockies during the winter months, aim for the January to March window - especially if you are planning to hit the slopes.
Alberta's Canadian Rockies Map
Getting a sense of the scale of a vast area like the Rocky Mountains can be difficult, especially if you have never visited it before. That's why we've created this simple Canadian Rockies map, to provide an overview of the region for quick reference while planning your adventure.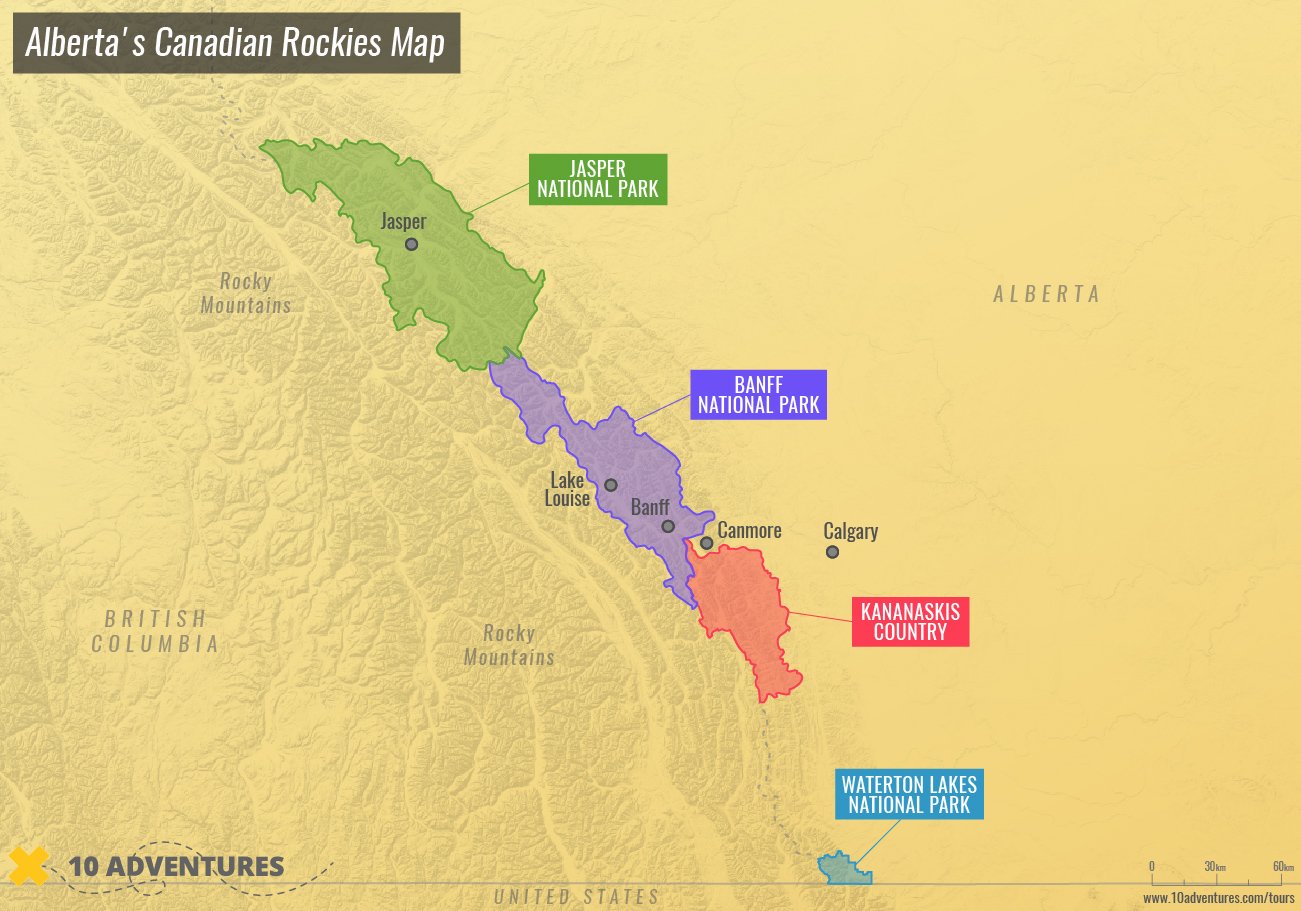 Family Adventures in the Canadian Rockies?
The rugged and imposing landscape of the Rocky Mountains may seem like a destination that is only geared toward experienced outdoor enthusiasts, but in reality there are plenty of amazing family adventures in Alberta's Canadian Rockies. Whether you are looking for a family-oriented sightseeing tour packed full of shorter day hikes or a exciting ranch tour that offers a taste of the western lifestyle, there is no shortage of fun family Canadian Rockies tours to be experienced!
Popular Canadian Rockies Tour Activities
When looking to book a Canadian Rockies tour, hiking and backpacking are arguably the most popular outdoor activities; however, there are a number of other options to explore if you are looking for a more unique experience when visiting Alberta. Here are a few of the different activities on offer in terms of Alberta's Canadian Rockies tours:
Hiking
As mentioned above, hiking is arguably the most popular pastime in the Canadian Rockies, and this incredible Rockies Classics Tour will highlight some of the best landmarks in Banff National Park.
Backpacking
Similar to hiking, multi-day backpacking trips are a go-to activity for many people in the Rockies, whether they are visitors or locals. This guided Kananaskis Highlands Backpacking Adventure will take you out into the mountains and provide the perfect setting to disconnect from the outside world.
Outdoor Skill Training
Exploring mountainous terrain is a fun exercise; however, it can be dangerous if you don't know what you are doing. If you are always looking to add new tools and tips to your outdoor repertoire, why not book a tour that is both fun and educational, such as this Avalanche Skills Training in the Canadian Rockies Course.
Scrambling
Enjoy hiking, but want a bit more of a tougher climb? Get your hands and knees dirty on an intense scrambling adventure, or take some time to learn the proper way to scramble on this Scrambling Skills and Safety Course.
Ice Climbing
Have you ever wanted to experience the thrill of scaling a wall of ice, but aren't sure how to get started? Book an informative tour that will help you learn Ice Climbing Basics in the Canadian Rockies.
Rock Climbing
Many people are familiar with rock climbing as a physical activity, but what about rock climbing outdoors? Get a crash course in the sport by taking part in a tour that will have you Outdoor Rock Climbing at Level 1 and 2 in the Canadian Rockies.
Mountaineering
Mountaineering is an exhilarating sport that will have you feeling as though you are on top of the world, so why not capture that feeling and climb to higher elevations on an Introduction to Mountaineering Tour.
Road Biking
The Canadian Rockies are home to some incredibly scenic mountain passes, and what better way to see them than on a multi-day cycling adventure? Experience the natural beauty of both the Banff and Jasper national parks on this amazing Jasper to Highwood Pass Cycling Tour.
Downhill Skiing
The quintessential winter activity in the Canadian Rockies, downhill skiing is the ultimate way to take in the rugged slopes of this world-renowned mountain region. Take your time and experience the majesty of Alberta's mountains on this awesome 9-Day Rocky Mountain Ski Tour.
Frequently Asked Questions About the Canadian Rockies
Where are the Canadian Rockies?
The Canadian Rockies can be found in Western Canada, stretching from northern British Columbia down along the provincial border with Alberta to the United States.
How to visit the Canadian Rockies?
There are many ways to visit the Canadian Rockies, but many people choose to do so by rail, on a road trip, or by staying in one of the region's towns, such as Banff, Canmore, or Jasper.
What is the highest mountain in the Canadian Rockies?
Mount Robson in British Columbia is the highest mountain in the Canadian Rockies at 3959m, while the highest mountain in Alberta's Rockies is Mount Columbia at 3747m.
Which national park is the largest in the Canadian Rockies?
Covering an area of 10,878 km², Jasper National Park is the largest National Park in the Canadian Rockies.
Where to stay in the Canadian Rockies?
When it comes to where to stay in the Canadian Rockies, the best options are Banff, Jasper, Canmore, and Lake Louise.
Are there bears in the Canadian Rockies?
Both black bears and grizzly bears can be found in plentiful numbers in the Canadian Rockies, so be sure to remain bear-aware and exercise all precautions when exploring the outdoors.
Highlights on a Canadian Rockies Tour
When it comes to highlights on a Canadian Rockies tour, there are so many different things to do and see, making it difficult to settle on a final itinerary! Here are a few Canadian Rockies Tour highlights to experience when visiting Alberta:
Banff National Park
Established in 1885, Banff National Park is the oldest national park in Canada and can be found west of Calgary in the Rocky Mountains. The terrain of the park is largely mountainous with dense coniferous forests that are broken up by alpine meadows, glaciers, lakes, and ice fields. Banff National Park is home to a wide range of animal life including hundreds of species of birds, elk, deer, cougar, grizzly bear, moose, and wolverine. The main hub of the park is the town of Banff, which many travellers use as a base to explore the surrounding landscape.
Jasper National Park
Located just north of Banff National Park, Jasper National Park was established in 1930 and is the largest of the national parks within Alberta's Rocky Mountains. Covering an area of 10,878 km², the park is home to a diverse range of wildlife that includes countless bird species, large mammals like moose, grizzly bear, and bighorn sheep, as well as various fish and amphibian species. Jasper National Park sees over 1.5 million visitors per year and was designated a UNESCO World Heritage Site in 1984. The town of Jasper is located along the banks of the Athabasca River and is the main hub within the park.
Book the Best Tours in the Canadian Rockies
Everyone wants to have the best vacation, but sometimes the planning phase can feel utterly exhausting. With 10Adventures you can leave the stress of planning your next trip to the professionals, allowing you to focus on making memories during the incredible journey ahead. Here is a list of some of the best tours in the Canadian Rockies that will surely be a hit with your travel companions:
Helpful Resources for Booking a Canadian Rockies Tour
Still on the fence about visiting Alberta or need more information to plan the perfect Canadian Rockies tour? Whether you are looking for the ideal backcountry lodge, want to take the family out on a multi-day backpacking adventure, or are in search of the perfect Alberta day hike, we have plenty of articles and online resources to help you explore the Canadian Rockies to your heart's content.
Find Other Amazing Adventure Tours in Canada
Join our newsletter
Get a weekly dose of discounts and inspiration for adventure lovers
Showing 1 to 20 of 25 adventure tours
Why
book

with 10 Adventures?
Your trip. Your way.
Make lifelong memories with the people you care about most. We specialize in custom & private active travel experiences.
Travel made easy.
Spend your time making memories, not planning them. Enjoy a stress-free vacation and leave the trip logistics to us.
You matter to us.
No bots here. A real human is always a click or a call away to ensure you get the adventure of your dreams.
Travel authentically.
Immerse yourself in the destination with highly-vetted, local tour operators who love to showcase where they live.