Soak up the pristine air and stunning landscapes of the Canadian Rockies
Discover gorgeous mountain scenery, pristine alpine lakes, and impressive ancient woodland on this 7-day camping and adventure tour of the Rockies. The Kananaskis highlands, Banff National Park, and exhilarating Kicking Horse River are just a handful of the amazing places that you will explore.
Your expert local guides will ensure that you have a comfortable camping experience, offering a warm welcome, high-quality equipment, and hot springs, and showers along the way. Your guides are highly adaptable to your personal needs and will adjust the activities according to the preferences and fitness levels of each group. From gorgeous waterfalls to magnificent glaciers and freshly cooked local food under the open sky, this Canadian Rockies adventure is sure to take your breath away.
Highlights of the 7-Day Rocky Mountain Adventure Tour
Sleep beneath the starry sky as you return to nature and make camp in stunning mountain locations.
Follow the impressive Icefields Parkway as it winds past ancient glaciers, magnificent waterfalls, and breathtaking rock formations.
Discover the Canadian Rockies in style as you raft down powerful rivers and ride horses through a rugged National Park.
Ease your mind and muscles alike as you soak in the healing waters of the Sulphur Mountain Hot Springs.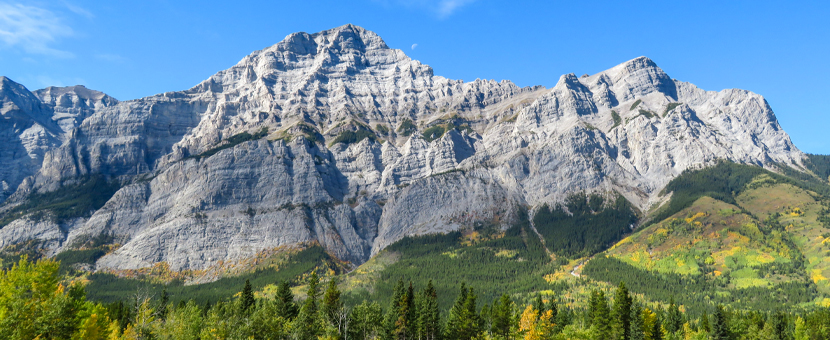 7-Day Rocky Mountain Adventure Tour Itinerary
Day 1

Check-In Day

You will enjoy a warm welcome from your lovely local guides as they pick you up from your Calgary hotel and set off west to the mountains. After watching the view change from gentle hills to craggy mountain peaks, you will set up your camp in the gorgeous Kananaskis highlands. You will enjoy a delicious home-cooked meal with your fellow group members and guides before setting off on foot to explore the local surroundings.
Overnight Location: Camp in Kananaskis Country
Distance: None
Meals: Dinner
Day 2

Lake Louise & Moraine Lake

You will wake up to the wonderful smell of a freshly cooked breakfast floating through the alpine air. Setting off in the van, you will enjoy the beautiful views of Spray Lakes and Canmore on the scenic journey to Lake Louise and Moraine Lake. After stopping to explore, you will be driven along the Icefields Parkway, a road that passes countless ancient glaciers, stunning waterfalls, and turquoise lakes. Later you will check out Mistaya Canyon with its rushing waters before making camp at Abraham Lake. You can take a wild swim in the water or just relax beneath the countless stars with a hearty evening meal.
Overnight Location: Camp near Abraham Lake
Distance: 4-16 km
Meals: Breakfast, Lunch, Dinner
Day 3

The Icefields Parkway to Jasper

As you continue to follow the impressive Icefields Parkway, you will relish the panoramic views of countless waterfalls and craggy mountain ridges. You are heading North to Jasper today, but you will have plenty of time to stop and explore the Athabasca Glacier and dizzying views from the Maligne Canyon. Enjoy another delicious camp meal as you watch an unbelievable orange sunset descend over the Jasper mountains.
Overnight Location: Camp near Jasper
Distance: 4-16 km
Meals: Breakfast, Lunch, Dinner
Day 4

Horseback Riding in Jasper National Park

There is no better way to explore the stunning Jasper National Park than on horseback. Riding through the rugged ancient landscape, you will enjoy the scenery in a way that most tourists sadly miss. Afterwards, you can explore the streets of Jasper town centre and take the tram high up to the mountain ridge. Photography lovers will be totally spoiled as the setting sun illuminates the timeless beauty of the mountains.
Overnight Location: Camp near Jasper
Distance: 4-16 km
Meals: Breakfast, Lunch, Dinner
Day 5

Yoho National Park

Waking up peacefully in your cozy sleeping bag, you will not ever want to say goodbye to your tent in the mountains. After an alfresco breakfast, you will head South West to Yoho National Park where the Takakkaw Falls and Spiral Tunnels of the Canadian Railway are waiting to be explored. After visiting Emerald Lake and the extraordinary rock formation of Natural Bridge, you will make your camp on the edge of Kinbasket Lake.
Overnight Location: Camp near Kinbasket Lake
Distance: 4-16 km
Meals: Breakfast, Lunch, Dinner
Day 6

Rafting on the Kicking Horse River

Get ready to feel your adrenaline pumping as you prepare for a day of rafting down the wild waters of Kicking Horse River. This rafting trip is optional, so don't worry if it sounds a little too exciting for your taste. Later you can hike through the spectacular Yoho mountains and explore the shores of Emerald Lake before settling down for a well-earned meal and rest at your campsite for the evening.
Overnight Location: Camp in Yoho
Distance: 4-16 km
Meals: Breakfast, Lunch, Dinner
Day 7

Soaking in the Hot Springs

Today your 7-day mountain adventure has sadly come to an end. Before bidding farewell to your wonderful guides and fellow group members, you will enjoy a final breakfast together and unwind in the Sulphur Mountain Hot Springs of Banff. After relaxing in the hot springs, you will head back to Calgary for the afternoon. You can be dropped off somewhere in Banff or anywhere you need to go in Calgary, including the airport.
Overnight Location: None
Distance: None
Meals: Breakfast, Lunch

Book Now
7-Day Rocky Mountain Adventure Tour Price and Dates
This guided hiking tour in the Canadian Rocky Mountains is run as a fixed-departure tour where you'd be joining a group, however, custom private tours can be organized for those willing to travel with their group only (please contact us with your preferred date and the number of people in your group and we will create the itinerary just for you).
Prices below are per person sharing a double or a triple room:
Accommodation on 7-Day Rocky Mountain Adventure
This tour is based on good quality tents with comfortable camping pads. Your camping spots are carefully chosen to offer the most beautiful spots of the Rocky Mountains. A hot shower is available nearly every day and all diets can be catered for.
Prices are based on 2 people sharing a 3-4-person tent, but it is possible to upgrade to a private tent if you prefer. You can either bring your own sleeping bag or rent one for an extra fee.
Single Rooms and Solo Travelers
You can pay a supplement of $250 USD to have a private tent throughout the tour. Contact us and we can try and match single travelers up, where possible.
Hotels on Standard Tour
Immerse yourself in the stunning mountain landscapes as you camp out beneath the stars. High-quality equipment and expert guides offer a wonderful camping experience.
What's included in the 7-Day Rocky Mountain Adventure?
Meals
6 breakfasts, 6 lunches, 6 dinners are included.
Accommodations
Camping accommodation for 6 nights along the tour.
Transportation during the Tour
You will be picked up in Calgary and dropped off at either Banff or Calgary depending on your preferences. Transportation for yourself and your luggage is provided via a support van and trailer throughout the trip.
Also Included
Park passes and entry fees
Hot Spring entry fees on day 7
Expert local guides
Gondola Pass
Use of quality camping gear (tent and sleeping pad)
Hiking activities
Not included
Alcoholic drinks
Optional personal transportation around town during free time
Getting to and from Calgary
Insurance
Personal expenses
Anything not stated as 'included'
GST (5%)
Optional Extras
Sleeping bag rental - $50 USD
Additional night in Calgary before or after the tour - $175 USD
Frequently Asked Questions about 7-Day Rocky Mountain Adventure Tour
Fresh Adventures is an outdoor tour company that navigates explorations through the rugged, stunning terrain spanning western Canada. With an emphasis on customer care, Fresh Adventures promises to depart on an expedition, with a highly skilled guide, no matter how many people have signed up, while also ensuring tour participants have top-notch equipment.
Learn More
Is this tour for me?
We rate this tour as a 3 / 5. Fixed-departure tours are accompanied by two guides that can split the group into two to organize activities for different levels of fitness.
Ask a Question
Got any questions regarding the tour? Interested in promotions for groups or want to customize this tour to fit your needs? We are here to help you!
Ask a question