Experience the culture of Mongolia and its nomadic peoples
This festival invites you to discover the natural and cultural wonders of Mongolia, one of the last remaining seldom-explored countries. Mongolia offers a rare glimpse into an ancient nomadic culture that has changed little over the centuries.
For more than 2000 years, the Kazakhs have the procedure and trained the massive Golden eagles to assist both in subsistence hunting and to capture foxes and wolves that threaten their livestock herds. Eagles are captured from their nest at an early age – always females, who are more active hunters and larger in size – and intensively trained for as long as a year. After several years with the hunting family, the eagles are then released back into the wild.
West Mongolia is a spectacular region of permanently snow-capped mountains, glaciers, torrential rivers, salt-water and fresh water lakes, and a variety of animals and plants. The Golden Eagle Festival is an annual festival held during the first weekend in October that will showcase the traditions and culture of Mongolia's nomadic people, making for an spectacular adventure that you won't soon forget.
Highlights of the The Eagle Festival Tour
Explore the capital of Ulaanbaatar and get your first taste of Mongolian culture
Fly to Bayan-Olgii to experience the western reaches of the country
Take in the traditions of nomadic peoples at the Golden Eagle Festival
Visit with traditional eagle hunting families to experience Mongolian hospitality at its finest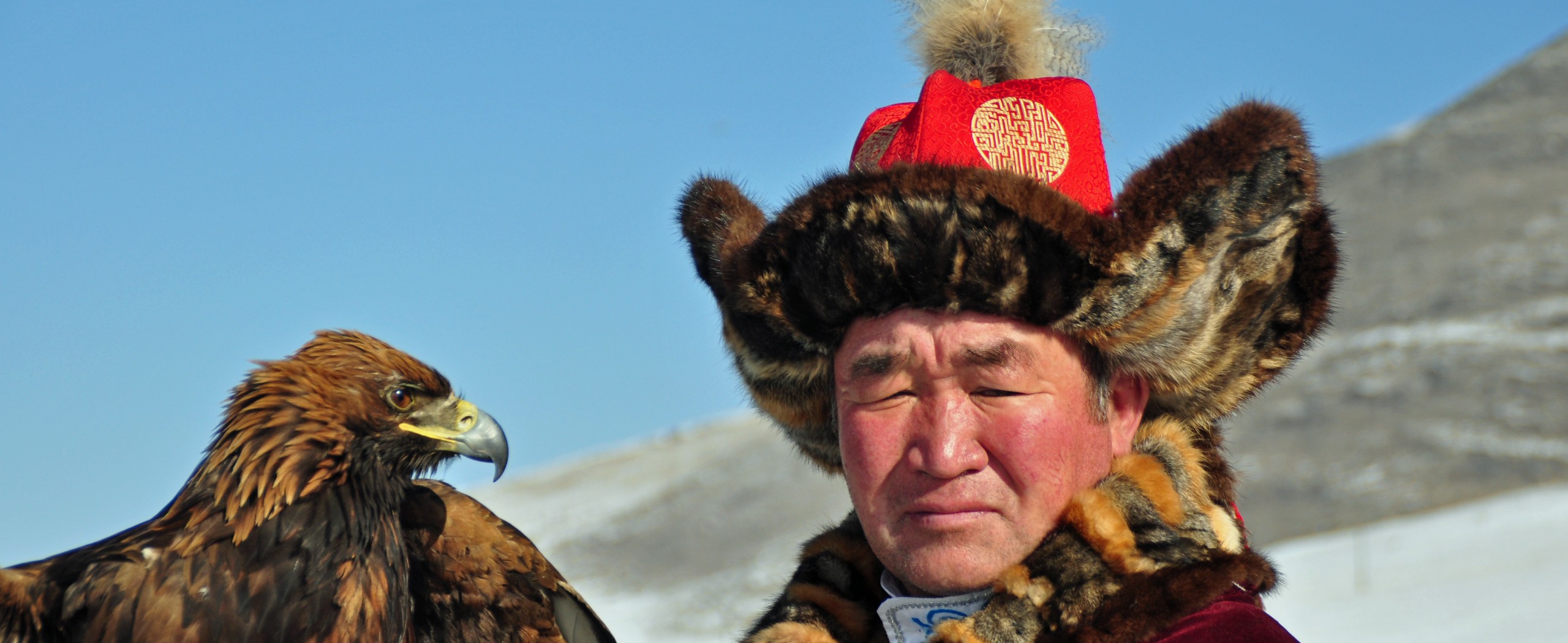 The Eagle Festival Tour Itinerary
Day 1

Arrival in Ulaanbaatar and an Optional City Tour

Guests will be greeted upon arrival at the airport, before being transported to a convenient, centrally located hotel. A 4-5 hour city tour can be arranged depending on your arrival time, which includes Bogd Khan's Winter & Summer Palace, a series of beautiful traditional buildings in which the eighth Living Buddha and the last king lived.

You will also explore the Gandantegchinlen Monastery, which is the largest and most important monastery within Mongolia, before visiting the magnificent 82-foot high statue of Migjid Janraisig. You will finish the city tour atop Zaisan hill for a view of the whole Ulaanbaatar.

In the evening, your tour guide will give you a short briefing about the coming trip and answer all your questions, before taking you to a famous Mongolian restaurant for a first taste of Mongolian food.
Overnight Location: Hotel in Ulaanbaatar
Distance: None
Meals: Dinner
Day 2

Fly to Olgii and City Tour

After breakfast, you will transfer to the airport to fly to Olgii, the provincial town of Bayan-Olgii, the most western Aimag of Mongolia. Here, you will be welcomed by your guide and set out on a city tour that will get you excited for the upcoming events in the following days.

Unlike the rest of Mongolia, which is dominated by Khalkh Mongolians, about 90% of Bayan-Olgii's population are Kazakh, almost all of them Muslims. Olgii, the capital city of the Aimag, is a Muslim influenced ethnically Kazakh city. We will spend the afternoon strolling around in the Aimag Centre and visiting the museum that has some interesting displays, providing a good overview of Kazakh culture.
Overnight Location: Hotel in Olgii
Distance: None
Meals: Breakfast, lunch, dinner
Day 3-4

Experiencing the Golden Eagle Festival

Days 3 and 4 of the tour will be spent taking in the majesty of the Golden Eagle Festival, which is the largest gathering of eagle hunters and their eagles in the world. Eagle hunters celebrate their heritage and compete to catch small animals such as foxes and hares with specially trained golden eagles. Nowadays hunting live animals is not practiced during festivals anymore; instead, eagles chase fox skin dragged by its owner on horseback. Prizes are awarded for speed, agility, and accuracy.

Festivities incorporated into the event include an opening ceremony, impressive parade, cultural exhibitions, demonstrations, and handcraft followed by sporting activities and competitions 3 km out towards the mountains. Other sporting activities include camel racing, archery, "Kiz Kuar" century old woman chasing game, "Tinge Lu" the competition where horse riders snatch coins from ground and the highly entertaining traditional game "Kokbar"- goatskin tug war on horseback. In the evening a traditional Kazakh folklore concert is held in Olgii theatre.
Overnight Location: Hotel in Olgii
Meals: Breakfast, lunch, dinner
Day 5

Tour with the Eagle Hunting Families

Today you will drive out of Olgii to visit Kazakh families in their traditional Ger, which are bigger than Mongolian Gers and brightly decorated with handmade rugs.

Here, you will experience warm hospitality with a cup of tea, sharing your host's delicious Kazakh dishes such as "Kaz"- salted and smoked horse meat - and "Bisbarmak" another traditional meal, while chatting and deepening your knowledge of rich Kazakh culture and customs. In the afternoon you will go trekking in the nearby mountain valley or riding on horseback together with hunters through the scenic landscape.
Overnight Location: Homestay
Meals: Breakfast, lunch, dinner
Day 6

Flight Back to Ulaanbaatar

The time has come to leave and fly back to Ulaanbaatar, Mongolia's capital. You can use your free afternoon to see as you fit; a good option is to go see the lovely cultural exhibitions and admire the contortionists while watching colorful and rhythmic Mongolian dances.
Overnight Location: Hotel in Ulaanbaatar
Distance: None
Meals: Breakfast, lunch, dinner
Day 7

Departure

After enjoying a delicious breakfast, guests will make their individual departure from Ulaanbaatar and bid farewell to Mongolia.
Overnight Location: None
Distance: None
Meals: Breakfast

Book Now
The Eagle Festival Tour Price and Dates
This guided tour is always run as a fixed-departure tour where you would be joining a group on a fixed day, due to festival taking place on a set time of the year.
The prices below are per person:
From Ulaanbaatar, Mongolia
7 days / 5+ Spaces Left
Accommodation on The Eagle Festival Tour
This tour is based in hotels and homestays. Hotels on this trip are 2 and 3-star and offer modern conveniences that can make this trip more pleasant. Rooms may have fireplaces or access to amenities such as hot tubs, steam rooms, or private decks to lounge on.
In some cases, the accommodation listed below may need to be substituted for other comparable accommodations.
Single Rooms and Solo Travelers
Rooms are double occupancy. You can pay a supplement to have a private room in a hotel where possible. Solo travellers may be required to pay a supplement.
Hotels on Standard Tour
Hotel J, Ulaanbaatar ★★★★
Located in the centre of Mongolia's capital, Ulaanbaatar, this hotel features modern rooms and amenities for a comfortable, relaxing stay.
Accommodations in the heart of Olgii, the provincial town of Bayan-Olgii. Modern amenities make for a comfortable and pleasant stay.
Spend the night in a traditional, brightly-coloured Kazakh ger, experiencing the hospitality of a nomadic family.
Hotel J, Ulaanbaatar ★★★★
Located in the centre of Mongolia's capital, Ulaanbaatar, this hotel features modern rooms and amenities for a comfortable, relaxing stay.
What's Included in the Eagle Festival Tour?
Meals
6 breakfasts, 6 lunches, 6 dinners are included in the tour
Accommodations
Accommodations for 6 nights are included.
Transportation during the Tour
Local transportation, flights, and local airport transfers are included for you and your luggage. International airport transfers are not included and are priced at 70 USD one way per vehicle, 2 pax per vehicle. Please note that local flights have luggage included of up to 10kg and any extra weight is a subject to extra charge (around 2 USD per kg).
Also Included
English-speaking guide
Camping and kitchen equipment
National Park entrance fees
Museum and Monasteries entrance tickets
Not included
City touring
Medical, trip insurance and
Evacuation costs
Alcoholic and soft drinks
International airport transfer
Excess luggage fee: approximately 2 USD per 1 kg
Visa cost
Items of personal nature
Optional Extras
City tour: $42 USD per person
International airport transfers: $88 USD per person
Frequently Asked Questions about The Eagle Festival Tour
Mongolian Dot Travel is a B2B company that is a member of the Mongolian Tourism Association and one of Mongolia's most reputable and professional Destination Management Companies.
Learn More
Is this tour for me?
We rate this tour as a 2 / 5. There are no considerable strenuous activities.
Ask a Question
Got any questions regarding the tour? Interested in promotions for groups or want to customize this tour to fit your needs? We are here to help you!
Ask a question