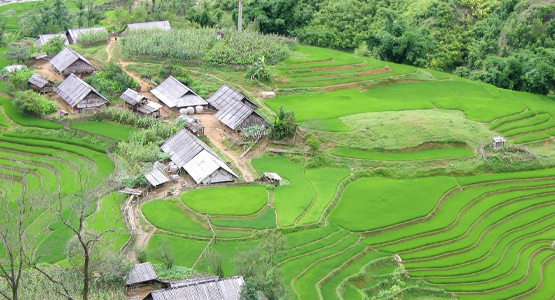 In recent years Vietnam tours have experienced a boom, as adventure travelers have taken note of what a remarkable destination this country can be. Vietnam's friendly people have a natural ability to guide, and they're proud to share their beautiful country with you. Their cities are full of ornate tombs and temples, and their mountain villages are home to very welcoming local residents.
Not only are the people extraordinary, but the scenery is as well. Many hiking and biking tours are centered around the mountains of northern Vietnam, where you'll find astonishing peaks terraced for farming, raging rivers, and thick forests. Nature preserves are home to rare flowers and animals. The beaches are a sight to see too, where you'll find old fishing villages among the palm trees and brilliant white sand. Exploring the backroads on foot or bike is the best way to experience the nature, people, and food of Vietnam.
Read More
Guided Vietnam Tours
If you're a first-time international traveler or get stressed by planning a holiday, book a guided Vietnam tour! It can be overwhelming both planning an adventure tour and participating in one while in a foreign country, especially when you don't speak the local language. But when you book a guided tour, everything will be completed for you. All you need to do is show up and enjoy yourself!
Expert guides will arrange either a private or group guided tour based on your interests and fitness levels. They'll take care of airport pickup and drop off, all transportation while in the country, lodging, and meals. One of the best things about being with a guide, other than having a translator with you, is that they're often a source of information that you can't get in guidebooks. A guided tour will give you a completely immersive cultural experience in Vietnam!
Self-Guided Vietnam Tours
If you're comfortable traveling on your own, there are plenty of self-guided Vietnam tours available for the more adventurous travelers. Guides will still build an itinerary, arrange lodging and transportation, and coordinate activities for you. They're with you in spirit and merely a phone call away if you need assistance, but otherwise, you're on your own. This may be exactly the kind of holiday you're looking for if you're celebrating a special occasion or prefer the privacy and freedom to be on your own.
Booking a self-guided tour of Vietnam gives you all the benefits of a guided tour without being accompanied by a guide. It's still a stress-free planning experience, and you'll have access to amazing local knowledge that you wouldn't get if you planned the trip on your own!
Vietnam Hiking Tours
Vietnam's hiking tours will take you through a lovely country full of beautiful mountains, jungle, and friendly people. Sa Pa is often considered one of the best trekking regions in Vietnam. This is quintessential Vietnam, located in the mountainous northwest region of the country. Several different hiking tours are available here, from short day trips to week-long treks where you'll stay in guesthouses. When you hike through Sa Pa, you'll gaze out upon endless agricultural terracing in the lush mountains, separated by rivers and remote villages. These villages are home to very friendly mountain tribes, each with their own unique culture.
The Mai Chau region offers even more classic trekking tours in northern Vietnam, near Hanoi. These trekking routes lead you through rice paddies and rural villages where you'll interact with the welcoming local people. Mai Chau is also next to Pu Luong Nature Reserve, where you'll find beautiful limestone features in the mountains and over 600 species of animals, including loris and jaguars.
Vietnam Cycling Tours
You have several great opportunities for both road and mountain biking on Vietnam's cycling tours. It's also possible to cycle the length of Vietnam, from Hanoi in the north to Ho Chi Minh City in the south, on a two-week tour. The beautiful, long road ride is a cultural and natural marvel, as you'll cycle through forests, rice fields, and beaches. You'll see cities, rural villages, scenic rivers, and the stunning temples of Hue.
A long road cycling tour like that might not be for everyone, but there are still plenty of shorter cycling tours available. You can always cycle the Ho Chi Minh Highway in sections, either in the mountains of the north, the central beaches, or near Ho Chi Minh in the south. Riding this highway in small sections gives you more time to explore the villages, white sandy beaches, and tropical mountains along this route.
Is road cycling not your thing? Would you rather get muddy and ride some singletrack through the mountains? The northern highlands of Vietnam offer numerous mountain biking trails for a different type of cycling tour. A weeklong tour between Sa Pa and Hanoi has you crossing streams, following rugged dirt roads, and takes you into Pu Luong Nature Reserve. A different type of adventure, but still one that allows you to see classic Vietnam.
Scenery in Vietnam
The scenery in Vietnam is remarkably diverse, and of course, breathtaking! This skinny country, bordered by the South China Sea on the east and Laos and Cambodia to the west, is known for many scenic features. Ha Long Bay is perhaps one of the most photographed areas in Vietnam, where over 1,600 limestone towers and small islands pierce upwards out of the clear turquoise water. The geography of Vietnam has many other limestone features, like the rugged mountains in northern Vietnam and the enormous caves throughout the rest of the country. Agriculture has also left its mark on the scenery in Vietnam, as many of these mountains have been carved into terraces over the centuries to facilitate farming. Other beautiful rivers, waterfalls, lush forests, and tropical beaches make Vietnam a scenic wonder!
Read More
Destinations
Activities