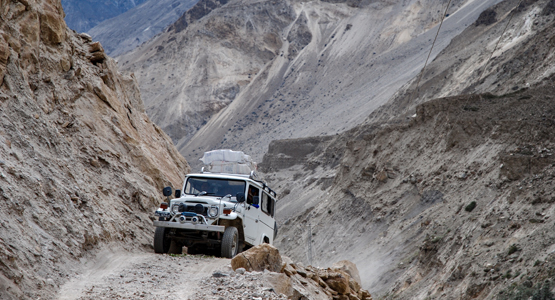 Pakistan is the ultimate adventure travel destination. Pakistan tours are some of the most scenic in the world, and booking a guided tour can make for a beautiful holiday! The Hindu Kush, Karakorum, and Himalaya ranges are home to some of the tallest mountains in the world, including K2, second only to Everest.
Read More
Whatever type of adventure travel best suits you, it can be found in Pakistan, so book a tour today!
Guided Tours, Pakistan
Booking guided tours in Pakistan will maximize your experience in this incredibly diverse country, rich in culture, history, scenery, and adventure opportunities. Hospitality in Pakistan runs deep in the local culture, and your tour guides will take this to the next level. Your guides will take care of lodging, food, and transportation for you and keep you safe as you venture throughout the country.
Guided tours in Pakistan run the gamut for travelers seeking out all types of adventure. You can hike through the historic and beautiful Swat Valley, often called the "Switzerland of the East," full of lush forests, waterfalls, and the only ski resort in Pakistan. There's also guided tours of Fairy Meadows, a top destination for photographers, climbers, and wildlife enthusiasts. Even more guided tours will take you deep into Pakistan's magical cities like Lahore and Islamabad, where you'll see stunning mosques, colorful markets and bazaars, and historic forts from centuries past. This is just a small sample of the variety of guided tours in Pakistan.
Pakistan Trekking Tours
Beautiful mountains and picturesque villages make Pakistan trekking tours one of the top activities for adventure travelers. Licensed guides are required for many of Pakistan's epic treks, most of which are located in the Hindu Kush and Karakorum ranges in northern Pakistan. This area is home to many of the world's tallest mountains, including K2, the second-tallest mountain in the world. Even inexperienced mountaineers can trek to K2 Base Camp with a guide. This two to three-week trek can be booked as either a private tour or group tour and will take you through some of the most breathtaking scenery in the world.
The Hunza Valley is another popular destination for trekking tours in Pakistan. A two-week trek through this region passes through remote villages, historic forts, and vistas of expansive glaciers and grassy meadows. One of the highlights of trekking in Hunza Valley is Rush Lake, one of the most scenic lakes in Pakistan. If you want to include both trekking and climbing on your tour, check out the Gondogoro Peak tour. On this beautiful tour, you'll walk across glaciers, through isolated mountain towns, and summit 18,323-foot tall Gondogoro Peak.
Karakorum Highway Tours
Karakorum Highway tours take you on what is often called the eighth wonder of the world, a former Silk Road trading route. This highway, a joint project between China and Pakistan, is a marvel of engineering. And it opens up an entirely new world of adventure that was previously inaccessible to tours.
Cycling tours of the Karakorum Highway are one of the most popular ways to enjoy this highway. These private and group tours are accompanied by support vehicles to make the ride a little bit easier for you. After all, this is the highest international highway in the world, with the highest point of the highway just over 15,000 feet.
Highlights that you'll experience on your Karakorum Highway tour include some of the largest glaciers in the world, high-altitude lakes, and several 26,000-foot peaks. The highway passes through numerous desolate towns, ancient forts, and petroglyphs believed to be up to 7,000 years old.
Skardu Valley
Skardu Valley tours are a magical experience. These tours take you deep into the Baltistan region of Pakistan, an old kingdom along the ancient Silk Road in the Himalayas. Here you'll find towns and cultures that haven't been tainted by modern life, emerald lakes, and snow-covered peaks.
Skardu Valley can be toured by bicycle or car, on tours that can range from a few days to a few weeks. The bicycle tours include guides and support vehicles and are recommended for the physically fit due to the high altitude. No matter which method of transportation you take to tour Skardu Valley, you'll make many great memories on the tour. Some highlights of the tour include scenic Shangrila Lake, beautiful Chaqchan Mosque, several forts, and waterfalls.
Gondogoro La Trek
The Gondogoro La trek is difficult enough on its own, and when combined with other routes like the K2 Base Camp trek, makes for a thrilling adventure. The entire circuit takes over three weeks, but this can be shortened slightly for travelers who don't have that kind of time.
This circuit does require some mountaineering skills, as some parts of the route involve Class 4 climbing with crampons and the use of a fixed rope. The pass itself must be crossed during the night, as avalanche danger significantly increases after sunrise.
Guides on the Gondogoro La trek are highly-skilled mountaineers and porters and make the route possible. Despite its difficulty, it's also one of the most beautiful treks in the world. It crosses icy glaciers, past turquoise lakes, over rushing rivers, and through a lush green alpine environment. Views of K2 and other 26,000-foot peaks round it all out.
Pakistan Scenery
From the beaches to the desert to the mountains, Pakistan's scenery is incredibly diverse. Lower areas are contrasted by the arid desert and lush valleys fed by glaciers. In the higher elevations, you'll find what are considered, hands-down, the most beautiful mountain vistas in the world. And throughout all of it, you'll be struck by the beauty of the mountainside villages, rugged old forts, and modern city centers.
Book a guided tour in Pakistan and enjoy an adventure that not many other people in the world experience. Pakistan's local guides are eager to share their country with you and leave you with some of your new favorite memories.
Check out this guide to learn more about the most epic adventures in Pakistan.
Best Tours in Pakistan
Read More
Destinations