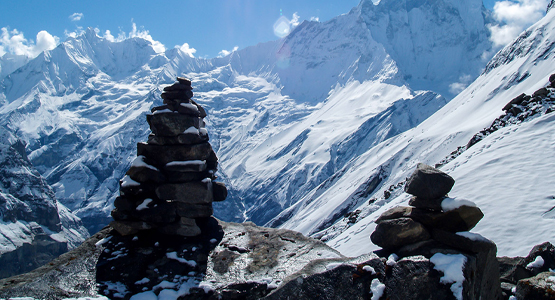 The tallest mountains in the world await you in Nepal. The spectacular scenery and the vibrant culture of the people who call it home make an adventure tour in Nepal an absolutely unparalleled experience. The Nepalese government does an excellent job of protecting the treasures within their borders and their efforts to limit tourism guarantee you an experience of an authentic and pristine environment that has been sheltered from commercialization and the influence of the outside world. There is simply nothing else like it anywhere on Earth.
Read More
Don't miss this opportunity to have an unforgettable experience of a lifetime. There is no other adventure quite like a trip to the top of the world. A tour in Nepal is certain to take your breath away.
Guided Tours in Nepal
Guided tours are highly recommended, and in many areas required, in Nepal. In order to preserve the pristine environment and the integrity of its indigenous people, the Nepalese government monitors tourism closely. These mountains have their own distinct character and it is also for everyone's safety that guides are required on trekking tours in many parts of Nepal. Guides also bring their considerable knowledge of the area's geography and culture to enhance your overall experience. Be sure to book a guided tour for your visit to Nepal.
Types of Adventure Tours in Nepal
There are many ways to enjoy an adventure in Nepal. Trekking tours are the most popular, including incredible opportunities to trek to the base camps for Mount Everest or Annapurna. There are also luxury trekking tours that allow visitors to experience these mighty mountains up close while staying in luxury lodges that provide many more amenities than the standard Himalayan hiking lodge. Cycling and mountain biking tours are also available for those who would prefer to explore this incredible region on two wheels. For families traveling with children, adventure tours suitable for all ages are also offered. The possibilities for adventure and exploration and Nepal are nearly endless!
Best Locations for Trekking Tours in Nepal
Nepal is a country that is dominated by mountains. Some of the world's tallest and most magnificent mountains line the northern border. There are many fantastic trekking route throughout Nepal, but most tours focus either on the area surrounding Mount Everest in the eastern part of the country, or around the Annapurnas which are further west.
Tours Near Mount Everest
Tours in the vicinity of Mount Everest often include trekking to Everest Base Camp, but there are also routes that allow visitors an up-close look at the world's tallest mountain while also avoiding higher elevations. In addition to the famed Mount Everest, there are plenty of other spectacular peaks to discover in this area, including Lhotse, Nuptse, and Ama Dablam. Hiking to the Kala Patthar overlook in time to watch the sun rise behind Mount Everest is also a popular and memorable experience in this region.
Annapurna Tours
Make your way to the incredible city of Pokhara which is the gateway to exploring the magnificent Annapurna massif. There are more than a dozen peaks in this massif that are over 7,000 m tall, including Annapurna I which towers over 8,000 m. There are many ways to enjoy incredible adventures in this part of Nepal, including trekking to Annapurna Base Camp or mountain biking the Annapurna Circuit. The Thorong La Pass and Poon Hill are particularly memorable locations along the most popular Annapurna tours.
Langtang and Manaslu Tours
Located between the giants of Everest to the east and the Annapurnas to the west, the areas surrounding Manaslu and the Langtang glacier provide a unique range of adventures and challenges. Trekking to Langtang is a way to explore the Himalayas while avoiding higher altitudes. Manaslu Base Camp treks provide beauty and challenge while introducing visitors to a unique blend of religions and cultures that coexist peacefully in this crossroads region.
Planning a Tour in Nepal: What you should know
Nepal Transportation
Nepal has only one international airport, Tribhuvan International Airport in Kathmandu (KTM), which offers flights to and from major cities throughout Asia and the Middle East. Tourists from Europe and North America will need to connect through one of these cities in order to reach Kathmandu. There are many smaller airports throughout Nepal. Many tours to the Everest region will include a flight to Tenzing-Hillary Airport in Lukla (LUA), while travelers to Annapurna will often fly to Pokhara Airport (PKR).
There is limited public transportation available in Nepal. While tourists will find buses and taxis in some areas, pre-arranged transportation is a significant advantage to booking a guided tour.
Seasons and Weather in Nepal
Nepal experiences four distinct seasons throughout the year. The summer months, from late May until early September, are considered monsoon season. Very warm temperatures and wet, muddy conditions make summer an uncomfortable and potentially dangerous season for outdoor adventures.
The recommended seasons for trekking, biking, or other outdoor activities are spring and fall, either March through early May or late September through November. Spring can be more rainy than fall, so most tourists prefer to travel in the fall. Temperatures in the fall range from 10-25℃. Winters are typically mild, and daytime temperatures can still rise to 20℃, but overnight temperatures can drop below freezing and snow can cause issues, especially at higher elevations.
Practical Considerations for Travel in Nepal
Tourist visas are required for visiting Nepal. These visas can be acquired on arrival at Tribhuvan Airport in Kathmandu, and the procedure is simple. To avoid lines and hassle at the airport, visas can also be obtained through Nepalese embassies and consulates around the world within 6 months of your trip. You can also save time by filling in the required forms online up to 15 days ahead of your arrival.
The cost of a tourist visa depends on the length of your stay. A 15-day visa is $30 USD, while a 30-day visa costs $50 USD. You can also get a 90-day tourist visa for $125 USD. While various payment methods are typically accepted, it is recommended that you travel with cash equivalent to the required amount just in case.
The official currency in the Federal Democratic Republic of Nepal is the Nepalese rupee. The rupee is divided into 100 paisa. Currency exchange and ATMs are available in large cities like Kathmandu and Pokhara, but for travel outside of cities, it is recommended that you have adequate cash in rupees. When shopping, expect to haggle and negotiate over prices.
Read More
Destinations