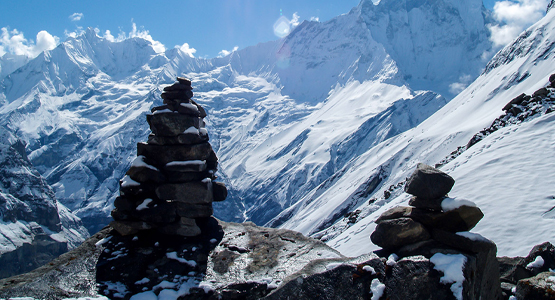 The combination of the world's highest mountains and rich, colorful culture you'll experience on these Nepal tours are unlike anything else. The Nepalese government has strict limitations on tourism, further protecting these invaluable resources and providing a more authentic experience for those travelers who do make the journey.
Read More
Our local partners are ready to take you on an unforgettable guided tour of Nepal, whether you prefer a private tour, a luxury tour, our a group tour.
Guided Nepal Tours
Nepal is a dream destination for adventure travelers, especially with the variety of guided Nepal tours available today. Nepal isn't just about summiting Mount Everest, which is one of the thrilling adventures that Nepal is mostly known for. Nepal also offers rich cultural tours, bicycling tours, and other trekking tours.
Tourism is a major economy in Nepal, and the guides are extremely skilled in assisting visitors in whatever adventure they choose. The Sherpa community is especially known for their mountaineering and guiding skills. Our partners offering guided Nepal tours are sure to keep you safe and leave you with memories that you'll treasure for a lifetime.
Nepal Trekking Tours
Trekking in Nepal is spectacular. The towering mountains, endless vistas, and cultural experiences make Nepal trekking tours the highlight of any trip to this amazing country. Here's a list of favorite Nepal trekking tours.
Everest Base Camp Trek
It takes just over two weeks to complete the Everest Base Camp Trek, a perfect choice for travelers wishing to get up close to the tallest mountains in the world. This classic trek takes you through many different zones in Nepal, from thick forests to icy glaciers to ancient monasteries. Choose from private tours and guided group tours of the Everest Base Camp Trek.
Everest Base Camp and Gokyo Lakes
The Everest Base Camp and Gokyo Lakes trek will take you on a slightly different itinerary than most adventurers in the region who usually just stick to the Base Camp route. A few days longer, this private tour or group tour gives you more time to get acclimated to the altitude. And you'll be able to experience Gokyo Lakes, a series of high-altitude bright emerald lakes in Sagarmatha National Park.
Annapurna Circuit Trek
The Annapurna Circuit Trek highlights the best of the Annapurna Conservation Area, a beautiful region filled with colorful flowers, waterfalls, and rare wildlife. Add on to that the unbelievable views and rich culture, and you're in for a once-in-a-lifetime experience. Private tours of the Annapurna Circuit Trek are available, as well as guided group tours, which can also accommodate solo travelers.
Annapurna Base Camp Trek
After Everest, the Annapurna Base Camp Trek is one of the most well-traveled routes in Nepal. Your guide will lead you past raging rivers, hot springs, and among colorful flower blooms. Accommodations for both private tours and group tours are in guesthouses that have some of the best views on the planet. Your main destination is Annapurna Base Camp, where mountaineers prepare to summit the tenth tallest mountain in the world.
Langtang Trek
The weeklong Langtang Trek is ideal for adventure travelers wishing to immerse themselves in both beautiful nature and the rich cultural heritage of Nepal. This trek takes you through the iconic Langtang Valley, past old monasteries, and visits picturesque mountain villages. Learn more about our Langtang Trek guided group or private tour offerings.
Mustang Trek
Nepal's Mustang Valley is one of the most remote areas of the country, and permits for the Mustang Trek are limited. Limiting the number of permits for this trek helps preserve the ancient feeling you'll experience as you walk this ancient trade route through small Buddhist villages. You'll need a licensed guide for this approximate ten-day route, and all of our partners will be able to take you on a guided private tour of the Mustang Trek.
Manaslu Trek
The Manaslu Trek has become more popular in recent years, but it's still one of Nepal's most remote experiences. Guided group or private tours take you around the north side of Mount Manaslu, the eight-tallest mountain in the world, on a two-week-long trek. The scenery along the route includes rainforest, deep gorges, and colorful teahouses, which are your accommodations along the Manaslu Trek.
Luxury Trekking Tours in Nepal
Luxury Trekking Tours in Nepal do exist. If you want to explore the Himalayas, but also want the luxuries you are used to at home, then check these out? Most of these luxury trekking options are in the Everest and Annapurna regions, where tourism infrastructure is more built up. Instead of dorm-style guesthouses, find quality guests houses with hot running water, electricity, and Internet where available.
Low Altitude Trekking Tours
Altitude sickness can be a real problem for visitors to Nepal, but there are also many excellent low altitude trekking tours where this isn't much of a concern. Guides can take you trekking on certain parts of the Annapurna circuit without exposing you to high altitude, and options are also available in the Langtang Valley. You can even get iconic panoramic views of Everest without going to high altitude, and our expert guide partners are eager to take you there.
Cycling Tours in Nepal
Trekking isn't for everyone, and thankfully you can still explore the best of Nepal on two wheels with these cycling tours in Nepal. One of the most popular and scenic cycling tours in Nepal is along the Annapurna Circuit, where you can spend over two weeks exploring this conservation area's stunning scenery and rich culture. Other amazing cycling tours in Nepal are longer tours through Mustang Valley or shorter tours around Kathmandu.
Family Tours in Nepal
Family tours in Nepal will allow the adults to see the best of this spectacular country while also providing invaluable experiences for your kids of all ages. Our trusted guide partners can accommodate your entire family with sightseeing in Kathmandu, easy treks in the Himalayas, and visits to ancient monasteries.
Read More