Nepal Tours
Nepal tours are a spectacular experience where the tallest mountains in the world await. The breathtaking scenery and vibrant culture of the people who call it home make Nepal tours an absolutely unparalleled adventure, allowing you to take in the natural beauty of this mountainous region. The Nepalese government does an excellent job of protecting the treasures within their borders and their efforts to limit tourism guarantee you an authentic experience and pristine environment that has been sheltered from commercialization and the influence of the outside world. If you are after a once in a lifetime trip, then there is simply nothing else like Nepal tours anywhere in the world!
Trekking in Nepal
There is no denying that trekking in Nepal is an extremely popular outdoor activity that attracts the most intrepid adventurers from around the globe. The rugged landscape of the Himalayan Mountains lends itself perfectly to multi-day adventures, and the iconic peaks of Everest and Annapurna provide a stunning backdrop that will undoubtedly inspire your mountain escapades.
While exploring the Nepalese countryside and passing through mountain villages, you will come into contact with the ever-cheerful Nepalese people and experience their warm hospitality. From hotels and teahouses, to outdoor camps, you will find accommodations on Nepal tours to be extremely inviting and always located close to your next adventure.
Terrain in the Himalayan Mountains is rough, and while it can be explored on your own it is almost always better to do so with a guide. Whether you plan to conquer Mount Everest or simply trek through serene valleys, booking a Nepal tour is the ideal way to explore this breathtaking mountain region.
When is the Best Time to Visit Nepal?
The best time to visit Nepal is during the September to November window, although there is a case to be made for other times of the year depending on what the focus of your trip is. Trekking in Nepal can be done in the spring (March-May), the summer (June-August), the autumn (September-November), and the winter (December-February).
Weather is the biggest factor when booking Nepal tours, so the time of year that you choose will depend largely on your tolerance for snow, rain, or heat. Similarly, if you are planning on another activity, such as mountain biking, you will need to choose a season like summer or autumn when the trails are clear enough to ride. So if you are searching for the best time to visit Nepal, the answer really is that it depends on your reason for travelling!
Nepal Map
Planning for a distant trip or getting your bearings in a foreign country can be tricky, so we've created this Nepal map to provide you with an overview of the country, its national parks, and a few points of interest. Make sure to use this handy Nepal map during your planning phase to outline your entire trip!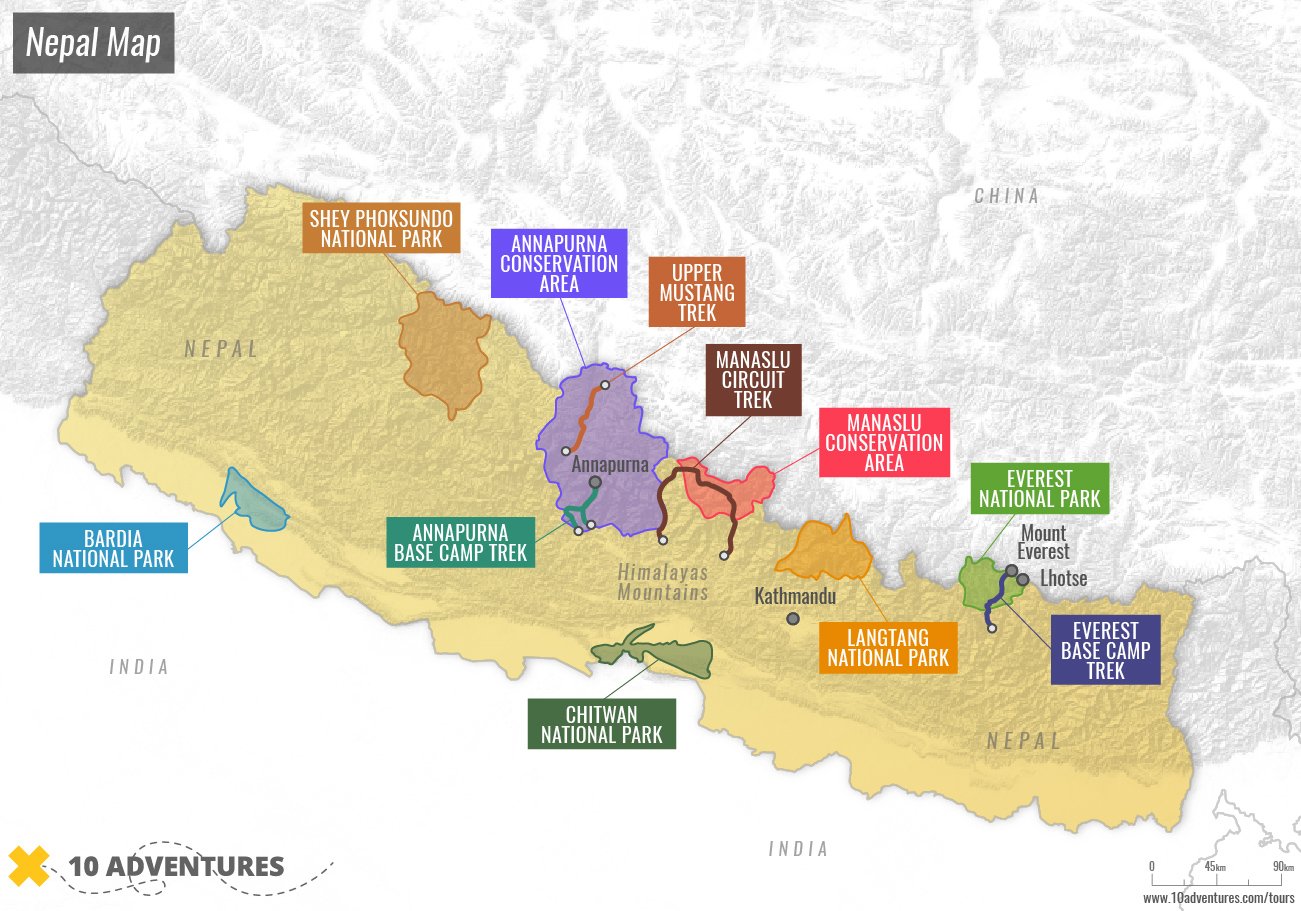 Popular Treks in Nepal
Everest Base Camp Trek
The Everest Base Camp Trek is an iconic adventure in Nepal that will take you to the foot of the tallest mountain in the world. Trek steadily uphill through valleys and charming villages, spending time in teahouses and gazing out at the imposing mountain scenery. When it comes to Nepal tours, this adventure has it all!
Annapurna Base Camp Trek
Traversing the rugged terrain of the Annapurna Range, the Annapurna Base Camp Trek is an incredible 16-day journey to the base camp of an iconic 8,000m peak. Along the way you will climb through jungles, rhododendron forests, serene valleys, and make your way below the impressive peaks that this region is known for. If you are looking to explore the Annapurna Conservation Area, then the Annapurna Base Camp Trek is certainly a good option to do so.
Annapurna Circuit Trek
Another amazing adventure in the Annapurna Conservation Area, the Annapurna Circuit Trek is arguably the most popular trekking adventure in Nepal. Spend 19 days exploring the remote beauty of the Himalayas, taking in the views of Annapurna from iconic viewpoints like Poon Hill and Thorong La Pass. There aren't many Nepal tours that highlight the natural beauty and rich culture of Nepal and its people in the same way that the Annapurna Circuit Trek does.
The Upper Mustang Trek
For being relatively new - the route was only opened to tourists in the 1990s - the Upper Mustang Trail is a popular adventure through some of the more remote parts of Nepal. Typically completed in 11 days, the Upper Mustang Trail (also known as the Last Forbidden Kingdom) climbs uphill through the length of the Mustang Valley, providing incredible views of the surrounding mountain landscape. If you are looking for a Nepal tour that gets you off the beaten path, then the Upper Mustang Trail is a great option to explore.
Langtang Trek
Traversing the scenic landscape of the Langtang Valley, the Langtang Trek is a wonderful adventure for those who don't have the time or fitness to tackle a longer, more difficult trail. While it is still 12 days long, the Langtang Trek explores less arduous terrain, allowing you to take in the beauty of the valley landscape and surrounding mountains, while also learning about the rich culture and traditions of the Sherpas in the region.
Exhilarating Adventure Tours in Nepal
When it comes to tours in Nepal, hiking and trekking are certainly at the forefront. But what about other activities? Not many travellers are aware of this, but there are also plenty of bike and cultural tours in Nepal, offering plenty of variety if you are looking to explore the region. If you are after a bit of a different approach to Nepal tours, be sure to check out the Annapurna Circuit by Bike Tour, the Lhasa to Kathmandu Bike Tour, or the Best of Western Bhutan and Kathmandu Tour.
Frequently Asked Questions About Nepal
Where is Nepal?
Nepal is a South Asian country that is nestled between China and India in the rugged terrain of the Himalayan Mountains.
What countries border Nepal?
Nepal is bordered by two countries, with India wrapping around the east, west, and south border, and the Tibet Autonomous Region of China to the north.
Can you hike in Nepal without a guide?
Anyone looking to hike in Nepal without a guide is free to do so in most areas, with the exception of the more remote and dangerous parts of the country, such as Mustang and Dolpi.
Where to stay in Nepal?
Where to stay in Nepal depends on your itinerary; however, many travellers choose to fly into and spend some time in Kathmandu before exploring the rest of the country.
How hard is trekking in Nepal?
While there are plenty of moderate trails, trekking in Nepal can also be very difficult, largely due to the remote and rugged nature of the Himalayan Mountains, as well as the high elevation that can cause altitude sickness.
What is the best trek in Nepal?
The best trek in Nepal is often considered to be the Annapurna Circuit Trek, as it features breathtaking scenery and a variety of terrain that includes serene valleys, winding rivers, glaciers, snow-capped peaks, and charming villages.
How many days do I need in Nepal?
How many days you will need in Nepal depends entirely on your itinerary and how much trekking you want to get in; however, it is often suggested that 3-4 weeks is a sufficient amount of time to fully experience the natural beauty and culture of Nepal.
How much does it cost to trek in Nepal?
The cost to trek in Nepal again depends on the nature of your itinerary and the types of treks you are looking to complete, but most travellers can expect to spend anywhere from $600 USD to $2000 USD.
Nepal Tour Highlights
There are many Nepal tour highlights that are great destinations in their own right, but can also be combined to make for an incredible adventure. Here are a few amazing Nepal tour highlights to check out the next time you find yourself exploring the Himalayas:
Mount Everest
Famously known as the highest peak on Earth, Mount Everest stands tall at 8,849m above sea level and can be found within the Himalayan Mountain range of Nepal. First conquered in 1953 by Edmund Hillary and Tenzing Norgay, Mount Everest has since become the penultimate outdoor experience. Every year approximately 800 people attempt to climb to the summit of Everest, and thousands more make the arduous trek through the mountains of Nepal to reach the Everest Base Camp. For anyone who wants to take part in an iconic Nepal tour, you can hardly do better than an Everest summit attempt!
Annapurna
Situated in the Annapurna Mountain range at an elevation of 8,091m above sea level, Annapurna is the world's 10th tallest mountain peak. First climbed in 1950 by Maurice Herzog, the imposing peak was the first eight thousand meter peak to be conquered. Although Annapurna has a poor reputation as being one of the most deadly mountains on the planet, its fatality rate has dropped significantly over the past decade and has subsequently seen a rise in climbers.
Kathmandu
Kathmandu is the most populous city within the country of Nepal and also serves as its capital. Situated within a valley and surrounded by the rugged terrain of the Himalayan Mountains, Kathmandu is the ideal travel hub for anyone looking to explore this world famous mountain region, and it is undoubtedly the city that you will fly into to begin your journey. With plenty of accommodations, restaurants, and gear shops, there is no reason to miss out on spending a few days acclimatizing in the city of Kathmandu.
Find Other Amazing Adventure Tours in the Himalayas
Join our newsletter
Get a weekly dose of discounts and inspiration for adventure lovers
Showing 1 to 17 of 17 adventure tours
What travellers say
Why
book

with 10 Adventures?
Your trip. Your way.
Make lifelong memories with the people you care about most. We specialize in custom & private active travel experiences.
Travel made easy.
Spend your time making memories, not planning them. Enjoy a stress-free vacation and leave the trip logistics to us.
You matter to us.
No bots here. A real human is always a click or a call away to ensure you get the adventure of your dreams.
Travel authentically.
Immerse yourself in the destination with highly-vetted, local tour operators who love to showcase where they live.