Explore the majesty of the sandstone formations as you hike Bryce Canyon and Zion
Want to see southern Utah's most spectacular scenery firsthand? The Bryce Canyon and Zion Hiking Tour takes you onto the trails of the incredible Bryce Canyon and Zion National Parks. The unbelievable sienna-colored rock formations and copper mountains offer incredible hiking, yours to discover over 6 days.
Discover the amazing hoodoos and fascinating rock formations that decorate this renowned area. Wade through the Narrows of the Virgin River, and take on the jaw-dropping climb up to Angels Landing. Soak up the sun-washed desert views, exploring the infinite hidden corners created by this dynamic landscape. Relax in the evening by watching incredible sunsets light up the red sandstone in a spectacular finale to the day. The Bruce Canyon and Zion Hiking Tour is the perfect chance to discover what makes southern Utah so special.
Highlights of the Bryce Canyon and Zion Hiking Tour
Discover hoodoos and other incredible rock formations around every corner as you hike through Bryce Canyon.
Wade in the Virgin River to explore the spectacular rocky cliffs that form the corridor known as The Narrows.
Challenge yourself on the hike up the winding paths and sheer drop-offs of Angels Landing.
Hike and explore the trails of Utah's "color country" on daily guided hikes.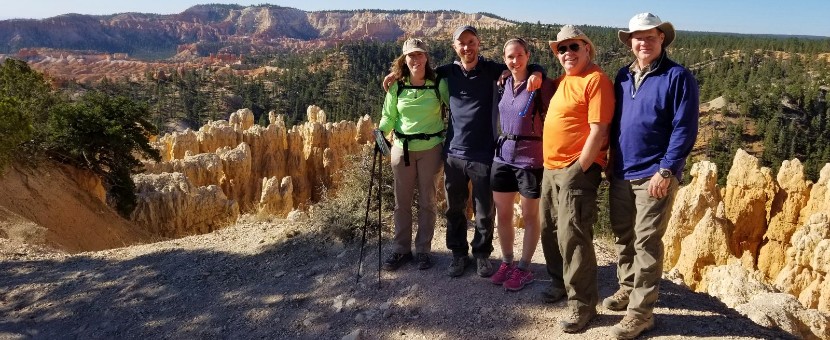 Bryce Canyon and Zion Hiking Tour Itinerary
Day 1

Explore Red Canyon on the way to Bryce

You'll be picked up in Las Vegas to begin your hiking tour. You won't be driving too long, though- the shuttle will take a break on its journey north so that you can get out for a short hike in Red Canyon.

This warm-up hike will give you a little preview of the amazing copper scenery you'll come to know well by the time you reach Bryce. You'll arrive in Bryce Canyon National Park in time for a walk to some of the lookouts along the Rim Trail and a spectacular sunset.
Overnight Location: Hotel in Bryce Canyon City
Distance: 2 miles
Meals: Dinner
Day 2

Hike Queens Garden Trail

Yesterday you experienced the spectacular views from the crater rim, but today as begin your hike on the Queens Garden Trail, you'll quickly see that it's even more impressive inside the canyon!

You'll also be hiking the Navajo and Peekaboo Loops as you discover the imposing hoodoos and window formations that fill the canyon. On your return trip, you'll walk through the gap between the towering cliffs of Wall Street.
Overnight Location: Hotel in Bryce Canyon City
Distance: 9 miles
Meals: Breakfast, lunch, dinner
Day 3

Fairy Loop Hike and Travel to Zion

Spend the day exploring the incredible sights of the canyon. You'll see the Sinking Ship, Tower Bridge, and the Chinese Wall from your hike on the Fairyland Loop.

Afterward, the group will make its way to Zion for the next few nights.
Overnight Location: Hotel in Zion
Distance: 8 miles
Meals: Breakfast, lunch, dinner
Day 4

Navigate the Narrows of the Virgin River

On your first full day in Zion National Park, you'll have plenty of time to explore all the amazing trails and sights of the park.

You'll take a hike to the Narrows of the Virgin River, where you'll have a chance to wade up the shallow stream and discover the incredible formations that create a corridor along the river.
Overnight Location: Hotel in Zion
Distance: 5 miles
Meals: Breakfast, lunch, dinner
Day 5

Hike through Echo Canyon

The hike planned for today leaves the Zion Canyon floor as you head up through Echo Canyon. You'll be climbing to Observation Point where you'll have spectacular views of the Zion Canyon in all its glory. Bring a camera!
Overnight Location: Hotel in Zion
Distance: 8 miles
Meals: Breakfast, lunch, dinner
Day 6

Angels Landing Hike

The grand finale of your tour is the hike up Angels Landing, an absolute must for hikers visiting Zion. This incredible path is not for the faint of heart with its sheer drops and narrow paths, but the views will be worth the effort!

After the excitement, you'll return to Vegas after lunch. Here the group will say goodbye!
Overnight Location: None
Distance: 9 miles
Meals: Breakfast, lunch

Book Now
Bryce Canyon and Zion Hiking Tour Price and Dates
This guided hiking tour in Utah is run as a fixed-departure tour where you'd be joining a group, however, custom private tours can be organized for those willing to travel with their group only (please contact us with your preferred date and the number of people in your group and we will create the itinerary just for you).

The prices below are per person:
Accommodation on the Bryce Canyon and Zion Hiking Tour
This tour is based in 3 and 4-star hotels. The hotels offer comfortable rooms that are close to the parks with easy access to all the trails you'll be exploring. The rooms are of double occupancy and those willing to stay in single rooms or traveling solo will have to pay a supplement.
In some cases, the accommodation listed below may need to be substituted for other comparable accommodations.
Single Rooms and Solo Travellers
You can pay a supplement of $650 USD to have a private room in a hotel when traveling with your group.
Hotels on Standard Tour
The Lodge at Bryce Canyon in Bryce Canyon National Park ★★★★
You'll love the log buildings and stone chimneys at the only lodge within walking distance of all the Bryce Canyon trails.
Best Western Plus Zion Canyon Inn & Suites in Springdale ★★★★
This hotel offers clean, comfortable rooms and is within walking distance of Zion. It is also close to the restaurants and shops right outside the park.
What's Included in Bryce Canyon and Zion Hiking Tour?
Meals
5 breakfasts, 5 lunches, and 5 dinners are included.
Accommodations
Accommodations for 5 nights are included. Accommodations before and after the tour in Las Vegas are not included.
Transportation during the Tour
Transport for you and your luggage is included as outlined in the itinerary. Transport from Las Vegas to Bryce Canyon, and from Zion to Las Vegas is included at the beginning and end of the tour.
Also Included
English-speaking guide
Van shuttles
Trail maps and narratives
Park entrance fees
Not included
Travel insurance
Flights to and from Las Vegas
Lunches and dinners or drinks and snacks not previously mentioned
Tourist taxes if applicable
Visas if required
Personal equipment
Fees not mentioned as included
Gratuities for guides, drivers, servers, or hotel staff if desired
Optional Extras
Single occupancy upgrades
Any additional nights before or after the tour in Las Vegas
Frequently Asked Questions about Bryce Canyon and Zion Hiking Tour
Timberline Adventures specializes in fully supported cycling, hiking, and multisport adventure tours in the United States and Canada.
Over the last 38 years, our adventure experts have crafted unique itineraries consisting of only the best routes and trails. We are all about striking the perfect balance of challenge, discovery, and tons of fun! Our epic tours include visits to 35 different national parks, and we take great pride in introducing our guests to some of the wildest and most beautiful areas in North America, like Glacier, Yosemite, Acadia, Big Bend, and so much more!
We share in the joy, exhilaration, and sense of accomplishment that is a part of every single tour, and the quality of your experience is how we measure our growing success.
Learn More
Is this tour for me?
We rate this tour as a 4/5. The hikes on this tour are challenging due to their length and because of the steep trails and difficult terrain. This tour will be most enjoyable if you're not afraid of heights and are a confident hiker.
Ask a Question
Got any questions regarding the tour? Interested in promotions for groups or want to customize this tour to fit your needs? We are here to help you!
Ask a question