Tour South Africa from Cape Town along the Garden route
Cape Town is South Africa's most exciting metropolitan centre, and the unbelievably beautiful Garden Route leads to one of the world's most beautiful wine regions. The 8-Day Garden Route Tour immerses you in this unforgettable region with the freedom and flexibility to create your perfect adventure.
The 8-Day Garden Route Tour begins by showing you all that Cape Town has to offer. You'll ride a cablecar to enjoy a picnic lunch on top of Table Mountain, tour galleries and museums, and explore nearby parks where thousands of penguins roam. See the historic Robben Island and the unbelievable Kirstenbosch Botanical Gardens. Then, the 8-Day Garden Route Tour whisks you away through some of South Africa's most beautiful landscape towards the Cape wine region, where estate vineyards beckon. Admire the stunning geographic features at the coastline of Knysna, or ride horses along the pristine sands. You can trek deep into caves filled with stalagmites or kick back at a winery. Each day of the Garden Route Tour allows you to choose which excursions you'd like to take, so you can create your perfect tour of the Cape.
Highlights of the Garden Route Tour
Explore Cape Town, savouring the cuisine, art, and culture of the city through guided excursions.
Spot African penguins and seals from the Cape Point Nature Reserve and Boulders Beach.
Drive the Garden Route to Stellenbosch, savouring the region's excellent wines at estates along the way.
Horseback ride, see botanical gardens, explore caves, hike, or take cooking classes at your leisure throughout the tour.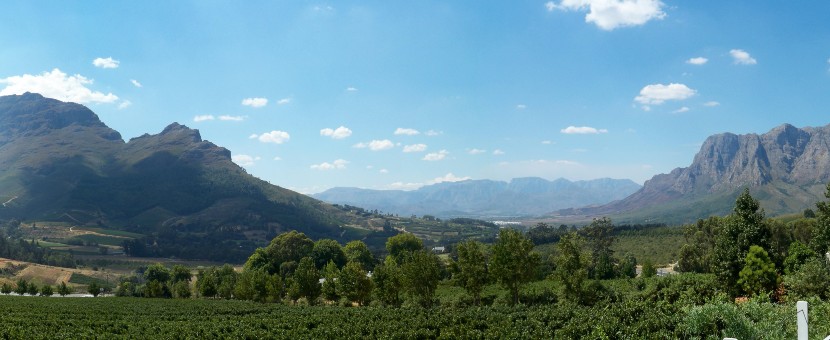 8-Day Garden Route Tour Itinerary
Day 1

Arrival in Cape Town

Welcome to South Africa! You'll be met by your guide at the airport and transferred to your hotel. Feel free to spend the remainder of the day enjoying this vibrant city and choosing one of the excellent local restaurants for dinner.
Overnight Location: Hotel in Cape Town
Meals: None
Day 2

Exploring Cape Town

You'll spend the first full day of your Garden Route Tour enjoying the city. Begin the morning with a trip to the top of Table Mountain- no worries if you don't like to climb, as you'll be whisked up via aerial cable car. Bring a picnic lunch for the top!

Then, you have the option of booking a Bo-Kapp cooking tour, which will introduce you to the Cape Malay culture and cuisine of the region. You'll make masala, chilli bites, samosas, and rotis with a local chef while sharing stories of Cape Town's culture and history.
End the day with a visit to one of Cape Town's many night markets, which offer everything from delicious food to clothing and trinkets and more. If you're lucky, you might even catch a live music night!
Overnight Location: Hotel in Cape Town
Meals: Breakfast
Day 3

Cape Town nature exploration

Today you'll have the unforgettable chance to experience Cape Town's natural beauty. Start with a trip to Boulders Beach, where over 2000 endangered African penguins make their home. The stunning Cape Point Nature Reserve is nearby, and their excellent Two Oceans Restaurant is a perfect spot for lunch.

Then, you have the opportunity to visit some nearby attractions, including Robben Island, where Nelson Mandela was imprisoned, Kirstenbosch Botanical Gardens, the Houses of Parliament, and more.
Overnight Location: Hotel in Cape Town
Meals: Breakfast
Day 4

Cape Town to Knysna

Day 4 of your Cape Town region tour begins with a drive to Knysna via the Garden Route. The coastal area this trip covers is one of the most beautiful parts of South Africa, with unsurpassed natural beauty, pristine beaches, and lush forests. Enjoy the ride! When you arrive in Knysna, enjoy exploring this historic town.
Overnight Location: Hotel in Knysna
Meals: Breakfast
Day 5

Exploring Knysna

After breakfast, the next leg of your Garden Route tour begins with a choice between activities in and around Knysna. You can visit and hike around The Heads, a geographical landmark only accessible by boat or kayak. The area around The Heads also offers biking, horseback riding, and a water park. A nearby monkey sanctuary is a fun stop for animal lovers, or you can stop by the world's oldest and largest Baobab tree.
Overnight Location: Hotel in Knysna
Meals: Breakfast
Day 6

Knysna to Oudtshoorn

After breakfast, you'll leave for Oudtshoorn, the "ostrich capital of the world." This town is right in the heart of Klein Karoo, a vast arid area between two mountain ranges. You're welcome to visit an ostrich farm, or perhaps schedule a cave tour at the nearby Cango Caves. This subterranean marvel of stalactite and stalagmite formations is incredible to see.

If you'd prefer to stay above ground, a tour of the Swartberg Nature Reserve will show you the area's diverse flora and fauna, from countless flowering plants to unique native birds. Then it's back to the hotel to relax for the remainder of the night.
Overnight Location: Hotel in Oudtshoorn
Meals: Breakfast
Day 7

Cape Winelands

The Cape Winelands region produces some of the world's finest wine, but even non-drinkers can appreciate the incredible beauty of the region. Once you arrive in Stellenbosch, you can choose between a few activities for the day. A walking tour is an excellent way to visit all the great local coffee shops, art galleries, and museums.

Alternatively, you can take a wine tasting tour, which is an excellent opportunity for any wine appreciators in the group. Outdoorsy adventurers might enjoy a hiking or horseback riding tour, or perhaps you'd like to spend the day golfing. Up to you! No matter where you go or what you do, the jagged mountains and green vineyards surround you.
Overnight Location: Hotel in Stellenbosch
Meals: Breakfast
Day 8

Departure from South Africa

After breakfast, depart from the Cape Winelands back towards Cape Town. You'll be dropped off at the airport to begin your travels home.
Overnight Location: None
Meals: Breakfast

Book Now
8-Day Garden Route Tour Price and Dates
Pricing for this guided cultural tour of Cape Town and the Garden Route depends on whether you choose to join an existing group on a specific date or if you prefer a custom tour for your group only.
The 8-Day Garden Route Tour is available from January to the end of October. Cape Town experiences very hot summers and occasionally chilly winters, so many travellers enjoy visiting in the late spring or early fall.
Private Guided 8-Day Garden Route Tour in 3-star Hotels
Have your own private tour with just your group! Prices below are per person:
Guided Groups of 2-3: $1,575 USD per person
Guided Groups of 4-5: $1,095 USD per person
Guided Groups of 6-7: $895 USD per person
Guided Groups of 8-9: $775 USD per person
Guided Groups of 10: $725 USD per person
Private Guided 8-Day Garden Route Tour in 4-star Hotels
Make new friends and join a group touring South Africa. Prices below are per person:
Guided Groups of 2-3: $1,875 USD per person
Guided Groups of 4-5: $1,350 USD per person
Guided Groups of 6-7: $1,125 USD per person
Guided Groups of 8-9: $995 USD per person
Guided Groups of 10: $925 USD per person
Book Now
Accommodation on the 8-Day Garden Route Tour
This tour is offered with two different accommodation options. You can choose to be booked in either 3 or 4-star hotels for the duration of your trip. The hotels offer comfortable rooms with great locations. Rooms are double occupancy and single travellers will pay a supplement.
In some cases, the accommodation listed below may need to be substituted for other comparable accommodations.
Single Rooms and Solo Travelers
You can pay a supplement of $225 USD - $375 USD (depending on the hotel category chosen) to have a private room in a hotel. Contact us and we can try and match single travellers up where possible.
3-Star Hotel Option
4-Star Hotel Option
What's Included in the 8-Day Garden Route Tour?
Meals
7 breakfasts are included. Some other meals are included depending on additional excursions or tours you book.
Accommodations
Accommodation for 7 nights is included.
Transportation during the Tour
Personal and luggage transfer to and from the airport is included, as well as transportation during the tour.
Also Included
Not included
Travel insurance
International flights
Lunches and dinners or drinks and snacks not previously mentioned
Entrance fees to applicable parks
Tourist taxes if applicable
Optional Extras
Activities and excursions:
Single room supplements
Solo traveller supplements
Any additional nights before or after the tour
Frequently Asked Questions about Garden Route Tour
Highline Tours and Travel is a tour operator that explores exotic destinations: South Africa, Namibia, Botswana, East Africa, Mozambique, to name a few. They offer phenomenal safari, activity and adventure, and romantic getaway tours that will undoubtedly leave a vivid, lasting memory.
The tour guides for Highline Tours and Travel have a magical way of elevating tours from lovely to personable and memorable. They believe in creating a dynamic, encouraging, and fun environment.
Highline Tours and Travel's vision is to provide the best holiday possible for all clients in hopes that they will become ambassadors for the stunning African continent.
Learn More
Is this tour for me?
We rate this tour as a 1 / 5. Some optional excursions may involve physical activity, but you are free to choose as much or as little activity as you prefer.
Local Guide
Ask a Question
Got any questions regarding the tour? Interested in promotions for groups or want to customize this tour to fit your needs? We are here to help you!
Ask a question
SALE! Well, not yet.
Let me know when this trip goes on sale.
Notify me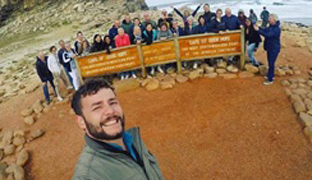 Machiel Breedt
South Africa, Namibia, Botswana
Machiel Breedt has spent the last five years guiding tourists in South Africa. He enjoys introducing participants to his country's vast, diverse scenery, from the animals of Kruger National Park in the North to St Lucia and the beautiful coastline, to the Drakensberg mountains and the Wine of the Cape.
Q & A
Q:

What is your favourite trip to do and why?

A:

Probably touring from Cape Town to Vic Falls via Namibia and Botswana. It is pure Africa. The vibe of Cape Town and surrounds, to the vastness of the Namibian deserts and plains, to the breath-taking nature and wildlife of Botswana, to the amazing Victoria Falls.

Q:

What is your most unforgettable moment when guiding?

A:

I have 2 moments that I will never forget. The first one is a couple of years ago I had a group doing a 16-day tour from Johannesburg to Cape Town and on that tour was two sisters who got separated at a very young age and didn't see each other again for about 50 years. One day they walked past each other in a supermarket and recognised one another. One of the local radio stations heard about the story and sponsored them a vacation to enjoy together, and I had the honour of having them on my tour and showing them our beautiful country.

The second is the time that we were on safari in the Okavango Delta in Botswana, and we saw a pack of about 20 lions devouring the carcass of an elephant.

Q:

What is one local dish or drink that tourists must try on a visit to your country and why?

A:

It would most definitely be biltong and Amarula. Biltong is meat that is dried with a variety of spices, and it's just too delicious for words. Amarula is a cream liqueur that is made from the fruits of the Marula tree and just goes down so nice after a long and hot African summer day.