Enjoy an epic bike ride through the Iban heartland
Want to immerse yourself in the history and culture of Borneo while exploring the island by bike? The Headhunter's Heartland Biking Tour is a one of a kind look into the epic past and present beauty of Borneo.
The Headhunter's Heartland Biking Tour leads you deep into the Iban heartland, an area that rose from White Rajah rule and clashes with warring headhunters in the 1800s. You'll cycle through the buzzing main square of Kuching, ride on a quiet longboat along flowing rivers, and pedal high into mountains with incredible views.
The Headhunter's Heartland Biking Tour will take you to old military forts, like Fort Alice and Fort Margherita. Learn about their storied pasts and the people who created them before riding off past pepper farms and rice paddies. You'll spend nights in local longhouses renowned for their genuine hospitality, tasting fresh fruit of a million varieties and local seafood.
The Headhunter's Heartland Biking Tour not only connects you with Borneo's past, but also introduces you to locals who can share with you what present-day life is like in this paradise.
Highlights of the Headhunter's Heartland Biking Tour
Cycle from the coast inland, passing rivers, waterfalls, mountains, and lush forest along the way.
Learn about the dynasty of the White Rajahs and the warring headhunters who used to clash here.
Stay in welcoming Dayak longhouses deep in the countryside, sampling fresh local food.
Visit old military forts, ancient churches, and other sites that played a part in the history of the island.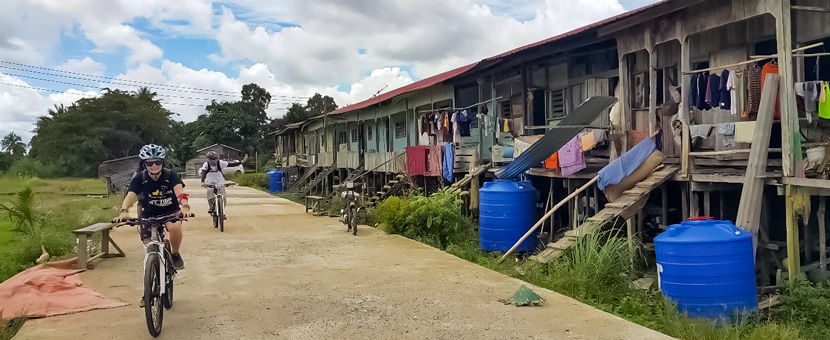 Headhunter's Heartland Biking Tour Itinerary
Day 1

Arrival in Kuching, Heritage Trail ride

You made it to Borneo! You'll have some time to settle in your hotel before meeting your group and guide for the first adventure of your Borneo cycling tour. You'll pedal off through the lovely main square of the old part of the city, getting a chance to peruse the Main Bazaar. Cross the river on a sampan ferry steered with oars to reach Fort Margherita, built by Charles Brooke in 1879 and named after his wife. Don't worry, those cannons aren't loaded anymore! Then, it's off for a sunset dinner on the bank of the Sarawak River.
Overnight Location: Hotel in Kuching
Distance: 12 km
Meals: Dinner
Day 2

Longboat ride to Banting

Day 2 begins with a trip into the interior part of Borneo. You'll spot at the Serian market, a great place for a snack of fresh fruit. Then, you'll ride to the bazaar in Lachau for lunch. Once you're full, take an easy ride to Pantu, where a shallow-draft longboat is waiting to ferry you to the village of Banting, an old gathering place for the Iban people and a favoured farming spot. The church on the hill you'll see has actually been there since 1859! The longhouse where you'll stay is warm and welcoming- no matter what time people turn up, there are always refreshments. Spend the rest of the day exploring the village.
Overnight Location: Longhouse in Banting
Distance: Flexible
Meals: Breakfast, Lunch, Dinner
Day 3

Ride to Fort Alice

After breakfast in a local coffee shop, you'll take a quick boat transfer to Lingga, where you'll start riding up the beautiful Batang Lupar River. Stop and admire paddy fields, farms, and longhouses along the way whenever you like. Then, you'll reach Sri Aman just in time for lunch. Fort Alice is perched up on a riverside hill- it served as a lookout spot, prison, and administrative headquarters back in the days.
Overnight Location: Hotel in Sri Aman
Distance: 51 km
Meals: Breakfast, Lunch, Dinner
Day 4

Ride to Fort Alice and Ulu Bayor

Start the next leg of your cycling tour of Borneo with a morning pedal and a river crossing to Betong, where lunch awaits. You can stop by Fort Lily, built in 1855. Back when Iban chief Rentap challenged the Rajah, this fort saw quite a bit of action. From here, you'll ride along a winding road flanked by pepper farms and rive fields towards Debak. Hop off the bike and ride in a car to reach Ulu Bayor, which features a century-old longhouse where you'll spend the night.
Overnight Location: Longhouse in Ulu Bayor
Distance: 58 km
Meals: Breakfast, Lunch, Dinner
Day 5

Ride to Batang Ai Resort

Today starts with a van ride upcountry and then a ride towards the Kalimatan border. You'll pass quite a few longhouses along the route, marking this as the Iban heartland. Follow the Lemanak River to a lake nestled into the hills, where it's time to set off by boat to the Batang Ai Resort. Spend the rest of the day relaxing as you like and enjoying the weather.
Overnight Location: Resort in Batang Ai
Distance: 51 km
Meals: Breakfast, Lunch, Dinner
Day 6

Ride along Kalimantan border and transfer to Kuching

Your last full day cycling through Borneo begins with a scenic ride through the countryside that flanks the border with Indonesia. Mountain views spoil you along the way! Enjoy lunch at Engkillili before a transfer to Kuching arrives. Enjoy the relaxing ride back and then settle in for dinner at Topspot Food Center in Kuching, a delicious mix of the best food in Sarawak. The ambiance isn't quite on point and it's not fancy, but the food is worth writing home about!
Overnight Location: Hotel in Kuching
Distance: 30 km
Meals: Breakfast, Lunch, Dinner
Day 7

Goodbye, Borneo!

Enjoy a final breakfast before your cycling tour of Borneo concludes. If you're not in a rush, feel free to book an extra excursion or a few extra nights.
Overnight Location: None
Distance: None
Meals: Breakfast

Book Now
Headhunter's Heartland Biking Tour Price and Dates
Pricing for this guided cycling tour of Borneo depends on whether you choose to join an existing group on a specific date or if you prefer a custom tour for your group only.
The Headhunter's Heartland Biking Tour is available in January, February, May, June, October, November, and December. Borneo's dry season is from March through October, so we recommend booking the tour in May, June, or October for the driest trip.
Private Guided Headhunter's Heartland Biking Tour
Have your own private tour with just your group! Please contact us with your preferred date and the number of people in your group and we will create the itinerary just for you.
Dates and Prices to join a Group Tour on the Headhunter's Heartland Biking Tour
Make new friends by joining a guided group tour! Prices below are per person.
Accommodation on the Headhunter's Heartland Biking Tour
This tour is based in 3 and 3.5-star hotels, traditional longhouses, and resorts. The lodges offer unique rooms with great locations. Rooms are double occupancy, and single travellers will pay a supplement.
In some cases, the accommodation listed below may need to be substituted for other, comparable accommodations.
Single Rooms and Solo Travelers
You can pay a supplement of $250 USD have a private room in a hotel. Contact us and we can try and match single travellers up where possible.
Hotels on Standard Tour
Basaga Hotel in Kuching ★★★
The Basage Hotel offers air conditioning, free Wi-Fi, a pool, and free bottled water. The rooms are simple but comfortable.
Banting Longhouse in Banting
This traditional longhouse offers basic accommodation with heartfelt hospitality.
Seri Simanggang Hotel in Sri Aman ★★★
This hotel offers a gym, air conditioning, on-demand films, and free Wi-Fi. The rooms are comfortable and spacious.
This longhouse has a lovely location and very gracious hosts.
Batang Ai Resort in Batang Ai ★★★★
The Batang Ai Resort offers laundry service, two pools, Wi-Fi, and a nice bar and lounge. The rooms are well-equipped with wonderful views.
Basaga Hotel in Kuching ★★★
The Basage Hotel offers air conditioning, free Wi-Fi, a pool, and free bottled water. The rooms are simple but comfortable.
What's Included in the Headhunter's Heartland Biking Tour?
Meals
6 breakfasts, 5 lunches, and 6 dinners are included, as well as drinks and snacks each day.
Accommodations
Accommodation for 6 nights is included.
Transportation during the Tour
This tour includes all the necessary transfers, as well as airport pick up and drop off.
Also Included
English-speaking guide
Entrance fees to national parks and historical sites
Not included
Travel insurance
Travel to and from Kuching
Lunches and dinners or drinks and snacks not previously mentioned
Tourist taxes if applicable
Personal equipment
Optional Extras
Bike rental including helmet – $125 USD per bike
Any additional nights before or after tour
Frequently Asked Questions about Headhunter's Heartland Biking Tour
Paradesa Borneo is a boutique adventure tour operator in Borneo, allowing guests to explore the rural areas and natural wilderness of Borneo. Their tours go off the beaten path, showcasing the best of Borneo's beauty.
Paradesa prefers to take you away from well-trodden tourist attractions and into the incredible natural world. They focus on responsible and sustainable travel in all endeavors.
Paradesa has cultivated meaningful relationships with locals, supporting their environmental initiatives and using their tours to contribute to the local economy. These partnerships make for amazing cultural exchanges and exceptional authenticity in their adventures.
Learn More
Is this tour for me?
We rate this tour as a 3 / 5. You will cycle between about 30 and 60 kilometres per day along both paved roads and off-road trails. You should be reasonably fit and comfortable on a bike to get the most out of this tour.
Local Guide
Ask a Question
Got any questions regarding the tour? Interested in promotions for groups or want to customize this tour to fit your needs? We are here to help you!
Ask a question
SALE! Well, not yet.
Let me know when this trip goes on sale.
Notify me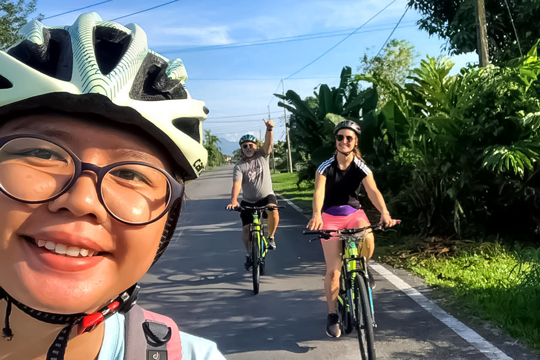 Delilah
Kuching, Malaysia
Delilah is a favourite in Paradesa's TripAdvisor reviews, welcoming guests with warmth and humour. She has been guiding since 2018 and loves every day of her work. Delilah most loves sharing the heritage and culture of Borneo, as well as taking guests to hidden places normally only visited by locals.
Q & A
Q:

What is your favourite trip to do and why?

A:

Longhouse trips! As a member of the tribe myself, I'm able to share and show the ways of my people in depth. Guests get to see the real deal: how they eat, how they live, how they work, their beliefs. It's a firsthand experience.

Q:

What are guests most surprised about when visiting Borneo?

A:

Very friendly locals who always say hello even if you are a complete stranger. That, and how fluent the locals are in English! Also, the fact that Kuching is so clean, even with all that urban hustle and bustle going on.

Q:

What has your most unforgettable experience while guiding been?

A:

Taking care of an 80+ year old rider on one of our 14-day cycling holidays. The routes are challenging, and he finished the whole thing without faltering. I have such great respect for that man.