Enjoy this self-guided walking tour that takes in Loch Lomond & the Cowal Way
Spanning seven days, the Loch Lomond and Cowal Way walking tour is a special Walk. This self-guided tour is steeped in history, and envelops you with its array of impressive heritage, rugged dramatic scenery, coastlines stretching for kilometres and kilometres, and woodland creatures peppering the landscapes.
The 92 km pathway ebbs and flows with the unruly, rugged, but majestic hillsides, footpaths, and forested trails guiding you from Portavadie to Inveruglas. As you wander through the glens, woodlands, and by the sea-lochs, expect to spot a collection of wildlife, including grey seals, red squirrels, otters, porpoises, roe deer, with the possibility of watching a golden eagle soar above.
The remarkable natural landscapes blanketing Loch Lomond and Cowal Way hold chapters and chapters of colourful ancient tales, which unearth whenever you stumble upon the various landmarks interspersed throughout the expedition.
Highlights of the Loch Lomond and Cowal Way Walk
Enjoy walking the Cowal Way, as your trail takes you along lochs and through the countryside before ending in Loch Lomond.
Look out for the variety of wildlife that roam or soar along the walk, such as the golden eagle, red squirrels, and grey seals.
Begin your journey by immersing your body into a state of relaxation at the Portavadie Spa, where a preview of the views ahead propels excitement.
Discover the remains of the 15th-century built Ascog Castle during your 10 km trek from Portavadie to Tighnabruaich.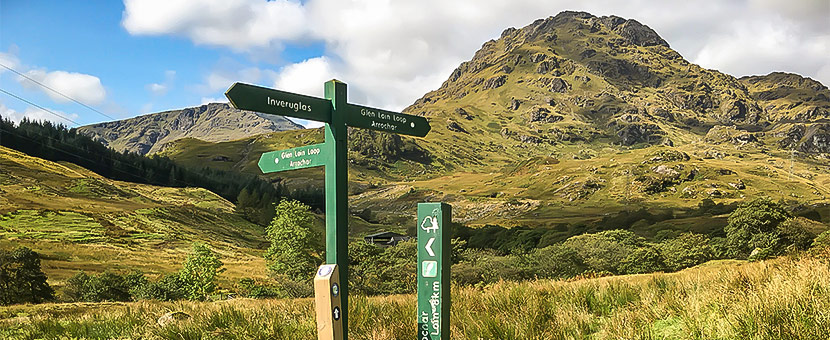 Loch Lomond and Cowal Way Tour Itinerary
Day 1

Tarbert

Check into your hotel in Tarbert and spend the evening in a local pub, enjoying the cosy atmosphere and preparing for the 92 km journey ahead.
Overnight Location: Hotel in Tarbert
Distance: None
Meals: None
Day 2

Ferry and Walk Tighnabruaich

Hop on a ferry to Portavadie. Before reaching the trailhead, enjoy a moment of leisure at Portavadie Spa and marvel at the breathtaking views of Loch Fyne. Keep in mind that both fees for the ferry and the spa must be paid locally. Begin on your 10 km walk in the afternoon and look out for the remains of the 15th-century Ascog Castle. Check into your hotel in Tighnabruaich upon arrival.
Overnight Location: Hotel in Tighnabruaich
Distance: 10 km
Meals: Breakfast
Day 3

Walk to Glendaruel

Munch on breakfast before departing for a trek that combines coastal bliss and a rugged scramble along Kyles of Bute, forming one remarkable and memorable experience. Decide to hop aboard an optional Waverley Paddle Steamer Boat trip around Loch Fyne in the morning. End the day in the rural, remote Glendaruel.
Overnight Location: Hotel in Glendaruel
Distance: 18 km
Meals: Breakfast
Day 4

Walk to Strachur

Today is the longest walk of the Cowal Way walking tour. Follow undulating hillside paths, noticing the stone walls that once guarded the gardens at the Glendaruel House in the 19th century. Pass by Allt Robuic waterfalls. After curving through a valley, forest, and by roadside cottages, you'll encounter Strachur. Spend the night in a hotel here.
Overnight Location: Hotel in Strachur
Distance: 26 km
Meals: Breakfast
Day 5

Walk to Lochgoilhead

After eating a delicious breakfast, feel free to check out the Strachur Smiddy Museum. Browse the collection of artifacts, tools, and learn about the role they played in Strachur's history. Pay £3.30 to enter the museum. Embark on your 14 km journey, which will have you bending through grassy paths, moorland, forests, by waterfalls, and along a coastal path. Look out for birds when you reach Curra Lochain part way through your trek. Check into your hotel in Lochgoilhead and enjoy a laid back evening.
Overnight Location: Hotel in Lochgoilhead
Distance: 14 km
Meals: Breakfast
Day 6

Final Leg to Inveruglas

Today you embark on the final leg of the Loch Lomond and Cowal Way walk. Today's route carries you through rough terrain and demands you to climb a steep 500 m ascent. Marvel at the panoramic views unveiling Beinn Bheula, Luss hills, and Ben Lomond. Continue trekking until you reach Inveruglas. Hop on a direct bus to Glasgow and spend your last evening celebrating your feat in this wonderful Scottish City. For those who want one more night in the Scottish Hills, you can choose to spend your last evening in Arrochar and depart to Glasgow in the morning.
Overnight Location: Hotel in Glasgow or Arrochar
Distance: 24 km
Meals: Breakfast
Day 7

Departure day

Eat breakfast, say your goodbyes, and depart Glasgow.
Overnight Location: None
Distance: None
Meals: Breakfast

Book Now
Loch Lomond and Cowal Way Walking Tour Price and Dates
This self-guided walking tour in Scotland is always run as a custom tour for your group only and the price is fixed per person staying in a double room. Single rooms are also possible on request for an extra charge. Please note, that booking this tour on short notice might increase the tour price, as the accommodation options here are limited and on high demand.
The best time to travel Scotland for this trek is from mid-April to the end of October.
Private Self-guided Loch Lomond and Cowal Way Tour
Have your own private tour with just your group! Prices below are per person:
Price per person staying in a double room - $975 USD
Book Now
Accommodation on Loch Lomond and Cowal Way Tour
This tour includes accommodation in cozy guest houses and hotels. Each room offers modern amenities that will help to elevate your level of comfort after a long day of hiking. Expect to stay in a room with another member of the tour or upgrade to single occupancy for an additional fee.
Note that specific accommodation may vary based on availability but will be substituted with accommodations of a similar standard.
Single Rooms and Solo Travelers
Single rooms for this tour are on request, and the price depends on the season, availability, and the number of days left until your travel. Please inquire to find out more.
Hotels on Standard Tour
What's included in the Loch Lomond and Cowal Way Tour?
Meals
6 breakfasts are included throughout the tour.
Accommodations
Accommodations for 6 nights along the tour are included.
Transportation during the Tour
Transport for your luggage is included during the walking days, but you must take care of your own transfers, where necessary.
Also Included
Detailed route guide
Bus transfers from and to Glasgow
Taxes
Not included
Guide services
Insurance
Personal expenses
Transport
Anything not stated as 'included'
Ferry over Loch Fyne
Portavadie Spa - £9 GBP per person entry fee
Waverley Paddle Steamer Boat Trip
Visit to Strachur Smiddy Museum
Optional Extras
Additional night before or after the tour
Optional night in Arrochar
Frequently Asked Questions about Loch Lomond and Cowal Way Walk
EasyWays is a boutique adventure tour operator, specializing in self-guided walking tours in Scotland and Northern England. They are founded on the close attention to detail that comes from knowing Scotland inside and out. With extensive knowledge of the country and the people, they can advise accurately on each walking tour to choose the right adventure for their clients.
EasyWays can also offer classic Scottish experiences to complement their walking tours, including distillery visits, Highland Games tickets, and visits to cultural and historical places of significance.
EasyWays has also expanded into Spain and Italy to offer more walking tours than ever before.
Learn More
Is this tour for me?
We rate this tour as a 3 / 5. Although the distances on this tour are not very long, but rough terrain makes this tour more challenging.
Local Guide
Ask a Question
Got any questions regarding the tour? Interested in promotions for groups or want to customize this tour to fit your needs? We are here to help you!
Ask a question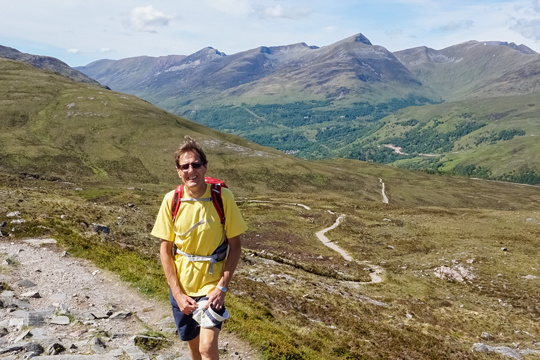 Q & A
Q:

What are guests most surprised about when visiting Scotland?

A:

Overseas clients are already aware of the fantastic scenery, but I feel they are bowled over by the friendliness and ease of conversation with the locals.

Q:

What is one experience anyone visiting Scotland should have?

A:

So many to choose from, but a walk through the vastness of Glencoe and out over the Devil's Staircase.

Q:

What is the most challenging trip you've taken?

A:

Taking a group through Tuscany on the Via Francigena to end at Siena at the time of the Palio, the famous horse ride through the city.