Get on the rock at the stunning Skaha Bluffs
Skaha Bluffs Provincial Park is an absolutely perfect place to get on the rock. This climbing mecca offers warm Okanagan sun, perfect climbing granite, and a welcoming community of climbers. The Rock Climbing Skills at Skaha Bluffs adventure will help you improve your performance in outdoor climbing while also offering the chance to have fun, meet other climbers, and just enjoy the scenery.
This climbing skills adventure is suitable for many levels of climbers. The diverse rock of Skaha lends itself to progression in all skill levels, and the near-perfect conditions of the Okanagan give you the optimal environment to learn. After you've worked in-depth with your instructors and group, you can stroll the orchards of the area or hop into one of the wonderful nearby lakes. Book your spot now!
Highlights of the Rock Climbing Skills at Skaha Bluffs
Climb in one of Canada's favourite spots on the gneiss of Skaha Bluffs Provincial Park in the Okanagan.
Improve your technique from whatever level you currently are, from beginner to Spiderman.
Bask in the warm sun of interior British Columbia in between climbs.
Work with an instructor to up your performance and learn the basics of belay systems, anchor building, and trad placement.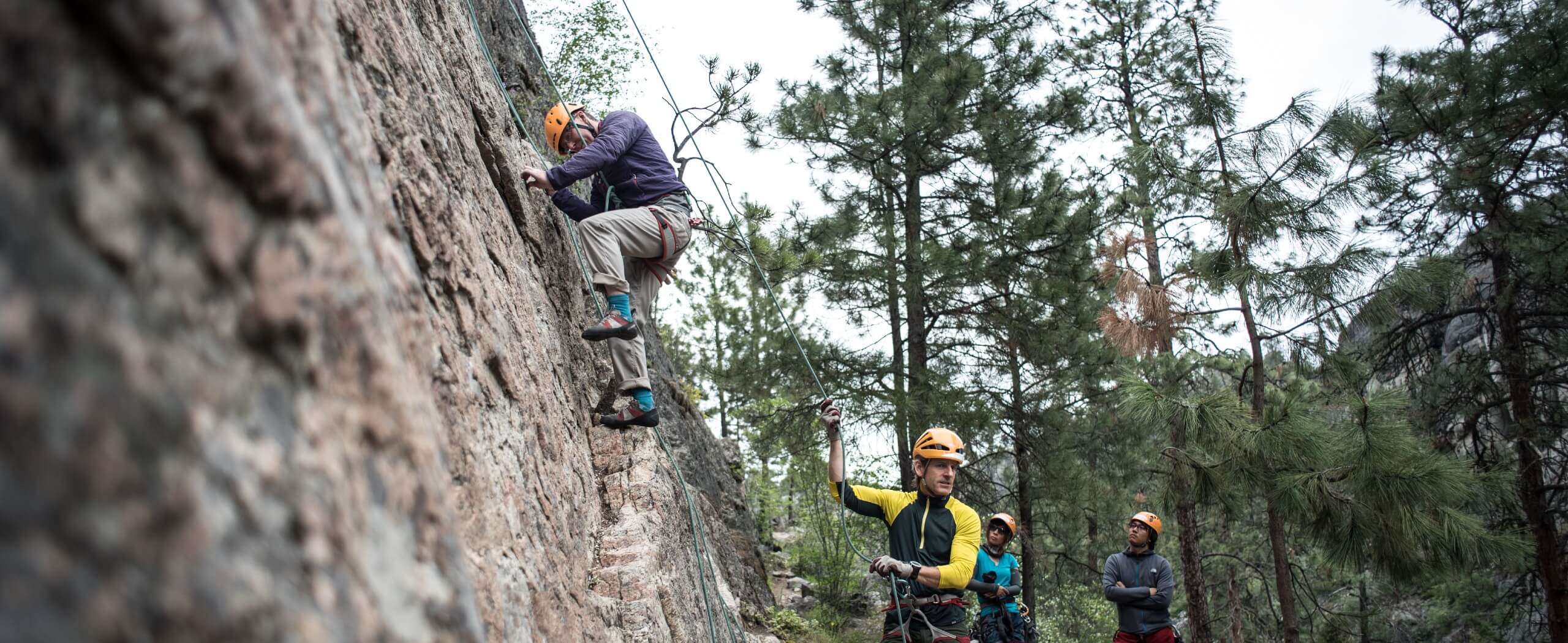 Rock Climbing Skills at Skaha Bluffs Itinerary
Day 1

Meet in Penticton and Lesson

Your Okanagan climbing adventure begins in sunny Penticton, a popular summer destination for Canadians. You'll begin with a lesson covering hazard evaluation, go over your equipment, and start learning and practicing the basics of moving on rock.

In the afternoon, learn about knots and ties, practice the top rope belay system, go over rope care, and continue your movement development.
Overnight Location: Campground near Pentiction
Distance: None
Meals: None
Day 2

First Day of Climbing

Today is a full-on immersion in climbing. You'll go over crag hazard evaluation, use guidebooks to interpret topos, practice movement skills through bouldering, consolidate your top roping skills, learn about anchor construction, practice rappelling, and have lots of time to just climb.
Overnight Location: Campground near Pentiction
Distance: None
Meals: None
Day 3

Second Day of Climbing

Advance your skills today with lessons in lead climbing, quickdraw use, and anchor cleaning.
Overnight Location: Campground near Pentiction
Distance: None
Meals: None
Day 4

Third Day of Climbing

Today you'll refine your leading and clipping techniques, practice simulated or real leads, continue with anchor cleaning, and progress in your movement development.
Overnight Location: Campground near Pentiction
Distance: None
Meals: None
Day 5

Final Day of Climbing

By today you'll be learning about natural protection with cams and nuts, placing and removing natural protection, building anchors using natural protection, and simulated leads to practice trad climbing.

End it all off with a debrief and some final takeaways to help you keep building your skills in the future.
Overnight Location: Campground near Pentiction
Distance: None
Meals: None

Book Now
Rock Climbing Skills at Skaha Bluffs Price and Dates
This guided skills training course is run as a fixed-departure tour where you'd be joining a group, however, custom private tours can be organized for those willing to travel with their group only (please contact us with your preferred date and the number of people in your group and we will create the itinerary just for you).

Prices below are per person:
Book Now
Accommodation on the Rock Climbing Skills at Skaha Bluffs
You will camp at a campground on this tour. The campground has fresh water, electricity, hot showers, toilets, and firewood.
You will need to bring your own camping equipment.
Single Rooms and Solo Travellers
You will be free to arrange your own tentmates or solo tents as you wish depending on campground availability. For large groups or single capacity, please let us know ahead of time.
Hotels on Standard Tour
Banbury Green Campground in Penticton
Enjoy warm showers, toilets, electricity, and firewood for sale at this well-equipped campground.
What's Included in the Rock Climbing Skills at Skaha Bluffs Tour?
Logistics and Meals
This training course doesn't include any meals or transportation. For meals, please pack your own high-energy meals and snacks for field days.
Accommodation
This tour includes camping in a nice campground near Penticton, however, you are in charge of your own camping equipment.
Also Included
Use of rock shoes and technical gear
Certified and skilled instructors
Not Included
Flights
Hotels
Meals, drinks, or snacks
Travel insurance
Optional excursions
Visas if required
Anything not mentioned as included
Camping equipment
GST (5%)
Frequently Asked Questions about Rock Climbing Skills at Skaha Bluffs
Located in Canmore, Alberta at the gates of Banff National Park, Yamnuska Mountain Adventures is one of Canada's premier providers of mountaineering, rock & ice climbing, backcountry skiing, hiking, and trekking experiences in the Canadian Rockies. For over 40 years, we have hosted thousands of clients from Canada and all over the world. Our brand is known for quality mountain experiences, safety, and well-organized itineraries. We have some of the best mountain guides and hiking guides in the industry. All Yamnuska Mountain Adventures climbing guides are certified through the Association of Canadian Mountain Guides.
Learn More
Is this tour for me?
We rate this tour as a 3/5. While this tour is designed for beginner and intermediate climbers, you'll still be climbing outdoors for several consecutive days. Strong intermediate or advanced climbers may wish to consider a more advanced course.
Ask a Question
Got any questions regarding the tour? Interested in promotions for groups or want to customize this tour to fit your needs? We are here to help you!
Ask a question