Discover the pristine beauty of Slovenia as you cycle from Lake Bled to the Adriatic coast.
Take a self-guided cycling adventure across the spectacular Slovenian landscapes towards Coratia's perfect coast! The Cycle Touring in Slovenia Tour is a wonderful way to see this underrated country and enjoy the incredible natural beauty that leads to the oceans of Croatia.
This tour starts in Lake Bled, where you won't be able to decide if it's the lake, the town, or the island that's most beautiful. You'll ride through the wide valleys between the Julian Alps and into the Soča Valley, which is a well-known playground for outdoor thrillseekers. Take an exciting rafting trip on the Soča's emerald waters, then delve deep into the earth as you explore the impressive Škocjan Caves. The tour ends on the coast where you'll discover the beautiful coastal towns as you ride the Parenzana trail which is famous for its unbelievable scenery. This tour provides a fantastic panorama of the history and beauty of amazing Slovenia.
Highlights of the Cycle Touring in Slovenia
Cycle through the incredible Julian Alps, the Soča valley, and along the spectacular Adriatic coast.
Stay in the Soča valley to explore its stunning gorges and go rafting on the emerald Soča river.
Visit beautiful hilltop towns in Istria and the historic coastal towns on the Adriatic.
Ride from spectacular Trieste in Italy to Motovun, Croatia on the scenic Parenzana railroad trail.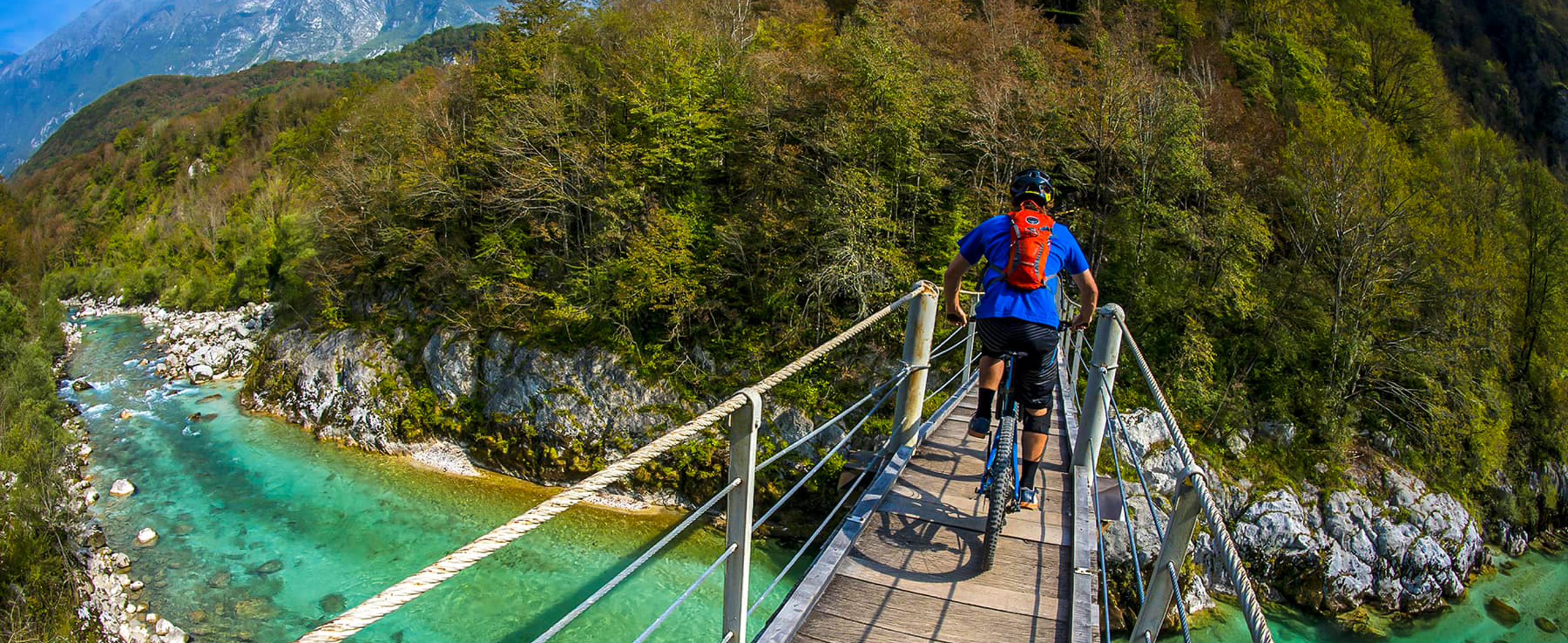 Cycle Touring in Slovenia Itinerary
Day 1

Discover Beautiful Bled

A private transfer will meet you at Ljubljana airport and drive you to Bled. After a short welcome meeting, you're free to explore this beautiful city that looks like a fairy tale come to life. Visit the beautiful historic church on Bled Island, the spectacular clifftop castle, or take a ride around the lakeshore to soak up every moment of this incredible place.
Overnight Location: Hotel in Bled
Distance: None
Meals: None
Day 2

Cycle the Mountain and River Valleys

Today you'll start the first stage of your cycling adventure and ride across the incredible Radovna Valley with the mountains rising up around you. You'll cycle to the mountain town and ski area at Kranjska Gora where you'll meet your next transfer. You'll be dropped off in the Trenta Valley and cycle across Slovenia's highest mountain pass towards the Soča River. Follow the emerald river through the valley and arrive in Bovec, where you'll spend the night in this charming town.
Overnight Location: Hotel in Bovec
Distance: 35-45 km
Meals: Breakfast
Day 3

Raft and Ride in the Emerald Valley

Take advantage of your time in Slovenia's adventure capital by starting your day with a whitewater rafting trip on the Soča River. Now that your blood is pumping, you'll start your bike ride through the villages that follow the river. Stop in Kobarid to visit the World War II museum, or take the short hike to see the magical Kozjak falls.

Your ride ends in Tolmin, and you'll have the afternoon to visit the fantastic Tolmin Gorge.
Overnight Location: Hotel in Tolmin
Distance: 35-45 km
Meals: Breakfast
Day 4

Scenic Cycling to Medana

Your journey along the lovely Soča River continues today. You'll ride along the peaceful riverbanks through the charming historic towns of Most na Soči and Kanal. As you ride, you'll notice the land start to change around you as more orchards and vineyards begin to appear over the rolling hills.

Enjoy a glass of regional wine and a delicious dinner made from local ingredients at a local farm, where you'll spend the night.
Overnight Location: Guesthouse in Medana
Distance: 35-45 km
Meals: Breakfast, dinner
Day 5

Ride From the Caves to the Coast

A transfer vehicle will meet you in the morning to bring you to Štanjel where you'll start your ride to the Škocjan Caves. The size of these incredible caves will take your breath away as you explore this UNESCO-designated site.

Your bike route will continue towards the coast to historic Trieste. Watch the sunset over the water from a terrace in this beautiful port city.
Overnight Location: Hotel in Trieste
Distance: 35-45 km
Meals: Breakfast
Day 6

Discover the Scenic Parenzana Trail

After your night in Italy, you'll start your ride on the celebrated Parenzana Trail. This beautiful route follows the old railway across the border to Slovenia.

Enjoy the fresh salty breezes coming off the water as you cycle the coast to Portorož. In the afternoon you can take an optional visit to the picturesque medieval town of Piran.
Overnight Location: Hotel in Portorož
Distance: 35-45 km
Meals: Breakfast
Day 7

Continue on the Parenzana Trail to Croatia

Start your day with a visit to see the salt pans in Sečovlje National Park, where they still produce salt using traditional, 700-year-old methods. Then you'll ride across the border of Croatia and travel along the most beautiful section of the Parenzana Trail.

You'll change your rental hybrid bike for a mountain bike today so that you're well equipped to explore the mountain trails and villages on the way to Motovun.
Overnight Location: Hotel in Motovun
Distance: 35-45 km
Meals: Breakfast
Day 8

Cycle Downhill to the Coast

Today you'll finish cycling the final section of the Parenzana railroad trail. Enjoy the trail as you ride town hill towards the beautiful Adriatic coast.

Your final ride ends in Poreč, and you have the whole afternoon to stroll the beach and enjoy this idyllic coastal town.
Overnight Location: Hotel in Poreč
Distance: 35-45 km
Meals: Breakfast
Day 9

Tour Concludes

Enjoy breakfast and a short morning walk along the water before you check out of your hotel. Take a private transfer back to Ljubljana where you'll catch your flight or continue on your journey.
Overnight Location: Hotel in Poreč
Distance: None
Meals: Breakfast

Book Now
Cycle Touring in Slovenia Price and Dates
This self-guided biking tour of Slovenia is run as a private tour and the price depends on whether you choose to share a double room or stay in a single room.

Please note that the luggage transfers are available for an additional $375 USD (per group) supplement.

Prices below are per person:

Self-guided groups of 2+: $1,225 USD
Book Now
Accommodation on Cycle Touring in Slovenia Tour
This tour is based in hotels. You'll have a private room in a small 3 or 4-star hotel where you'll enjoy the local hospitality.
In some cases, the accommodation listed below may need to be substituted for other comparable accommodations.
Single Rooms and Solo Travellers
Rooms are double occupancy. You can pay a supplement of $180 USD to have a private room in a hotel where possible. Solo travellers may be required to pay a supplement.
Hotels on Standard Tour
This iconic town is a must-visit for anyone travelling to Slovenia. Lake Bled has a stunning castle built on a lush island. Get your camera out!
Stay in a comfortable 3-star hotel in Bovec. You'll enjoy being close to restaurants and shops in town your views of the incredible mountain scenery.
Enjoy the night in a comfortable room at a 3-star hotel in a convenient location.
Spend the night at a tourist farm where you'll enjoy traditional delicacies served with locally grown produce.
This seaport town is full of classic images of Italy with its canals, bridges, and boats lining the docks. It's a romantic town that has inspired many famous Italian writers.
You'll enjoy the hospitality at a small 3-star hotel with regional charm and a great location along your route.
You'll enjoy the hospitality at a small 3-star hotel with regional charm and a great location along your route.
You'll enjoy the hospitality at a small 3-star hotel with regional charm and a great location along your route.
What's Included in the Cycle Touring in Slovenia Tour?
Meals
8 breakfasts and one dinner with wine tasting are included.
Accommodations
Accommodations for 8 nights are included. Accommodations before and after the tour in Ljubljana are not included but can be added as a supplement.
Transportation during the Tour
Transportation is included as outlined in the itinerary. You'll have private transfers from Kranjska Gora to Trenta Valley and Medana to Štanjel. Your transfers from Ljubljana Airport to Bled and from Poreč to Ljubljana are included. Your primary luggage will be transported for you from Bled to Poreč, and you will be responsible for carrying anything you require during the trip with you. You can also book luggage transfer service that would move your luggage from hotel to hotel as you bike for 350 EUR surcharge (for the whole group).
Also Included
Introductory meeting on Day 1
Self-guiding booklet with a detailed itinerary and route guide, which will include ferry tickets, accommodation vouchers, and transfer vouchers
Maps with marked routes and GPS routes/tracks
Dinner with wine tasting during your farm stay in Medana
Whitewater rafting in Bovec
Škocjan Caves entrance
Bike rental: Trek Hybrid bike with 2 side panniers, helmet, lock, pump, spare tube, repair kit, and a simple rain cover
Bike rental: Trek Marlin 7 when you reach the Parenzana Trail
24/7 support services
Tourist tax and VAT
Not included
Flights
Guide services
Visas if required
Meals, drinks, or snacks not previously mentioned
Travel insurance
Luggage transfer between towns (you can leave the luggage you don't need in Bled and only carry your essential gear during your tour)
Personal Expenses
Park entrance fees
Optional Extras
Additional nights before or after the tour
Single occupancy upgrades
Upgrade to E-bike (Specialized Turbo Vado 3.0): $50 USD per day
Luggage transfer between hotels throughout the tour: $375 USD per group
Optional activities or excursions
Frequently Asked Questions about Cycle Touring in Slovenia
Life Adventures has been running unique adventure tours in Slovenia and Croatia since 1998.
With a young, energetic team behind the scenes, Life Adventures creates unforgettable
journeys for all kinds of travellers. They began with the simple desire to show the beauty of
Slovenia and Croatia to everyone, and now, they've offered amazing adventure tours to
countless travellers.
Stand in the sunshine in the Alps, hike through emerald green valleys, or paddle down rushing
rivers. However you want to explore, Life Adventures has the expertise needed to run an
engaging, hassle-free holiday that you'll never forget!
Learn More
Is this tour for me?
We rate this tour as a 3/5. This tour is moderately difficult with some long days through hilly terrain. The paths are predominately easy track and you'll be given a mountain bike for the rougher gravel trail on the Parenzana.
Ask a Question
Got any questions regarding the tour? Interested in promotions for groups or want to customize this tour to fit your needs? We are here to help you!
Ask a question