Explore the natural wonders of South Africa by foot
There is no place on earth quite like South Africa. This country is one of the most stunning and diverse on earth, and there is no better way to experience it than on foot. The South African Hiking and Kruger Safari takes you through some of the most pristine hiking landscape in South Africa for a truly unforgettable adventure.
The South African Hiking and Kruger Safari leads you high into the jagged mountains of Drakensberg, where deep valleys and misty forests await. Spot Mozambique on a clear day from atop a 1000m sheer cliff, then meet eyes with baboons while you descend through the trees.
This tour also takes you into the famous Kruger National Park, where you'll be able to see lions, cheetahs, elephants, rhinos, zebras, and more in their natural habitat. After sunset game drives, you'll descend deep into the canyons at Hazyview, trekking over suspension bridges in the places where Stone Age humans made their homes. The South African Hiking and Kruger Safari is a one-of-a-kind chance to immerse yourself in South Africa's most scenic places, so book today!
Highlights of the South African Hiking and Kruger Safari
Hike in some of the most beautiful mountains of South Africa, the Drakensberg Range.
Go on game drives in fantastic Kruger National Park, spotting wildlife as the sun sets around you.
See South Africa's diverse wildlife, including giraffes, zebra, whales, dolphins, monkeys, and more.
Trek to vibrant forests, atop deep valleys, through deep canyons, and along misty trails.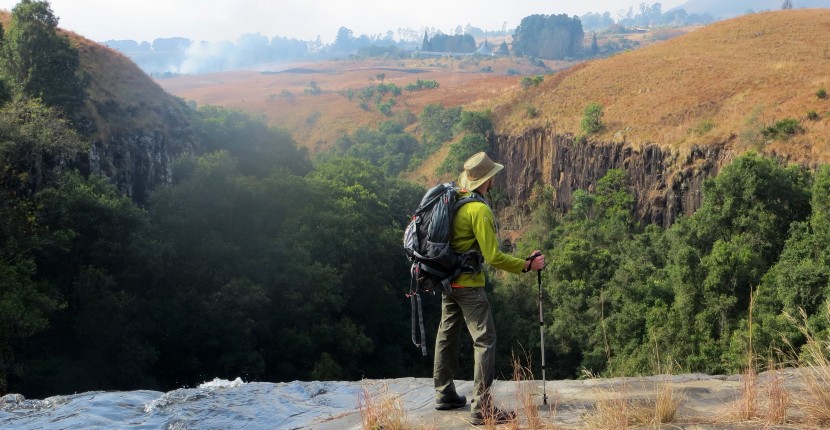 South African Hiking and Kruger Safari Itinerary
Day 1

Arrival in Johannesburg

Welcome to South Africa! Johannesburg is one of the largest cities in South Africa, and this is where your hiking tour begins. Your guide will pick you up at the airport and take you to your hotel, where you can spend the rest of the day at your leisure.
Overnight Location: Hotel in Johannesburg
Distance: None
Meals: None
Day 2

Central Kruger game drive

After breakfast, you've got a longer day of driving ahead. You'll arrive in Kruger National Park in the afternoon. Kruger is South Africa's most renowned game reserve, home to lion, cheetah, hyena, elephant, zebra, and more. Once you enter the park, enjoy a game drive on your way to tonight's rest camp.
Overnight Location: Safari lodge in Kruger National Park
Distance: None
Meals: Breakfast
Day 3

Hiking and game drive in Kruger National Park

Your hiking tour of South Africa kicks off with a morning hike around the Olifants River, led by a local game ranger. Then, you can enjoy breakfast and a siesta before your sunset game drive departs. Enjoy the majesty of Kruger under the setting sun, watching animals emerge and engage in hunt and play.
Overnight Location: Safari lodge in Kruger National Park
Distance: 3-4 hours, 12km
Meals: Breakfast
Day 4

Greater Kruger area game drive

Today you'll head off for another area just outside of the park, enjoying a relaxed game drive to Satara Rest Camp. Enjoy the fever trees and friendly resident birds before heading off to your camp for the night. You're nearly guaranteed to meet animals along the way, so keep your eyes out the window.
Overnight Location: Safari lodge in Kruger National Park
Distance: None
Meals: Breakfast, dinner
Day 5

Hiking in Greater Kruger National Park

Ready for the first big hike of the trip? You'll depart from the lodge in the morning and start your hike on the Bushpig Trail, which traverses over the Marleskop Mountains of Eastern Drakensberg. Baboons and bushbuck peek out at you from the forest, and over 2000 plant species can be found as you pass through. Enjoy a picnic lunch, and then a vehicle will pick you up after your hike and take you back to the lodge. Enjoy a cold beer, dinner, and the view before bed.
Overnight Location: Safari lodge near Kruger National Park
Distance: 4 hours, 16.8 km
Meals: Breakfast, lunch, dinner
Day 6

Hike in Hazyview

Day 6 of your South African hiking tour takes you to Hazyview, a small farming town surrounded by fruit orchards. Hazyview is an adventurer's paradise, with mountain biking, quadding, ziplining, tubing, and river rafting all available to you. You'll eat breakfast on the way to Blyde River Canyon, where a hike over rocky terrain will give you fantastic views into the steep canyon. Then, near Hazyview you'll hike to Bourke's Luck Potholes, a collection of swirling whirlpools. Continue on to God's Window, an area with incredible canyons, waterfalls, and rock formations. This beautiful region is known as Paradise Country, and it'll be clear to you why it got its name. Once you've traversed the sheer cliffs, it's onwards to the Graskop Gorge Lift. This lift will whisk you down the face of the gorge below, where you can travel across walkways and suspension bridges through the forest. Finally, it's to the hotel for dinner and an evening of relaxing.
Overnight Location: Hotel in Mpumalanga
Distance: 3 hours, 8 km
Meals: Breakfast, dinner
Day 7

Hike in Kaapschehoop and travel to Johannesburg

All too soon, it's the last full day of your hiking tour in South Africa. Before heading to the hotel in Johannesburg, you'll have the chance to shop at the Casterbridge Lifestyle Centre, which supports local artisans. Lunch will be served in the lovely village of Kaapschehoop, where wild horses roam freely. You'll head up on the Escarpment Trail to enjoy stunning views over a sheer, 1000m drop into the Barberton Valley below. On a clear day, you can see all the way to Mozambique! Legend has it that ghosts haunt the area, so before too long you'll hop into the car to head to Johannesburg for the night.
Overnight Location: Hotel in Johannesburg
Distance: 1 hour, 4 km
Meals: Breakfast
Day 8

Farewell, South Africa

8 days of unforgettable hiking later, it's time to leave South Africa. After breakfast at the hotel, your guide will take you to the airport. Safe travels home!
Overnight Location: None
Distance: None
Meals: Breakfast

Book Now
South African Hiking and Kruger Safari Price and Dates
This guided hiking tour of South Africa is run as a custom tour for you and your group. The pricing depends on how many people are in your group.
The South African Hiking and Kruger Safari is available from January to the end of October. South Africa experiences very hot summers and occasionally chilly winters, so many travellers enjoy visiting in the late spring or early fall.
Private Guided South African Hiking and Kruger Safari
Have your own private tour with just your group! Prices below are per person:
Guided Groups of 2-4: $2,725 USD per person
Guided Groups of 5-7: $1,650 USD per person
Guided Groups of 8-9: $1,550 USD per person
Guided Groups of 10-12: $1,450 USD per person
Guided Groups of 13-14: $1,375 USD per person
Guided Groups of 15-16: $1,350 USD per person
Book Now
Accommodation on the South African Hiking and Kruger Safari
This tour is based in 3-star hotels and safari lodges. The hotels offer comfortable rooms with great locations. Rooms are double occupancy, and single travellers will pay a supplement.
In some cases, the accommodation listed below may need to be substituted for other, comparable accommodations.
Single Rooms and Solo Travelers
You can pay a supplement of $225 USD to have a private room in a hotel. Contact us and we can try and match single travellers up where possible.
Hotels on Standard Tour
What's Included in the South African Hiking and Kruger Safari?
Meals
7 breakfasts, 1 lunch, and 3 dinners are included.
Accommodations
Accommodation for 7 nights is included.
Transportation during the Tour
Personal and luggage transfer to and from the airport is included, as well as transportation during the tour.
Also Included
English-speaking registered hiking guide
Nature reserve, special attraction, and conservation area entrance fees
Not included
Travel insurance
Travel to and from Johannesburg
Lunches and dinners or drinks and snacks not previously mentioned
Tourist taxes if applicable
Visas if required
Personal equipment
Optional Extras
Additional activities and excursions
Single room supplements
Solo traveller supplements
Any additional nights before or after the tour
Frequently Asked Questions about South African Hiking and Kruger Safari
Highline Tours and Travel is a tour operator that explores exotic destinations: South Africa, Namibia, Botswana, East Africa, Mozambique, to name a few. They offer phenomenal safari, activity and adventure, and romantic getaway tours that will undoubtedly leave a vivid, lasting memory.
The tour guides for Highline Tours and Travel have a magical way of elevating tours from lovely to personable and memorable. They believe in creating a dynamic, encouraging, and fun environment.
Highline Tours and Travel's vision is to provide the best holiday possible for all clients in hopes that they will become ambassadors for the stunning African continent.
Learn More
Is this tour for me?
We rate this tour as a 2 / 5. You will be hiking short to moderate distances on easy terrain, with one longer day that can be shortened.
Local Guide
Ask a Question
Got any questions regarding the tour? Interested in promotions for groups or want to customize this tour to fit your needs? We are here to help you!
Ask a question
SALE! Well, not yet.
Let me know when this trip goes on sale.
Notify me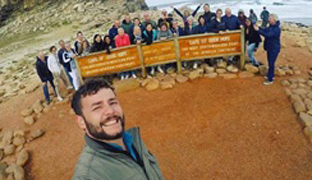 Machiel Breedt
South Africa, Namibia, Botswana
Machiel Breedt has spent the last five years guiding tourists in South Africa. He enjoys introducing participants to his country's vast, diverse scenery, from the animals of Kruger National Park in the North to St Lucia and the beautiful coastline, to the Drakensberg mountains and the Wine of the Cape.
Q & A
Q:

What is your favourite trip to do and why?

A:

Probably touring from Cape Town to Vic Falls via Namibia and Botswana. It is pure Africa. The vibe of Cape Town and surrounds, to the vastness of the Namibian deserts and plains, to the breath-taking nature and wildlife of Botswana, to the amazing Victoria Falls.

Q:

What is your most unforgettable moment when guiding?

A:

I have 2 moments that I will never forget. The first one is a couple of years ago I had a group doing a 16-day tour from Johannesburg to Cape Town and on that tour was two sisters who got separated at a very young age and didn't see each other again for about 50 years. One day they walked past each other in a supermarket and recognised one another. One of the local radio stations heard about the story and sponsored them a vacation to enjoy together, and I had the honour of having them on my tour and showing them our beautiful country.

The second is the time that we were on safari in the Okavango Delta in Botswana, and we saw a pack of about 20 lions devouring the carcass of an elephant.

Q:

What is one local dish or drink that tourists must try on a visit to your country and why?

A:

It would most definitely be biltong and Amarula. Biltong is meat that is dried with a variety of spices, and it's just too delicious for words. Amarula is a cream liqueur that is made from the fruits of the Marula tree and just goes down so nice after a long and hot African summer day.