Discover the beauty of Uzbekistan on a 5-day tour
Traveling through Central Asia is a mystifying experience that is filled with moments of cultural wonder, complex ancient history, and stunning landscapes. The 5-Day Uzbekistan Tour passes through all of the main cities within the country, ensuring that you will not leave a single experience unfulfilled. Travel along the ancient Silk Road through legendary places such as Tashkent, Khiva, Bukhara, Gijduvan, and Samarkand, and you will soon realize the magical hold that this historic region has held over generations of intrepid adventurers.
This relaxed cultural experience tour is suitable for all skill levels, so book your spot and come find out what makes Uzbekistan one of the most underrated destinations in Central Asia!
Highlights of the 5-Day Uzbekistan Tour
Spend an action-packed day exploring the historic buildings and bazaars in Tashkent.
Take a scenic walking tour in Khiva to soak up the culture and architecture.
Experience a puppet making workshop with skilled artisans in Bukhara.
Explore the legendary Silk Road city of Samarkand and visit the largest mosque in Central Asia.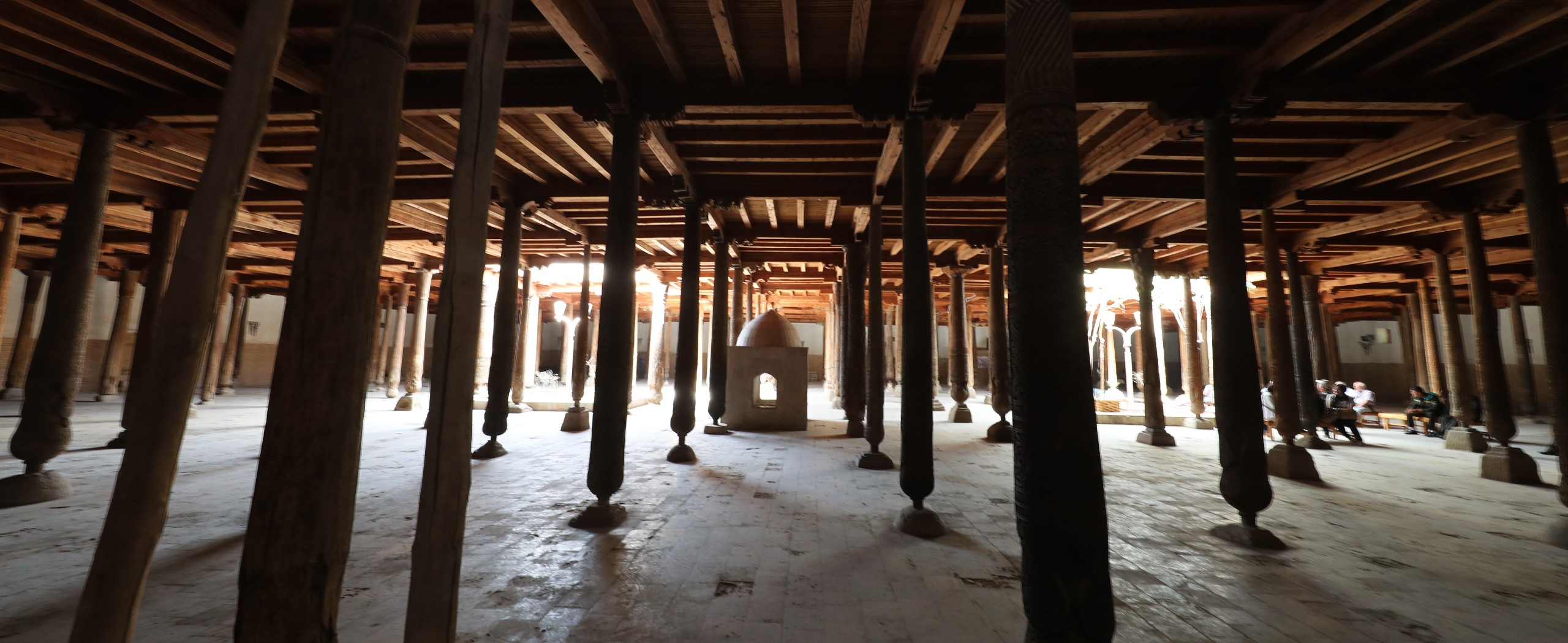 5-Day Uzbekistan Tour Itinerary
Day 1

Arrival in Tashkent and City Tour, then Fly to Urgench

After arriving at Tashkent International Airport, you will meet your guides and set out on an excursion to explore Tashkent. While out on this tour you will visit a number of historical and cultural sites, such as the Hasti Imam complex, which includes the Muyi Muborak Library with real Holy Osman Koran, Barakhan Medresah and Kaffal Ash-Shashiy Mausoleum.

Your walking tour will begin from Chorsu bazaar before taking you to Independence Square, the Romanov's Palace, and the Alisher Navoi Theatre complex. Later, take the evening flight to Urgench before driving to Khiva to spend the night in a hotel.
Overnight Location: Hotel in Khiva
Meals: None
Day 2

Walking Tour of Khiva and Transfer to Bukhara

Day 2 of the tour will begin with breakfast before setting out on a walking tour of Khiva. On this tour you will once again encounter a number of significant buildings that hold historical value in the region, such as Ota-Darvaza (main gate), Madrassah of Mukhamad Amin-Khan, Kalta-Minor Minaret, Kunya-Ark complex, Madrassah of Mukhammad Rakhimkhan, Mausoleum of Said Alauddin, Juma Mosque and Minaret, and Tosh-Hovli Palace.

In the afternoon you will have another action-packed itinerary, with stops at Karavan-Saray, Palvan-Darvaza Gate, Medrese of Abdulla-Khan, Minaret and Mosque of Khodja Islam, Madrassah of Shergazi-Khan, and the Mausoleum of Pakhlavan Makhmud.

After, you will transfer to Khiva train station and take the train to Bukhara. Upon arrival in Bukhara, you will find your accommodation for the night.
Overnight Location: Hotel in Bukhara
Meals: Breakfast
Day 3

Bukhara Excursion and Transfer to Samarkand

You will spend a good portion of today on a walking excursion in Bukhara, taking in highlights such as the Samanids' Mausoleum, Chashmai Ayub Mausoleum, Bolo-Khovuz mosque, Ark Fortress, and the Poi Kalyon complex. Also on the itinerary are stops at the Ulugbek and Abdulazizkhan madrassas, Magoki Attori mosque, Trade Domes (Toki Zargaron, Toki-Telpakifurushon and Toki-Sarrofon), Labi Khovuz complex, including the chance to experience a puppet making workshop. Afterwards, you will transfer to Kagan railway station and take the Afrosiyob train (15:52-17:22) to the legendary city of Samarkand.
Overnight Location: Hotel in Samarkand
Meals: Breakfast
Day 4

Samarkand Excursion

After breakfast, you will enjoy a full day excursion itinerary that will showcase the history and culture of Samarkand. You will visit the Afrosiyob Museum & hill, Observatory of Ulugbek, Shakhi-Zinda Necropolis, and the Bibi Khanum Mosque – the largest mosque in Central Asia. You will also experience the oriental bazaar Siyab, and walk through Registan Square.
Overnight Location: Hotel in Samarkand
Meals: Breakfast
Day 5

Departure

Begin with a morning transfer to Samarkand Airport and bid farewell to Uzbekistan.
Overnight Location: None
Meals: None

Book Now
5-Day Uzbekistan Tour Price and Dates
Pricing for this guided sightseeing tour to Uzbekistan depends on the number of people traveling in your party.
Prices below are per person:
Solo traveller: $925 USD
Guided group of 2: $565 USD per person
Guided group of 3: $555 USD per person
Guided group of 4: $495 USD per person
Guided group of 5: $460 USD per person
Guided group of 6: $430 USD per person
Guided group of 7+: On request
Note: local flights and train rides are not included. Please check 'Dates and Prices' on how much you should budged for these.
Book Now
Accommodation on the 5-Day Uzbekistan Tour
This tour is based in hotels. Hotels on this trip are 3 and 3.5-star and offer modern conveniences that can make this trip more pleasant. Rooms may have fireplaces or access to amenities such as hot tubs, steam rooms, or private decks to lounge on.
In some cases, the accommodation listed below may need to be substituted for other comparable accommodations.
Single Rooms and Solo Travelers
Rooms are double occupancy. You can pay a supplement of $115 USD to have a private room in a hotel where possible. Please note that single rooms are only available in hotels.
Hotels on Standard Tour
This excellent hotel in the heart of Khiva features modern amenities and is centrally located for a comfortable and convenient stay.
Situated in a charming old section of Bukhara, this hotel is loaded with historic charm to make for a unique experience.
Situated conveniently in the legendary city of Samarkand, this hotel features modern amenities and serves as the perfect home base from which you can experience the surrounding area.
What's Included in the 5-Day Uzbekistan Tour?
Meals
3 breakfasts are included.
Accommodations
Accommodations for 4 nights are included.
Transportation during the Tour
Vehicles and drivers for you and your luggage are provided throughout the tour. Transportation from and to the airport is also included.
Domestic air tickets and train tickets are not included but can be booked during the booking process and prices usually vary based on availability. You should budget:
Air tickets (Tashkent-Urgench): from $67 USD to $167 USD
Train tickets from Khiva to Bukhara: from $22 USD to $28 USD in business class
Train tickets from Bukhara to Samarkand: from $16 USD or $21 USD in business class
Train tickets from Samarkand to Tashkent: from $23 USD or $29 USD in business class
Also Included
English-speaking guides
Entrance fees to sights and museums as per program
Map of Uzbekistan
Mineral water 1L per person daily
All applicable taxes within Uzbekistan
Not included
Photo/video fees in museums and sights
Tips for drivers and a guide
All types of personal expenses
Visas
Flights
Travel insurance
Meals not previously mentioned
Anything not mentioned as included
Optional Extras
Additional nights before or after the tour
Single occupancy upgrades where available
Frequently Asked Questions about 5-Day Uzbekistan Tour
Oasis International Travel is an Uzbek tour operator and a travel company located in Tashkent with reliable representatives in other Central Asian countries along the Great Silk Road. This company consists of a qualified team with more than 15 years of experience in the travel industry.
Learn More
Is this tour for me?
We rate this tour as a 1/5. This is an easy sightseeing tour with only casual walking required.
Ask a Question
Got any questions regarding the tour? Interested in promotions for groups or want to customize this tour to fit your needs? We are here to help you!
Ask a question