Cycle the Western Cape of South Africa
There's truly no place like the Western Cape of South Africa. This paradise is packed with bustling cities, unbelievable coastline, rugged mountains, and excellent cycling trails. Explore it all on the 8-Day Western Cape Cycling Tour!
The 8-Day Western Cape Cycling Tour begins in the thriving city of Cape Town, a place that captures the hearts of everyone who goes. You'll cruise through the Jonkershoek Nature Reserve, flanked by mountains and teeming with animals. Ride through Stellenbosch, where oak-lined avenues hide chic stores and wineries dot the hills. The 8-Day Western Cape Cycling Tour takes you down one of the most beautiful trails in the country to Gansbaai, where the waters churn with whales, dolphins, and Great Whites. Eat lunch in a restaurant built into the rocks of Walker Bay, and marvel at the size of the penguin colonies at Boulders Beach. There's no place like the Cape, and there's no way to experience it like the 8-Day Western Cape Cycling Tour.
Highlights of the 8-Day Western Cape Cycling Tour
Ride through the world-renowned natural beauty of the Western Cape.
Stop in beautiful cities and lively towns, meeting locals and learning about life in South Africa.
Spot South Africa's diverse wildlife, including giraffes, zebra, whales, dolphins, monkeys, and more.
Taste the local food and wine that the Cape Winelands region is so well-known for.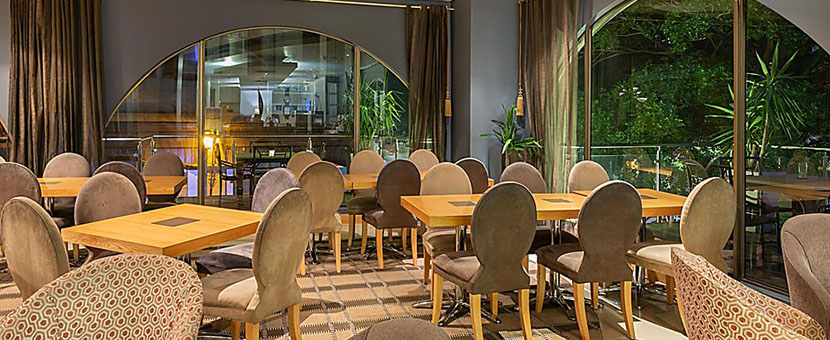 8-Day Western Cape Cycling Tour Itinerary
Day 1

Arrival in Cape Town

You made it to South Africa! Upon landing in Cape Town, you'll be met by your guide and taken to the hotel. The rest of the day is free for you to explore Cape Town or get acclimated to the timezone.
Overnight Location: Hotel in Cape Town
Distance: None
Meals: None
Day 2

Cape of Good Hope, Simon's Town, and Boulders Beach

To kick off your Western Cape cycling tour, you'll start with the Cape Peninsula. You'll explore the most southwestern corner of the continent, starting with the Cape Point Nature Reserve. This is one of the most famous areas near Cape Town, where cape zebras, baboons, and buck roam and the Indian Ocean meets the Atlantic. Then, it's back on the bike and onwards to Simon's Town, the seat of the South African Navy. This charming coastal town has a vibrant history, and there are a few fantastic museums worth a stop. Hop on the bike and hit Boulders Beach, where a massive colony of penguins delights visitors from all over the world. If the weather holds, you can squeeze in a visit to Table Mountain before dinnertime.
Overnight Location: Hotel in Cape Town
Distance: 32km
Meals: Breakfast
Day 3

Ride in Jonkershoek Nature Reserve and Stellenbosch

Today you'll visit one of the loveliest parts of the Western Cape, as the morning begins with a drive through Stellenbosch. From here you'll pedal to Jonkershoek Nature Reserve, a 9800-hectare reserve of breathtaking mountains, native flora and fauna, monkeys, klipspringers, and ospreys. This is perfect mountain biking terrain! After you tear it up in the reserve, it's back towards Stellenbosch, where you can explore, cruise between the shops, and stop for some wine tasting. This picturesque town with its oak-lined streets and classy restaurants is the perfect place to spend the evening exploring.
Overnight Location: Hotel in Stellenbosch
Distance: 40km
Meals: Breakfast
Day 4

Cycle to Helshoogte Pass, Franschhoek, and Stellenbosch

Start the morning with a transfer to Franschhoek, where you'll start your ride at the top of the Franschhoek Pass, descending through the Huguenot Memorial and along the Berg River Dam. The beautiful path leads you through the Glenwood Winery (quick stop for a sip, anyone?) and then through Four Paws Wines (another quick stop?) before climbing back towards Franschhoek, where you can stop for lunch… and some more wine tasting. Then, it's on to Stellenbosch for another evening.
Overnight Location: Hotel in Stellenbosch
Distance: 25km
Meals: Breakfast
Day 5

Ride to Bredasdorp, Elim, and Gansbaai

Marine life lovers, today's going to be a treat for you. After breakfast, you'll depart towards Gansbaai, home of the densest population of Great White Sharks in the world. The waters near the town are also packed with dolphins, whales, penguins, and seals. You'll stop in Bredasdorp along the way for a coffee and then follow a relaxed dirt road to Elim, where wine lovers should stop for a taste. From here, a driver will pick you up and take you to Gansbaai.
Overnight Location: Hotel in Gansbaai
Distance: 45km
Meals: Breakfast
Day 6

Ride in Walker Bay Nature Reserve

The next portion of your Western Cape cycling tour takes you to Walker Bay Nature Reserve. Walker Bay is a pristine coastal reserve with an unbelievable array of marine life. It's a local and international favourite for whale watching, and it's a preferred calving location for southern right whales. Enjoy the coast here before riding along to Hermanus, a bustling city where upscale infrastructure and natural beauty meet. Enjoy lunch at Beltang's Cave, a restaurant built into the rocks of Walker Bay, before cruising alongside the sea back to Gansbaai.
Overnight Location: Hotel in Gansbaai
Distance: Flexible
Meals: Breakfast
Day 7

Cycle to Kleinmond, Gordon's Bay, and Durbanville

Today, you'll have a quick transfer to Kleinmond first thing in the morning. Once there, you'll hop on the bike for a 50km jaunt down the Whale Coast Route via Gordon's Bay. This road is one of the most beautiful in the county, passing the penguin-spotted coast and several nature reserves along the way. You'll end up at a cozy guest cottage in Durbanville. Unwind here and enjoy the local wine and the picturesque sunset view.
Overnight Location: Hotel in Durbanville
Distance: 50km
Meals: Breakfast
Day 8

Farewell, South Africa

8 days of unforgettable riding later, it's time to leave South Africa. You'll have a bit of time to enjoy the nearby vineyards for free before your ride to the airport comes. Safe travels!
Overnight Location: None
Distance: None
Meals: Breakfast

Book Now
8-Day Western Cape Cycling Tour Price and Dates
This guided tour to Western Cape is always run as a custom tour for your group only and the prices always depend on the size of your group.

Prices below are per person:
Guided Groups of 4-5: $2,295 USD per person
Guided Groups of 6-7: $2,125 USD per person
Guided Groups of 8+: on request
Book Now
Accommodation on the 8-Day Western Cape Cycling Tour
This tour is based in 3 and 4-star hotels. The hotels offer comfortable rooms with great locations. Rooms are double occupancy, and single travellers will pay a supplement.
In some cases, the accommodation listed below may need to be substituted for other, comparable accommodations.
Single Rooms and Solo Travelers
You can pay a supplement of $325 USD to have a private room in a hotel. Contact us and we can try and match single travellers up where possible.
Hotels on Standard Tour
What's Included in the 8-Day Western Cape Cycling Tour?
Meals
7 breakfasts are included. One wine tasting at D'Aria is also included.
Accommodations
Accommodation for 7 nights is included
Transportation during the Tour
Personal and luggage transfer to and from the airport is included
Personal and luggage transfer during the tour is included
Also Included
Bike rental (model Giant)
English-speaking registered cycling guide
Nature reserve, special attraction, and conservation area entrance fees
Support van
Not included
Travel insurance
Travel to and from Cape Town
Lunches and dinners or drinks and snacks not previously mentioned
Tourist taxes if applicable
Visas if required
Personal equipment
Optional Extras
Activities and excursions
Single room supplements
Solo traveller supplements
Any additional nights before or after tour
Frequently Asked Questions about 8-Day Western Cape Cycling Tour
Highline Tours and Travel is a tour operator that explores exotic destinations: South Africa, Namibia, Botswana, East Africa, Mozambique, to name a few. They offer phenomenal safari, activity and adventure, and romantic getaway tours that will undoubtedly leave a vivid, lasting memory.
The tour guides for Highline Tours and Travel have a magical way of elevating tours from lovely to personable and memorable. They believe in creating a dynamic, encouraging, and fun environment.
Highline Tours and Travel's vision is to provide the best holiday possible for all clients in hopes that they will become ambassadors for the stunning African continent.
Learn More
Is this tour for me?
We rate this tour as a 3 / 5. You will cycle longer distances each day through varied terrain, and those who are generally fit and comfortable on a bike will get the most out of this tour.
Local Guide
Ask a Question
Got any questions regarding the tour? Interested in promotions for groups or want to customize this tour to fit your needs? We are here to help you!
Ask a question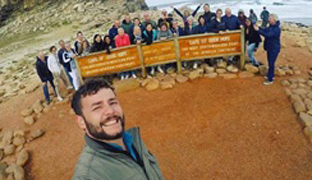 Machiel Breedt
South Africa, Namibia, Botswana
Machiel Breedt has spent the last five years guiding tourists in South Africa. He enjoys introducing participants to his country's vast, diverse scenery, from the animals of Kruger National Park in the North to St Lucia and the beautiful coastline, to the Drakensberg mountains and the Wine of the Cape.
Q & A
Q:

What is your favourite trip to do and why?

A:

Probably touring from Cape Town to Vic Falls via Namibia and Botswana. It is pure Africa. The vibe of Cape Town and surrounds, to the vastness of the Namibian deserts and plains, to the breath-taking nature and wildlife of Botswana, to the amazing Victoria Falls.

Q:

What is your most unforgettable moment when guiding?

A:

I have 2 moments that I will never forget. The first one is a couple of years ago I had a group doing a 16-day tour from Johannesburg to Cape Town and on that tour was two sisters who got separated at a very young age and didn't see each other again for about 50 years. One day they walked past each other in a supermarket and recognised one another. One of the local radio stations heard about the story and sponsored them a vacation to enjoy together, and I had the honour of having them on my tour and showing them our beautiful country.

The second is the time that we were on safari in the Okavango Delta in Botswana, and we saw a pack of about 20 lions devouring the carcass of an elephant.

Q:

What is one local dish or drink that tourists must try on a visit to your country and why?

A:

It would most definitely be biltong and Amarula. Biltong is meat that is dried with a variety of spices, and it's just too delicious for words. Amarula is a cream liqueur that is made from the fruits of the Marula tree and just goes down so nice after a long and hot African summer day.