Explore South Korea in-depth on this 19-day guided bike tour
The best of South Korea's natural and cultural landscapes is yours to discover on this epic 19-Day guided bike tour.
The 19-Day Highlights of South Korea Biking Tour takes you through Gyeonggi-do, Gangwon-do, Chungcheongbuk-do, Gyeongsangbuk-do, and Yeongnam, where you'll take in a multitude of South Korea's most spellbinding landscapes and experience both city-life and village-life as you navigate the country by bike.
Beginning in the capital Seoul, you'll kick off this tour with an in-depth driving and walking tour of the vibrant city, taking in several of its unique neighbourhoods and landmarks such as Seoul Plaza and Cheonggye Square. Then, you'll embark on a cross-country journey, with 12 full days of biking, enjoying overnight stops along the way in cities and towns like Gapyeong, Jeongseon, Andong, Gyeongju and more.
After several exciting days on bike navigating sweeping valleys surrounded by breathtaking mountain scenery, you'll arrive in South Korea's second-largest city of Busan. In Busan, you'll enjoy a full day of exploring cultural landmarks, like the 7th-century Buddhist temple, Beomeosa. Then, spend some time unwinding on the sandy shores at Haeundae, a world-class beach resort that provides the perfect place to enjoy some downtime before catching the speed-train back to Seoul, where the tour concludes.
This in-depth tour ensures that you won't miss a single highlight of South Korea and grants you ample opportunities to soak up the unique culture of South Korea as well as its fascinating history.
Book your spot on the 19-Day Highlights of South Korea Biking Tour Today. Don't miss out!
Highlights of the 19-Day Highlights of South Korea Biking Tour
Experience the charged atmosphere of South Korea's capital Seoul, beginning and ending your tour in the vibrant city.
Tackle steep passes, as you pedal your way through breathtaking landscapes, like the Misan and Saldun valleys, surrounded by mountains.
Encounter the entrancing culture and ancient traditions of the South Korean people, with visits to several small villages along the way.
Learn about fascinating Confucian culture with visits to museums and historical sites.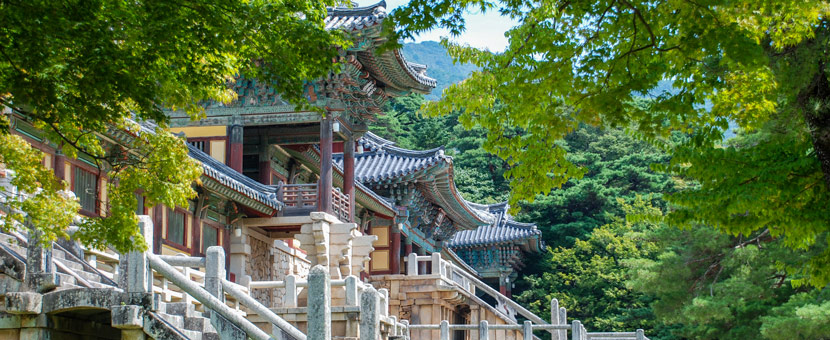 19-Day Highlights of South Korea Biking Tour Itinerary
Day 1

Arrive

Fly inti the Incheon International Airport where you'll bet met by your English-speaking tour guide who will then transfer with you to your first hotel in Seoul.

Unwind this evening or set out on a stroll to acquaint yourself with the vibrant city. Tomorrow you'll enjoy an in-depth tour of the capital!
Overnight Location: Hotel in Seoul
Distance: None
Meals: None
Day 2

Tour Seoul

Rise and shine, ready to take on your first stop in South Korea, beautiful Seuol! You South Korean adventure kicks off with a driving tour of Seoul, allowing you to take in the cities most famous neighbourhoods and significant sites, like the Seoul and Gwanghwamum Plazas, the colourful Gyeongbokgung Palace, and the eclectic Insa-dong neighbourhood filled with traditional wooden tea houses, street vendors, and antique shops.

In the afternoon, you'll check out the National Folk Museum of South Korea and then head to the 5000 stalls Gwangjan Market for a taste of South Korea's market culture!
Overnight Location: Hotel in Seoul
Distance: None
Meals: Breakfast
Day 3

Cycle Seoul to Gapyeong

An exciting first day on bike awaits as you hop on two wheels this morning bound for Gapyeong. This leg begins at Banpo, from where you'll ride to the Paldang bridge, joining an old railway line following your crossing. Arrive at Ungilsan Station, then choose to either continue the rest of the section on a roadway or a bike path.

Arrive at Gapyeong, a beautiful town set against the backdrop of several towering peaks, rivers, and lakes, making it a picturesque location to rest for the night.
Overnight Location: Hotel in Gapyeong
Distance: 86km
Meals: Breakfast
Day 4

Cycle Gapyeong to Hwacheon

Enjoy a pleasant flat bike way as you warm-up this morning for another exhilarating ride. Pedalling first towards Chuncheon, you'll cross several charming villages and breathtaking landscapes, crossing the Gyeongganggyo bridge before tracing a river. Then, crossing the Sinmaedaegyo bridge, you'll arrive in the scenic city of Chuncheon, where you can pause for lunch

Departing Chuncheon, you'll join a challenging mountain trail, riding to today's destination, Hwacheon.
Overnight Location: Hotel in Hwacheon
Distance: 57km
Meals: Breakfast
Day 5

Cycle Hwacheon to Bangsan

Today will be challenging, but full of rewards, as you ride first to the Peace Dam, and then on to Bangsan. Pedalling undulating hills through the mountains, you'll navigate a series of tunnels, soon arriving at the Peace Dam.

If you feel like hopping off your bike to stretch the legs, stop at the World Peace Bell or the Water Museum along the way. A downhill ride through a valley kicks off the final stretch as you enjoy a scenic, quiet trail to Bangsan.
Overnight Location: Hotel in Bangsan
Distance: 50km
Meals: Breakfast
Day 6

Cycle from Bangsan to Haean

Continue the route this morning, flanked by rugged mountains as your cruise through the villages of Omi, Geumak, Jangpyeong, and Gobangsan.

A scenic ride through a valley leads you towards Haean, guiding you through several more small villages like Deokgok and Imdang. A challenging pass on the Dosolsan Mountain opens to a punch bowl as you continue to Haean.
Overnight Location: Hotel in Haean
Distance: 38km
Meals: Breakfast
Day 7

Explore Haean

Enjoy a free day in Haean, taking a break from the saddle to take in some sites in this historic town. Several famous battles during the Korean War were fought here, making it a place of immense historical importance. Check out the Eulji Observatory today for a glance into Korean military history. North Korean soldiers can still be seen standing guard across the border in North Korea from the observation platform.
Overnight Location: Hotel in Haean
Distance: None
Meals: Breakfast
Day 8

Cycle Haean to Girin

Today's ride through the countryside will guide you through several more small villages, steeped in tradition and brimming with cultural heritage.

You'll enjoy a pleasant ride through a gently winding valley to Wontong. Then continue a challenging climb to Hangyeryeong, finally crossing a bridge to Girin.
Overnight Location: Hotel in Girin
Distance: 74km
Meals: Breakfast
Day 9

Cycle Girin to Jinbu

Today will be one of the most challenging legs of the tour, as you ride 86km to Jinbu. Steep mountain slopes and winding roads characterize the ride as you cruise through Hanamri village, crossing the steep Omijae Pass to enter the beautiful Misan Valley. Then, continue through the Saldun Valley to Wondang Samgeori.

Several passes later, you'll arrive in Jinbu, where you'll find tonight's accommodations.
Overnight Location: Hotel in Jinbu
Distance: 86km
Meals: Breakfast
Day 10

Cycle Jinbu to Jeongseon

Today you'll navigate several pretty streams through the mountains as you cross a number of bridges and make your way through the valleys of Suhang, Makdong, and Sukam. Arrive in Jeongseon, where you'll spend the night.
Overnight Location: Hotel in Jeongson
Distance: 42km
Meals: Breakfast
Day 11

Cycle Jeongseon to Taebaek

Endless mountains and winding valleys await you on today's route to Jeongseon. First, you'll ride towards Hwaam, navigating several tunnels on the way. Then, heading in the direction of Hajang, you'll trace a stream to the Daejeonri village, continuing to Yeokdunri and then on to Taebaek.

Taebaek is a highland town, which once boasted a thriving coal mining operation. While here, you can visit the town's Coal Museum, which showcases the operation, highlighting its importance to South Korea's industrial history.
Overnight Location: Hotel in Taebaek
Distance: 65km
Meals: Breakfast
Day 12

Cycle Taebaek to Andong

Another challenging leg unfolds today, as you take on several uphill climbs on the way to Andong.

Along the route, you'll take in the Galsan Church, Ingyeri village, Yean village, Seoji station and more. Arrive in Andong, where you'll rest for the night, and enjoy either a walking or biking tour of the city tomorrow.
Overnight Location: Hotel in Andong
Distance: 115km
Meals: Breakfast
Day 13

Explore Andong

Another day to rest the legs! Enjoy a day in Andong, perhaps visiting the Andong Folk Museum, which illustrates traditional Confucian culture with in-depth exhibits. If you prefer, you can explore Andong on bike, pedalling the town's streets to take in points of interest.
Overnight Location: Andong
Distance: None
Meals: Breakfast
Day 14

Cycle Andong to Angye

Back on bike today, you'll enjoy a scenic trail to the UNESCO World Heritage Site Hahoemaul. The site is a well-preserved 15th-century village that portrays everyday life during the Joseon Dynasty (1392-1910).

Enjoy a fascinating visit to the site before continuing to tonight's accommodations in Angye.
Overnight Location: Hotel in Angye
Distance: 76km
Meals: Breakfast
Day 15

Cycle Angye to Yeongcheon

Today you'll choose from a variety of several routes that will have you navigating roadways to Yeongcheon. Regardless of which route you take, there will be plenty of opportunities to revel in pastoral scenery and take in small villages along the way.
Overnight Location: Hotel in Yeongcheon
Distance: 78km
Meals: Breakfast
Day 16

Cycle Yeongcheon to Gyeongju

A light day on bike will allow you to recover from several challenging rides.

Riding towards Gyeongju, you'll take in the Tomb of King Muyeol on the way, and also the famous Bunhwangsa temple complete with impressive pagodas.
Overnight Location: Hotel in Gyeongju
Distance: 50km
Meals: Breakfast
Day 17

Explore Gyeongju

You'll spend today exploring Gyeongju on foot at your leisure! Gyeongju is home to several ancient temples, stone pagodas, royal tombs, and fortress ruins.

Take in the Seokguram grotto, a UNESCO World Heritage Site home to a serene stone Buddha from the 8th-century. Later take a second UNESCO World Heritage Site at the Bulguksa Temple, where you'll witness true architectural wonders. Other highlights of Gyeongju include the Gyeongju National Museum and the Donggung Palace, and Wolji Pond.

There is plenty to keep you busy in Gyeongju today, as you enjoy a break from the bike in this fascinating town.
Overnight Location: Hotel in Gyeongju
Distance: None
Meals: Breakfast
Day 18

Cycle Gyeongju to Busan

Ride to Busan today, where you'll be greeted by the hustle and bustle of Korea's second largest city! Despite being a large city, Busan is beautiful and boasts mountain and ocean views, making it a pleasant city stop on the route. Once in Busan, unwind at the sunny beach resort of Haeundae before crossing the Suyeong Bay as you cycle the Gwangan Bridge.

This afternoon, you can take in the UN Memorial Cemetery, where 2,300 deceased Korean ally soldiers are remembered. Some other highlights of Busan include Gwangbokro Street and Yongdusan Park.

Enjoy your evening here, soaking up the sights and sounds of one of South Korea's most important cities!
Overnight Location: Hotel in Busan
Distance: None
Meals: Breakfast
Day 19

Depart for Seoul

Depart Busan on a hide speed train bound for Seoul, where you'll spend the last evening of the tour.
Overnight Location: Hotel in Seoul
Distance: None
Meals: Breakfast
Day 20

Depart

This morning your epic South Korea bike tour comes to an end. Check out of your accommodations and head to the airport to depart.
Overnight Location: None
Distance: None
Meals: Breakfast

Book Now
19-Day Highlights of South Korea Biking Tour Itinerary
This guided tour in South Korea is always run as a private tour for your group only and the price depends on the size of your group.
The prices below are per person:
Guided Groups of 3: $9,995 USD per person
Guided Groups of 4: $8,375 USD per person
Guided Groups of 5-6: $7,750 USD per person
Guided Groups of 7+: on request
Book Now
Accommodation on the 19-Day Highlights of South Korea Biking Tour
This tour is based in 2-star and 4-star hotels. The hotels offer private rooms with ensuite bathrooms and basic amenities. Rooms in the hotels are double occupancy, and single travelers will pay a supplement.
In some cases, accommodation listed below may need to be substituted for other, comparable accommodations.
Single Rooms and Solo Travelers
You can pay a supplement of $1,350 USD to have a private room in a hotel.
Hotels on Standard Tour
2-star and 4-star hotels in South Korea
The accommodation on this tour will range from 2-star to 4-star hotels in a variety of locations as you travel across different provinces and regions of South Korea.
What's included in the 19-Day Highlights of South Korea Biking Tour?
Meals
8 breakfasts are included.
Accommodations
Accommodations for 18 nights is included.
Transportation during the Tour
All transportation during tour is included on a private vehicle basis including airport transfers and all necessary luggage transfers between accommodations during the tour. The high-speed train journey from Busan to Seoul is included. The support vehicle services are included too.
Also Included
Road bike rental
English-speaking guide
All entrance fees to excursions mentioned in the itinerary
Not included
Personal biking equipment
Flights to and from Seoul
Visas if required
Travel Insurance
Tourist taxes if applicable
Meals or drinks and snacks not previously mentioned
Fees not mentioned as 'included'
Optional Extras
Activities and excursions unless otherwise mentioned as included
Single occupancy upgrades
Any additional nights before or after the tour
Frequently Asked Questions about 19-Day Highlights of South Korea Biking Tour
EXODUS DMC offers a full spectrum of services to travellers in South Korea. They have been offering quality service to travellers from all walks of life for two decades and have established a track record of excellent service.
With 20 years of experience, extensive local knowledge, plenty of resources, a strong network, and lasting connections to a wide variety of local suppliers, EXODUS is committed to bringing travellers top-quality service and extraordinary value.
Exploring Korea with EXODUS DMC is not just rewarding, but also easy, as they're constantly at your beck and call while you travel. They strive for your total satisfaction and offer unbeatable quality in all that they do.
Learn More
Is this tour for me?
We rate this tour as a 5/5. The cycling occurs on a mix of flat and hilly terrain with several challenging climbs. You should be an experienced cyclist and used to riding distances of up to 115km for several days in a row. Please note, riding on any of the major roads on this route requires physical and mental awareness at all times as traffic generally has little respect for cyclists, so caution must be taken. Most of the itinerary avoids major roads whenever possible.
Ask a Question
Got any questions regarding the tour? Interested in promotions for groups or want to customize this tour to fit your needs? We are here to help you!
Ask a question