Discover Croatian cities and the Adriatic Sea by kayak and on foot with a guide
Have you ever thought about a sailing tour, where you get to explore the bays and Islands of the Adriatic? Then this 3-day Croatian sailing tour is for you.
Croatia is renowned for its heavenly islands in the Adriatic Sea; in fact, several regattas occur in this country every year. And if you're a sailing enthusiast who also likes celebrating on the water, you've probably heard of Sail Week. This sailing adventure tour gives you a taste of life on the water!
The Dalmatian Islands archipelago off the coast of Croatia boasts an exceptional array of islands to visit. But if time is a concern, this 3-day sailing tour will bring you to some of the most spectacular spots. You embark from Split and sail to Brac, continue to Hvar, then navigate back to Split through the heavenly Pakleni Islands. You can customize this tour to suit your preferences. Do you want an authentic nautical experience on a standard sailboat? Or are you looking for a tour where you can relent responsibility, have food service, and just relax? Either way, you'll find a vessel to suit your needs. You're the master of this tour!
On a sailing adventure, be prepared to live at sea, noting that you'll be subject to the motion of the waves for the duration of the tour. During the trip, guests are responsible for their activities. Some fixed itineraries include snorkelling, as listed below, but you can customize this tour to your preferences. The following itinerary is a fixed 3-day tour, also available as a 4-day tour; that said, these itineraries are flexible, and you can charter a boat for as long as you want!
Highlights of the 3-day Sailing Adventure in Croatia Tour
Find hidden rocky coves among the islands to swim and snorkel in crystal-clear water.
Witness magical sunsets over the Adriatic Sea each evening from your unique sailboat vantage point.
Wake up to the sound of waves crashing, knowing you have a day on the water ahead.
Visit some of the Dalmatian Islands, like Hvar and Brac, for a taste of Croatian food, wine, and culture.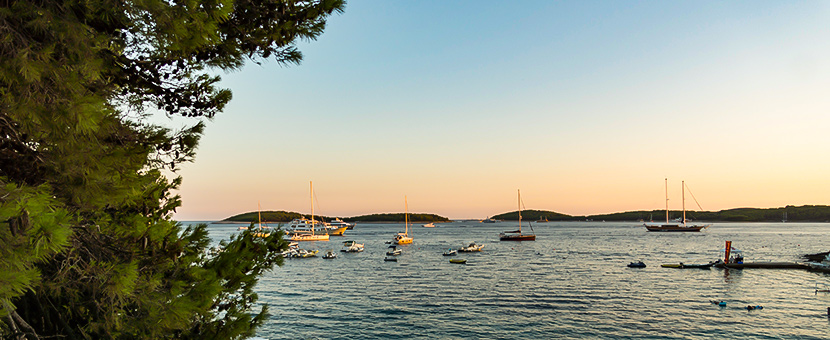 3-day Sailing Adventure in Croatia Tour Itinerary
Day 1

Sail to Brac Island

Set sail from Split and head out into the open seas towards Brac Island, the first island on this 3-day sailing adventure tour. On the boat, you can bask in the sun, admire the beautiful blues hues of the sea, and listen to the sounds of the wind and waves. After a relaxing journey across the water, you stop in Milna to swim and snorkel in one of its hidden coves. Enjoy an incredible sunset over the Adriatic Sea from your perch on board.
Overnight Location: Onboard the boat
Distance: 4 hours of sailing
Meals (chartered tour): Lunch
Day 2

Sail to Hvar Island

Enjoy breakfast on board and start cruising towards one of the top islands in the Dalmatian archipelago: Hvar. Notable as a holiday destination for tourists from all over the world, you'll get a unique perspective of the island as you arrive by water. Your captain will pick a spot to anchor in the harbour. Then you can get dressed to the nines (or the fours—whatever your vibe is!), and experience the island nightlife.
Overnight Location: Onboard the boat
Distance: 4 hours of sailing
Meals (chartered tour): Breakfast, Lunch
Day 3

Sail through the Pakleni Islands

Today you sail through the Pakleni Islands, an archipelago of emerald-green forested islands that appear to be out of a fairy-tale. Stop to swim and snorkel in the clear waters, marveling at the underwater world. Take a walk on the shores of Palmizana, a stunning beach and marina—a chic spot for a drink or snack. Return to Split late in the afternoon, where your tour will end.
Overnight Location: Onboard the boat
Distance: 4 hours of sailing
Meals (chartered tour): Breakfast, Lunch

Book Now
3-day Sailing Adventure in Croatia Tour Price and Dates
Pricing for this sailing tour from Split always depend on many factors. The price is affected by the type of boat you choose, meal board, whether you are choosing a fixed-departure charter or custom sailing tour, also, whether you choose to sail during the high, medium or low season.
The best time to sail in Croatia's Islands for this tour is mid-May to mid-September, although Croatia has a pleasant climate year-round.
Prices of private 3-day Sailing Adventure in Croatia Tour
Have your own private tour with just your group! Prices below are per person sharing a double coupe:
Private sailing up to 8 people in Lagoon 450 catamaran: from $695 USD per person*
Private sailing up to 8 people in Elan 50 yacht: from $795 USD per person*
*Please note, that this price depends on many factors, such as the season, length of your travel, size of your group, mooring fees. Please enquire to find out more.
Join a Group Tour on Sailing Adventure in Croatia
Make new friends and join a group sailing tour in Croatia. Prices below are per person (for two people staying in a double cabin) in Lagoon 450 catamaran:
Low Season (April 13th to May 31st and from October 2nd to 30th): $695 USD per person
Medium season (All of June and September 4th to October 1st): $825 USD per person
High season (July 1st to September 3rd): $925 USD per person
Note that sailing bookings require a 50% non-refundable deposit at the time of booking.
Book Now
Accommodation on the 3-day Sailing Adventure in Croatia Tour
This tour offers a selection of boats to suit a range of preferences. Boats can fit up to 8 travellers in 4 rooms; therefore, single rooms are only possible for groups of 7 or less. Each boat has a small kitchen area and cozy seating area.
Accommodation on Standard Tour
This vessel has 4 double-occupancy cabins, each with an attached bathroom. This vessel is slightly bigger and faster than a mono-hull yacht and only used for chartered tours.
The Elan 50 yacht has 4 double-occupancy rooms and 3 bathrooms onboard. This boat is a great choice for those who want a bit more excitement on the water.
We have a large selection of vessels to suit different preferences. The options offer different amenities and range in price. Contact us for more information!
What's included in the 3-day Sailing Adventure in Croatia Tour?
Meals
Meal inclusions vary by boat. Some boats do not include meals, while others offer half-board included in the price. Some boats also have an option to add half-board for an additional fee.
Accommodations
2 nights are included on 3-day tour.
Transportation during the Tour
Tour includes 4 hours of sailing daily. Depending on which charter you book, transfers from Split before the tour and drop off after the tour are included.
Also Included
Professional Skipper
Chef/host (if tour booked with half-board)
Final cleaning
Tourist tax
Towels and bed linens
Fuel
Not included
Additional meals and drinks
Personal expenses
Marina and mooring fees (for custom tours, depending on the boat size, season and location of the marina, might vary between 42 and 175 EUR per boat per night)
Travel insurance
Marina and mooring fees (for custom tours)
Entrance to national parks
Tips for the crew
Optional Extras
Boat upgrade
Upgrade itinerary to longer trip
Frequently Asked Questions about 3-day Sailing Adventure in Croatia Tour
AndAdventure is a boutique Croatian tour operator specializing in adventure tourism, such as hiking, cycling, sailing, kayaking and more. AndAdventure was founded by experienced Croatian guides who want to share their passion for playing outside. Combing tourism with adventure, they aim to deliver high-quality, safe, and exciting journeys throughout Croatia.
Learn More
Is this tour for me?
We rate this tour as a 1 / 5. This is a casual tour that does not require a high level of fitness and you are in charge of how you spend your free time. There is the opportunity to make the tour more challenging should the group desire.
Ask a Question
Got any questions regarding the tour? Interested in promotions for groups or want to customize this tour to fit your needs? We are here to help you!
Ask a question
SALE! Well, not yet.
Let me know when this trip goes on sale.
Notify me