Uncover the abundant natural beauty of Canada's West Coast
You will discover the breathtaking landscapes of the West Coast on this 8-day Vancouver Island Adventure Tour. Camping amongst the forests, lakes, and beaches of Vancouver Island, you will discover the teeming wildlife of tropical rainforests.
Nature lovers will be truly spoiled as they explore the dizzying ancient trees of Cathedral Grove, the wonders of coastal paradise, Tofino, and the beauty of the Cowichan Valley. Your expert local guides will ensure your comfort and safety as you pick wild berries, take lovely sunset walks, and swim in pristine Alpine Lakes. Enjoying your delicious, homecooked meals under the open sky, you won't ever want to leave this magical corner of the world.
Highlights of the 8-day Vancouver Island Camping Tour
Marvel at the blazing sunsets as you camp in ancient forests, at golden beaches and on the shores of Alpine Lakes.
Enjoy the untamed landscapes of the West Coast as you explore its deep fjords, magnificent waterfalls, and lush rainforests.
Discover the alpine lakes and ancient forests of BC's stunning Strathcona Provincial Park.
Soak up the vibes at Coombs Market, exploring its bustling stalls, sampling delicious local foods, and checking out cool artwork.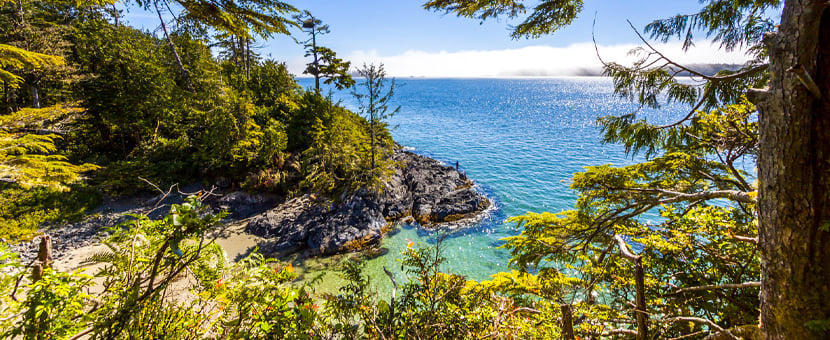 8-day Vancouver Island Adventure Tour Itinerary
Day 1

Exploring Victoria

Enjoy a warm welcome from your expert guides as they pick you up from Victoria airport or a local hotel, depending on your arrival plans. You will take some time to get to know your other group members before setting out for a tour of Victoria's bustling little harbour. You will be taken to some of Victoria's coolest spots, stopping to appreciate the historic landmarks and getting to know a little of the city's history. After enjoying the tour, you will all head out West to the Pacific Coast, making camp amongst the ancient trees and delicious berries of the Salal bushes. Indulging in a delicious homecooked meal, you will enjoy a panoramic view of the Olympic Peninsula before settling down for your first night's sleep in your high-quality tent.
Overnight Location: Camp near the coast
Distance: 4-16 km
Meals: Lunch, Dinner
Day 2

Ancient Woodlands and Alpine Waters

Prepare to have your ideas about camping food completely shattered as you tuck into another delicious, healthy meal this morning. After breakfast, you will head North along the West Coast of Vancouver Island. The scenery will take your breath away as you stop to admire the crystal-clear tidal pools of Port Renfrew. Continuing through the Cowichan Valley, you will stand beneath the gigantic ancient trees of Cathedral Grove before making camp on the shores of Sproat Lake, also known as Klecoot by the local indigenous people.
Overnight Location: Camp at Sproat Lake
Distance: 4-16 km
Meals: Breakfast, Lunch, Dinner
Day 3

Hike and Cruise to Tofino

Wake up with the glorious rising sun as you enjoy an early breakfast by the shores of Sproat Lake. Today you will discover the magic of the west coast as you set out on a scenic drive to Tofino, stopping to enjoy a local hike along the way at Stamp Falls. Once in Tofino, it's time to lace up your boots again for another thrilling hike on the coast, taking in the wonders of the Rain Forest Loop, Schooner Cove Trail, or the Lighthouse Loop near Ucluelet. Tonight you'll kick back by your oceanfront campsite to enjoy another chill evening beneath the stars after a taster dinner and a glorious sunset with the best seats in the house.
Overnight Location: Camp at Bella Pacifica
Distance: 4-16 km
Meals: Breakfast, Lunch, Dinner
Day 4

Adventures Around Tofino

Waking up on the sandy shores of Bella Pacifica, you will enjoy a tranquil breakfast by the calming ocean. Today, the paradise of Tofino is your oyster. Enjoy an array of optional activities on the water or check out the charming artisan shops of this colourful seaside town. From a whale watching tour to sea kayaking, the options for adventure here are endless. You'll get a true feel for island life today as you explore Tofino, by land or by sea, enjoying all it has to offer!
Overnight Location: Camp at Tofino
Distance: 4-16 km
Meals: Breakfast, Lunch, Dinner
Day 5

Kayaking or Surfing near Tofino

Having dipped your toes into the lovely town of Tofino, prepare to get to know the area a little more intimately. Take the time to uncover the history of this old whaling town, the traditional territory of the Tla-o-qui-aht First Nation, and nestled in a vast UNESCO natural reserve that is celebrated for its wildlife and biodiversity. You can take a guided kayaking tour to enjoy the teeming wildlife of an isolated inlet or go hiking through the expansive rainforests. Alternatively, head down to the beach for a surfing class if you didn't get the chance yesterday or indulge in the tasty local delicacies that Tofino has to offer. You will finish your day with a delicious meal at your campground, sharing stories with your group beneath a starry sky.
Overnight Location: Camp at Tofino
Distance: 4-16 km
Meals: Breakfast, Lunch, Dinner
Day 6

The Highway of Waterfalls

Buckle in for a scenic drive to Strathcona Provincial Park as you wind your way along the world-famous Highway of Waterfalls. You will stop at Coombs along the way, a bustling market of local food and lovely handcrafted artworks. This is the perfect opportunity to find a gift for a loved one back home (or just a gift for yourself!) You will enjoy several gorgeous waterfalls along the route as you continue towards your lovely camping spot on the shores of the magnificent Buttle Lake.
Overnight Location: Camp at Buttle Lake
Distance: 4-16 km
Meals: Breakfast, Lunch, Dinner
Day 7

Strathcona Provincial Park

Today is a nature lovers dream come true. You will immerse yourself in the ancient forests and alpine lakes of Strathcona Provincial Park. Forage for delicious berries under the expert supervision of your guides and discover the countless species of plants and mushrooms that thrive in the beautiful park. After hiking through the morning, you will eat your gourmet picnic lunch by the shores of the lake, taking a lazy dip in the pristine waters and soaking up the warmth of the sun. Finishing your hike back to your camping spot, you will have plenty of time to unwind over good food and even better company.
Overnight Location: Camp at Buttle Lake
Distance: 4-16 km
Meals: Breakfast, Lunch, Dinner
Day 8

Elk Falls and Victoria

Your amazing 8-day adventure had sadly come to an end. Waking up in your cozy tent one last time, you can sneak in a final wild swim at Lake Buttle or just enjoy a leisurely breakfast feast with your group members. Your guides will make sure you get to Victoria safely, dropping you off at the airport or ferry port by 2pm. Before that, there's just enough time to squeeze in an exhilarating visit to the rushing waters of Elk Falls and a picnic lunch at the pretty fishing wharf of Cowichan Bay.
Overnight Location: None
Distance: None
Meals: Breakfast

Book Now
6-Day Rockies Hiking and Camping Adventure Tour Price and Dates
This guided hiking tour to Vancouver Island is run as a fixed-departure tour where you'd be joining a group, however, custom private tours can be organized for those willing to travel with their group only (please contact us with your preferred date and the number of people in your group and we will create the itinerary just for you).
Prices below are per person sharing a double or a triple room:
Accommodation on 8-day Vancouver Island Adventure Tour
This tour is based on good quality tents with comfortable camping pads. Your beautiful camping spots are based on the shores of pretty lakes, on sandy beaches, or beneath the canopy of ancient trees. A hot shower is available nearly every day and all diets can be catered for.
Prices are based on 2 people sharing a 3-4-person tent, but it is possible to upgrade to a private tent if you prefer. You can either bring your own sleeping bag or rent one for an extra fee.
Single Rooms and Solo Travelers
You can pay a supplement of $250 USD to have a private tent throughout the tour. Contact us and we can try and match single travelers up, where possible.
Hotels on Standard Tour
Immerse yourself in the stunning mountain landscapes as you camp out beneath the stars. High-quality equipment and expert guides offer a wonderful camping experience.
What's included in the 8-day Vancouver Island Adventure Tour?
Meals
7 breakfasts, 7 lunches, 7 dinners are included.
Accommodations
Camping accommodations for 7 nights along the tour are included.
Transportation during the Tour
Transportation from pick up to drop off in van and trailer for you and your luggage is included.
Also Included
Park passes and tax
Victoria City tour on day 1
Daily guided hikes and walks throughout the tour
Use of the quality camping gear (tent and sleeping pad)
Not included
Alcoholic drinks
Optional personal transportation around town during free time
Getting to and from Victoria
Insurance
Personal expenses
GST (5%)
Optional Extras
Sleeping bag rental - $50 USD
Optional activities:

Marine Bear Watching Tour —prices upon request
Tofino Hot Springs Tour - $125 USD per person
Guided Kayak Tour - $150 USD per person
Surfboard Rental - $50 USD per person/day

Additional night in Victoria before or after the tour
Frequently Asked Questions about 8-day Vancouver Island Camping Tour
Fresh Adventures is an outdoor tour company that navigates explorations through the rugged, stunning terrain spanning western Canada. With an emphasis on customer care, Fresh Adventures promises to depart on an expedition, with a highly skilled guide, no matter how many people have signed up, while also ensuring tour participants have top-notch equipment.
Learn More
Is this tour for me?
We rate this tour as a 3 / 5. Fixed-departure tours are accompanied by two guides that can split the group into two to organize activities for different levels of fitness.
Ask a Question
Got any questions regarding the tour? Interested in promotions for groups or want to customize this tour to fit your needs? We are here to help you!
Ask a question