Enjoy this luxurious cycling tour of Turkey's stunning Aegean Coast
This luxury cycling tour is one of the best cycling holidays in Turkey. This tour has been designed to provide a high quality of service in one of the most beautiful parts of Turkey.
Based on popular and highly praised Aegean Road Bike Touring programme, this tour breaks the route up into smaller, more manageable chunks, discarding anything other than the most perfect rides, and anchoring the evenings at superior boutique hotels throughout. With shorter distances averaging 50km per day the route retains enough hills to be challenging but leaves you with plenty of free time simply to enjoy your time. Whether you choose to explore historical sights, relax in blissful tranquillity on little-known beaches or unwind and destress in the fine facilities of our hotels, you will relish the time and freedom. The route itself takes to a network of roads that link coastal mountains with paradise beaches and rugged peninsulas. It is a chance to experience the true beauty and character of Turkey's less-developed seaside and coastal hinterland areas, far away from the hustle-bustle of modern life.
Highlights of the Aegean Coast Luxury Cycle Touring
Enjoy the flexibility of choosing your own duration (5 to 12 days) on this incredible cycling tour of the Aegean Coast.
Visit Dalyan's Turtle Beach, the ancient city of Ephesus, and explore the Bozburun peninsula.
Learn about Turkey's rich history and culture from an expert local guide, or opt to take the reins and enjoy this tour self-guided.
Live the life of luxury in some of Turkey's best boutique hotels and dine in top-tier restaurants.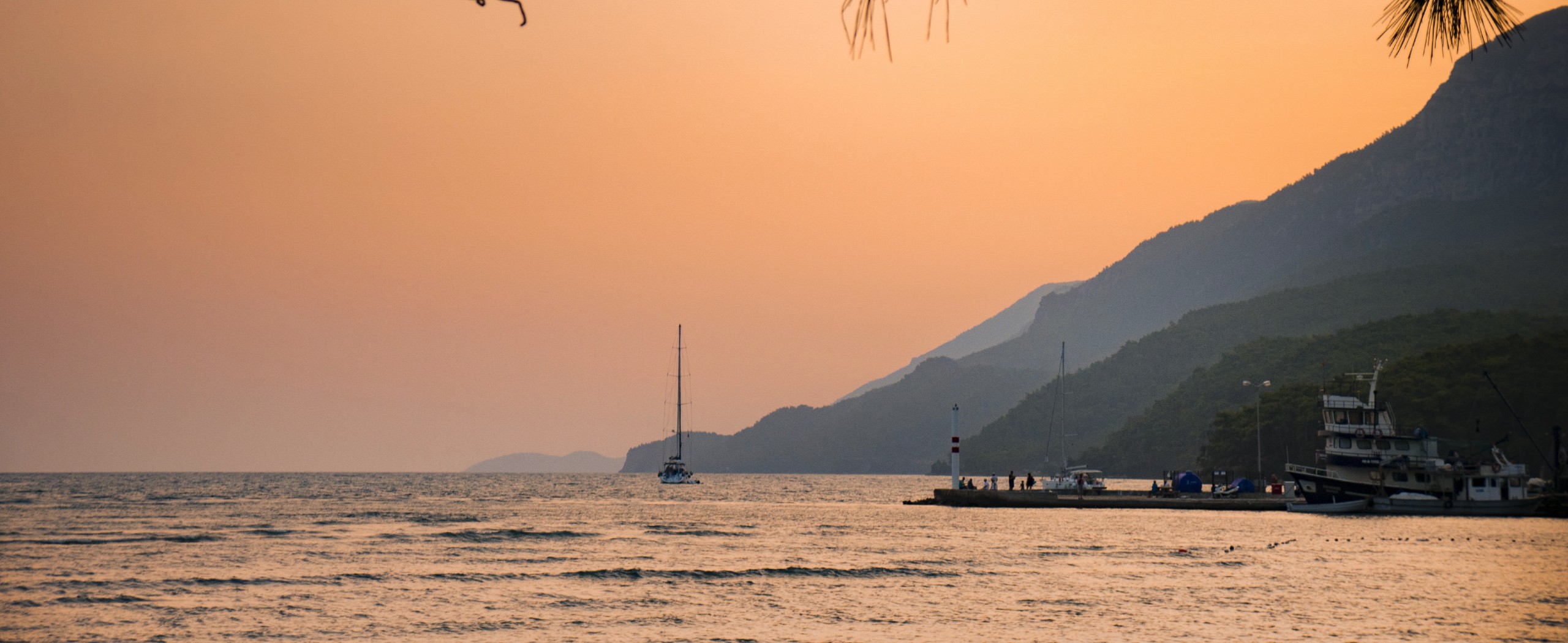 Aegean Coast Luxury Cycle Touring Itinerary
Day 1

Transfer Izmir Airport – Sirince

Sirince is a beautiful and very old-fashioned wine-producing village where you will stay in beautifully restored Greek "Konak" houses. From the airport, an easy drive of around 40 minutes brings you into a picturesque landscape where steep hillsides are home to traditional olive groves. In the formerly Greek village of Sirince you have time to relax and enjoy a stroll through the historic, cobbled streets. There are interesting local boutiques to browse through, followed leisurely by a fine dinner at the Arsipel Restaurant- the perfect beginning to an incredible week of Aegean culinary experiences with the extra bonus of live music every weekend. Your room is the best available- authentic and somewhat rustic but with an unmatched classical grandeur and perfect romantic air.
Overnight Location: Hotel in Sirince
Distance: Flexible
Meals (Guided tour): Dinner
Meals (Self-guided supported tour): Dinner
Meals (Self-guided tour): None
Day 2

Sirince – Ephesus – Pamucak – Kusadasi (lunch) –Short transfer to Camlik

This is a relatively easy first day, with plenty of time for sightseeing at Ephesus and relaxing in the hotel gardens at the end of the ride. From Sirince you follow a new road through vineyards, rolling hillsides and forested countryside, enjoying great views over Selcuk and Pamucak Beach beyond. A fantastic downhill brings you easily into Selcuk town, and after stopping to admire the Roman aqueduct and charming central square you head on to the wonderful ruins at Ephesus- perhaps Turkey's number one must-see historic site. You might choose to spend anywhere from 1.5 to 3 hours exploring the site. Continuing towards the coast on a tree-lined cycle path, you soon arrive at Pamucak beach, where there are nice places for a morning break or lunch. You can swim here too- the water is lovely! Continuing towards Kusadasi on the seaside backroad you escape the traffic and arrive in this popular, fashionable resort town easily and safely. After enjoying the town's boutiques, cafes and upmarket marina, you transfer you onwards to Camlik, where you will stay in a luxury winery, with great food in a perfect Mediterranean garden setting.
Overnight Location: Hotel in Camlik
Distance: 32km, 250m of ascent, 600m of descent
Meals (Guided tour): Breakfast, lunch, dinner
Meals (Self-guided supported tour): Breakfast, dinner
Meals (Self-guided tour): Breakfast only
Day 3

Camlik – Kirazli – Guzelcamli (lunch) – National Park – Guzelcamli Transfer to Bodrum / Bogazici

Today your route takes us on through fruit orchards and vineyards as it winds up and over rolling hills to Kirazli, and out into open garrigue on a panoramic country road to arrive at the small village of Yaylakoy. From here, after a brief downhill section on a bigger road, you drop down to the coast via Sogucak village and enjoy a wonderful traffic-free cycle lane right on the seafront. From Guzelcamli, you enter the Dilek Peninsula National Park and ride to the very end of the peninsula road (Karasu Beach). Here there is time to relax on the beach, swim or take a walk up a fantastic canyon path. From there, you drive for 2 hours to an area nearby Bodrum. There are views of the inland salt-flats lagoon of Tuzla that are often home to flamingoes. Tonight you stay in a fantastic true boutique hotel right on the edge of this lagoon with wonderful views and a waterside restaurant. The perfect taste of luxury.
Overnight Location: Hotel in Bogazici
Distance: 47km, 530m of ascent, 700m of descent
Meals (Guided tour): Breakfast, lunch, dinner
Meals (Self-guided supported tour): Breakfast, dinner
Meals (Self-guided tour): Breakfast only
Day 4

Transfer – Mumcular – Yenikoy – Mazi – Cokertme (Restaurant lunch at 26km) – Turkevleri – Oren

After a short (20 minute) transfer, you begin riding in the sleepy small town of Mumcular, soon climbing steadily up onto an area of wild, open countryside. Descending through picturesque villages where beekeeping, small-scale gardening and simple, pastoral existence are still the staples of daily life, you eventually arrive at the coast on a deserted asphalt road that runs right along the seafront. You'll enjoy lunch at Cokertme, a truly little-known paradise cove often shared by only the occasional yacht. After lunch, your ride takes you right along the seaside, passing through contrasting vistas on your way to Oren. The hotel here isn't one of the best on the tour, but it is the best in this entire area!
Overnight Location: Hotel in Oren
Distance: 45km, 800m of ascent, 900m of descent
Meals (Guided tour): Breakfast, lunch, dinner
Meals (Self-guided supported tour): Breakfast, dinner
Meals (Self-guided tour): Breakfast only
Day 5

Transfer to Alatepe – Alatepe – Akbuk (lunch) – Akyaka

The group begins with a short (20 minute) transfer inland up a densely wooded valley where there are impressive ruins of a Roman aqueduct to be seen. Beginning the ride in an elevated position at Alatepe village, the panoramas are breathtaking and a predominantly downhill course makes for extremely pleasant road cycling. Eventually, you arrive again at the coast, high above Akbuk- a protected area with little development and a gorgeous shingle beach. The jetty makes a perfect diving board and you can enjoy a swim break before lunch at the Altas Pension- again, famous for daily catches of local seafood. From Akbuk, you follow an easy-going and incredibly beautiful single track coast road that may perhaps be the best cycling road in Turkey! With no traffic out of season and a new road surface, this relatively flat 25km stretch to Akyaka is an absolute paradise, in the shade of mature pines with fleeting glimpses down to the azure waters below. Your hotel is one of the region's best, the perfect place to unwind in truly refined luxury.
Overnight Location: Hotel in Akyaka
Distance: 40km, 600m of ascent, 950m of descent
Meals (Guided tour): Breakfast, lunch, dinner
Meals (Self-guided supported tour): Breakfast, dinner
Meals (Self-guided tour): Breakfast only
Day 6

Transfer to Yesilbelde – Yesilbelde – Turgut – Selimiye

After another short morning transfer (30 minutes), you leave your driver at the top of the hill on the road to Yesilbelde, bypassing the town of Marmaris and enjoying awesome views over the bays, peninsulas and islands below. You rejoin the main road briefly, before turning onto the wonderful Bozburun Peninsula at Hisaronu. Here, the coast road is unforgettably picturesque, meandering its way between little-visited bays and paradise villages along the peninsula, often right on the waterside! Turgut village is a particular highlight, nestling in blissful seclusion just 1km or so inland. The whole landscape in this area is stunning, and your course around the peninsula is surely one of the trip highlights. Your hotel is very special- authentic Aegean experience, right on the waterside… The big draw here is the hotel restaurant- one of the best in the whole region!
Overnight Location: Hotel in Selimiye
Distance: 46km, 350m of ascent, 650m of descent
Meals (Guided tour): Breakfast, lunch, dinner
Meals (Self-guided supported tour): Breakfast, dinner
Meals (Self-guided tour): Breakfast only
Day 7

Transfer – Bozburun – Sogutkoy – Bayirkoy (Restaurant lunch) – Icmeler – Marmaris National Park

Today you explore the undeveloped and wild Bozburun Peninsula. This is a shorter day, and a well-earned rest after some challenging rides. Unless you are feeling fit and strong, you can enjoy the first section of our tour by car! Passing by Bozburun village, you head into the mountainous hinterland, climbing into the hills via Sogutkoy to Bayirkoy- a wonderfully picturesque place set in lush, green hills. After enjoying a restaurant lunch here and sampling the many varieties of honey that the region is famous for, you continue on one final climb that brings you out high above the coast once more and begin riding through the open pine forest. This section of the trip feels quite wild and isolated, and the beach resort of Icmeler will be a strange sight below! You continue onwards to the town of Marmaris, riding on the seaside promenade right onto the marina. From here, a delightful last section brings you to the Marmaris National Park, where you stay at one of the best boutique hotels in the region.
Overnight Location: Hotel in Marmaris
Distance: 28km, 200m of ascent, 650m of descent
Meals (Guided tour): Breakfast, lunch, dinner
Meals (Self-guided supported tour): Breakfast, dinner
Meals (Self-guided tour): Breakfast only
Day 8

Transfer – Koycegiz – Kaunos – Dalyan

From Marmaris, you start with a 40-minute transfer to the lakeside town of Koycegiz and embark on a fantastic tour around Koycegiz Lake with its incredible hot springs and mud baths- perfect for relaxing road-weary muscles! You ride through Sultaniye and Candir before stopping to explore the ancient city and admire the massive Lycian rock tombs at Kaunos. You finally arrive at the riverside and take a taxi boat across the water to arrive in Dalyan. Your base for the next days overlooks the clear blue waters of the Dalyan River, where you can often see freshwater turtles, amongst a host of wildlife that visits this natural haven. It's a paradise place and our hotel is in the very best position- an extensive layout with several gorgeous pools, bars, choice of restaurants, sauna and hamam complex, but it doesn't feel big and impersonal.
Overnight Location: Hotel in Dalyan
Distance: 42km, 570m of ascent, 570m of descent
Meals (Guided tour): Breakfast, lunch, dinner
Meals (Self-guided supported tour): Breakfast, dinner
Meals (Self-guided tour): Breakfast only
Day 9

Dalyan – Iztuzu – Dalyan

Iztuzu is one of Turkey's most important and environmentally protected beaches, and its 7km sandy strip is a crucial sea turtle nesting ground. This easy last day's ride gives you time to explore not just the beach itself, but the incredible scenery that surrounds it. If you prefer, however, we will organize a river taxi to take you down through the delta to the beach. It's also possible to take the riverboat one way, walk the 6km length of the beach, and cycle home from the road at the far end (your driver will wait there with your bikes). In the afternoon you can choose to explore the village, do a little shopping or simply relax and rest your weary muscles.
Overnight Location: Hotel in Dalyan
Distance: 26km, 500m of ascent, 500m of descent
Meals (Guided tour): Breakfast, lunch, dinner
Meals (Self-guided supported tour): Breakfast, dinner
Meals (Self-guided tour): Breakfast only
Day 10

Transfer to Dalaman Airport

Your last day together with your group - time to pack up bikes and enjoy a lazy breakfast on the riverside. You are transfered to Dalaman Airport for connecting flights. On request, it's also possible to drive you back to Bodrum or Izmir Airports too (supplement payable).
Overnight Location: None
Distance: None
Meals (All departures): Breakfast

Book Now
Aegean Coast Luxury Cycle Touring Price and Dates
Pricing for this guided biking tour along the Aegean Coast depends on whether you choose a guided, self-guided or supported self-guided tour.
The best time to travel to the Aegean region of Turkey for this biking tour is during the spring and autumn, however, for private groups, this tour is available all year long.
Private Aegean Coast Luxury Cycle Touring
Have your own private tour with just your group! Prices below are per person:
Guided Groups of 2+: $2,495 USD per person
Supported self-guided groups of 2+: $2,025 USD per person
Self-guided Groups of 2+: $1,575 USD per person
Notes:
The guided tour includes an English-speaking biking guide, as well as a fully equipped support vehicle with a driver-fixer
Supported self-guided tour includes support vehicle with knowledgeable English-speaking driver-fixer
Self-guided tour includes luggage transfers only
Book Now
Accommodation on Aegean Coast Luxury Cycle Touring
The accommodation on this tour is mainly based on superior boutique hotels. Hotels on this trip are boutique and offer modern conveniences that can make this trip more pleasant.
In some cases, the accommodation listed below may need to be substituted for other comparable accommodations.
Single Rooms and Solo Travelers
Rooms are double occupancy. You can pay a supplement of $325 USD to have a private room in a hotel where possible. Solo travellers may be required to pay a supplement.
Hotels on Standard Tour
Kirkinca Houses Boutique Hotel in Sirince
Enjoy this incredible stay in an 18th-century historical property where old-world rustic charm is very much still alive. Room service, a restaurant/bar, and beautiful rooms will ensure you're stay is nothing short of perfect.
Yedbilgeler Hotel in Camlik
Stay surrounded by sprawling wineries and rolling green hills at this superb hotel in Camlik.
Yalicapkini Boutique Hotel, Bogazici
Enjoy the never ending soundtrack of the Aegean Sea lapping the shore at this beautiful seaside boutique hotel featuring a outdoor pool and other top-tier amenities.
Club Pomalin Boutique Hotel in Oren
Want for nothing at this incredible hotel featuring mountain views, a beautiful terraced restaurant, and a lush garden.
Superb mountain and sea views as well as a refreshing outdoor pool make Elif Hanim Hotel the perfect place to unwind after a day of adventures.
Enjoy your stay at this beautiful hotel in Seilimiye.
Joya del Mar Hotel in Marmaris
Stay right in the sprawling Marmaris Milli Parki Reserve at this luxurious beachfront hotel featuring and array of modern amenities.
Dalyan Resort and Spa Hotel in Dalyan
This comfortable resort and spa hotel is set along the beautiful Dalyan River and features amenities such as an outdoor pool and beautiful restaurant.
What's Included in the Aegean Coast Luxury Cycle Touring?
Meals
The number of meals included depends on the tour type you choose.
Guided tour: 9 breakfasts, 8 lunches, 9 dinners are included.
Self-guided supported tour: 9 breakfasts and 9 dinners are included.
Self-guided tour: 9 breakfasts are included.
Accommodations
Accommodations for 9 nights are included. Accommodations before the tour and after are not included.
Transportation during the Tour
Transportation for you and your luggage is included throughout the tour, starting with pick-up from the airport in Izmir, ending with an airport drop-off in Dalaman. Any flights or transfers outside of this itinerary are not included. Private guided and group tours include the services of a fully-equipped support vehicle while self-guided tours include luggage transfers.
Also Included
English-speaking driver / fixer / experienced biking guide services (guided and supported self-guided tour)
Taxes
Support vehicle (guided and supported self-guided tour)
Luggage transfers
Not included
Flights to and from Turkey
Meals, drinks, or snacks not previously mentioned
Alcoholic or soft drinks during meals
Gratuities for tour guides or other staff if desired
Optional cafe stops
Entrance fees to historical sites and museums
Optional Extras
Single occupancy upgrades
Bike rental: $195 USD per person
Biking equipment rental:

Pannier rack: $25 USD
Women's saddle: $25 USD
SPD pedals: $25 USD
Frequently Asked Questions about Aegean Coast Luxury Cycle Touring
Middle Earth Travel started business in 2001, owned by some very experienced and established guides, determined to make a living doing what they like best: trekking tours. Over the years we expanded our area of expertise to archaeological, cultural and family tours and have become a leader in biking tours as well, but we still focus on small, private groups and personal guided or self-guided travelling experiences. We are licenced by the Turkish Tourism Ministry and registered by the Union of Turkish Travel Agencies.
Learn More
Is this tour for me?
We rate this tour as a 3 / 5. This tour is suitable for most riders. Daily distances of around 50km leave plenty of time for sightseeing and relaxing. Some sections are made of poor-quality tarmac and there is very little road traffic.
Ask a Question
Got any questions regarding the tour? Interested in promotions for groups or want to customize this tour to fit your needs? We are here to help you!
Ask a question