Hike the best trails of Kenai on this 8-day guided hiking adventure
Some of the best hiking in all of Alaska is in the Kenai Peninsula, and this guided hiking tour will show you the best of the trails in the Kenai.
Hike to wonderful viewpoints and masterpiece-worthy artistry on this eight-day Alaska's Kenai Peninsula Hiking Tour in Alaska's south. The scenery, painted with glaciers tucked in the mountains, flourishing rainforests, and rivers ebb and flowing with the landscapes, fused with the quirky coastal towns of Homer and Seward, make this exploration the type of memorable experience that explodes with both beauty and character.
This hiking tour will not only have you soaking in the myriad of remarkable sights as you explore Alaska's outdoor wonderland, but it will introduce you to a collection of local spots to eat and beach in Homer and Seward. Expect to experience a combination of relaxation and comfort as well as rugged expeditions on the Alaska's Kenai Peninsula Hiking Tour.
Highlights of the Alaska's Kenai Peninsula Hiking Tour
Enjoy a tasteful fusion of total comfort and intrepid explorations as you hike various spots by day and relax in a hotel by night.
Embark on a strenuous expedition that leads to the breathtaking, rewarding view of ice fields blanketing the land.
Spend leisurely evenings basking in the coastal atmosphere circling the quaint towns of Homer and Seward.
Opt to go on a bush plane adventure that will take you to Katmai and Lake Clark National Parks, the home of several brown bears.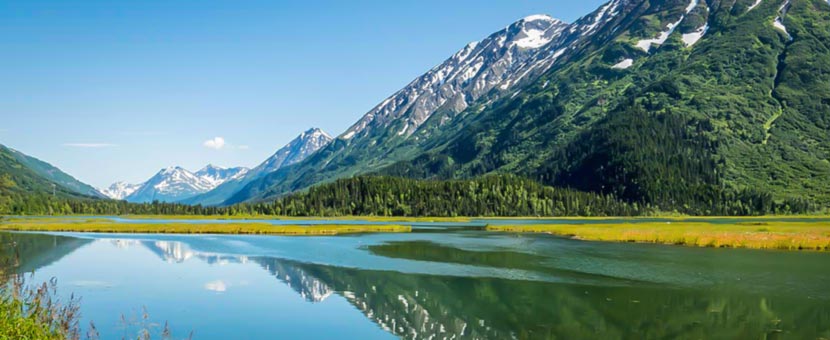 The Alaska's Kenai Peninsula Hiking Tour Itinerary
Day 1

Anchorage

Meet up with your guide at the airport and transfer to your hotel. Get to know your guide and other travelers during a meet and greet in the evening. Chat about the upcoming trip in detail and check out some of the optional activities that may be worth signing up for. Spend the rest of the evening exploring Anchorage at your own leisure.
Overnight Location: Hotel in Anchorage
Distance: None
Meals: None
Day 2

Travel to Homer

Hop in the air-conditioned van to start your journey to Homer. On average, the drive takes around 4.5 hours, but you will stop at worthwhile viewpoints and embark on a short hike en route. Notice the Chugach and Kenai Mountains, sprinkled with snow, jetting out of the sea, and the bodies of water—glaciers, rivers, sea, lakes—shimmering in enchanting blue hues as you travel. Hike up Summit Creek Trail and let the alpine lakes and tundra views enamor you. After making your way down the mountain, expect to stop in Kenai/Soldotna for a chance to grab any last-minute items. Continue to Homer, where the possibility of a short walk along Anchor Point Beach awaits you. Check into your hotel and relax.
Overnight Location: Hotel in Homer
Distance: 8 miles
Meals: None
Day 3

Hike in Kachemak Bay State Park

Tie up your hiking boots, hop in a water taxi and travel to Kachemak Bay State Park. Embark on a hike through Spruce groves, while waterfalls hum in the background, until you reach Grace Ridge. Expect your jaw to drop at the view of peaks upon peaks dotting the landscape ahead and below. Admire the glistening blue water dividing the towering mountains. Spend the rest of the day enjoying the quirky attractions in Homer, such as the Salty Dog Saloon.
Overnight Location: Hotel in Homer
Distance: 18 miles
Meals: None
Day 4

Bear Viewing, Bush Plane and Kayaking

Opt to hop into a bush plane with an experienced pilot for the ultimate bear-viewing experience. Travel across the Cook Inlet to Katmai and Lake Clark National Parks, where a huge number of brown bears live. It's possible to see around 25 to 40 bears during this exploration. Or you can decide to go on another adventure: rent a fat bike and enjoy a ride along the beach, hop in a kayak, embark on a little trip to Gull Island Old Seldovia, try out fishing. Spend the night in Homer.
Overnight Location: Hotel in Homer
Distance: None
Meals: None
Day 5

Kenai National Wildlife Refuge

After consuming breakfast, you will hop in the van and head to Seward. Expect to go on three short but pleasant hikes today—ones equipped with charming views. Go on a three-mile walk on the Vista Trail in the Kenai National Wildlife Refuge. Encounter a view of the turquoise Skilak Lake here. Enjoy pleasant treks to Russian River Falls and a walk amid rainforest to Tosina Beach. You may witness spawning salmon, eagles, and the occasional bear on these three walks. Arrive in Seward in the evening and check into your hotel on the harbour.
Overnight Location: Hotel in Seward
Distance: 3-6 hours
Meals: None
Day 6

Helicopter, Paddling or Relaxing

It's a choose-your-own-adventure day. Ask your guide to help you organize a kayak trip depending on your skill level. One amazing option includes riding a helicopter to Bear Glacier and paddling through icebergs. Or you can travel by boat to Kenai Fjords National Park for a day of viewing marine wildlife in their natural habitat. Lastly, you can always decide to take a day off of intrepid explorations and meander and relax in Seward instead.
Overnight Location: Hotel in Seward
Distance: Flexible
Meals: None
Day 7

Stunning Harding Icefield

Get ready for your last day in hiking boots. Embark on one of the most coveted hikes in the Kenai Peninsula: Harding Icefield Trail in Kenai Fjords National Park. The starting point at the sloping Exit Glacier is only the beginning of your magical journey through a winter wonderland surviving in the thick of the summer. After a strenuous trek through spruce forests and grasslands, come out to a magical view of ice fields blanketing the land. Chill out in Seward during the evening.
Overnight Location: Hotel in Seward
Distance: 9.7 miles
Meals: None
Day 8

Anchorage & Farewell

Before you say goodbye and get dropped off at the airport, you will stop at Alaska Wildlife Conservation Center en route from Seward to Anchorage. This non-profit organization cares for troubled, local wildlife.
Overnight Location: None
Distance: None
Meals: None

Book Now
The Alaska's Kenai Peninsula Hiking Tour Price and Dates
This guided hiking tour to Kenai is run as a fixed-departure tour where you'd be joining a group, however, custom private tours can be organized for those willing to travel with their group only (please contact us with your preferred date and the number of people in your group and we will create the itinerary just for you).

Prices below are per person:
Accommodation on The Alaska's Kenai Peninsula Hiking Tour
Expect to stay in two and three-star hotels on this hiking tour. Each accommodation offers amenities that will only help to elevate your comfort. You can also opt to save $420 USD per person by staying in a triple occupancy room with the members of your party.
Please note that some of the accommodation listed below may need to be swapped for other similar places.
Single Rooms and Solo Travelers
You can pay a supplement of $1,180 USD to have a private room in a hotel when travelling with your group.
Hotels on Standard Tour
Hotel Coast Inn in Anchorage
This is hotel is right near the airport. The rooms are clean and spacious and the staff is very friendly!
Land's End Resort in Homer
Located at the very end of Homer Split, this comfortable hotel rewards with beautiful views to the Kachemak Bay.
Hotel Breeze Inn in Seward
This modern and beautiful hotel right near the marina has everything you need to make your stay in Seward relaxing and comfortable.
What's included in The Alaska's Kenai Peninsula Hiking Tour?
Meals
You are in charge of purchasing your own meals and drinks.
Accommodations
Accommodations for 7 nights are included.
Transportation during the Tour
Transport for you and your gear is included from pick-up at the airport in Anchorage to drop-off at the airport in Anchorage. The water taxi to Kachemak Bay State Park is included too.
Also Included
An expert guide and driver throughout the entire trip
Entrance fees for all of the parks
Entrance fee for the Alaska Wildlife Conservative Center
All taxes
Not included
Flights to get to Anchorage
Meals and drinks
Personal necessities
Optional tour guide gratuity
Fishing license
Optional Extras
Additional activities available:

Fat bike rides
Bush flights to see bears
Day trip to Seldovia
Halibut fishing trip
Kenai Fjords boat tours
Sea kayaking rentals and tours
Alaska SeaLife Center
Helicopter tours
A guided ice climbing adventure

Additional night in Anchorage before or after the tour
Frequently Asked Questions about Alaska's Kenai Peninsula Hiking Tour
Ruby Range Adventure has been guiding visitors to the Yukon and Alaska for over 30 years. They are a Yukon-based wilderness tour operator providing an unmatched experience and a genuine love of the North in every trip they lead.
Ruby Range's guides are qualified to lead guests into the deepest wilderness and knowledgeable enough to explain the rich history of the communities that dot the landscape.
They recognize that their livelihood is based on the environment, so they work to protect the balance between man and nature by limiting group size and choosing eco-conscious excursions.
Learn More
Is this tour for me?
This tour rates as a 3 / 5. This hiking tour requires intermediate skill and ability. You will stay in comfortable accommodations throughout and have a lot of leisure time, but some hikes can be strenuous.
Local Guide
Ask a Question
Got any questions regarding the tour? Interested in promotions for groups or want to customize this tour to fit your needs? We are here to help you!
Ask a question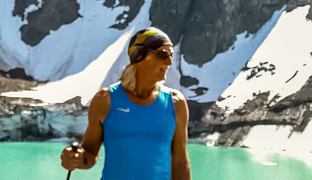 Stephan
Whitehorse, Yukon
Stephan is a trusted adventurer and a longtime guide with Ruby Range Adventure.
His love of the North and nature is what brought him into guiding over 25 years ago.
You can meet him on one of their canoe expeditions, on a sightseeing adventure or on a hiking trip- he does it all!
Q & A
Q:

What is the best part of guiding tourists in your region?

A:

Reconnecting guests with nature so they can recharge for their busy life back home. Making them aware of the environmental sensitivity of the North so they can understand the importance of protecting Yukon's wilderness and wildlife for future generations.

Q:

What are guests most surprised about when visiting your region?

A:

The pristine wilderness of the Yukon, its rich living history, its vibrant culture, stunningly unique geography, epic scenery, and wildlife. Also, the fact that the Yukon is almost twice the size of Germany, but moose still outnumber humans by far.

Q:

What is one local dish or drink that visitors absolutely have to try?

A:

Homemade Pemmican, it's Canada's oldest power bar made from dried meat or fish, dried wild berries, and tallow.

Q:

What do guests say about the tours you lead?

A:

Guests value my experience and vast local knowledge about Yukon and indigenous history and about the wildlife. They appreciate my professionalism and kindness and how I ensure every guest has a memorable trip experience.