Cycle the Alpe Adria Trail between the Austrian Mountains and the Italian Coast
The Alpe Adria Road Biking tour is an 8-day self-guided ride along a section of the Alpe Adria Trail. You'll be cycling the section of trail that runs from the Austrian border town of Villach all the way to coastal Trieste- crossing from Austria to Italy!
This cycling adventure features a wide variety of scenery as your ride from the spectacular mountains to the hilly coastal region of Italy. The majority of the rides are on quiet roads through gentle hills, but the tour begins with some big mountain climbs and epic views. You'll enjoy the local hospitality at the different historic towns and charming villages along your route, along with the unique cuisine of the region. This is the perfect tour for anyone looking for stunning scenery, interesting culture, amazing food, and a great ride!
Highlights of the Alpe Adria Road Biking
Ride through the spectacular Dolomites and conquer some of the big mountain climbs.
Cycle through the alpine forests, past lakes and charming villages as you ride the Austrian slopes.
Discover the beautiful Italian Fruili region as you cycle towards the Grado Peninsula.
Explore the fascinating Roman archaeological excavations in Aquileia.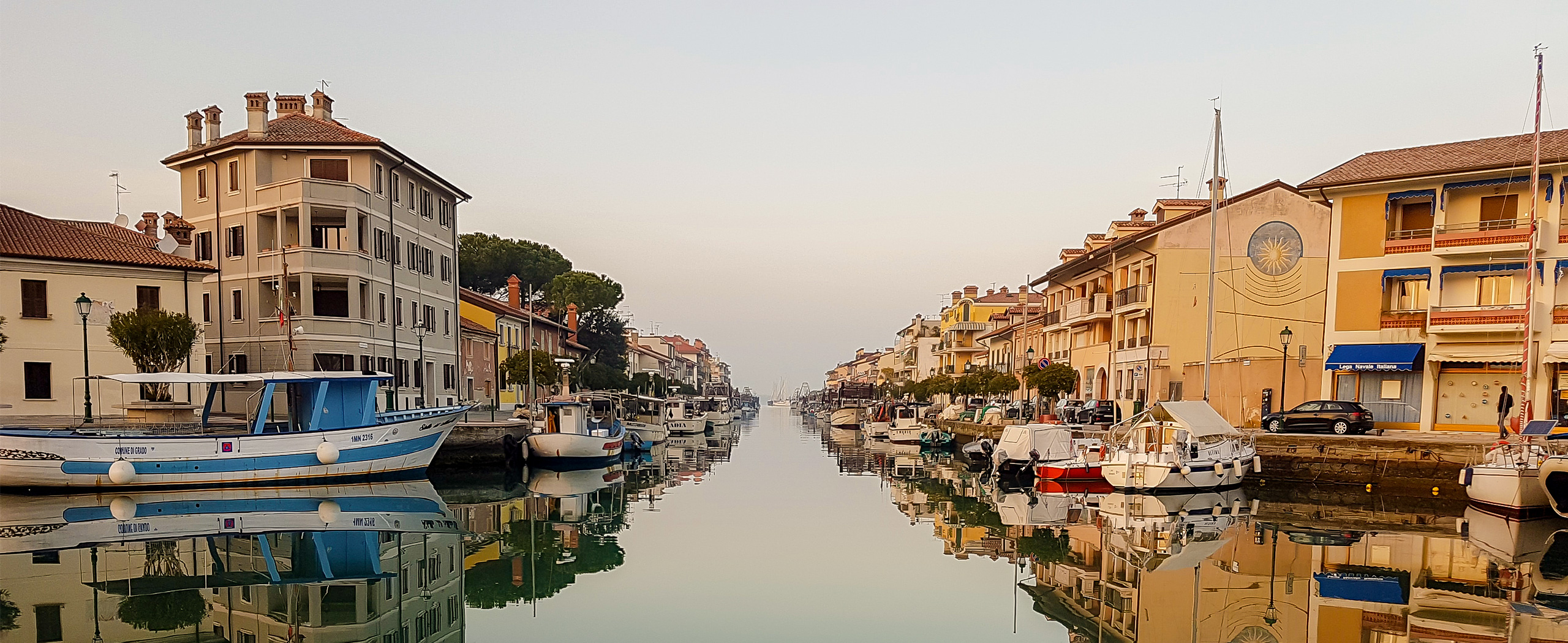 Alpe Adria Road Biking Itinerary
Day 1

Tour Begins in Villach

Arrive in Villach and check in to your hotel. Today is a great time to make sure your bike is prepped before your ride tomorrow.
Overnight Location: Hotel in Villach
Distance: None
Meals: None
Day 2

Ride into the Mountains

Begin the first ride of your tour from Villach and cycle through the charming villages along lake Ossiacher. Some highlights of today's ride will be the Ossiach Collegiate Church and the Steinhaus in Steindorf.

After a detour to Dratual, you'll finish your day with a big climb up the Gailtaler Alps and on to Tarvisio.
Overnight Location: Hotel in Tarvisio
Distance: 95 km, 1250m of ascent
Meals: Breakfast
Day 3

Cycle the Sella di Nevea Pass

Today you'll leave the small city of Tarvisio and begin your ride along the Val Rio del Lago. You'll cycle the Sella di Nevea Pass onto Kanltal and Pontebba.

There is one last big climb at the end of the day before you can enjoy the descent into Tolmezzo. You deserve a glass of wine after that one!
Overnight Location: Hotel in Tolmezzo
Distance: 90km, 1500m of ascent
Meals: Breakfast
Day 4

River Ride to Udine

Start your ride along the Tagliamento, which you'll need to cross a few times on your journey. Cycle through the forested hills into the Friulian lowland.

Your route will be through quiet valleys and historic villages on your way to Udine. Spend the evening exploring the frescos in this university city.
Overnight Location: Hotel in Udine
Distance: 90 km, 1500m of ascent
Meals: Breakfast
Day 5

Cycle to Ancient Aquileia

Today you'll be riding into the beautiful Italian region of Friuli-Venezia Giulia. You'll ride into the city of Cividale del Friuli, and explore the Colli Orientali del Friuli, which is well known for its vineyards. Ride through the hills and into the Karst landscape with its lagoons and waterways.

Your day ends in Grado/Aquileia. Find some delicious Italian food for dinner here.
Overnight Location: Hotel in Grado
Distance: 100km, 1420m of ascent
Meals: Breakfast
Day 6

Rest Day

Today you can spend the day relaxing at the beach or exploring historic Aquileia. Visit the ancient Roman archaeological site that earned its UNESCO World Heritage designation in 1998.
Overnight Location: Hotel in Grado
Distance: None
Meals: Breakfast
Day 7

Cycle the Grado Peninsula

Your final ride of the tour will be along the Peninsula from Grado and into the backcountry that crosses into Slovenia. You'll leave behind the rocky stone of the Karst and ride through beautiful woodland on your way to Trieste.

After a big day, treat yourself to another sumptuous dinner.
Overnight Location: Hotel in Trieste
Distance: 100km, 500m of ascent
Meals: Breakfast
Day 8

Departure

It's time to head home! Check out of your hotel and depart.
Overnight Location: None
Distance: None
Meals: Breakfast

Book Now
Alpe Adria Road Biking Price and Dates
This self-guided cycling tour in the Alps is run as a custom tour for your group and the price per person depends on the room type, as well as travelling season.
The best time to travel to Italy and Austria for this tour is June through September when the weather in the mountains is at its warmest. Note that this tour departs on Saturdays, Sundays, and Tuesdays and departures on other days are available on request for groups of 5 and more.
Private Self-Guided Alpe Adria Road Biking
Have your own private tour with just your group! Prices below are per person:

Low season (from April 24th to June 18th and from September 12th to October 3rd):
Price per person staying in a single room: $1,050 USD per person
Price per person staying in a double room (min 2 travellers): $825 USD per person
High season (from June 19th September 11th):
Price per person staying in a single room: $1,125 USD per person
Price per person staying in a double room (min 2 travellers): $875 USD per person
Book Now
Accommodation on the Alpe Adria Road Biking Tour
This tour is based in hotels. Hotels on this trip are 3 and 4-star and offer comfortable, inviting rooms. Your luggage transfer between hotels is included.
In some cases, the accommodation listed below may need to be substituted for other comparable accommodations.
Single Rooms and Solo Travellers
Rooms are double occupancy. You can pay a supplement of $250 USD to have a private room in a hotel where possible when travelling with your group.
Hotels on Standard Tour
Stroll the streets of the seventh-largest city in Austria and absorb the almost-eastern European vibes. Settle into your hotel for a good night's sleep.
Enjoy Tarvisio from the comfort of a local hotel.
After a big day of riding, this hotel welcomes you to rest and recuperate.
Enjoy a unique ambiance in this city that blends Italian, Austrian, and Slovene cultures. Take a tour of the piazza and sample all kinds of gourmet offerings.
Grado, an old fishing town built on a lagoon, consists of canals, delectable restaurants, impressive architecture, and a sandy beach.
Trieste welcomes you, and this nicely-appointed hotel makes your last day on the tour a memorable one.
What's Included in the Alpe Adria Road Biking?
Meals
7 breakfasts are included.
Accommodations
Accommodations for 7 nights are included. Accommodations before the tour in Villach and after the tour in Trieste are not included but can be added as a supplement.
Transportation during the Tour
Transportation for you and your luggage are included throughout the tour as outlined in the itinerary. Airport transfers are not included.
Also Included
Pre-planned route
Detailed documents, guides and route maps, and GPX tracks
Emergency telephone support hotline for the duration of the tour
Luggage transfer between hotels
Not included
Flights
Meals, drinks, or snacks not previously mentioned
Tourist hotel tax, payable each night at the hotels
Guide services
Airport transfers
Travel insurance
Optional Extras
Additional nights before the tour in Villach
Additional nights after the tour in Trieste
Single occupancy upgrades
Optional activities or excursions
Road Bike Rental (Bianchi Intenso Carbon – Veloce/Shimano 105 10 V or similar, subject to availability): $250 USD
Frequently Asked Questions about Alpe Adria Road Biking
Is this tour for me?
We rate this tour as a 5/5. You will cycle up to 100km each day for several days in a row on this tour, including steep mountain ascents. Confident cyclists will be able to get the most out of this tour.
Ask a Question
Got any questions regarding the tour? Interested in promotions for groups or want to customize this tour to fit your needs? We are here to help you!
Ask a question
SALE! Well, not yet.
Let me know when this trip goes on sale.
Notify me