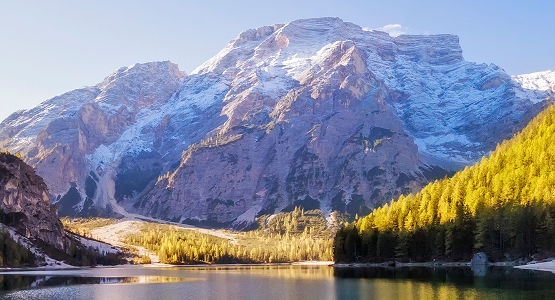 There's a certain romance to Italy, one full of beautiful beaches, amazing wine, and extraordinary culture. These Italy tours offer the best ways to experience all of this and more, using reliable local tour guides to lead you on guided tours or set up self-guided tours for you.
These tours offer incredible experiences like hiking through medieval coastal downs, climbing in the Dolomites, and sampling food and wine in Tuscany. Visit all of the historical sites that Rome has to offer, archaeological ruins like Pompeii and Herculaneum, and world-renowned art collections in Florence. Italy's people are warm and welcoming, guaranteeing an unforgettable adventure holiday.
Read More
Guided Tours in Italy
Booking a guided tour in Italy is the best way to get a completely immersive experience in this beautiful, culturally-rich country. Even though there are plenty of Italy guidebooks out there, and many of the tourist areas accommodate English speakers, that's just not the same as being with an experienced local guide. Guided tours in Italy can take you off the beaten path, into spectacular areas of the country seldom visited by tourists. Your guide will find the most reliable transportation, the best food, and the coziest lodges. And the best part is that you'll have made new friends for your next visit to Italy.
Self-Guided Tours in Italy
Self-guided tours in Italy are ideal for travelers who either want a little more freedom on the itinerary or who are looking for a little extra privacy. And you can get that freedom and privacy during your holiday while still allowing local tour companies to do all the hard work. There are countless pre-planned itineraries for self-guided tours in Italy, and you can also create your own custom itinerary. These self-guided tours will arrange lodging, transportation, and give you all the information you need to have an extraordinary private holiday.
Italy's Hiking Tours
Italy's hiking tours are spectacular, allowing for great diversity throughout the country. You can book guided hikes, self-guided hikes, private hiking experiences, and group hiking tours. In the lowland coastal areas of the country, one of the most popular Italy hiking tours is Cinque Terre. Scenic trails connect five small fishing towns, which can be done in a day or over a few days. Thousands of feet higher and further from the coast, you can book a selection of hiking tours in the Dolomites and greater Alps. These trekking routes range from short to long and easy to difficult. Stay in rustic huts high up in the mountains or take a day tour out of a shorter trail. There are more than enough options to accommodate your holiday itinerary.
Italy's Climbing Tours
Spectacular mountains provide an amazing backdrop for Italy's climbing tours. Italy has some of the best mountain guides in Europe, and you can rest assured they'll keep you safe, teach you things you didn't know, and leave you with lasting memories.
There are several great locations for climbing in Italy. The Dolomites and Alps immediately come to mind for many people, offering easy single-pitch climbing and more difficult multi-pitch climbing. The most experienced climbers can summit the Matterhorn from the Italian side, and guides will show you how.
Climbing in Italy isn't confined to the mountains, however. There are many other great Italy climbing tours along the coast as well. Finale Ligure, the Amalfi Coast, and San Vito Lo Capo combine great climbing and coastal tours.
Northern Italy Tours
Picture-book mountains and scenic villages define the types of northern Italy tours that you'll be able to enjoy. The beautiful forests, rugged peaks, and alpine meadows of the Dolomites are, quite rightly, high on everyone's list. This region is home to Italy's lake district, home of Bellagio, Lake Como, and Lake Maggiore. Northern Italy is also where you'll find the Italian Riviera, and amazing tours of Cinque Terre, Portofino, and Genoa. Closer to the interior of the country, book a guided tour of the famous Tuscany and Umbria regions. These are some of the most beautiful regions in Italy, covered in rolling hillsides, vineyards, and medieval towns.
Southern Italy Tours
Even more breathtaking views await you when you book southern Italy tours. As the northern half of the country, southern Italy is full of beautiful coastlines, rolling hills, amazing food, and remarkable history. Southern Italy is home to the picturesque Amalfi Coast, where guides are eager to take you on walking tours of these wonderful villages. Pompeii and Herculaneum are nearby, and you can tour these ancient cities destroyed by volcanic activity nearly 2,000 years ago. Further south, you can book a tour of Sicily, a large Mediterranean island full of history, culture, and amazing food.
Italy's scenery
The Italian peninsula is largely mountainous, dominating Italy's scenery. Towering limestone spires in the Alps and volcanoes further south make up many of the mountain landmarks. Old medieval towns cling to these mountainsides, full of old churches and houses surrounded by high walls. Green hills covered in farms and vineyards dominate the lowland areas, offering peaceful views in every direction. Italy's coastline is particularly remarkable, made up of ancient towns with beautiful beaches next to emerald-blue water. The entire country is amazingly picturesque, and every Italy tour that you sign up for will give you a taste of its spectacular scenery.
Book a tour in Italy for the experience of a lifetime! When you book a guided or self-guided tour in Italy, you can focus on relaxing and soaking in the stunning scenery around you, knowing that the details are well taken care of. Every corner of Italy will leave you with the experience of a lifetime!
Best Tours in Italy
Read More
Destinations