Visit the Dutch and Belgian capitals and everything in between on this self-guided cycling tour
Check two of Europe's most exciting capitals off your list on the 8-day self-guided Amsterdam to Brussels Cycling Tour.
This multi-country cycling adventure kicks of in the Netherlands' vibrant capital, Amsterdam, where you'll have plenty of time to soak up the city's top sights. From Amsterdam's 400-year-old Canal District to bustling Rembrandtplein square, the options for enjoying Amsterdam are endless. The tour then heads south through the Dutch towns of Gouda and Dordrecht before crossing over into the North Brabant province, where you'll enjoy a night in the 800-year-old town of Bergen op Zoom. Navigating the spellbinding landscapes of the cross-border De Zoom Kalmthoutse Heide natural park, you'll cross the border to Belgium, arriving in Antwerp, where you can celebrate with a crisp cold Bollekes at one of the capital's ancient breweries. The tour's final days have you tracing Belgium's scenic riverbanks as you make your way to Louvain and finally on to the capital, Brussels.
This tour blends the best of the Netherlands and Belgium's natural landscapes with exciting time spent in both country's dynamic capitals, balanced perfectly with visits and overnight stays in smaller rural towns and villages. Excellent 3- and 4-star accommodations along the way will ensure you stay refreshed and ready to seize each exciting day of cycling.
Cycle in two of Europe's most bike-friendly countries on the Amsterdam to Brussels Cycling Tour. Book your spot today!
Highlights of the Amsterdam to Brussels Cycling Tour
Check off two of Europe's most iconic capital cities as you cycle from Amsterdam to Brussels at your own pace.
Discover several historical towns in both Holland and Flanders as you pedal peaceful, rural cycling routes.
Soak up the warmth of authentic Brabant hospitality, popping into cozy cafes for a hot coffee and a slice of fruit tart.
Cycle through the enchanted Sonian Forest on the edge of Brussels, featuring 200-year-old beech trees and dense oak groves.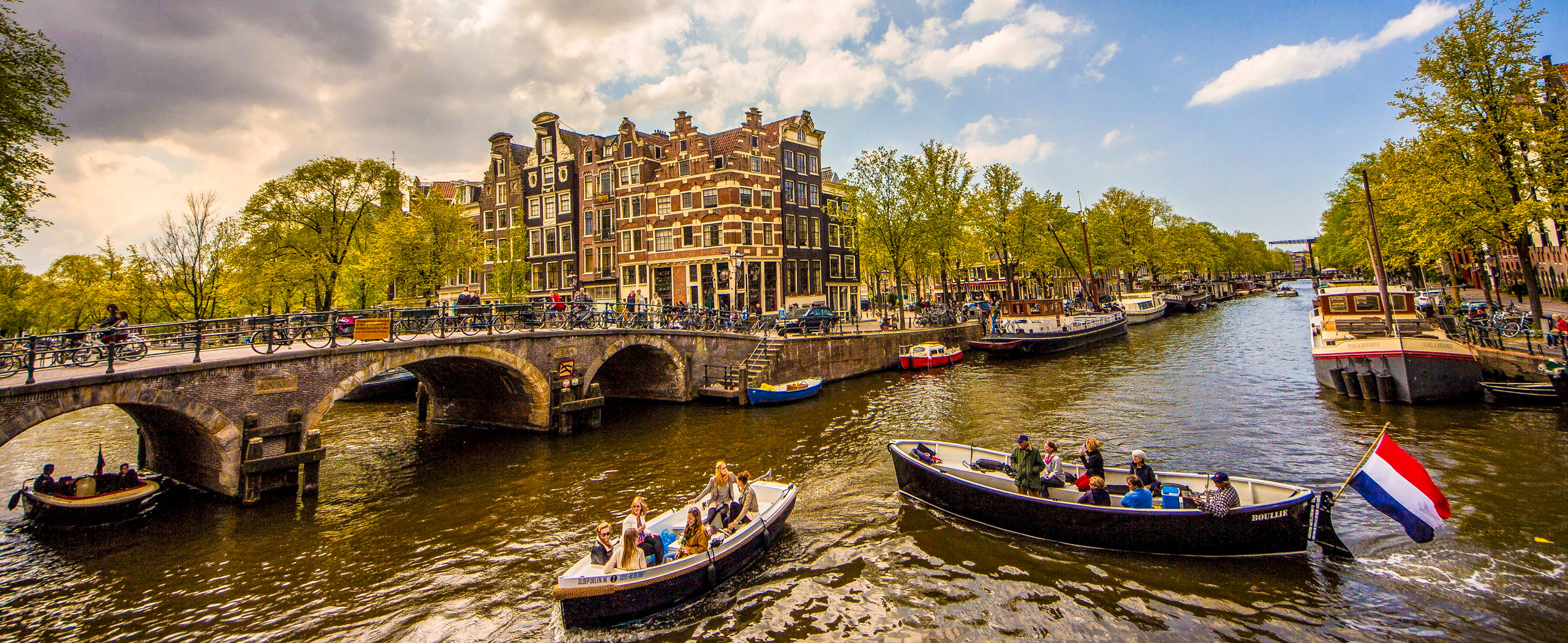 Amsterdam to Brussels Cycling Tour Itinerary
Day 1

Arrive

Your cycling adventure begins in one of the crown jewels of Europe, Amsterdam. You couldn't ask for a better start to your tour of the Netherlands and Belgium, and with so much to see and do in Amsterdam, you'll want to check into your accommodation and set out for your first taste of this magical city.

Peruse the 17th-century Canal District for a dose of history, or take in a lively street performance on Rembrandtplein, one of the city's most famous squares. Whatever you get up to on your first day here, finish it off with a good night's rest, as tomorrow you ride to Gouda.
Overnight Location: Hotel in Amsterdam
Distance: None
Meals: None
Day 2

Cycle the Groene Hart to Gouda

Fuel up with a hearty breakfast this morning as you prepare for the 75-kilometre ride to Gouda. Set out into the serene landscapes of the Netherlands' beautiful Groene Hart (Green Heart), where you'll uncover a scenic route flanked by peat meadows and low-lying polders.

With the promise of delectable cheese beckoning you forward, you'll cruise alongside several dazzling lakes and weaving canals as you ride to the medieval town of Gouda. Check into your accommodations here before setting out to explore the beautifully well-preserved old town center. Be sure to savour some of the town's local specialties, like the warm fresh syrup waffles, and of course, the famous Gouda cheese.

To break up this ride into 48 kilometres and 30 kilometres, you can book an extra night in Woerden.
Overnight Location: Hotel in Gouda
Distance: 75km
Meals: Breakfast
Day 3

Discover Kinderdijk: The Land of Windmills

Rise this morning, ready to seize another exhilarating leg of the tour as you set out into the Green Heart again, bound for Dordrecht. On the way, you'll encounter the charming village of Kinderdijk, a whimsical land of ancient windmills, many of which have stood there since 1740. Kinderdijk is a popular tourist attraction and offers authentic workshops based on the ancient windmills.

Back on your bike, continue the route to today's destination of Dordrecht, one of the country's oldest and most charming towns. After settling into your accommodation, stroll down to the pretty harbour district, where you'll be swept back in time by its well-preserved historical buildings.
Overnight Location: Hotel in Dordrecht
Distance: 60km
Meals: Breakfast
Day 4

Brabant Villages of the South

Depart Dordrecht this morning, pleasantly charmed by the village's warm hospitality, and ride to Bergen op Zoom, found in the province of North Brabant. Early on the route, you'll cruise past Biesbosch National Park, one of the few remaining freshwater tidal areas in Europe. Keep your eyes peeled for the diverse birdlife that calls Biesbosch home, then embark on a joyride suspended high above the Diep River as you navigate a one-kilometre-long bridge.

Arrive in Bergen op Zoom, where you'll find narrow streets, charming old squares, and hundreds of historical monuments, all over 800 years old. Be sure to take in the town's pride and joy known as Markiezenhof, an impressive late-gothic mansion built in 1485—a genuine encounter with Dutch history that you won't want to miss.
Overnight Location: Hotel in Bergen op Zoom
Distance: 63km
Meals: Breakfast
Day 5

Welcome to Belgium

Sprawling, dense woodlands characterize today's gorgeous route as you prepare to cross over into Belgium. On the way, pause in De Zoom – Kalmthoutse Heide, a beautiful cross-border natural park comprised of drift-sands and stretches of fragrant pine woods. Catch your breath here, taking in the spectacular scenery, before continuing along the Scheldekaaien, which will lead you into the heart of Antwerp, Belgium.

Quench your thirst after today's ride with a crisp cold Belgian beer at the famous De Koninck brewery, established in 1833, and best known for its Bollekes beer.
Overnight Location: Hotel in Antwerp
Distance: 50km
Meals: Breakfast
Day 6

Cycle Riverside to Louvain via Mechelen

Three of Belgium's beautiful rivers pave the way to lovely Louvain today. After a hearty breakfast, set out this morning, first on a brief stretch along the banks of the River Scheldt, then changing course to follow the River Rupel.

Approaching the banks of the third river of today's route, you'll cruise alongside the River Dijle, which guides you to the ancient town of Mechelen. Stop here for lunch and admire the gorgeous St. Rombold's Cathedral.

Press on to the university town of Louvain, where you'll find tonight's accommodation and a quaint town full of 14th- and 15th-century homes and buildings, perfect for exploring during an evening stroll.
Overnight Location: Hotel in Louvain
Distance: 60km
Meals: Breakfast
Day 7

Cycle the Belgian Brabant Hills and Sonian forest

Some may say the best was saved for last on this tour, and it's up to you to decide as you set off on your final ride through the rolling hills of Belgian Brabant and the dense Sonian Forest.

Enjoy this scenic route, which leads straight into the heart of Brussels—you'll soon discover a magical world of art, history, and exceptional food and drink. Check into your hotel, then set out to explore Brussels' famed Grote Market Square, where you'll delight in a selection of waffles, chocolate, and of course, fantastic beer.

Enjoy your final evening of the tour in this top-tier capital, soaking up one final evening on this epic cycling adventure.
Overnight Location: Hotel in Brussels
Distance: 39km
Meals: Breakfast
Day 8

Depart

With a week's worth of fabulous memories and some Belgian chocolate for the road stowed in your luggage, say farewell to Brussels this morning as your tour comes to an end. Check-out of your accommodation and head to the airport to depart.
Overnight Location: None
Distance: None
Meals: Breakfast

Book Now
Amsterdam to Brussels Cycling Tour Prices and Dates
This self-guided cycling tour is run as a fixed departure tour, and the price per person depends on how many people are in your group.

Prices below are per person:

Price per person staying in a single room: $1,025 USD per person
Price per person sharing a double room: $825 USD per person
Book Now
Accommodation on the Amsterdam to Brussels Cycling Tour
This tour is based in hotels. Hotels on this trip are 3- and 4-star and offer modern conveniences that can make this trip more pleasant. Guests may have access to amenities such as swimming pools, steam rooms, or private decks to lounge on. All accommodations are private rooms with ensuite bathrooms.
In some cases, the accommodation listed below may need to be substituted for other comparable accommodations.
Single Rooms and Solo Travellers
Rooms are double occupancy. You can pay a supplement to have a private room in a hotel where possible (please enquire about the pricing). Solo travellers may be required to pay a supplement.
Hotels on Standard Tour
What's Included in the Amsterdam to Brussels Cycling Tour?
Meals
7 breakfasts are included. Dinner can be added for a supplement of 163 EUR per person.
Accommodations
Accommodations for 7 nights are included. Accommodations before the tour in Amsterdam and after the tour in Brussels are not included but can be added as a supplement.
Transportation during the Tour
Luggage transportation during the tour is included (luggage is 1 piece per person and a max of 20 kilos). Your bike rental and airport transfers are not included but can be booked in advance as a supplement.
Also Included
Maps and route descriptions
Tourist information on all places of interest
Tourist taxes
Phone hotline (also available on weekends)
Not included
Bike rental
Guide services
Flights to Amsterdam
Flights from Brussels
Meals, drinks, or snacks not previously mentioned
GPS
Gratuities for tour guides or other staff if desired
Optional Extras
Bike rental:

Child bike: $75 USD per person
Hybrid bike: $95 USD per person
Premium Hybrid bike: $150 USD per person
E-Bike: $195 USD per person

Additional services or biking inventory:

Child seat for bike rental: $50 USD per piece
Helmet rental: $25 USD
GPS: $25 USD

Upgrade to half board (to include dinners): $175 USD per person)
Additional nights before or after the tour
Tour extension to split the second day (Amsterdam to Gouda) into two (note, that this would extend the duration of the tour by 1 night and would increase the prices of the optional extras): $75 USD person
Airport transfers
Single occupancy upgrades
Optional activities or excursions
Frequently Asked Questions about Amsterdam to Brussels Cycling Tour
Is this tour for me?
We rate this tour as a 2 / 5. You should be comfortable cycling distances of up to 75 kilometres in a day, with plenty of opportunities for breaks and refreshments. The terrain is a mix of hilly and flat.
Ask a Question
Got any questions regarding the tour? Interested in promotions for groups or want to customize this tour to fit your needs? We are here to help you!
Ask a question