Discover the ancient and natural wonders of Rome and central Italy
This stunning panorama of central Italy explores the volcanic and coastal landscapes that shaped ancient Roman life. The Ancient Rome and Beyond tour takes a different approach to exploring the Eternal City. Of course, you'll visit the must-see sights, including the Trevi Fountain, the Coliseum, Fori Imperiali, and Tivoli. After discovering the city, roam the amazing area that surrounds Rome.
You'll go on lovely walks on ancient roads to discover beautiful lakes, medieval, villages, and the spectacular cliffs of Sperlonga. Spend the day cycling in the beautiful Ninfeus Gardens and survey the land from the top of Monte Circeo. This guided tour will allow you to soak in the historically rich atmosphere and enjoy classic Italian cuisine. This is the perfect tour if you want to visit Rome but want to skip the museum and discover its impressive history and amazing landscapes.
Highlights of the Ancient Rome and Beyond
Cycle the Appia Antica Road as you explore medieval villages and abbeys by the sea.
Discover the natural spectacle of Monte Orlando, spend a day exploring the caves, and look for fossils by the sea.
Explore ancient Rome and its famous sites, including the Trevi Fountain and the Colosseum.
Experience quintessential Italian cuisine with a pizza-making class and wine tasting.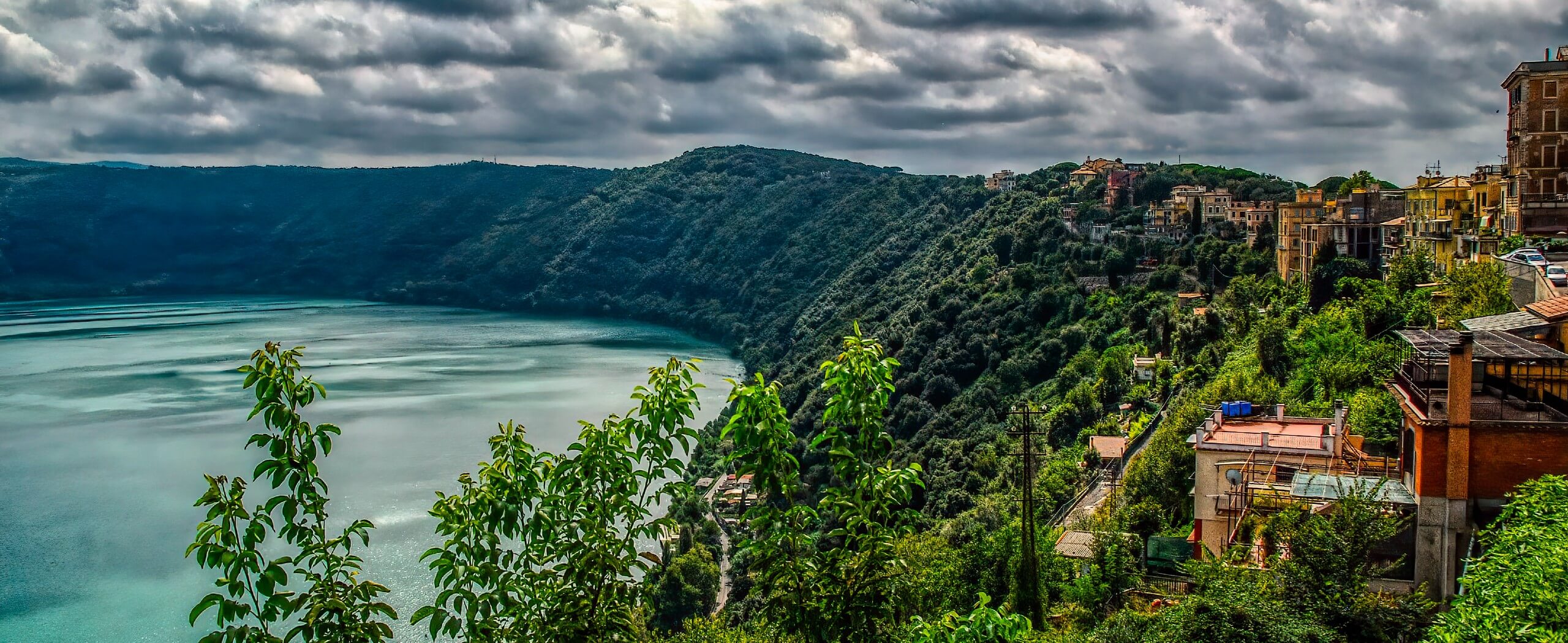 Ancient Rome and Beyond Itinerary
Day 1

Arrive in Rome

Your transfer will meet you at the airport in Rome and bring you to your hotel in Frascati. Celebrate your arrival with a wine tasting of the local DOCG wine and relax for the evening!
Overnight Location: Hotel in Frascati
Meals: None
Day 2

Visit Tuscolo, Nemi, and an Ancient Stone Pizza Oven

Your first day of touring begins at the archaeological site of the town of Tuscolo. Next you'll visit the summer residence of the Pope at Castel Gandolfo. Enjoy the incredible views of Lake Albano and the amazing Albano aqueduct.

Later, it's time for a stroll along the Via Francigena to the village of Nemi and beautiful Nemi Lake. Dinner tonight is provided by your Italian pizza-making class, where you'll cook your pizzas in an ancient stone pizza oven.
Overnight Location: Hotel in Frascati
Meals: Breakfast, dinner
Day 3

Historic Rome in a Day

On your way to the city center, you'll stop at the ancient Roman harbour of Ostia. Next, you'll spend an incredible day learning about the fascinating history of Rome as you visit famous archaeological sites like the Fori Imperiali and the Colosseum.

Enjoy a quintessential Italian dinner at a local trattoria in the city centre before returning to Frascati.
Overnight Location: Hotel in Frascati
Meals: Breakfast, dinner
Day 4

Gardens and Ancient Villages by Bike

Today you'll visit Monti Lepini to explore the stunning Ninfeus Gardens. Spend the day exploring by bike as you visit the Appia Antica Road, medieval villages, and abbeys in the area. Your cycling day ends at a viewpoint where you can soak in the spectacular scenery and view of the sea.
Overnight Location: Hotel in Frascati
Meals: Breakfast
Day 5

Monte Circeo Hike and Visit Villa Tiberio

Nature and history collide today on your hike on Monte Circeo, the famed landmark featured in Homer's The Odyssey. This beautiful mountain on the sea offers incredible views from the top where you can see the Pontine Islands and the Apennine Mountains.

After your walk, you'll visit the ancient site of Villa Tiberio and then enjoy dinner at the seaside.
Overnight Location: Hotel in Sperlonga
Meals: Breakfast, dinner
Day 6

Explore the Caves and Cliffs of Gaeta

Travel to Gaeta to visit the Monte Orlando Geosite, where you'll find the sea crashing into soaring cliffs and amazing caves. Look for fossils as you explore and visit the Grotta del Turcu and Montagna Spaccata Sanctuary.

In the afternoon, you'll have some free time to enjoy the beach or take an optional boat tour of the coast.
Overnight Location: Hotel in Sperlonga
Meals: Breakfast
Day 7

Explore Ancient Tivoli

Return to the magnificent city of Rome to continue your explorations of its ancient streets. You'll stop in Tivoli to visit the Villa Adriana where emperors resided. Wander the gardens and admire the spectacular, ancient fountains.

Continue your survey of Rome with a stop at the famous Trevi Fountain and an appetizer with a view from the Ara Pacis.
Overnight Location: Hotel in Rome
Meals: Breakfast
Day 8

Departure

Depending on the time of your flight, you can spend the morning strolling through the historic streets of Rome or you can book a trip to the Vatican Museum.

Your transfer will bring you to the airport to catch your flight.
Overnight Location: None
Meals: Breakfast

Book Now
Ancient Rome and Beyond Price and Dates
This guided tour of Rome is run as a private tour for your group and the price depends on the number of participants.

The prices below are per person sharing a double or a triple room:

Guided groups of 4-5: $1,850 USD per person
Guided groups of 6-7: $1,650 USD per person
Book Now
Accommodation on the Ancient Rome and Beyond Tour
This tour is based in standard hotels and bed and breakfasts. You'll enjoy the local hospitality and clean, comfortable accommodations throughout the tour. Rooms are based on double occupancy and have private washroom facilities.
In some cases, the accommodation listed below may need to be substituted for other comparable accommodations.
Single Rooms and Solo Travelers
Rooms are double occupancy. You can pay a supplement to have a private room in a hotel where possible (please enquire for the pricing). For groups smaller than 4 or solo travellers, ask us for a custom quote.
Hotels on Standard Tour
Explore the volcanic hills and ancient sites near Frascati on the outskirts of Rome. Your comfortable hotel is close to restaurants and amenities.
Your comfortable hotel in Sperlonga is the perfect base to explore the area, and has a great terrace for watching the sunset!
Stay in central Rome so that you can spend your free time wandering the ancient streets and soaking in the historic atmosphere.
What's Included in the Ancient Rome and Beyond Tour?
Meals
7 breakfasts and 3 dinners are included. All other meals, drinks, and alcoholic beverages are not included, except water.
Accommodations
Accommodations for 7 nights are included. Accommodations before and after the tour in Rome are not included but can be added as a supplement.
Transportation during the Tour
Transportation for you and your luggage is included throughout the tour, including transfers to and from the airport.
Also Included
English-speaking local guide
Excursions mentioned in the itinerary
Entrance fees to Scuderie Aldobrandini-Museo Diffuso del Vino di Monte Porzio Catone, Ostia Antica, Fori Imperiali, Coliseum, Gortta del Turco, and Parco di Villa Gregoriana-Villa Adriana
Pizza-making Class
Wine tasting
Bike rental with safety equipment in Ninfeus Gardens
Not included
Flights to and from Rome
Meals, drinks, or snacks not previously mentioned
Gratuities for tour guides or other staff if desired
Travel insurance
Optional excursions or activities
Visas if required
Anything not mentioned as included
Optional Extras
Additional nights before or after the tour
Single occupancy upgrades
Frequently Asked Questions about Ancient Rome and Beyond
Is this tour for me?
We rate this tour as a 2/5. This tour includes a lot of exploring on foot and a full-day bike tour. Walks are fairly easy, but you should be comfortable walking several hours per day at a relaxed pace.
Ask a Question
Got any questions regarding the tour? Interested in promotions for groups or want to customize this tour to fit your needs? We are here to help you!
Ask a question