Explore the magnificent Scottish Isles on this cycling tour
Come ye lads and lasses! Discover the beauty and magic of the incredible Scottish Isles in a special way on this Arran, Islay, and Jura Road Cycling Tour. Ride through picturesque villages and around the coast, experiencing the best of the region's natural beauty, wildlife, and culture.
Ferry between the islands of Arran, Islay, and Jura where incredible views of rugged coastlines, caves, and castles abound. Watch for whales, dolphins, and sharks from the ferry. Picnic on sandy beaches with inspirational sea views. Learn about migratory birds on the islands, and visit historic sites such as standing stones, forts from the Iron Age, and the Kildalton Cross. Take a boat tour through the Straits of Corryvreckan and see the famous whirlpool.
And what Scottish Isles tour would be complete without visits to the renowned whisky distilleries and a tutored whisky tasting? This guided adventure tour of the Scottish Isles is too amazing to pass up. Book your Arran, Islay, and Jura Road Cycling Tour today!
Highlights Of Arran, Islay & Jura Road Cycling Tour
Experience the beauty of the famous Scottish Isles of Arran, Islay, and Jura by bicycle.
Learn about the region's wildlife, especially many species of birds and sea creatures.
Take a boat ride through the Straits of Corryvreckan and see the famous whirlpool.
Visit the Scottish Isles well-known whisky distilleries and attend a whisky tasting.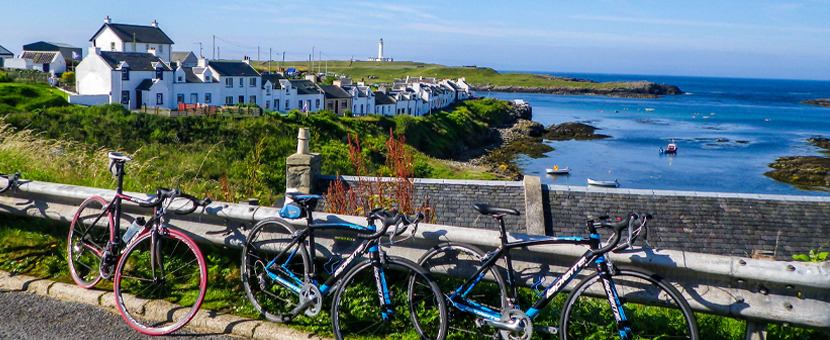 Arran, Islay, & Jura Road Cycling Tour Itinerary
Day 1

Ferry to Brodick on the Isle of Arran, Transfer to Lamlash

Meet your guide at the Glasgow Queen Street Station in the morning (by 11:00 AM) and travel to Ardrossan on Scotland's west coast. From here, a ferry takes you to the Isle of Arran. This island is often called, "Scotland in Miniature," because its varied landscapes resemble the landscapes of the Scottish mainland: wild and mountainous in the north, forests and farmland in the south. It takes 55 minutes to cross the Firth of Clyde, where the River Clyde meets the ocean, and you'll arrive on the Isle of Arran in Brodick, the main village on the island. The nearby village of Lamlash will be your home for the next two nights. Check in to your hotel and perform a bike check as a group. When all the bikes are fine tuned after traveling and ready for the tour, take a short warm-up ride before dinner.
Overnight Location: Hotel in Lamlash
Distance: N/A
Meals: Lunch, Dinner
Day 2

Cycle around Southern Arran Isle

Ride today around Arran Isle's southern half. While far less mountainous than the northern parts of the island, there will be some hills to conquer along the way. Head south from Lamlash, through Whiting Bay, and down around the southern end of the island. Stop to eat lunch at the cycling-friendly Velo Cafe in Lagg before the route turns northward again up the western side of the island. This section of the route offers many points of interest along the coastline. Watch for natural attractions such as crags, caves, and standing stones. You'll also get some great views of castles and the Scottish mainland in the distance. Loop around to return to Lamlash through Brodick.
Overnight Location: Hotel in Lamlash
Distance: 65 km
Meals: Breakfast, Lunch
Day 3

Cycle to Lochranza, Ferry to Kintyre Peninsula, Cycle to Kennacraig, Ferry to Islay

Cycle north today from Brodick. You'll pass Arran's highest peak, Goat Fell, as you wind along the road to Lochranza on the northern coast of the Isle of Arran. Take a ferry from here to Kintyre Peninsula of the Scottish mainland. Ride across the peninsula to the port at Kennacraig, where another ferry transports you to Islay island. On this two-hour crossing, pass the Isle of Gigha, then watch for dolphins, minke whales, and basking sharks as you travel through the Sound of Jura. When you arrive in Islay, cycle the short distance to your hotel, or choose to ride in the support vehicle if you prefer.
Overnight Location: Hotel in Bridgend
Distance: 52 km
Meals: Breakfast, Lunch
Day 4

Cycle around the Isle of Islay

Explore the famous Isle of Islay by bicycle today. Islay is an island in the southern part of the Hebrides archipelago. In the morning, transfer to the picturesque village of Portnahaven, on the southwestern coast of the island, where you will likely see grey seals in the harbour. Follow the western coast, keeping the Atlantic in sight, then descend toward Port Charlotte. Turn north again to come to a wild sand beach, which is the perfect place to enjoy your picnic lunch. After lunch, begin riding back to Bridgend. Before heading back to the hotel, stop at the wildlife reserve at Loch Gruinart. Visit the RSPB Centre (Royal Society for the Protection of Birds) to learn about Islay's importance to many species of birds, including migrating geese, lapwing, hen harrier, and corncrake.
Overnight Location: Hotel in Bridgend
Distance: 64 km
Meals: Breakfast, Lunch
Day 5

Explore Islay's Whisky Coast

Continue to explore Islay today with a somewhat shorter ride along quiet back roads through Islay's countryside. First, head south toward Port Ellen, and when you reach the coast follow the road to the left to tour Islay's famous "Whisky Coast". You'll pass Islay's three famous distilleries: Laphroaig, Lagavulin, and Ardbeg. Continue a short distance beyond these to see the famous Kildalton Cross, a monolithic Celtic cross estimated to have been carved in the 8th Century. Ride back to the cafe at Ardbeg for lunch, then spend the afternoon learning more about whisky with a whisky tasting. The length of today's route can vary depending on which distilleries you choose to visit. Then return to Bridgend to spend the night.
Overnight Location: Hotel in Bridgend
Distance: 45-65 km
Meals: Breakfast, Lunch
Day 6

Cycle Jura's Main Road, Boat Tour to the Gulf of Corryvreckan

On your final day of cycling, head to Jura for an exceptional finale to your tour. In the morning, ride from Bridgend to the nearby Port Askaig for a quick ferry ride to Jura that only takes a few minutes. Since the ferry to Jura is only a passenger ferry, the support van will stay behind on Islay. Once you reach Jura, cycle up the islands only main road, passing the distillery and many interesting historical sites, including forts from the Iron Age, standing stones, and ancient burial grounds. Follow the road up Jura's eastern coast to reach the village of Craighouse, where you will stop at a cozy cafe to eat lunch with lovely bay views. After lunch, continue riding up the coast, then leave Jura aboard a private boat. Travel first to the Gulf of Corryvreckan, famous for a whirlpool that is created by the changing tides, then continue on to return to the Scottish mainland. Spend the night in a coastal hotel where you'll enjoy 17 acres of beach and gardens, as well as a dinner to celebrate the successful completion of your tour. You may want to cap off the tour with a dram of local whisky from the Scottish Isles.
Overnight Location: Hotel in Arduaine
Distance: 56 km, 700 m of elevation gain
Meals: Breakfast, Lunch, Dinner
Day 7

Tour Adruaine Garden, Transfer to Glasgow

Take time this morning for a leisurely breakfast at your hotel, then take a short stroll around the nearby Arduaine Garden. Arduaine Garden is run by the National Trust for Scotland, and its strategic location on the Sound of Jura was chosen due to the warming effects of North Atlantic Drift. A surprising selection of plants from around the world grows here, and this leaves a beautiful last impression of your Scottish Isles tour. From here, the return trip to Glasgow takes nearly 3 hours. As you pass through Inverary and Loch Fyne, stop to eat lunch (not included), then plan to be back at Glasgow's Queen Street Station by 2:00 PM. Have a pleasant journey.
Overnight Location: None
Distance: None
Meals: Breakfast

Book Now
Arran, Islay, & Jura Road Cycling Tour Price and Dates
This guided biking tour in Scotland is run as a fixed-departure tour where you'd be joining a group, however, custom private tours can be organized for those willing to travel with their group only (please contact us with your preferred date and the number of people in your group and we will create the itinerary just for you).

Prices below are per person:
Accommodation on Arran, Islay, & Jura Road Cycling Tour
This tour is based in 3- and 4-star hotels and guesthouses. The accommodation for this tour is hand-picked from among the best and coziest country inns, guesthouses and small hotels available in the area.
All rooms have en suite facilities and you can choose between double or twin bed accommodations. Single rooms are also available for an additional fee, but please note that there is limited availability for single rooms.
Single Rooms and Solo Travelers
You can pay a supplement of $595 USD to have a private room in a hotel. Contact us and we can try to match up single travelers when possible.
Hotels on Standard Tour
The largest village on the Isle of Arran is also its oldest. The village is delightful, and it is also a perfect base for exploring the whole island.
This picturesque village on the island of Islay is a central location at the intersection of Islay's two main roads, ideal for any Islay adventure.
Stay in beautiful accommodation near lovely beach, surrounded by 17 acres of well looked after gardens.
What's included in the Arran, Islay & Jura Road Cycling Tour?
Meals
6 breakfasts, 6 lunches, 2 dinners, snacks along the route each day.
Accommodations
Accommodations for 6 nights along the tour. Accommodations before and after the tour in Glasgow are not included.
Transportation during the Tour
All transportation for you, your luggage, and your bike is included starting from Glasgow. This includes ferries and local boat transfers. Airport transfers are not included.
Also Included
Professional lead guide and assistant guide/support driver services
Ride support from vehicle
Entrance and admission fees during the tour
Not included
Bike Rental
Transportation to and from Glasgow
Insurance
Personal expenses
Anything not stated as 'included'
Optional Extras
Bike rental:

Hybrid bike - $225 USD per trip
Electric bike - $375 USD per trip

Extra night in Glasgow before or after the tour
Frequently Asked Questions about Arran, Islay, & Jura Road Cycling Tour
Wilderness Scotland is an Aviemore based company with a huge experience and big group of returning happy customers. This company, being one of the leading adventure travel organisers in the area, guarantees great service and unforgettable experiences!
Learn More
Is this tour for me?
We rate this tour as a 3 / 5. The elevation gain on this tour is minimal but expect to cycle on the roads for up to 65 km each day. For days that are too long, you can ride in the support vehicle.
Ask a Question
Got any questions regarding the tour? Interested in promotions for groups or want to customize this tour to fit your needs? We are here to help you!
Ask a question