Soak up the best of Chilean and Argentinian landscapes on an unforgettable 2-week Patagonia self-drive tour
The 16-Day Best of Patagonia Self-Drive Tour invites you to experience the wonders of Chilean and Argentinian Patagonia in a truly unique way. This self-drive tour in Chile and Argentina will allow you to spend over 2 weeks travelling through the spellbinding landscapes to take in the highlights of the region's best national parks. From self-driving to Torres del Paine, to the dazzling landscapes of the Chilean Lake District, to the towering Chilean Andes, this tour is perfect for adventurous nature lovers who don't want to miss a thing!
Travelling in a small group, you'll seld-drive independently through Patagonia in a rental car while an expert English-speaking tour guide gives you a daily briefing on the respective route. A pre-programmed GPS facilitates orientation, making for a seamless journey. Enjoy hand-picked comfortable accommodations in gorgeous settings where nature is never far out of reach and delight in the local cuisine of both Chile and Argentina every step of the way.
Strike the perfect balance of independence and support on this incredible partially-guided self-drive journey through the best landscapes of Chilean and Argentinian Patagonia.
Why should you choose a self-drive tour in Patagonia?
Organized self-drive tours in Patagonia are a great option for those who love to adventure independently and prefer sticking to smaller groups. Self-drive road trip means you will cover more distance and have a better opportunity to witness more highlights of one of the most scenic destinations on the planet.
Highlights of the Best of Patagonia Self-Drive Tour
Cruise the scenic Carretera Austral to reach Volcano Osorno and hike up to a lookout to drink in the views.
Explore the wonders of the incredible Pumalin, Quelat, Los Glaciares, and Torres del Paine National Parks.
Get behind the wheel and self-drive your way to explorations of Chile and Argentinian Patagonia with the support of a guide.
Witness world-famous glaciers, turquoise-blue lakes, thundering waterfalls, fjords, and so much more.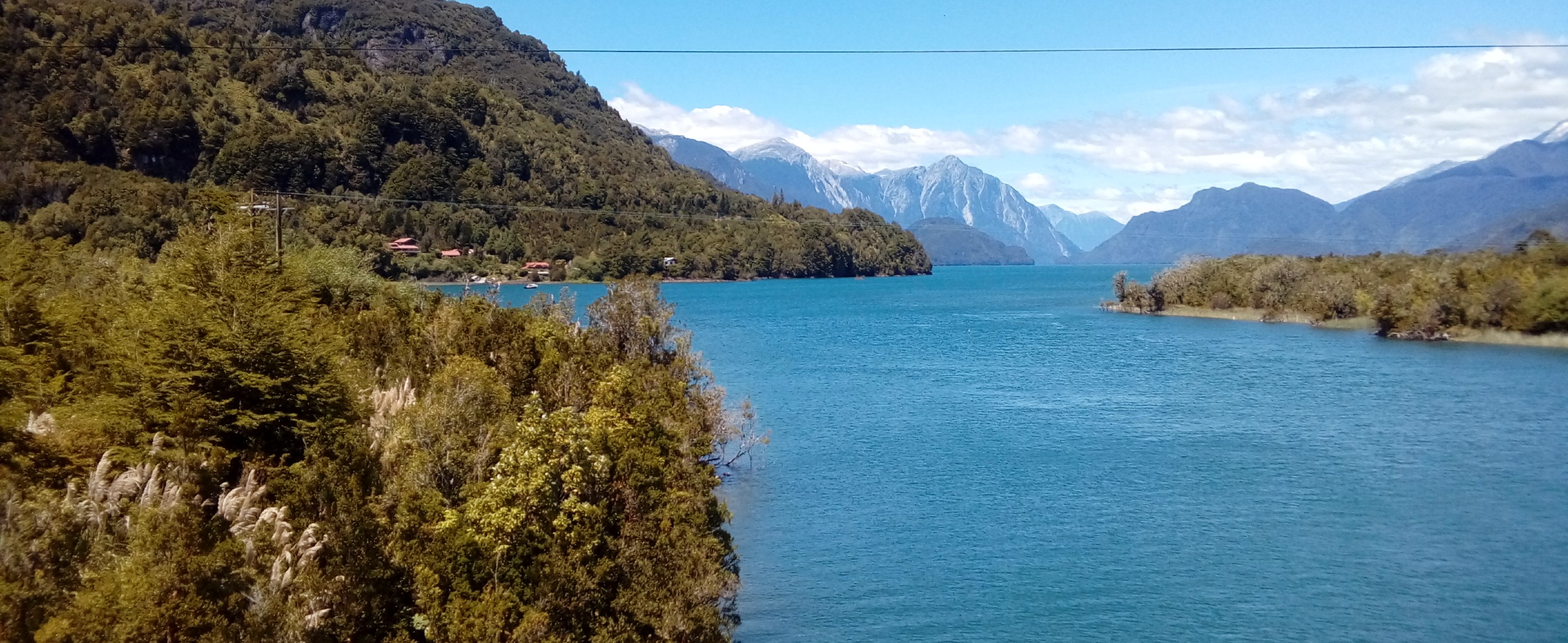 Best of Patagonia Self-Drive Tour Itinerary
Day 1

Arrival to Santiago

After pick-up at Santiago Airport, it's time to transfer to your hotel in the city's center. After checking in, you'll meet your fellow travelers who you'll be adventuring on this self-drive Patagonia tour with over the two weeks as you are all welcomed with Chile's national drink, the Pisco Sour!

Up next, you'll set out for a city tour to catch a glimpse of this metropolitan city. Among many other places of interest, you'll visit the historic old town, the market, the cathedral and the main square (Plaza de Armas). To top it all off, San Cristobal Hill rewards you with stunning views of the city and the towering Andes Mountains at the end of the day.
Overnight Location: Hotel in Santiago
Distance: None
Meals: None
Day 2

Fly to Puerto Varas

After breakfast, a transfer takes you back to the airport to board a southbound flight to the capital of the Lake District, Puerto Montt! Your tour guide will meet you on arrival and accompany you to the nearby lakeside town of Puerto Varas. Once here, you'll pick up your rental car and drive to your first hotel.
Overnight Location: Hotel in Puerto Varas
Distance: None
Meals: Breakfast
Day 3

Volcano Osorno

Today it's time to jump in the car and set out on your first trip in the Chilean Lake District. Se;f-driving along one of Chile's most beautiful scenic roads you'll witness spellbinding views of Llanquihue Lake as you head to the majestic Osorno Volcano. The road takes you up to its ski center and from here you'll enjoy impressive views of the surrounding landscape, sprinkled with lakes and volcanoes.

Later on, there is still time for a visit to All Saints Lake (Todos los Santos) and the Petrohué River Rapids.
Overnight Location: Hotel in Puerto Varas
Distance: 130km driving
Meals: Breakfast
Day 4

Pumalin National Park and Yelcho Lake

Today you'll rise early for the journey southwards on the Carretera Austral, the partially unpaved and scenic extension of the Chilean Pan-American Highway. Crossing the rugged Patagonian fjords on several ferry trips, you'll be led through untouched landscapes. Lush green vegetation paves the way on both sides of the road while you cross Pumalin National Park.

Eventually, you'll reach Chaitén, a small town under reconstruction after the unexpected eruption of the eponymous volcano in 2008. The locals tell a tale of the enormous efforts of reconstruction after finally being able to return to their village. In the early evening, you'll arrive at your beautifully situated accommodation on the shores of Yelcho Lake.
Overnight Location: Hotel in Yelcho Lake
Distance: 360km driving
Meals: Breakfast
Day 5

Rivers, Mountains, and Waterfalls on the Drive to La Junta

The journey continues on the Carretera Austral today. The road penetrates deep into the untouched wilderness, along the turquoise blue Frío River, glacier-covered mountain ranges, dreamy lakes and picturesque waterfalls. It is not far before you'll reach the cozy family hotel in the village of La Junta that welcomes you for the evening
Overnight Location: Hotel in La Junta
Distance: 100km driving
Meals: Breakfast
Day 6

Queulat National Park

From La Junta it is only a short drive to reach Queulat National Park this morning. Once here, you can opt to do a 3-hour hike to the viewpoint of the hanging glacier "Ventisquero Colgante" and its waterfall.

The journey then continues along the lush wild vegetation of the Carretera Austral southward. Huge Nalca plants and gigantic ferns cover the side of the road; dense forests, quiet fjords and snow-capped peaks form a fabulous primal landscape. The road winds in tight serpentines toward one of the highest passes of the Carretera Austral and drops abruptly until reaching the raging Rio Cisnes (the Swan River). Here, the impenetrable, evergreen rain forests clear and make room for the harsh southern Patagonian mountain landscape.

Through the wild and romantic valley of the Simpson River, you'll reach Coyhaique, the capital of the Aysen region.
Overnight Location: Hotel in Coyhaique
Distance: 250km driving
Meals: Breakfast
Day 7

Drive to Chile's Largest Lake: General Carrera

After leaving Coyhaique this morning, the road leads through an increasingly barren steppe landscape and crosses a deep valley, whose rock face shimmers in a variety of colors. The "Devil's Mountain Pass", offers a stunning panorama of the Cerro Castillo massif and up to the summits and glaciers of the northern ice field. In 1990, the Hudson volcano erupted here, suffocating the vegetation with its ash rain, damaging rivers and leaving a desolate ghost valley full of dead trees and vast marshes.

After passing the Rio Murta Valley, endless southern beech forests cover the area. Chile's largest lake, General Carrera Lake, is already visible at a distance. Its blue-green glacial water surface and often gigantic waves are framed by the bare, reddish-colored Pampa hills, massive ice fields and the radiant sky. You'll spend the next two nights on its shore in the small village of Puerto Río Tranquilo.
Overnight Location: Hotel in Puerto Río Tranquilo
Distance: 280km driving
Meals: Breakfast
Day 8

Witness Exploradores Glacier

Today you have the possibility to take in the wonders of the Exploradores Glacier. The access road offers impressive views on different glaciers, descending from the huge ice field San Valentin.
Overnight Location: Hotel in Puerto Río Tranquilo
Distance: Flexible
Meals: Breakfast
Day 9

Lake General Carrera and Perito Moreno

Along Lake General Carrera you'll approach the border with Argentina this morning. The climate changes slowly, and transforms the surroundings into a drier steppe landscape.

You'll pass the town of Chile Chico, which is also called the Chilean "Sun City" because of its surprisingly mild climate that allows the cultivation of cherries and other fruits. Shortly after crossing the border to Argentina, you'll arrive in the village of Perito Moreno.
Overnight Location: Hotel in Perito Moreno
Distance: 160km driving
Meals: Breakfast
Day 10

Fitz Roy and El Chaltén

Today you'll take on the legendary Ruta 40, which leads south through the seemingly endless steppe landscape of Argentine Patagonia. The milky-turquoise, glacier-melt water of Cardiel Lake adds color to the arid and monotone, yet for the same reason impressive landscape.

Departing Ruta 40, you'll drive westwards towards the Andes Mountain Range. On clear days, you will soon be able to see the fantastic rock formations of the Fitz Roy massif, before reaching the famous town of El Chaltén.
Overnight Location: Hotel in El Chaltén
Distance: 700km driving
Meals: Breakfast
Day 11

Exploring the Fitz Roy Massif

The Fitz Roy Massif is world-known among extreme mountaineers for its treacherous ice walls, unpredictable winds and ever-changing weather. Trekking enthusiasts from all over the world hike its many trails in the Los Glaciares National Park. We are no exception; today you have the possibility to embark on an exploration of the spectacular mountain scenery during an easy hike over several hours.
Overnight Location: Hotel in El Chaltén
Distance: Flexible
Meals: Breakfast
Day 12

Los Glaciares National Park and Perito Moreno Glacier

The journey proceeds this morning as you drive past the emerald-green Viedma Lake through the vast expanses of the Argentine pampa to El Calafate on Argentino Lake. Immediately after arrival, you'll continue on to Perito Moreno Glacier.

At the entrance to Los Glaciares National Park, the treeless pampa transforms almost seamlessly into dense southern forests. The southern arm of Argentino Lake appears turquoise compared to the milky gray walls of the southern ice fields. Floating icebergs testify the proximity of one of the most powerful natural events in the world; with unimaginable force, the Perito Moreno Glacier moves enormous masses of ice from the continental ice field down into the valley, which then crash thunderously from its white-blue walls into the lake.

The icy river moves up to 2 meters (6.5 ft) a day, making it one of the few growing glaciers in the world. You can watch this magnificent spectacle up close from a viewing platform.
Overnight Location: Hotel in El Chaltén
Distance: 300km driving
Meals: Breakfast
Day 13

Torres del Paine National Park

On Ruta 40, you'll cross the Argentine pampas one last time today on your way to the Chilean border. Back in Chile, it is time to self-drive to Torres del Paine National Park, another highlight of this trip.

Herds of guanacos on a gently undulating steppe landscape, rugged red-gray rock massifs, granite towers, milky-green shining lakes and gleaming white ice fields combine to form a magnificent panorama.
Overnight Location: Hotel in Torres del Paine
Distance: 340km driving
Meals: Breakfast
Day 14

Torres del Paine National Park

Today is at your leisure for Torres del Paine self-drive trips. Your guide will highlight various options and destinations, allowing you to choose whatever suits you best. In the evening, you'll meet again as a group at the hotel to share your experiences of the trip and reminisce during a farewell dinner!
Overnight Location: Hotel in Torres del Paine
Distance: Flexible
Meals: Breakfast
Day 15

Drive to Punta Arenas

Today's destination is Punta Arenas, Chile's southernmost city. On the way, you'll visit the nearby cave of Milodon. The German colonist Eberhard found the remains of the primitive "Milodon" animal, whose life-sized statue can be visited once here.

A short drive then leads through Punta Arenas where you can see the historic Strait of Magellan, separating the mainland from Tierra del Fuego. If the weather permits, you can even see the island on the horizon!
Overnight Location: Hotel in Punta Arenas
Distance: 310km driving
Meals: Breakfast
Day 16

Flight back to Santiago

Finally, it is time to say goodbye to your fellow travelers and tour guide after an exhilarating self-drive tour of Patagonia. The last ride of the journey leads to the airport of Punta Arenas, where you can drop off your rental car. You can choose to continue your journey from Punta Arenas or take a flight back home via Santiago.
Overnight Location: None
Distance: None
Meals: Breakfast

Book Now
Best of Patagonia Self-Drive Tour Price and Dates
This guided tour to Patagonia is always run as a fixed-departure tour where you'd be joining a group, however, you'll be sharing your rental vehicle with your group only.

Important! All the departures below are with a German-speaking guide.

The prices below are per person:
Accommodation on the Best of Patagonia Self-Drive Tour
This tour is based in 2-3-star hotels that offer modern conveniences that can make this trip more pleasant.
In some cases, the accommodation listed below may need to be substituted for other comparable accommodations.
Single Rooms and Solo Travelers
Standard rooms are of double occupancy and those wishing to have single rooms can pay a supplement of $1,128 USD.
Standard Hotels
What's Included in the Best of Patagonia Self-Drive Tour?
Meals
15 breakfasts on this tour are included.
Accommodations
Accommodations for 15 nights are included.
Transportation during the Tour
This tour includes all the transfers mentioned, as well as the rental vehicle starting from Day 2 and ending on Day 16. Flights on this tour are not included.
Also Included
Car Rental:

F2 category vehicle (SUV, Nissan XTrail or similar)
Collision Damage Waiver insurance ($240 USD deductible; exceptions to coverage apply)
Airport charge
Unlimited mileage
Second driver

Guide services
Not included
Meals not noted as included
Travel insurance
Visa fees
Entrance fees (around 150 USD per person in total)
Fuel
Optional Extras
Extra nights before or after the tour
Frequently Asked Questions about Best of Patagonia Self-Drive Tour
In Andes Nativa, their name says it all. Their highest priority are authentic travel experiences in Chile, where the mighty Andes Mountains are a steady companion. NATIVA represents the pristine and fragile, worthy of protection.
Learn More
Is this tour for me?
We rate the Patagonia Self-drive Tour tour as a 2/5. There are no strenuous activities involved in this tour, however, you should be comfortable with driving for numerous hours almost daily and spending time on your feet while sightseeing.
Ask a Question
Got any questions regarding the tour? Interested in promotions for groups or want to customize this tour to fit your needs? We are here to help you!
Ask a question