Argentina Tours
Sign up for one of these incredible Argentina tours and you'll get a South American adventure that you will never forget! Argentina is a land of bustling cities, remote glaciers, gauchos, llamas, and high mountain peaks – including the tallest in South America. No matter how you choose to see the country, Argentina tours will have you immersed in a land and culture that will leave you wanting more.
Travel to Argentina
Travel to Argentina is a fairly straightforward experience, as the country is known to be one of the best gateways to South America. If you are looking to experience all of the natural and cultural beauty that it has to offer, consider taking a look at the various Argentina tours on offer.
By booking these tours, you can cycle through the driest desert in the world, walk across glaciers at the end of the Earth, and watch for wildlife while hiking in lush jungles. Pick an adventure that's right for you, be it a guided group tour, a private guided tour, or a custom self-guided tour. Experienced guides put your safety and enjoyment at the top of their priority list. The most difficult decision left to you will be deciding between Patagonia, the Atacama Desert, Buenos Aires, and Argentina's many other amazing destinations!
When is the Best Time to Visit Argentina?
The best time to visit Argentina depends largely on where you want to travel to and what activities you are looking to do. Argentina is a large, diverse country that features a range of landscapes and climates, so the best time to visit Argentina depends on which regions you plan to explore. Here are a couple of things to consider when deciding upon the best time to visit Argentina:
-The Andes Mountains are best explored during the dry season (April to October). At this time the weather is cool and dry, with clear skies and low humidity; this makes it a great time for hiking, trekking, and other outdoor activities.
-If you want to visit Argentinian Patagonia, the shoulder seasons of October to November and March to April are the best times to do so. The weather during these windows is cooler and drier, with fewer crowds and lower prices than you would typically experience in the high season.
-For those looking to visit Buenos Aires and other parts of Argentina's central region, the spring (September to November) and fall (March to May) are the best times to go. The weather at these times is mild and pleasant, making it the ideal time to explore.
Ultimately, there is no best time to visit Argentina as it depends on your personal preferences and the specific activities you want to take part in. No matter when you do decide to travel to Argentina, be sure to check weather forecasts and plan your trip accordingly, especially if you plan on heading into the mountains.
Argentina Map
Argentina is a fairly large country with a variety of different landscapes, which can make it difficult to visualize. We've put together this Argentina map to give an overview of the entire country with the hopes of helping you plan your next adventure: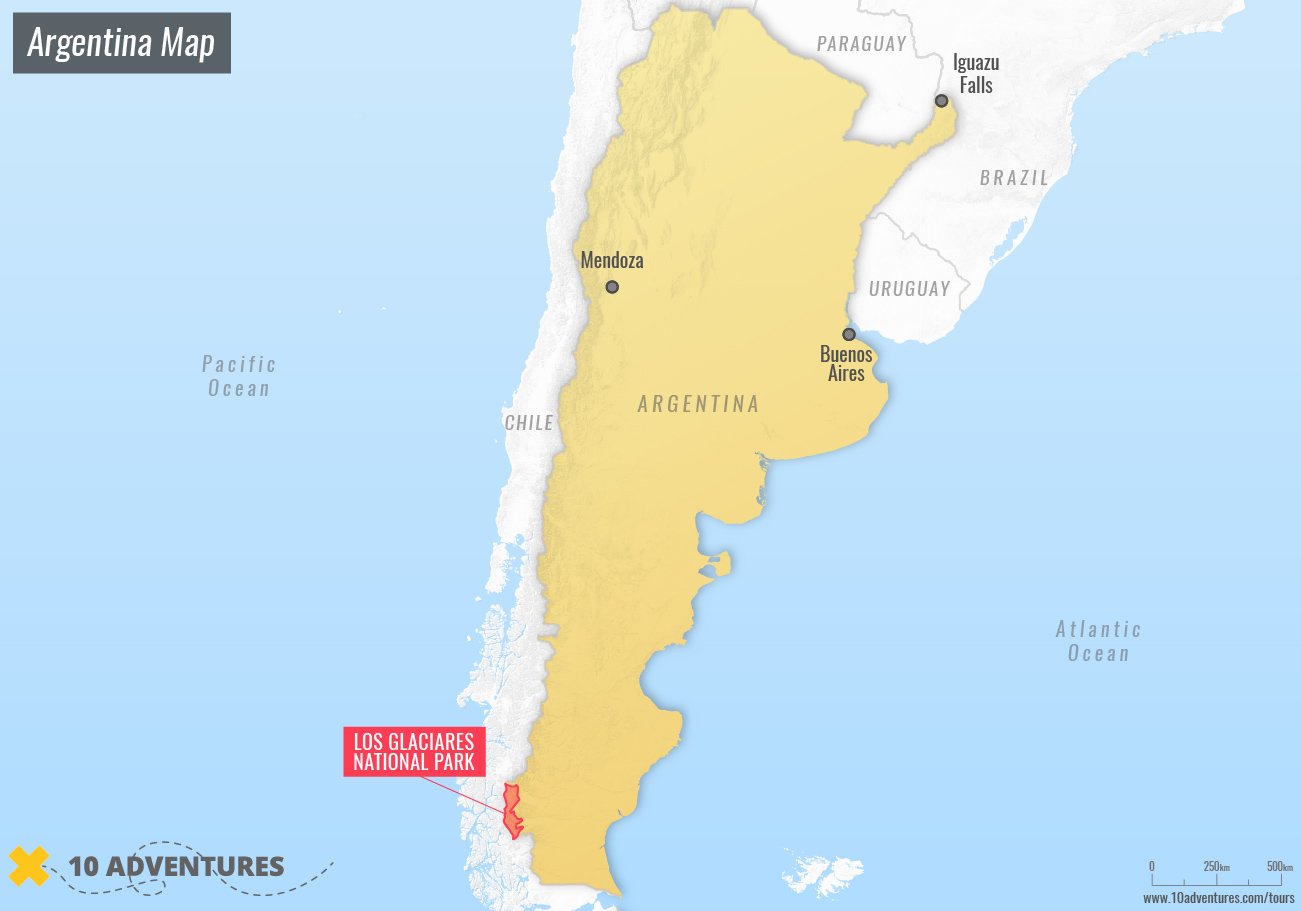 Types of Adventure Tours in Argentina
With a landscape this diverse, you can certainly expect to find a number of different adventure tours in Argentina to explore them! Check out this collection of outdoor activities that can be undertaken when traveling to Argentina:
Hiking Tours in Argentina
From day hikes around Buenos Aires to multi-day treks in the Andes Mountains, there are plenty of spectacular hiking tours in Argentina that are waiting to be experienced. If you have your heart set on exploring Patagonia, you will definitely want to book one of these epic hiking tours in Argentina!
Cultural Tours in Argentina
Featuring a unique blend of European and Indigenous cultures, there is no shortage of amazing experiences to be had when visiting Argentina. From the Quechua people in the Andes to the historic bustling streets of Buenos Aires, find your perfect adventure in this list of cultural tours in Argentina.
Self-Drive Tours in Argentina
Feel like getting behind the wheel and controlling your own adventure? Book one of these epic self-drive tours in Argentina to fully experience all that the wild landscapes there have to offer!
Frequently Asked Questions About Argentina
Is Argentina worth visiting?
When it comes to the question is Argentina worth visiting, the answer is a resounding yes! Known to be one of the best gateways to South America, Argentina is home to bustling cities, rugged mountains, stunning waterfalls, and vibrant wildlife.
Is Argentina friendly to foreign travelers?
Argentina is a very friendly country for foreign travelers and expats alike, with citizens of many countries being able to enjoy the benefits of a 90 day visa-free stay.
Do they speak English in Argentina?
While Spanish is the official language of Argentina, many Argentinians are able to speak at least some English.
How many days do you need in Argentina?
When it comes to the length of your adventure in Argentina, 14 days should be enough to visit many of the country's highlights.
Can you drink tap water in Argentina?
Tap water is safe to drink in most parts of Argentina, including Buenos Aires. Make sure to check with hotel/restaurant staff if you are unsure of the water quality.
Argentina Tour Highlights
Iguazu Falls
Iguazu Falls is a waterfall system located on the border of Argentina and Brazil. It is one of the largest and most spectacular collections of waterfalls in the world, with a total of 275 individual falls spread out over a distance of nearly two miles.
One of the most unique aspects of Iguazu Falls is their sheer size and power, as the falls are up to 269 feet tall and have a flow rate that can reach over 62,000 cubic feet per second. The sound of the falling water can be heard from miles away, and the mist and spray from the falls create a unique and beautiful rainforest ecosystem that is home to a wide variety of plants and animals.
In addition to the falls themselves, Iguazu National Park, which encompasses the falls, is home to a wide variety of wildlife, including over 2,000 species of plants, 400 species of birds, and many different types of mammals, reptiles, and amphibians. The park is also home to several indigenous communities and has a rich cultural history.
Perito Moreno Glacier
The Perito Moreno Glacier is a unique natural feature that is located in the Patagonia region of Argentina, South America. It is one of the few glaciers in the world that is still growing, and is easily accessible to visitors, who can walk along a series of specially constructed walkways and platforms that allow them to get close to the glacier and experience its size and power firsthand.
One of the most unique aspects of the Perito Moreno Glacier is its size. It is one of the largest glaciers in South America, with a surface area of over 250 square miles and a height of over 240 feet. The glacier is constantly moving, and its movements create a series of cracks and fissures that give it a distinctive and dramatic appearance.
Find Other Amazing Adventure Tours in South America
Take the first step towards a private travel experience, customized just for you.
Join our newsletter
Get a weekly dose of discounts and inspiration for adventure lovers
Showing 1 to 20 of 29 adventure tours
What travellers say
Why
book

with 10 Adventures?
Your trip. Your way.
Make lifelong memories with the people you care about most. We specialize in custom & private active travel experiences.
Travel made easy.
Spend your time making memories, not planning them. Enjoy a stress-free vacation and leave the trip logistics to us.
You matter to us.
No bots here. A real human is always a click or a call away to ensure you get the adventure of your dreams.
Travel authentically.
Immerse yourself in the destination with highly-vetted, local tour operators who love to showcase where they live.