Spend 8 days cycling Bruges, the coast, and Flanders Fields on this guided tour
Discover the natural beauty, history, and charm of West Flanders on the 8-day self-guided Best of West Flanders cycling tour.
This cycling adventure begins and ends in the charming town of Veurne before setting off up the North Sea coast, where you'll take in the gorgeous seaside town of Ostend before continuing through several tiny villages along the coast. Next, you'll navigate the picturesque landscapes of the Meetkerkse Moeren nature reserve, leading you to the "the Venice of the north," Bruges. Delight in the cobbled streets and magnificent medieval architecture of beautiful Bruges before continuing to Roeselaere, Kortrijk, and historical Ypres (Leper). In Ypres, you'll get lost in a world of fascinating military history, with visits to the In Flanders Fields Museum, the Passchendaele Memorial and more. The tour then completes with a final ride back to Veurne, where you'll spend your final evening of the tour immersed in the charm of the lovely old town.
Accommodations along the way are hand-picked 3 and 4-star hotels that reflect the unique ambience of each stop along the tour. Comprehensive route maps and notes allow you to focus on enjoying each day without the hassle of planning each ride. Merge your passion for cycling with your passion for history on the Best of West Flanders Cycling Tour. Book your spot today!
Highlights of the Best of West Flanders Cycling Tour
Cycle the majestic landscapes of West Flanders, pedalling the beautiful coast and sprawling green pastures.
Encounter fascinating military history with visits to the In Flanders Fields museum and the Passchendaele Memorial.
Visit incredible Belgian cities and towns, like Bruges, Ostend, Kortrijk, and historical Ypres.
Discover a history buff's Mecca in Lijssenthoek where 11,000 international soldiers are laid to rest.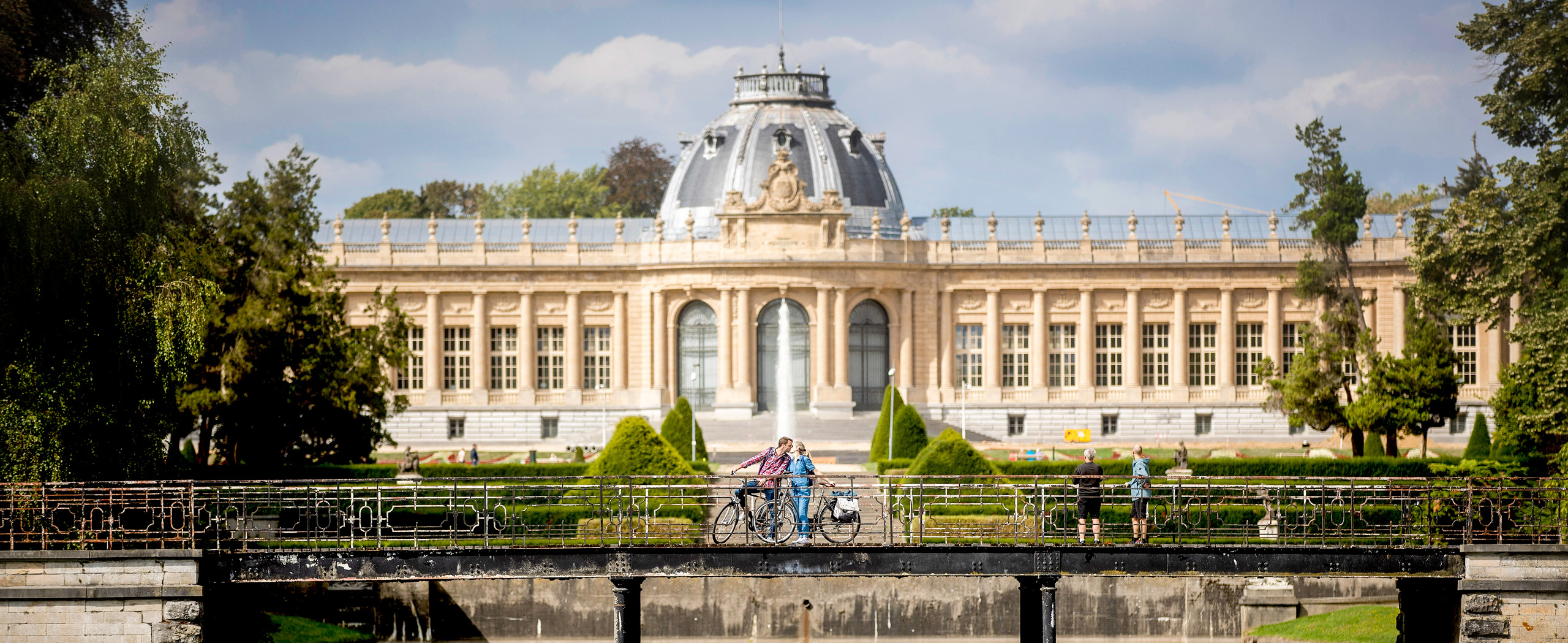 Best of West Flanders Cycling Tour Itinerary
Day 1

Arrive

Your cycling tour of West Flanders begins in the lovely town of Veurne. Check into your accommodations here, then set out to explore the charming Old Town, making sure to check out the town's market square. It's regarded as one of the most beautiful in all of Belgium!
Overnight Location: Hotel in Veurne
Distance: None
Meals: None
Day 2

Cycle the North Sea Coast to Ostend

Set those wheels in motion for your first ride today, heading out along the gorgeous North Sea coast towards Ostend. On the way, hop off your bikes to take in the popular beach resort, Koksijde, a former beacon for sailors at sea. You'll then continue the route to Nieuwpoort, where you can learn about the Dutch-Spanish battle of 1600.

Arriving in the resort town of Ostend, you'll settle into your accommodations here and enjoy a lovely evening by the sea.
Overnight Location: Hotel in Ostend
Distance: 44km
Meals: Breakfast
Day 3

Ride to Beautiful Bruges

Today's route is short and sweet, allowing for ample time to explore beautiful Bruges! On the way, you can stop in Stalhille for a fascinating look at the works of master craftsman Antonie Demonie, famous for his glassblowing and basket weaving.

Then, continue the route through the serene landscapes of the Meetkerkse Moeren nature reserves, where you'll spot a wide range of majestic birds. Press on to Bruges, where you'll find a maze of cobblestoned streets lined with impressive medieval architecture.

Enjoy your evening in the picture-perfect city of Bruges, which many call "the Venice of the north."
Overnight Location: Hotel in Bruges
Distance: 38km
Meals: Breakfast
Day 4

Cycle the Woods of Houtland to Roeselaere

Today's ride has you setting out into the enchanted woodlands of Houtland on a scenic route peppered with country estates and ancient castles.

Oostkamp-Pedsteen, Raepenburgh, and Lakebos are all excellent places to hop off your bike to explore before pressing on to today's destination, Roeselare.
Overnight Location: Hotel in Roselaere
Distance: 58km
Meals: Breakfast
Day 5

Cycle the Rhodesgoed Woods to Kortrijk

Poplars, willows, oak, and cherry trees pave the way to Kortrijk this morning as you set off on a spellbinding ride through the Rhodesgoed Woods.

Continue through lovely pastoral lands, with the River Leie as your guide to Kortrijk. Settle into your accommodations, then head out to explore the town's medieval Broel towers and the impressive St. Anthony's Church.
Overnight Location: Hotel in Kortrijk
Distance: 35km
Meals: Breakfast
Day 6

Cycle to Leper via Menin

Return to tracing the pretty banks of the River Leie this morning as you ride to the border town of Menin, the final resting place for thousands of German soldiers buried here at the War Cemetery. Continue this fascinating encounter with history as you proceed to the Passchendaele Memorial in Beselare, continuing on foot to the Tyne Cot Cemetery.

Continue to your accommodations in Leper (Ypres), where you'll discover the famous In Flanders Fields museum and several other historical military sites of importance.
Overnight Location: Hotel in Leper
Distance: 42km
Meals: Breakfast
Day 7

Lijssenthoek and Ride to Veurne

The final leg of the tour invites you to embark on yet another intriguing encounter with history as you ride to Lijssenthoek this morning. As a former location of massive wartime hospitals, Lijssenthoek marks the final resting place of over 11,000 soldiers from over 30 countries. Check out the visitor center here for a comprehensive overview of the site before continuing to Poperinge for a dose of art!

Hop off your bikes in Poperinge to take in the works of the Hops Museum and savour a crisp cold Belgian beer before continuing the ride to Veurne.

Enjoy the final evening of the tour back in Veurne, enjoying a farewell dinner as you toast to an epic week of cycling in Belgium!
Overnight Location: Hotel in Veurne
Distance: 58km
Meals: Breakfast
Day 8

Departure

Your cycling tour of West Flanders comes to an end this morning following breakfast. Check out and head to the airport to depart.
Overnight Location: None
Distance: None
Meals: Breakfast

Book Now
Best of West Flanders Cycling Tour Prices and Dates
This self-guided cycling tour in Belgium is run as a custom tour for your group and the price depends on the kind of room you prefer.

Prices below are per person:
Price per person staying in a single room: $1,075 USD
Price per person sharing a double or a twin room: $750 USD
Book Now
Accommodation on the Best of West Flanders Cycling Tour
This tour is based in hotels. Hotels on this trip are 3 and 4-star and offer modern conveniences that can make this trip more pleasant. Guests may have access to amenities such as swimming pools, steam rooms, or private decks to lounge on.
In some cases, the accommodation listed below may need to be substituted for other comparable accommodations.
Single Rooms and Solo Travellers
Rooms are double occupancy. If you are a solo traveller or you prefer a single room, the required supplements are included in the listed prices.
Hotels on Standard Tour
What's Included in the Best of West Flanders Cycling Tour?
Meals
7 breakfasts are included. If you prefer, you can upgrade to half-board (add 5 dinners to your package).
Accommodations
Accommodations for 7 nights are included. Accommodations before the tour and after the tour in Veurne are not included but can be added as a supplement.
Transportation during the Tour
Luggage transportation during the tour is included. Airport transfers are not included but can be booked in advance as a supplement.
Also Included
Maps and route descriptions
Routes in digital format
Tourist information on all places of interest
Tourist taxes
GPS tracks available upon request
Phone hotline (also available on weekends)
Not included
Guide services
Flights
Any ferry crossings
GPS
Travel insurance
Visas if required
Meals, drinks, or snacks not previously mentioned
Entrance fees and excursions
Gratuities for staff if desired
Optional Extras
Bike rental:

Hybrid bike: $175 USD
E-Bike: $250 USD

Upgrade to half board (include 5 dinners): $195 USD
Additional nights before or after the tour
Airport transfers
Bike theft insurance:

Hybrid bike insurance: $25 USD
E-Bike insurance: $50 USD

Single occupancy upgrades
Optional activities or excursions
Frequently Asked Questions about Best of West Flanders Cycling Tour
From the flat northwest of Flanders to the hills in the south, Belgian Biketours will help you
discover beautiful Belgium. Ride pasts farms and charming homesteads, sit down on pristine
terraces in town squares, visit historical markets after cycling, and of course enjoy a Belgian
beer (or several). No need to be a trained cyclist, the best parts of Belgium can be discovered
by anyone willing to pedal for them. Cruise past the reservoirs of Bütgenbach, Robertville and
Eupen, ride the Hoge Venen-Eifel nature park with its dense forests, or ride through lovely
Wallonia. It's all yours to discover!
Learn More
Is this tour for me?
We rate this tour as a 2/5. You should be comfortable cycling distances of up to 60km in a day with plenty of opportunities for breaks and refreshments. The terrain is almost entirely flat with some gentle hills, making for a pleasant ride.
Ask a Question
Got any questions regarding the tour? Interested in promotions for groups or want to customize this tour to fit your needs? We are here to help you!
Ask a question