Cycle around the wild and wonderful northeastern Sicily on this biking tour
Explore the northeastern part of Sicily on two wheels on this 8-day guided biking tour. This adventurous circuit includes everything from coastline cruises to riding up to the summit of Europe's largest—and most active—volcano. Get your fill of Sicilian culture and history in the quaint villages each evening and spend your days riding over landscapes that rival your screensaver.
This biking tour starts at the seaside in Messina, from where you'll ride to the northeastern tip of Sicily. Over the next couple of days, you'll climb the hills in the area and cruise alongside the gorges of the Alcantara river, getting to know the natural history of the region. The adventure-packed tour ends with an excursion to the peak of Mount Etna, a UNESCO world heritage site. If you're able to ride up to 50km per day and want a taste of Sicilian countryside (and pizza!), this tour is for you!
Highlights of the Biking in Sicily
Discover the rocky, forested, lake-filled landscapes by bike.
Learn about the area's history with a ride up to an ancient fortress.
Channel Sicilian fairy-tale vibes in the gorges of the Alcantara river.
Dive into exploring the volcanic craters at the top of Mount Etna.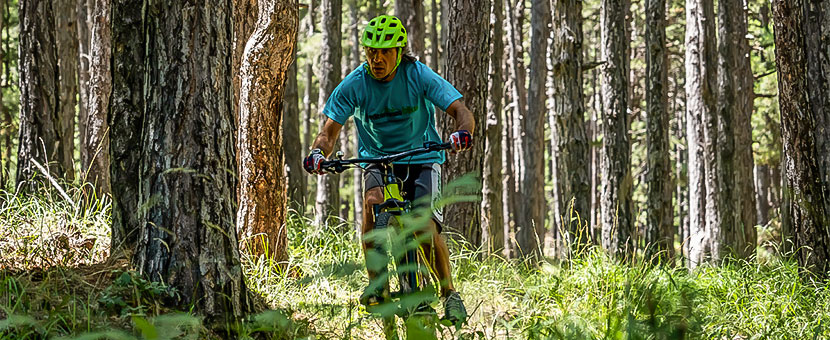 Biking in Sicily Itinerary Tour
Day 1

Arrival and Night in Messina

On the first day of this tour, you'll be met at the Catania airport and transferred to Messina in northern Sicily. You have a free afternoon here to admire the Gothic and mythological features found all over the historical centre. Indulge in some Sicilian pizza tonight to fuel up for tomorrow's adventure!
Overnight Location: Hotel in Messina
Distance: None
Meals: Dinner
Day 2

Cycle Along the Coast to Torre Faro

After breakfast, get ready to explore the stunning coastline of northern Sicily. Ride along a flat and paved road that hugs the coast until reaching the Capo Peloro reserve comprised of two gorgeous seaside lakes in the town of Ganzirri. Continue on to Torre Faro at the northeastern tip of the island to hop off the bikes and take a beach walk before heading back to Messina for the night.
Overnight Location: Hotel in Messina
Distance: 25 km, 20 m of ascent, 20 m of descent
Meals: Breakfast
Day 3

Climb to Forti Umbertini

Jump back in time as you climb up to visit Forti Umbertini, an ancient fortress built in the 1800s. You'll get familiar with the hills around Messina as well as its culture on today's excursion.
Overnight Location: Hotel in Messina
Distance: 36 km, 600 m of ascent, 600 m of descent
Meals: Breakfast, Dinner
Day 4

Ride the Peloritani Ridge

On day 4, take a transfer up to Dinnammare atop the hills of Messina. From there, you'll ride an ancient military route with panoramic views, Peloritani ridge, which overlooks the sea. The ride starts heading downhill near the end of the excursion, ending up in Fiumedinisi, a quaint town in the heart of a nature reserve. Rest your cycling legs in the transfer to a cozy chalet in Etna for the night.
Overnight Location: Chalet in Northern Etna
Distance: 30 km, 300 m of ascent, 800 m of descent
Meals: Breakfast, Dinner
Day 5

Cycle Between Sicilian Villages

The (mostly) downhill route today between two villages offers gorgeous views of Sicilian landscapes and passes the river Alcantara. Your group will stop at the Gurne dell'Alcantara to enjoy a packed lunch and bask in the beauty of these idyllic natural pools. After the ride, you can choose to visit the nearby village of Taormina or just head back to the chalet in Etna.
Overnight Location: Chalet in Northern Etna
Distance: 50 km, 200 m of ascent, 1,400 m of descent
Meals: Breakfast, Lunch, Dinner
Day 6

Bike Around Etna!

Get ready to ride at new heights on today's path around Etna. You'll traverse from the north to the southwest for 35 km at an altitude of 1700 m, stopping for a packed lunch midday. The group will spend the night at a rifugio in southern Etna.
Overnight Location: Refuge at Southern Etna
Distance: 35 km, 800 m of ascent, 650 m of descent
Meals: Breakfast, Lunch, Dinner
Day 7

Ascend to Mount Etna

Saving the most explosive for last! On mountain bikes, the group will ascend towards the top of Mount Etna, Europe's largest volcano. Meet up with a volcanologist who will guide you to the summit on foot. Enjoy a packed lunch and take your time admiring the volcanic formations and unprecedented views from the peak of this UNESCO world heritage site. Upon arrival at the base of the volcano, you'll be transferred to Catania for dinner and a well-deserved rest.
Overnight Location: Hotel in Catania
Distance: 16 km (hiking), 1,000 m of ascent, 1,000 m of descent
Meals: Breakfast, Lunch
Day 8

Farewell

Enjoy breakfast with your group, share your favourite memories of the past week, and pack up. You'll be transferred to the airport in Catania to catch your plane and rest your legs!
Overnight Location: None
Distance: None
Meals: Breakfast

Book Now
Biking in Sicily Tour Price and Dates
This guided biking tour in Sicily island is always run as a private tour for your group only and the price depends on the number of people in your group.

Prices below are per person:
Guided Groups of 2-3: $1,995 USD per person
Guided Groups of 4-5: $1,450 USD per person
Guided Groups of 6: $1,295 USD per person
Guided Groups of 7+: Prices on request
Book Now
Accommodation on Biking in Sicily Tour
Hotels on this trip are 2- and 3-star, and offer modern conveniences that can make this trip more pleasant. Please note, you will spend two nights in a chalet that offers dorm rooms as sleeping accommodation. Rooms are double occupancy, and single travelers will pay a supplement.
In some cases, accommodation listed below may need to be substituted for other comparable accommodations.
Single Rooms and Solo Travelers
You can pay a supplement of $175 USD to have a private room in a hotel while traveling with your group. Please note that single rooms are not available in chalets.
Hotels on Standard Tour
What's included in the Biking in Sicily Tour?
Meals
7 breakfasts, 3 lunches, and 5 dinners are included.
Accommodations
Accommodations for 7 nights along the tour are included.
Transportation during the Tour
Transport for you and your luggage are included. Airport transfers before and after the tour are included too.
Also Included
Bike rental
Excursion to top of Etna
City taxes
Services of guide/driver
Not included
Flights to and from Sicily
Drinks during the meals
Entrance fees to museums and archeological sites
Anything not mentioned as "Included"
Personal expenses
Insurance
Optional Extras
Upgrade to e-bike: $125 USD
Frequently Asked Questions about Biking in Sicily
Since 2005, Mediterranea Trekking has offered excellent trekking, biking, and sailing tours in Sicily. The tour operator employs an experienced team of licensed and professional guides. Mediterranea Trekking maintains sustainable practices to lessen its impact on the environment and provide guests with an eco-friendly experience. 
Learn More
Is this tour for me?
We rate this tour as a 3 / 5. You should be fit enough to cycle up to 50 km daily. It is possible to customize the trip to reduce the difficulty for your group.
Ask a Question
Got any questions regarding the tour? Interested in promotions for groups or want to customize this tour to fit your needs? We are here to help you!
Ask a question