Explore the Amazon rainforest of Bolivia on this guided tour
The Bolivian Amazonia Tour is an exhilarating chance to immerse yourself in the wonder of Bolivia's Amazon jungle, one of the most incredible regions on the planet. The jungle is packed with rare wildlife and plants, and it's just waiting for you to explore!
The Bolivian Amazonia Tour reveals a wild world waiting in Bolivia. The bustling city of La Paz will seem far behind as you journey into thick forest, down into swampy wetlands, and up into bird-filled trees. You'll walk under trees filled with howler monkeys, paddle over swamps of alligators, and spot anacondas hiding in the brush.
Build your own log raft and then jump into the river to swim with pink dolphins while the sun sets overhead. For a brave nature enthusiast, the Amazonia Journey is the adventure of a lifetime! Spend evenings tucked into rainforest lodges as the forest thrums around you, and then wake up to spot macaws in the treetops above.
From capybara to caiman, the Amazonia Journey is a once in a lifetime chance to see the legendary ecosystem of the Amazon of Bolivia.
Highlights of the Bolivian Amazonia Tour
Get deep inside the Amazon rainforest of Bolivia, full of exotic wildlife and plants.
Trek out into the wetlands and search for massive anacondas hiding in the brush.
Swim in the warm Yacuma river in the company of native pink river dolphins.
Relax in rainforest lodges underneath trees of monkeys and near rare rainforest animals.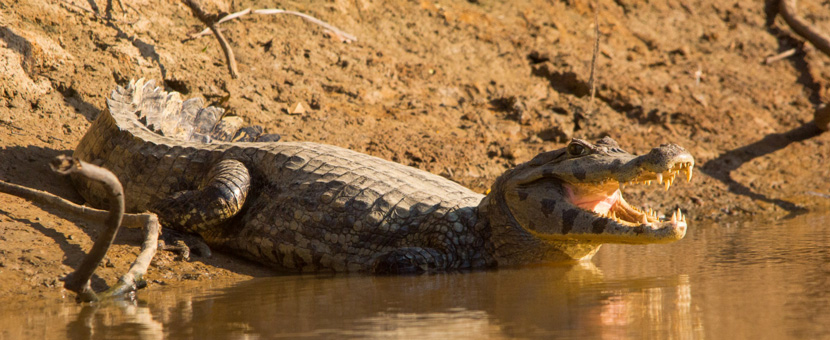 Bolivian Amazonia Tour Itinerary
Day 1

Arrival in Rurrenabaque

Welcome to Bolivia! Take a flight from La Paz to Rurrenabaque, where you'll be welcomed at the airport and then free to enjoy your day as you please. Relax in the fabulous weather or grab a drink at a local restaurant and get excited for the adventure ahead.
Overnight Location: Hotel in Rurrenabaque
Meals: None
Day 2

Boat ride to Madidi National Park

Start your Amazon adventure by taking a boat ride to Madidi National Park. Bring your camera, there are fantastic views from the boat! Then, you'll be able to admire the impressive Bala Canyon on your way to meet the Villa Alcira people, who are excited to tell you about how they live out here. You'll learn how to press sugarcane and enjoy a locally-sourced lunch before your departure down the Dry Creek Trail. This will give you the chance to learn about local plants and their use in medicine. Keep an eye out for monkeys and birds!
Overnight Location: Hotel in Madidi National Park
Meals: Breakfast, Lunch, Dinner
Day 3

Patujusal Spider Monkey Trail

Begin the third day of your Amazon adventure with a breakfast of local foods, and then pack up your tent- you'll be camping in the jungle the next two nights! You'll take a walk to the Patujusal refuge, where lunch cooked over a wood fire is waiting for you. Then, begin to hike the Spider Monkey Trail, where Spider and Capuchin monkeys swing through the treetops above you. Enjoy dinner in the refuge, and then head out for a night walk to spot armadillos, snakes, tapir, monkeys, and birds. If you're lucky, you'll even hear the jaguars roar!
Overnight Location: Camping in Patujusal refuge
Meals: Breakfast, Lunch, Dinner
Day 4

Hike to Caquiahuara Macaw Cliff

Today, you'll have breakfast on the trail before exploring the Caquiahuara Macaw Cliff, where you can relax under the sun and watch parabas build their nests. Enjoy lunch at the Arenalito refuge, and then walk to the Tuichi river for a special afternoon building log rafts traditionally used by the indigenous peoples of the area for transportation. You'll raft downriver to the jungle lodge to spend the warm evening relaxing.
Overnight Location: Camping in Patujusal refuge
Meals: Breakfast, Lunch, Dinner
Day 5

Boat ride to Pampas de Yacuma

The next adventure in your Amazon tour begins with a boat ride to Rurrenabaque and then a car ride to Santa Rosa. Sloth lovers, today is your day! Keep your eyes on the trees for these cuties, as well as anteaters, birds, and more. Then, you'll be whisked by boat to tonight's lodge, where lunch is waiting. Hop back on the boat for a tour of the Yacuma river, where you can fish for piranhas. Keep your eyes on the water and shore- there are alligators, turtles, and capybara around. After dinner, enjoy a night river tour, where your flashlight will illuminate the eyes of the caiman in the water around you.
Overnight Location: Hotel in Pampa Yacuma
Meals: Breakfast, Lunch, Dinner
Day 6

Exploring Pampas de Yacuma

Get up early today to catch the sunrise and hear the howler monkeys wish you good morning, then enjoy breakfast before hopping on the boat and setting off down the Yacuma river. Today, you'll jump into the waters to swim with the pink river dolphins, an unforgettable moment. Dry off during lunch before setting off on a nature walk to spot anteaters, coatis, porcupines, and other Amazon animals. Then, you'll enjoy a fine sunset at the lodge before an optional nighttime walk to find some nocturnal animals.
Overnight Location: Hotel in Pampa Yacuma
Meals: Breakfast, Lunch, Dinner
Day 7

Departure from La Paz

It's the last day of your incredible Amazon adventure in Bolivia. Enjoy a few more moments on the Yacuma river before touring the swamp to spot anacondas. Stop for lunch, and then you'll be driven to Rurrenabaque. Fly to La Paz and then depart for home. See you next time!
Overnight Location: None
Meals: Breakfast, Lunch

Book Now
Bolivian Amazonia Tour Price and Dates
This guided nature and cultural tour of the Amazon in Bolivia is always run as a custom tour for your group only and the prices depend on the number of people in your group.
The best time to travel to Bolivia for the Bolivian Amazonia Tour is from May through October.
Prices of Private Guided Bolivian Amazonia Tour
Have your own private tour with just your group! Prices below are per person:
Guided Groups of 2: $1,490 USD per person
Guided Groups of 3-4: $1,435 USD per person
Guided Groups of 5+: $1,400 USD per person
Book Now
Accommodation on the Bolivian Amazonia Tour
This tour is based in 3-star hotels, rainforest lodges, and campsites. The hotels offer pleasant rooms with unique rainforest settings. Rooms are double occupancy, and single travelers will pay a supplement. All camping supplies are included.
In some cases, accommodation listed below may need to be substituted for other, comparable accommodations.
Single Rooms and Solo Travelers
You can pay a supplement of $100 USD to have a private room in a hotel while traveling with your group. Contact us and we can try and match single travelers up where possible.
Hotels on Standard Tour
Hotel La Isla de los Tucanes in Rurrenabaque ★★★
This beautiful hotel has a great swimming pool. You'll stay in one of the clean, simple bungalows with air conditioning.
Madidi Jungle Ecolodge in Madidi National Park
This excellent jungle lodge consists of 5 eco lodges built in traditional Amazon style. The rooms are comfortable and protected against insects.
Camping in Patujusal refuge
Your camping supplies are provided. Enjoy sleeping under the stars!
Tortugas Lodge in Pampa Yacuma ★★★
This eco lodge is immersed in nature, giving it a peaceful atmosphere. The rooms are turtle-shaped and they all offer private bathrooms.
What's Included in the Bolivian Amazonia Tour?
Meals
6 breakfasts, 6 lunches and 5 dinners are included.
Accommodations
Accommodation for 7 nights is included.
Transportation during the Tour
This tour includes return flight between La Paz and Rurrenabaque on first and last days of the tour, as well as all required personal and luggage transfers during the tour.
Also Included
English or Spanish speaking guide services
Entrance fees to national parks
Boat trips mentioned in itinerary
All activities described in itinerary
Not included
Travel insurance
Lunches and dinners or drinks and snacks not previously mentioned
Flights to and from La Paz
Visa if required
Personal equipment
Domestic airport tax ($3 USD per person)
Optional Extras
Tips for local guides
Extra night at any point of the travel
Frequently Asked Questions about Bolivian Amazonia Tour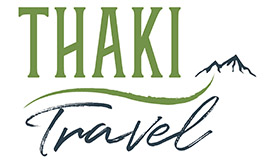 Thaki Travel is a boutique tour operator based in Bolivia. Thaki aims to show you the best of Bolivian landscape, cuisine, and adventure. They are known for their professionalism, reactivity, and deep knowledge of each corner of Bolivia.
Thaki Travels aims to go the extra mile and surprise their guests with unexpected experiences and places. They use high-quality equipment to make mountain trips as safe and enjoyable as possible.
They offer exciting alpine adventures and vibrant city tours, providing an unforgettable journey through Bolivia with a serious dose of adventure.
Is this tour for me?
We rate this tour as a 1 / 5. You will travel mostly by boat or car, and the few walks you will take experience little elevation gain and moderate distances.
Ask a Question
Got any questions regarding the tour? Interested in promotions for groups or want to customize this tour to fit your needs? We are here to help you!
Ask a question
SALE! Well, not yet.
Let me know when this trip goes on sale.
Notify me