Discover the wonders of Cambodia on this 9-day cycling tour
This 9-day cycling tour through Cambodia is a cultural smorgasbord for its guests: you get a gastronomic tour of local cuisine, handicraft workshops, visits through impressive temple complexes, and even a visit to a floating village. This tour offers the best of Cambodia by bike!
Arrive in Phnom Penh as your introduction to the Kingdom of Cambodia. Take a walking tour of the city on Day 2 to get acquainted and acclimatized to the tropical heat and humidity. Set out on your bike on Day 3 along the Mekong River, stopping in small villages along the way to offer greetings and engage with the locals. You'll get an in-depth presentation on the production of Cambodian silk scarves, and later in the week, learn how to fashion household goods out of hyacinth leaves.
Mid-week, you'll cycle to the first of many temples. Make sure you dress appropriately to enter the temples and be respectful when taking photographs. Once you get to Siem Reap, you will have a full day to explore the grand religious complex of Angkor Wat, the world's largest religious monument, covering an area of 163 hectares. Near the end of the tour, if you haven't had enough delicious Khmer food already, you'll go on a gastronomic tour around Siem Reap through the night market, ending by the river. The last few days will be very chill as you head out onto Kompong Khleang Lake to visit the floating markets, where you'll find yourself immersed in the authentic atmosphere of the floating village.
If you want to visit Cambodia by bike, but don't have a lot of time to explore on your own, this tour is a great option to cycle around and see the highlights.
Highlights of the Cambodia Cycling Tour
Explore Tonlé Sap Lake by local boat, weaving your way through the canals to meet the locals of the floating village.
Try the gastronomic delights of Khmer cuisine on a food tour around Siem Reap.
Meet local artisans and participate in workshops on krama, traditional Cambodian silk scarves, and weaving hyacinth leaves.
Cycle down off-road paths through the massive Angkor Wat complex—find hidden temples that tourists on foot won't reach.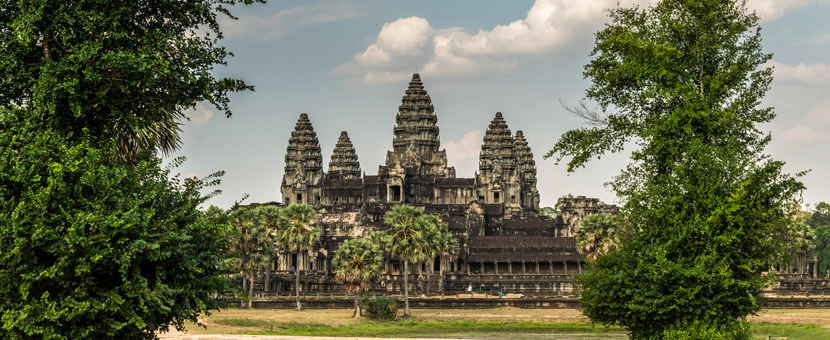 Cambodia Cycling Tour Itinerary
Day 1

Arrival in Phnom Penh

Welcome to Cambodia! When you arrive at the airport in Phnom Penh, your guide will meet you and accompany you to your hotel. Settle in and stroll the nearby streets to become familiar with the country you'll be immersed in for 9 days.
Overnight Location: Hotel in Phnom Penh
Distance: None
Meals: None
Day 2

Walking City Tour of Phnom Penh

Meet your group for breakfast, then get your sneakers on to prepare for a walking tour of Cambodia's capital, Phnom Penh. Packed with busy streets, your senses will be shocked by this bustling place. Hit the classic attractions, like the National Museum and the Royal Palace- be aware that there is a dress code in place for the Royal Palace; your shoulders must be covered and your pants or skirt must cover your knees.
When you return to the hotel, you'll be fitted for your bicycle and given a briefing on the cycling itinerary. Get a good night's sleep and be ready to pedal tomorrow.
Overnight Location: Hotel in Phnom Penh
Distance: None
Meals: Breakfast
Day 3

Cycle Along Mekong River

Wake up and have a hearty breakfast before hopping on your bike to begin the cycling exploration. Today, you will cross the Mekong River twice on small ferries, cycling the stretches between small villages. Stop at some food stalls to try local fruits and refreshments and say hello to the villagers. Visit Buddhist temples en route, then stop in a local eatery for a traditional lunch.
After your meal, you'll attend a short workshop on silk production and learn how to make krama, traditional Cambodian silk scarves. Take a private transfer for the rest of the journey today and rest in your hotel in Kampong Thom.
Overnight Location: Hotel in Kampong Thom
Distance: 3 hours, 30km, 30m of ascent, 27m of descent
Meals: Breakfast, Lunch
Day 4

Explore Sambor Prei Kuk Archaeological Site

Close to Kampong Thom is the Sambor Prei Archaeological Site, which has recently been considered for UNESCO recognition. After breakfast, you'll spend most of the day exploring this massive temple area dating back to the 6th and 9th centuries, built right within the lush jungle. The pleasant route winds through fruit plantations and rice paddies, where you will likely see water buffalo grazing and the hot sun reflecting off the ponds.
Ride at your leisure, soaking in your beautiful surroundings before returning to the hotel in Kampong Thom for the night.
Overnight Location: Hotel in Kampong Thom
Distance: 4 hours, 60km, 150m of ascent
Meals: Breakfast, Lunch
Day 5

Beng Mealea Temple and Ride to Siem Reap

Enjoy a yummy breakfast, then head out in the direction of Siem Reap. On the way, you will stop at the mystical Beng Mealea Temple, which reflects the construction of Angkor Wat since the same person designed it. Enter the overgrown jungle to find hidden temples still standing despite the foliage encroaching on them for centuries.
Continue along mainly sandy and paved roads until Siem Reap, the city that will be your home base for exploration of the magnificent, gigantic religious complex of Angkor Wat.
Overnight Location: Hotel in Siem Reap
Distance: 4 hours, 65km, 105m of ascent, 67m of descent
Meals: Breakfast, Lunch
Day 6

Bike Tour of Angkor Wat Site

Today's cycling journey will be one for the books! You'll be touring Angkor Wat, the world's largest religious site replete with temples built since the 12th century and a testament to the Khmer Empire's prominence. Begin from the hotel, ride along the river, and enter through the South Gate of the complex. Although you could spend days here and still not see everything, visiting the impressive highlights gives you an idea of the site's majesty. You'll see the Elephant Terrace, the Royal Palace, and of course, the astounding Angkor Wat itself, with a gorgeous humanmade lake in front—a perfect spot for a photo op!
Cycle back to the hotel, leaving the historical site behind but taking with you memories of its magic.
Overnight Location: Hotel in Siem Reap
Distance: 3 hours, 27km, 30m of ascent, 27m of descent
Meals: Breakfast
Day 7

Local Workshops and Food Tour in Siem Reap

Split the day up today between cycling villages in the morning and a gastronomic walking tour in the evening. It will be a culturally immersive day beginning with a visit to Preah Dak, a local market with fresh vegetables, fruits, and traditional treats. After sampling some food, continue cycling to a family home to witness the noodle-making process and learn about palm leaf handicrafts. You'll get a chance to make your own and keep it as a souvenir.
On the way back to the hotel, you will visit more hidden temples in the area. The evening will be the real highlight for any foodies—it's time to indulge in the local cuisine! Please note that this tour is available from October 2022 onwards. Walk around Siem Reap with your group, stopping for aperitifs, local spirits and beer, and grilled meats and vegetables. End by wandering through market stalls and treating yourself to dessert by the river. Head back to the hotel for a well-earned sleep.
Overnight Location: Hotel in Siem Reap
Distance: 1.5 hours, 15km, no elevation gain
Meals: Breakfast, Lunch, Dinner
Day 8

Boat Ride to Tonle Sap and Floating Villages

Get ready for a truly unique experience today. Enjoy breakfast at your leisure, as your excursion will start in the afternoon.
You will receive transportation to Chong Kneas to embark on a boat journey to the floating villages of Tonle Sap. The scenery is fascinating: everything in each village floats, including the markets, churches, houses, and schools. You'll have the chance to hop offboard to meet the friendly locals and gain insight into their unique way of life, later enjoying a delicious local lunch in a traditional stilted house.
After a magical day on the water, it's time to head back to your comfortable hotel in Siem Reap where you can unwind and enjoy another night in this lively resort town.
Overnight Location: Hotel in Siem Reap
Distance: None
Meals: Breakfast, Picnic lunch
Day 9

Farewell

Enjoy your final breakfast with your cycling crew and pack up your belongings. Get a private ride to the Siem Reap Airport to check in for your flight. As you gaze out the car window, think about all the memories you made during the past 10 days of this incredible Cambodian cycling adventure.
Overnight Location: None
Distance: None
Meals: Breakfast

Book Now
Cambodia Cycling Tour Price and Dates
This guided tour in Cambodia is always run as a custom tour for your group only and the price always depends on the number of people in your group and whether you are staying in regular or deluxe hotels.

Please note, that the price below might increase during the holiday periods, such as Christmas, New Year, Songkran festival (mid-April) and similar (please enquire for more information).

Prices below are per person sharing a double or a triple room:
Travelling from January 10th to April 30th (2022):
Guided Groups of 2: $1,625 USD per person
Guided Groups of 3: $1,350 USD per person
Guided Groups of 4: $1,175 USD per person
Guided Groups of 5: $1,225 USD per person
Travelling from May 1st to September 30th (2022):
Guided Groups of 2: $1,595 USD per person
Guided Groups of 3: $1,325 USD per person
Guided Groups of 4: $1,125 USD per person
Guided Groups of 5: $1,195 USD per person
Book Now
Accommodation on Cambodia Cycling Tour
This tour is based in 3- and 4-star hotels with modern amenities that make this trip more comfortable. You will also stay in a floating village home for one night with comfortable amenities. Rooms are double occupancy, and single travelers will pay a supplement.
In some cases, the accommodation listed below may need to be substituted for other comparable accommodations.
Single Rooms and Solo Travelers
You can pay a supplement to have a private room in a hotel while traveling with your group. Single supplement price is $240 USD per room on tour in standard hotels, and $425 USD for tour in deluxe hotels.
Hotels on Standard Tour
Anik Boutique Hotel in Phnom Penh
Anik Boutique Hotel is nestled in the heart of the city. Built inside a small castle, you get incredible city views from the dining area and rooms.
Sambor Village Hotel in Kampong Thom
Enter the oasis of the Sambor Village Hotel. Have a villa-like experience with airy rooms amid lush garden and a cool pool for a dip on hot days.
La Niche d'Angkor Boutique Hotel in Siem Reap ★★★
This enchanting hotel welcomes you into its lush jungle of tropical flowers. Access the inviting pool a few steps from your Cambodian-style room.
Hotels on Deluxe Tour
Sun and Moon Hotel in Phnom Penh
With its chic design, the Sun and Moon Hotel offers modern amenities. Enjoy a drink in one of its many lounge areas, like the rooftop terrace with incredible views.
Sambor Village Hotel in Kampong Thom
Enter the oasis of the Sambor Village Hotel. Have a villa-like experience with airy rooms amid lush garden and a cool pool for a dip on hot days.
Borei Angkor Resort and Spa Hotel in Siem Reap
You will feel like royalty in this hotel. The spacious, luxury rooms open up to a grand courtyard with a huge pool—you may want to stay forever.
What's included in the Cambodia Cycling Tour?
Meals
8 breakfasts, 5 lunches, and 1 dinner are included.
Accommodations
Accommodation for 8 nights is included in the tour.
Transportation during the Tour
Transport for your luggage is included throughout the tour. A support vehicle will be available on cycling days in case of an emergency. Transfers to and from the Phnom Penh and Siem Reap Airports are also included.
Also Included
Bicycle and helmet on cycling days
Entrance and sightseeing fees
Boat rental for floating village transfer
Bird sanctuary tour
Local English-speaking guides
Snacks and water on cycling days
Not included
Meals and drinks not mentioned in itinerary
Flights
Insurance
Visa fees upon arrival in Cambodia
Anything not mentioned as "Included"
Tips and personal expenses
Optional Extras
Extra night in Phnom Penh
Extra night in Siem Reap
Frequently Asked Questions about Cambodia Cycling Tour
Easia Active is a subsidiary of Easia Travel, a boutique tour operator based in South-East Asia, and dedicated to sharing the best active adventures in Vietnam, Laos, Cambodia, Myanmar and Thailand. Easia Travel was founded in 2000 in Vietnam, with a vision to "Make Asia Easy for You!" by allowing guests to experience the best of Asia. Find great hiking, cycling and other active adventures in SE Asia with Easia Active.
Learn More
Is this tour for me?
We rate this tour as a 2/5. There is one long day where you will ride 60km, however, most days involve 30-45 kilometres of riding.  You should be comfortable riding a bicycle for up to 4 hours daily on easy terrain.
Ask a Question
Got any questions regarding the tour? Interested in promotions for groups or want to customize this tour to fit your needs? We are here to help you!
Ask a question